Vapers Digest 9th June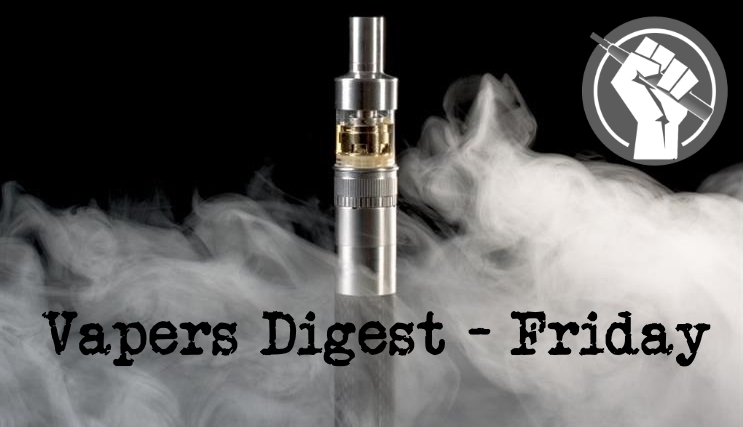 Friday's News at a glance:
Targeting Kids – Proposed ban on e-cigarette flavors suffers well-deserved setback – Plain packaging fake news – Vape Flavor Ban – The secret weapon: Snus, tobacco that doesn't kill people – Top 5 Pro-Vapor Comments Recently Debated by U.S. Politicians – Armenia to ban e-cigs – Secure smoking area needed – Nicotine Science and Policy Daily Digest
Mawsley, Planet of the Vapes
The American Lung Association and the Campaign for Tobacco-free Kids (CTFK) have a drum and they like to beat it. Those less kindly disposed to the organisations would suggest that pharmaceutical industry money might play a strong role in their actions; others might claim they are blinded by a hatred of the tobacco industry. Unfortunately, materials and quotes from the bodies are frequently used to justify action that stifles harm reduction.
Suffers well-deserved setback – Guy Bentley
Consumers, small businesses, and public health won a small but important victory in the city of San Leandro, Calif., Monday night. The city council refused to enact a ban on local retailers selling flavored tobacco products, throwing it back to a rules committee for reconsideration in September.

Proposals for tobacco flavor bans have spread rapidly across the Bay Area and are under active consideration in Oakland and San Francisco. While occasionally well-meaning, these prohibitions are always misconceived.
---

---
Threatens San Francisco's Legacy of Harm Reduction
Damon L. Jacobs and Brian Fojtik
San Francisco has proudly led the nation in successfully implementing harm reduction tools for at-risk communities. By meeting adults where they are (not where we wish they were) and offering interventions that extend the quality and quantity of life, San Francisco has helped prevent HIV (and other) infection through needle exchanges, while others raised moral objections.
Joe Nocera
I saw this chart on Twitter the other day and it blew me away: Published by the European Union last month as part of a survey 1 about attitudes towards tobacco in Europe, the chart lists the percentage of daily smokers in 28 countries. At the top of the chart is Bulgaria, where 36 percent of the population smokes daily. Greece and France are close behind, with 35 and 33 percent respectively.
---
---
Christopher Snowdon, Velvet Glove Iron Fist
This brief and wafer-thin article in The Scotsman looks very much like fake news…

New plain packaging laws see slump in cigarette sales

CIGARETTE retailers have seen a dip in sales since laws enforcing plain packaging were introduced, according to a recent report.

Cigarette retailers have seen a dip in sales since laws enforcing plain packaging were introduced, according to a recent report.

The new laws were introduced barely two weeks ago. It seems unlikely that research could be carried out, reviewed and published in such a short space of time. I can find no trace of this alleged report online, nor can I find any reference to it.
Recently Debated by U.S. Politicians – Tony Ottomanelli II
Here are the Top 5 Statements made when Debating about Vapor Products at The NY State Assembly Hearing on 5/17/17. There were so many, it was difficult to narrow them down. These are not ranked in any particular order. Feel free to rank them in the comments below:
---

---
Tobacco Reporter
The government of Armenia plans to ban the use of vapor products, according to an Armenpress report. Health Minister Levon Altunyan said the products are dangerous to health.

The government imposed a ban on smoking in public places in 2004, but the measure is weakly enforced.
---

---
For mental health patients
When Lynette Brunton's daughter was admitted to a mental health ward, it was with a sigh of relief – finally she would get the help she needed.

Instead, two weeks later, her daughter was dead. Chelsea Brunton, 21, was found dead in a suspected suicide on May 10, at a residential property in Palmerston North, four days after she went missing from Palmerston North Hospital's mental health ward.
---
A look back at how things have moved on or otherwise…
Paul Barnes – Facts Do Matter
To be fair, I'm not your average anything. I have multiple – often conflicting – views on a wide range of subjects, most of which will never end up on this blog. When I switched to vaping almost two years ago (June 11th 2014 in case anyone is interested), I had absolutely zero interest in all the nuances of vaping. At all….
Mawsley – Planet of the Vapes
Vapers in Ontario managed to delay the imposition of imprudent anti-vaping measures but ecig users in Quebec are not so lucky. While the Canadian government fails to take the lead on harm reduction, individual provinces are making it up as they go along.
Options and Health – Brad Rodu, Tobacco Truth
Smokers and vapers, this post is for you. The FDA's proposed deeming rule could severely limit your e-cigarette choices in the next few years.

FDA tobacco center director Mitch Zeller and HHS Secretary Sylvia Burwell cast the FDA rule as necessary to protect children from products that lead to cigarette use. That argument has no scientific basis…
An opportunity to have your say against Glantz and take the poll in the right hand column. So far recommending ecigs is way ahead – NEJM
To aid in your decision making, each of these approaches is defended in a short essay by an expert in the field. Given your knowledge of the patient and the points made by the experts, which option would you choose? Make your choice, vote, and offer your comments at NEJM.org.
---
Visit Nicotine Science & Policy for more News from around the World

---