In the News June 9th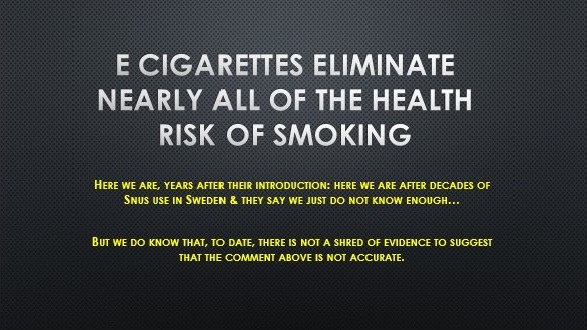 Thursdays News at a glance:
Not Your Average Vaper – Quebec Cracks Down on Vaping – FDA Deeming Rule Threatens Vapers' Options and Health – E-Cigarettes and Smoking Cessation – Mr. Conley Goes to Washington – Mitch Zeller and Jack Henningfield – Ecig benefits presented to authorities – FDA E-Cigarette Regs – Nicotine Science and Policy Daily Digest – Thursday, 9 June 2016
Paul Barnes – Facts Do Matter
To be fair, I'm not your average anything. I have multiple – often conflicting – views on a wide range of subjects, most of which will never end up on this blog. When I switched to vaping almost two years ago (June 11th 2014 in case anyone is interested), I had absolutely zero interest in all the nuances of vaping. At all….
Mawsley – Planet of the Vapes
Vapers in Ontario managed to delay the imposition of imprudent anti-vaping measures but ecig users in Quebec are not so lucky. While the Canadian government fails to take the lead on harm reduction, individual provinces are making it up as they go along.
Options and Health – Brad Rodu, Tobacco Truth
Smokers and vapers, this post is for you. The FDA's proposed deeming rule could severely limit your e-cigarette choices in the next few years.

FDA tobacco center director Mitch Zeller and HHS Secretary Sylvia Burwell cast the FDA rule as necessary to protect children from products that lead to cigarette use. That argument has no scientific basis…
An opportunity to have your say against Glantz and take the poll in the right hand column. So far recommending ecigs is way ahead – NEJM
To aid in your decision making, each of these approaches is defended in a short essay by an expert in the field. Given your knowledge of the patient and the points made by the experts, which option would you choose? Make your choice, vote, and offer your comments at NEJM.org.
---

---
Jim McDonald – Vaping 360
You never know when you'll get a chance to advocate, so be ready!  American Vaping Association president Gregory Conley was on his way to meet with Congressional representatives in Washington Wednesday when he accidentally ran into US Surgeon General Vivek Murthy outside the Cannon House Office Building. Never one to miss a chance to advocate for vaping, Conley delivered an impromptu presentation to the doctor…
The Big Pharma conspiracy behind the FDA e-cig regulations – Matt Rowland
Contrary to popular opinion, electronic cigarettes are not a new invention. They have been around for decades, and Big Pharma was one of the very first industries to review e-cigs and vaping devices for their possible efficiencies and benefits regarding the ingestion of prescription medications.

Back in the 1990's, drug companies like Pfizer and Bristol-Meyers Squibb discovered that e-cigs are not only cheap, but they also help the patient feel the effects of the drugs almost instantly. So why would Big Pharma be siding with the CDC over the newly announced FDA e-cig regulations?
Under the bus, knife in the back, speaker denial and TPD compliant Keiths Are just SOME of tonight's topics…
Jérôme Harlay – Vaping Post
Slovenia has implemented the EU TPD and proposed to tax e-liquids. A combination that would make vaping less competitive than smoking and threaten public health in a country where smoking prevalence is already higher than the European average. In a press conference, EU experts Drs K. Farsalinos and J. Le Houezec expose the benefit of the product to the public, journalists, professionals and health authorities.
Could Push Half Of Vapers Back To Smoking – Guy Bentley – Daily Caller
Forty-nine percent of vapers say they would go back to smoking regulate cigarettes if Food and Drug Administration (FDA) rules crush the e-cigarette industry.

That's according to leading e-cigarette brand V2, which surveyed adult vapers across the country between May 16-20. The announcement of FDA's "deeming" regulations May 5 sparked fears across the vaping community that many of the products they use could be taken off the market.
---

---