Vapers Digest 8th April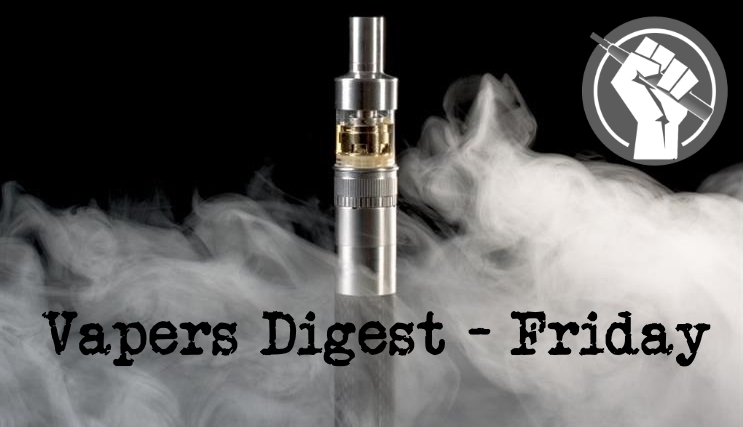 Friday's News at a glance:
The government's review of vaping regulations  – Why Do High Schoolers Vape? – Canada Proposes Brutal Federal Vape Tax – Thailand Will Reconfirm Vape Prohibition – Aufruf zur Teilnahme an der Umfrage des BVRA – Flawed report on vaping will harm public health – Research Finds No Gateway Risk – Top Doc Slams Ecig Knockers – Tell Rees-Mogg What You Think – Smoke-free England Parliamentary Debate – FSFW Welcoming Research Submissions – VApril Survey – Parliament – Vape Company at the Center of the FDA Storm – EU rules dampen Danish government plan – Cigarette Sales Surge After Vape Bans – No new licence applications for e-cigarettes – Insights from Harm Reduction Forum – Market share gap keeps shrinking – BAT youth access prevention campaign – FDA Issues Marketing Denial Orders – Altria working on new, alternative nicotine products – CEI Joins Coalition – Tasmanian Small Business Council suggest trial – Nicotine Science and Policy Daily Digest
Could be worse, but could also be better – NNA
A fortnight ago we saw the publication of the government's post-implementation review of the Tobacco and Related Products Regulations 2016 (TRPR). These are the regulations which govern vaping in the UK after having been transposed from the European Union's Tobacco Products Directive.

The government has decided that the regulations "met their original objectives and they could not be better achieved through alternative regulatory measures".

While it is disappointing not to see immediate signs of regulations being relaxed post-Brexit, such as the limits on tank and bottle sizes and a recognition that the limit on nicotine concentration is inadequate as we have commented on before, we are pleased that the UK has not been seduced by more restrictive regulations which are being pursued in other countries.
National Youth Tobacco Surveys Suggest Answers
Brad Rodu, Tobacco Truth
Federal officials blame vape manufacturers and retailers for teen vaping, focusing in particular on the industry's use of flavoring, but government surveys indicate the truth is more nuanced.

The government's National Youth Tobacco Surveys (NYTS) routinely collect information on teenage e-cigarette use.  I examined survey data for the years when vaping accelerated (2018 and 2019), and when it declined (2020 and 2021).  In the first three years, the survey asked, "What are the reasons that you have used e-cigarettes?"  In 2021, the question changed to, "Why do you currently use e-cigarettes?"  Other survey modifications occurred, as noted in the Table footnotes.
---

---
Jim McDonald
The Canadian government has proposed the country's first federal tax on vaping products in its 2022 budget. The vape tax, part of the proposed federal budget announced Thursday, would take effect Oct. 1—if it passes Parliament as written.

The proposed tax is substantial, and includes an option for Canadian provinces to piggyback on the federal tax with an equally large assessment of their own. The national government is encouraging provinces and territories to pass equally large taxes, which would be administered by federal tax authorities.
Longstanding Vape Prohibition – Jim McDonald
The government of Thailand has rejected the efforts of one cabinet minister to legalize and regulate nicotine vaping products, and will instead reconfirm the country's ban on sales and import of e-cigarettes. Thailand's vape ban has been in place since 2014, and has resulted in notoriously overzealous enforcement.

The National Tobacco Products Control Committee upheld the ban in a meeting last week, and Public Health Ministry permanent secretary Kiattiphum Wongrajit supports the decision, which will go to the cabinet for formal approval, according to The Nation Thailand.
---
---
Einfach Mal Selbst Gedacht
Ich habe ja vor bereits einiger Zeit gesagt, wie wichtig der BVRA ist. Nun hat der Verband eine Umfrage gestartet. Und ich bitte Euch alle daran teilzunehmen.

Ich verlinke Euch die Umfrage mal Hier: Umfrage zur Liquidsteuer:Ich finde diese Umfrage sehr wichtig. Sie hilft es dem Verband rauszufinden.. Wie die Informationen über die Liquidsteuer bei Euch angekommen sind. Ob alle gute Arbeit gemacht haben..Ich halte  es für wichtig diesen Kenntnisstand zu erfragen.
Colin Mendelsohn
Researchers at the Australian National University published a detailed report today on vaping for the federal Health Department. As expected, the report  Electronic cigarettes and health outcomes: systematic review of global evidence, delivered what the paymaster wanted and is seriously flawed.

The report exaggerates the risks and potential risks of vaping and fails to compare them to the far greater risks of smoking. It makes unsubstantiated claims of harm and downplays the effectiveness of vaping as a quitting aid.

Seven from Dave Cross, Planet of the Vapes:
Jacob Rees-Mogg MP, the Minister for Brexit Opportunities and Government Efficiency, has invited members of the public to give him suggestions of petty European Union regulations that could be abolished or changed. The New Nicotine Alliance (NNA) has suggested changes to the way vaping is regulated and says vapers can send their ideas in to him too.

Writing in a national newspaper, Rees-Mogg asked for people, "to write to me and tell me of ANY petty old EU regulation that should be abolished".
University College London's Emma Beard, Jamie Brown, and Lion Shahab have pumped out yet another piece of research that supports switching from smoking to vaping. Moreover, they find that there is no evidence that electronic cigarettes lead English youth into tobacco use.

The trio wanted to assess "how changes in the prevalence of e-cigarette use among young adults have been associated with changes in the uptake of smoking in England between 2007 and 2018."
Professor Nick Hopkinson has hit back at a Lancet article that claims prescription vapes would be "another public health catastrophe". Prof Hopkinson is the chair of the UK's anti-smoking charity Action on Smoking and Health and has frequently made positive statements about vaping. His letter to The Lancet lists out a number of key facts to debunk those opposed to vaping.

Hiding behind "the precautionary principle", The Lancet has run multiple negative articles and editorials about vaping where the text is littered with the words 'might', 'could', and 'possibly'.
"We are pleased to share several health and science research funding opportunities that are informed by the Foundation for a Smoke-Free World's (FSFW) Strategic Plan, which is our roadmap for the next three years (2022–2024)," says the FSFW.

The organisation writes: "The Foundation is committed to ending smoking in this generation. Since 2018, we have been working closely with a diverse set of research-focused partners to eliminate combustible smoking and other forms of toxic tobacco to decrease related death and disease and improve health outcomes for adult users.
Politicians in the House of Commons have conducted a debate about the Government's attempt to achieve smoke-free status in England by 2030. Charles Walker MP opened the proceedings by reading from the Government document "Towards a smoke-free generation".

"Over 200 deaths every day are still caused by smoking…Smoking rates have remained stubbornly higher amongst those in our society who already suffer from poorer health and other disadvantages. Smoking rates are almost three times higher amongst the lowest earners," Walker began.
The UK Vaping Industry Association (UKVIA) are conducting a study to explore the level and quality of advice smokers sought and accessed before making the decision to switch to vaping. The study explores the level and quality of advice that smokers seek and access before making an informed decision to switch to vaping to help them quit. It comes as the trade body is promoting its VApril campaign.

Currently celebrating VApril, UKVIA is pointing out that "65% of vapers said they never thought they would quit smoking until vaping came along. The VApril website has tonnes of advice to help you make the switch that could see you quitting smoking for good.
Paul Maynard asked the Secretary of State for Health and Social Care questions about e-liquids, their components, and the thorny problem of free samples. Lord Jones spoke about Sweden's success at fighting tobacco related disease and death following smokers switching from tobacco to snus.

Paul Maynard MP, the Conservative representative for Blackpool North and Cleveleys asked the Secretary of State for Health and Social Care what monitoring is undertaken on the safety of imported e-liquids used in vaping products.
---

---
For e-cigarettes since UK medicines regulator changed its guidance
The medicines regulator has not received any applications from companies to licence e-cigarettes as medicines to aid smoking cessation, since regulatory guidance was updated six months ago, The Pharmaceutical Journal has learned.

In October 2021, the Medicines and Healthcare products Regulatory Agency (MHRA) published updated guidance for licensing electronic cigarettes and other inhaled nicotine-containing products as medicines to support smoking cessation.
Alex Norcia
On the outskirts of Dallas, Texas, at an unassuming warehouse, two young men in scrubs carefully weigh out liquid nicotine. All they do is measure, actually. They move back and forth in a clean room, a carefully engineered space intended to keep out unwanted airborne particles. It almost sounds windy when you open the door.

A computer spits out what they need—this much propylene glycol, this much vegetable glycerin, this much flavoring—before the e-liquid barrel moves onto a gyroscopic mixer.
Insights from Harm Reduction Forum | RegWatch
Surprising comments on the benefits of nicotine vaping and other safer nicotine products by Canadian pharmacists and a top research scientist, delivered at the Harm Reduction Forum on April 5, 2022, in Vancouver, B.C.
To ban future cigarette sales
The government last month unveiled plans to ensure that future generations are tobacco-free by banning the sale of cigarettes and other nicotine products to anyone born after 2010. People under 18 are not legally allowed to purchase cigarettes under current Danish laws, so although the ban would not have an effect for six years, it would prevent people born after 2010 from ever buying cigarettes.

But the Danish plan now looks unlikely in its current form because EU member states may not forbid the sale of tobacco, according to a response given to a parliamentary question by the health minister, Magnus Heunicke.
Kevin Garcia
State-level vaping bans are associated with increases in cigarette sales, according to new research. The study, published in the scientific journal Value in Health, adds to a growing body of evidence that prohibiting the sale of e-cigarettes has potentially driven more and more people away from safer nicotine alternatives and back to smoking.

They found that an additional 3.4 million cigarette packs were sold through convenience stores across the three states during a three-month study period.

Using state-level cigarette sales data, the researchers found that Massachusetts, which enacted a full ban on nicotine vapes, had 7.5 percent higher-than-expected per capita cigarette sales.
Fails to answer the most basic public health question on e-cigarettes
The Government-funded study by Australian National University researchers released today makes important findings on the risks of vaping to young people but completely fails to address the most critical public health question – the risks of vaping relative to smoking cigarettes — when it comes to informing regulatory policy, Legalise Vaping says.

"We didn't need two and half years, millions of taxpayers-dollars and phone book style, padded out report to tell us that vaping e-liquid carries some level of harm to the body. Not a single person in the debate is denying that. Legalise Vaping Australia has never denied that," campaign director Brian Marlow said.

Urging FDA Not to Ban Synthetic Nicotine – Michelle Minton
This week CEI joined a coalition of groups urging Food and Drug Administration (FDA) Commissioner Robert Califf not to prohibit synthetic nicotine (read the full letter here). Slipped into the omnibus spending package that President Biden signed in late March was a measure giving the FDA the authority to regulate synthetic nicotine as a tobacco product.

Though presented as a seemingly reasonable measure aimed at preventing e-cigarette businesses from bypassing existing regulations, it would act as a de facto ban on the use of synthetic nicotine.
Between Juul and Vuse
The market-share gap between the top-selling U.S. electronic cigarettes has tightened between Juul and R.J. Reynolds Vapor Co.'s Vuse.

The latest Nielsen analysis of convenience store data, covering the four-week period ending March 26, determined Juul was at a 35.7% market share, down from 37.2% in February, and Vuse at 33.9%, up from 33.7%. It is the smallest market-share gap between the two e-cigarettes for the last eight Nielsen reports.
Aims to reach 17,000 retailers this year
BAT UK said it will reach out to more retailers this year as part of its youth access prevention campaign VERIFY. The campaign, which provides retailers and their staff with information and practical materials to help prevent the sale of tobacco and vapour products to those aged under 18, aims to reach over 17,000 retailers in 2022.

Last year, over 10,000 retailers across the country have been provided with posters, stickers and other materials to display at the point of sale, as well as training on how to prevent nicotine products from being purchased by under-18s.
---
---
To Fontem US for myblu Products
On April 8, FDA issued marketing denial orders (MDOs) to Fontem US, LLC for several myblu electronic nicotine delivery system (ENDS) products after determining their applications lacked sufficient evidence to show that permitting the marketing of these products would be appropriate for the protection of the public health. The currently marketed products receiving MDOs include:
As part of ongoing strategy
Altria Group Inc. is expecting to finalize development work by the end of this year on two novel nicotine products that could be submitted to federal regulators for approval soon after that, as the nation's top tobacco company continues to push into alternatives to the conventional cigarettes that still produce most of its sales, the company top's executive said on Wednesday.
"We know that cigarettes are dangerous and addictive," said William F. "Billy" Gifford, Altria's chief executive officer, in a speech to the Richmond Association for Business Economics on Wednesday.
Suggest vaping trial
Business leaders are floating two of Tasmania's poorest areas for a vaping trial, despite a review for the federal government finding e-cigarettes pose a serious health risk.

The Tasmanian Chamber of Commerce and Industry and the Tasmanian Small Business Council on Thursday said the state's smoking rate of 17.6 per cent was the second highest in the country and new ideas were needed to bring it down.
---
A look back at how things have moved on or otherwise….
Approximately 2.8% to 3.2% of US adults are current e-cigarette users, with a majority being current cigarette smokers or former cigarette smokers.1 The most common use for e-cigarettes is to quit smoking, but e-cigarette use may continue even after discontinuation of combustible cigarettes.2 Furthermore, those who initiate e-cigarettes to quit smoking may not be successful, leading to dual use of both tobacco cigarettes and e-cigarettes, which increases potential health harms.
The University of Queensland Australia
E-cigarettes may be more effective in helping smokers quit than nicotine replacement therapies such as patches and gum, according to University of Queensland research.

Lead author Dr Gary Chan from UQ's National Centre for Youth Substance Use Research said there was increased global evidence to support the effectiveness of using e-cigarettes to assist smokers in quitting.
---
Visit Nicotine Science & Policy for more News from around the World

---