Vapers Digest 6th April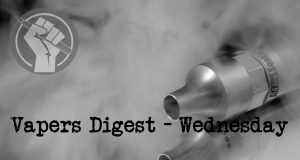 Wednesday's News at a glance:
Experimental Biology 2022: CoEHAR flies to Philadelphia to present the Replica project ~ Harm Reduction Could Be Transforming Health in Japan ~ Give up to level up – how going smoke-free can boost the poorest regions ~ Australian Election Campaign Must Debate Vaping ~Coalition Letter To FDA Commissioner Robert M. Califf M.D. ~ E-Cigs Must Have SIRIM Certification Or Manufacturers & Importers Will Be Slapped With Fines ~ STS Expands To Cover GB ~ The sorry state of vaping research ~ Nicotine Or Tobacco – Is There A Difference? ~ The Irrepressible Rise of Novel Nicotine Products ~ Board, council unable to agree on tobacco regulations ~ Michigan appeals court sides with vape shop, against flavored vaping ban
Center of Excellence for the acceleration of Harm Reduction, CoEHER
CoEHAR presented the results of the Replica project during Experimental Biology 2022, the annual meeting that brings together thousands of scientists and experts in the field of anatomy, biochemistry and molecular biology, investigative pathology, pharmacology, and physiology. Representing CoEHAR, the researcher Alfio Distefano, PhD student in neuroscience at the University of Catania.
Martin Cullip, Inside Sources
Something remarkable is happening in Japan; combustible cigarette use is disappearing. And, with the right policies in place, this collapse in deadly cigarette use can happen in every country.

Japan Tobacco International's third-quarter results for 2021 showed that domestic sales of cigarettes in Japan had fallen by 8.2 percent during the previous year, which followed an 8.9 percent decline in the preceding quarter.
---
Mark Oates, CapX
Much confusion has surrounded the Government's impassioned commitment to 'levelling up'. Ostensibly it is designed to reduce imbalances between different regions of the UK without negatively impacting wealthier areas, boosting the income of every household.

However, despite the raft of Government proposals to this effect, there remains a gaping chasm on health and earnings in greater London, compared with other areas.
Coalition of Asia Pacific Tobacco Harm Reduction Advocates, CAPHRA, Scoop
Australian politicians who recognize the public health potential of vaping will be rewarded with votes, yet most remain too scared to promote the world's most effective smoking cessation tool, says the Coalition of Asia Pacific Tobacco Harm Reduction Advocates (CAPHRA).

"Australia's political leaders need to pull their heads out of the sand.
---
Center For A Free Economy
Conservative leaders and free market advocates representing associations across the country sent a letter to FDA Commissioner Robert M. Califf M.D. in opposition to a new regulation signed into law by Congress that will effectively ban vapor products that include synthetic nicotine manufactured and sold legally in the United States.
---
Ikhwan Zulkaflee, TRP
Ministry of Domestic Trade and Consumer Affairs (KPDNHEP) has made it compulsory for all manufacturers and importers of electronic cigarette devices in the country to apply for SIRIM certification and labelling beginning tomorrow.

The certification and label can be obtained from SIRIM QAS International Sdn Bhd, the designated competent authority for user safety.
---
Indeed, every restaurant I've been to in my lifetime has a dessert menu entirely dedicated to kids, there is literally nothing on it which any adult would want to eat! https://t.co/dXsh3gaho8

— Martin C (@NannyFreeState) April 5, 2022
---

---
One

from Dave Cross, Planet of the Vapes
The Smoking and Alcohol Toolkit Study (STS) has been delivering consistent coverage on smoking and vaping and England for many years. Now the website has been extended to include estimates of support for various tobacco and alcohol control policies in Great Britain as a whole. For the first time, ongoing monitoring is viewable for Wales and Scotland as well as England.
---
---

---
The Health Site
A study in the Indian Journal of Clinical Practice (July 2020) underlined the fact that about 80 per cent of our doctors believed that nicotine causes cancer. Another USA based study also showed similar findings. Both fly in the face of facts.

Dear doctor friends, nicotine doesn't cause cancer. You are simply (or simple?) victims of overzealous public health campaigns to conflate nicotine with tobacco.
Martin Cullip, Taxpayers Protection Alliance
Early 2022 has seen major tobacco companies reporting their 2021 financial results and showing their intentions to investors. The impressive performance of novel nicotine products has been central in the slides presented. It seems that a global reduced risk nicotine revolution is well underway.

Philip Morris International (PMI) posted positive numbers for the year, estimating that the total number of users of its signature heated tobacco product, IQOS, has now reached approximately 21.2 million, of which 15.3 million  have switched away from smoking entirely. The American tobacco company Altria reported that sales of non-combustible products rose from 16 percent to 24 percent of the U.S. tobacco market from 2016 to 2021.
The Del Norte County Board of Supervisors and Crescent City Council failed Tuesday night to reach a consensus on how to proceed with a proposal to ban flavored tobacco products and enact a tobacco retail licensing requirement.

The joint meeting was held at the Wastewater Treatment Facility before a standing room only audience that included health officials, community leaders and perhaps two dozen Del Norte High School students, many who addressed the local government officials during public comments portion of the meeting.
Robin Erb, Michigan Health Watch
A court ruling Thursday has cast into further doubt Michigan's 2019 emergency rules against flavored vaping products.

A three-judge panel of the Michigan Court of Appeals upheld a Court of Claims preliminary injunction against Gov. Gretchen Whitmer's September public emergency that banned flavored vaping products — products that Whitmer and the state's health department argued lured young people into unhealthy, addictive habits.
---
Dave Cross, Planet of the Vapes
Dr Caitlin Notley, a harm reduction expert University of East Anglia (UEA), has issued advice to smokers attempting to quit during the COVID-19 lockdown. She says, "It's more important than ever for smokers to quit, and ex-smokers to remain smoke free."

Dr Notley leads the Addiction Research Group at UEA's Norwich Medical School and researches tobacco smoking cessation and electronic cigarette use. She also leads a Neonatal unit Smoking Cessation intervention development study.

She says that ex-smokers should resist the urge to relapse, given the likely higher COVID-19 risks for smokers, adding that those who have switched to vaping should not return to smoking. Dr Notley thinks that those who still smoke should be encouraged to switch to vaping.
By 16 Years – Diane Caruana
In 2017, the Scottish government had announced that it was setting in place a tobacco plan in order to become "smoke-free" by 2034. At the time, the University of Edinburgh and NHS Health Scotland had carried out an inquiry to determine whether efforts to reduce smoking were being effective. This had indicated that while the local tobacco control strategy was working, smoking continued to be a problem amongst low income communities.

"The evidence shows the positive impact of tobacco policy, ranging from the display ban which put tobacco out of sight in small shops and supermarkets to the introduction on smoke free NHS grounds," said Dr Garth Reid, principal public health adviser at NHS Health Scotland at the time.
---
Visit Nicotine Science & Policy for more News from around the World

---