Vapers Digest 4th April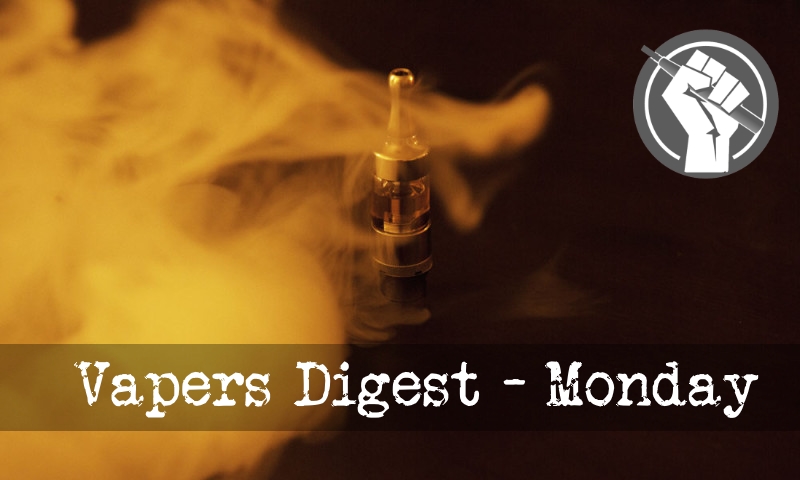 Monday's News at a glance:
Researchers discover vape liquids have chemicals! – Welcome to the Nicotine Prohibition Era -Eliminating vape flavors – Vapes On A Plane 2 – Most Vape Research Is Flawed- Preventative Measures – Major Milestones – E-cigarette provision to promote switching – Geek Bar Calls Upon Trading Standards – Is Adolescent E-Cigarette Use Associated With Subsequent Smoking? – Nicotine Science and Policy Daily Digest
Vape liquids have chemicals! – Colin Mendelsohn
A recent article in the Medical Journal of Australia (MJA) detected chemicals in nicotine-free vaping liquids purchased in Australia. An interview with the author on the ABC and a podcast were alarmist, referring to 'dangerously high' levels and potential risks to health. But how harmful are these chemicals really and should vapers start panicking? Short answer: no.

Dr Alex Wodak and I wrote a letter to the MJA asking three questions to help assess the true risk and put it in perspective:
Jacob Grier, Reason
In July 2014, five New York City police officers approached Eric Garner on a Staten Island sidewalk and accused him of illegally selling "loosies"—individual cigarettes without a tax stamp. Garner resisted handcuffs, and a scuffle ensued. Officer Daniel Pantaleo placed Garner in a prohibited chokehold while pushing him down to the ground face-first. After protesting 11 times that he could not breathe, Garner lost consciousness and died within the hour, sparking national outrage and raising awareness of the Black Lives Matter movement.

American policy regarding tobacco-based products has become considerably more restrictive since Garner's death, putting illicit market participants on a collision course with law enforcement.
---

---
Would cause more problems than it would solve
When the state acts to protect our children, we trust it will do so with knowledge and responsibility. Considering the rise in availability of vaping products this last decade, it is understandable that the State Legislature has been called on to act.

But if Hawaii curbs the sale of flavored vaping products — intended for adult former smokers — this will not eradicate the problem of youth access. Rather, it may make it even worse.

Health committee chair Rep. Ryan Yamane admitted as much last week, stating "I don't want our youth who are electronic savvy to get access to unknown supplies or, who knows, black-market cartridges laced with dangerous substances through the internet where we don't know where it's coming from."
---
---
Associated With Subsequent Smoking? A New Look
Introduction: Prospective studies have consistently reported a strong association between e-cigarette use and subsequent cigarette smoking, but many failed to adjust for important risk factors.

Methods: Using longitudinal data from the Population Assessment of Tobacco and Health (PATH) Study, we employed multivariable logistic regressions to assess the adolescent vaping-to-smoking relationship, with four regressions (Models 1–4) sequentially adding more risk factors.

Three from Dave Cross, Planet of the Vapes:
Are Riot Labs taking to the skies? Has pre-approval to put "Riot Air" into service in 2023 been granted? There were rumours that there was a rumour, but…
Most vape research is flawed and in need of urgent critical reform according to the Centre of Excellence for the acceleration of Harm Reduction (CoEHAR). The Centre says errors are very common in e-cigarette research, resulting in misinformation and distortion of scientific truth.

Under the leadership of CoEHAR, a team of international researchers, examined the 24 most frequently cited vaping studies published in medical journals. The findings are shocking: almost all of these studies were found to be methodologically flawed; they lacked a clear hypothesis, used inadequate methodology, failed to collect data relevant to the study objectives, and did not correct for obvious confounding factors.
Geek Bar has written to Trading Standards services at local authorities in major UK cities to raise awareness of the growing issue of non-compliant and counterfeit disposable vape products. It comes in the wake of the growing number of raids on retailers across the country who are selling such goods.

The UK has seen a rapid growth in the use of Geek Bar and other disposable vape products in the past year due to the popularity of such products amongst former smokers looking to quit using vape products.
---

---
Timothy S. Donahue
Most tobacco control experts agree that vaping is safer than smoking combustible cigarettes. The primary concern for anti-vaping groups, legislators and regulatory officials isn't where e-cigarettes fall on the continuum of risk; it's about preventing youth access to nicotine products, whether underage is defined as under age 21, as it is in the United States, or as under age 18, as it is in many other markets. The best way to prevent youth access is through innovative technology, according to vapor industry experts. Technology and regulatory policies will both be required for the vaping industry to satisfy its skeptics.
Mike Huml
The e-cigarette, which may very well be the most effective harm reduction device ever conceived to address preventable diseases, is built upon the simplest circuit possible. In essence, an e-cigarette is a resistor, a switch and a power source. From this simple circuit, thousands of variations arose over the course of about 15 years. During this Golden Age of regulatory limbo, the vapor industry exploded, and with that came endless innovation and constant refinement, transforming that little cig-a-like into all the products vapers enjoy today.

In cigarette smokers with serious mental illness—a randomized trial
Sarah I Pratt, Mary F Brunette, Joelle C Ferron, Meghan Santos, James Sargent, Haiyi Xie
Background: High cigarette smoking prevalence and low quit rates in people with serious mental illness (SMI) contribute to disparate rates of chronic disease and premature death. This prospective trial tested the impact of switching to a potentially lower harm nicotine-containing product on smoking in this population.

Methods: 240 cigarette smokers with SMI who tried but were currently unwilling to quit were randomly assigned to receive disposable e-cigarettes for 8 weeks or not, with assessments at baseline, 2, 4, 6, 8, 13, and 26 weeks. Generalized linear mixed models examined the effects of e-cigarette provision on e-cigarette appeal, cigarettes per day (CPD), breath carbon monoxide (CO), nicotine dependence, and side effects. Clinical Trial registration: NCT03050853
---
A look back at how things have moved on or otherwise…
Tobacco harm reduction news from Europe
The tax directive consultation is out – time for you to give your views on taxation for safer alternatives to smoking. The Swedish government is proposing a flavour ban for e-liquids. Germany is advancing with their tax plans, which will make vaping more expensive than smoking. Customs seizures of smuggled snus reached a record high in Finland. Read on for more on that and lots of other news.
Christopher Snowdon, Velvet Glove Iron Fist
The All Party Parliamentary Group on Vaping has published its report on the WHO's secretive tobacco conferences, the latest of which is due to be held in the Netherlands in November. Known as COP meetings (conference of the parties), they have become a hotbed of anti-vaping agitation in recent years. The WHO encourages member states to impose the strongest regulation on e-cigarettes, preferably including prohibition. They made the wrong call early on and has been doubling down ever since…
Clive Bates, The Counterfactual
Bloomberg scrutinised. Unusually, a journalist decided to take a sceptical look at Bloomberg Philanthropies and its many proxies and the impact of their war against vaping.  The result is an excellent must-read piece by Mark Gunther (@MarcGunther) in the Chronicle of Philanthropy: Bloomberg's Millions Funded an Effective Campaign Against Vaping. Could It Do More Harm Than Good? (web archive) (23 March 2021).

It is first-class public-interest journalism, with some hard messages for Bloomberg but plenty of balancing comment too.
---
Visit Nicotine Science & Policy for more News from around the World

---