Vapers Digest 1st April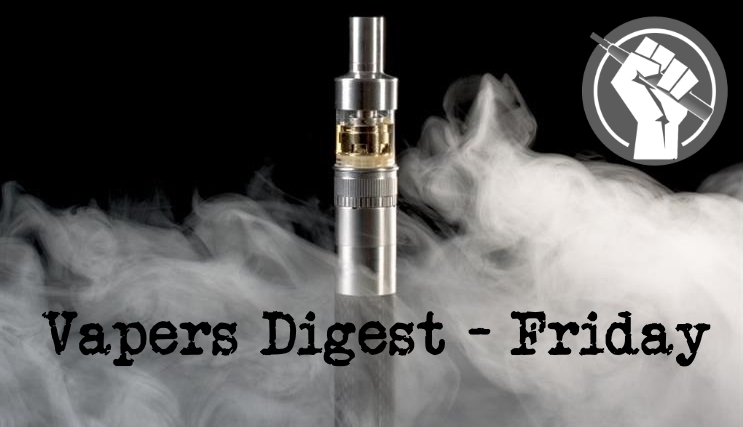 Friday's News at a glance:
ETHRA March news roundup – Scotland Mounts Pressure on Independent Vape Stores – 'A sad day for UK smokers': snus ignored – Philip Morris Limited invests in vape retailers – Get Involved! – WVA: Flavours Matter – Vapes On A Plane? What a Riot! – Vape Companies Fundraising For War Victims – 2 Million Years of Life – Pitiful Quality of Highly Cited Vaping Studies – Australian psychiatrists reaffirm support – Colorado's proposed flavored tobacco ban – CTP Deputy Will Serve as Acting Director – Major Milestones – What is Pharmaceutical Grade Synthetic Nicotine? – March 2022 with Dr Ailsa Butler – GFN News Episode #3 – Science & Policy of THR in Taiwan – Nicotine Science and Policy Daily Digest
European Tobacco Harm Reduction Advocates
ETHRA's monthly roundup of news: Scandinavian plans to ban – Dutch delay on flavour restrictions – Positives for nicotine pouches – Vape tax rollback – NNA letters & recommendations – ETHRA contributes to BECA – Good news about smoking is bad news for anti-smoking groups – Flawed science challenged. Read on for more.
On Independent Vape Stores – James Dunworth
The Scottish government has launched a new consultation on vaping. If the suggestions are put in place, they could hamper the ability of vaping to denormalise smoking.

While well-meaning, the consultation is based on a number of incorrect premises, threatens to penalise law-abiding businesses and fails to tackle the crux of the problem.

In this post I'll cover some of the premises and how the proposals could damage harm reduction. I'll also present an alternative action the Scottish government can take which will both protect young non-smokers and ensure existing nicotine users have access to safer, better quality vape products.
---

---
Snus ignored in tobacco legislation review – Snusforumet
The UK government's recent post-implementation review of tobacco legislation lacks any mention of snus, delivering a blow to hopes the smokeless tobacco product could help Britain reach its ambitious smoke-free 2030 goals.

"This is a missed opportunity to reduce the UK smoking rate and its associated harms," Mark Oates, founder of the Snus & Nicotine Pouch Users Association, tells Snusforumet.

On March 25, the Secretary of State for Health and Social Care Sajid Javid presented the post-implementation review of UK tobacco regulations.
---
Do read this thread with sensible harm reduction proposals from MPs on the UK parliament's APPG for vaping. https://t.co/aYIpkD9dzQ

— NNAlliance (@NNAlliance) April 1, 2022
Sweden: the government's proposal to ban vape flavours is now with the Riksdag. If passed only tobacco flavours will be available from 2023. However, there is still time for #vapers to make a difference and stop the ban

— European Tobacco Harm Reduction Advocates (@europethra) April 1, 2022
---
Priyanka Jethwa
Philip Morris Limited (PML) is employing over 30 vape managers and executives to support vape retailers expand their next-gen nicotine range with Iqos.

Iqos is an electronic device that heats tobacco. The device heats tobacco sticks, known as Heets (designed for exclusive use with the Iqos device), to deliver a tobacco taste and cigarette-like experience without burning tobacco.

While the supplier admits using Iqos is not risk free, switching to the device presents a less risk to your health than continuing to smoke.

Four from Dave Cross, Planet of the Vapes:
The New Nicotine Alliance (NNA) is calling out to vapers to get involved in shaping government policy. The NNA is a consumer charity working on behalf of all who consume nicotine using novel products like e-cigs. The things you can get involved with include the Scottish and Welsh consultations, an independent review, and Jacob Rees-Mogg's hunt for suggestions.
The NNA says: "There has been a lot of activity early in 2022 surrounding tobacco and nicotine policy in the UK, and responses from the public are invited for some of them. We hope that you will take the opportunity to make your voices heard.
The World Vapers' Alliance (WVA) has told Sweden and the Netherlands that flavours matter and vapers will be pushed back to smoking if they can't access flavoured e-liquids. The Swedish government is on the verge of making a move that would see many vapers losing their access to flavours. Last week, the Dutch government held discussions about the details of the ban on flavoured e-liquids introduced last year.

The WVA took to the streets of Stockholm with a simple message: Flavours Matter. A billboard bike with a message explaining that flavours help smokers quit made its way to the Parliament buildings in Stockholm. The WVA's campaign aims to inform politicians that banning vaping flavours would deal a catastrophic blow to public health.
Rumours are flying around about the world's first commercial airline that will permit vaping on-board. Planet of the Vapes has seen leaked documents that reveal e-liquid and ethical disposable e-cigarette producer, Riot Labs, has been granted pre-approval to put "Riot Air" into service in 2023.

London, 1st April 2022: E-liquid and disposable e-cigarette producer, Riot Labs, could venture into the airline business, according to a close source.
Vape companies Vaping101 and Dovpo are carrying out a charity event to raise money for the Red Cross Ukraine crisis appeal. The pair hope to raise urgently needed funds to support the charity's humanitarian efforts in the region, helping to provide for people dispossessed by Russia's military invasion.

They write that no matter what your views might be about the conflict, "the fact remains there are a lot of innocent people fleeing the Ukraine to find safety. These people pretty much leave their homes with virtually nothing apart from what they can carry, so to help these people we are running a fundraiser event in the style of an auction."
---

---
Of Highly Cited Vaping Studies – Helen Redmond
Research on the safety and efficacy of vaping has been hotly contested for over a decade. The two sides are neatly drawn. Pro-vapers routinely cite researchers who report that vaping is vastly safer than smoking and helps people quit. The anti-vapers cite research that disputes those results.

So what's going on and who is right? An international team of researchers examined the 24 vaping studies, published in scientific journals, that were "most read and most cited in other literature and policy discussions," according to the Google algorithm.
Colin Mendelsohn
Psychiatrists in Australia and New Zealand have reaffirmed their support for vaping nicotine as an effective harm reduction tool for smokers.

The Royal Australian and New Zealand College of Psychiatrists represents 7,400 psychiatrists and trainee psychiatrists in both countries.

In their recent submission on the draft National Tobacco Strategy 2022-30, the RANZCP wrote
---
---
Would worsen public health and criminal justice inequities
Guy Bentley, Reason
Colorado has been a leader in trusting adults and unwinding outdated prohibitions. Colorado led the way in the legalization of marijuana and then legalized sports betting in 2019. Locally, Denver decriminalized the possession of magic mushrooms. But, when it comes to nicotine, Colorado may be headed in the opposite direction.

A bill in the Colorado state legislature would prohibit the sale of flavored tobacco products, including menthol cigarettes. Only one state has implemented such a ban. In June 2020, Massachusetts implemented its prohibition of flavored vaping and tobacco products and the results have been disastrous.
When Zeller Retires – Jim McDonald
The FDA Center for Tobacco Products will name current CTP Deputy Director Michele Mital as acting director when Mitch Zeller retires in April. The agency is conducting a search for a permanent director.

The news was first reported Wednesday afternoon in a tweet by FDA Tracker, and confirmed by Filter reporter Alex Norcia after speaking with FDA sources. No formal announcement has been made.

Mike Huml – Tobacco Reporter
The e-cigarette, which may very well be the most effective harm reduction device ever conceived to address preventable diseases, is built upon the simplest circuit possible. In essence, an e-cigarette is a resistor, a switch and a power source. From this simple circuit, thousands of variations arose over the course of about 15 years. During this Golden Age of regulatory limbo, the vapor industry exploded, and with that came endless innovation and constant refinement, transforming that little cig-a-like into all the products vapers enjoy today.
Vaping, and dipping – Jeff Leadbetter
Maine legislators are considering a law that would ban the sale of all flavored tobacco products in Maine. If passed, it will, I believe, do nothing to stop people from smoking, vaping, and dipping but will devastate the state's convenience store operators who provide these products to our adult customers through a legal, licensed, taxed, and enforced framework. The sponsors of LD 1550 say they want to prevent youth from vaping, but instead, they're casting such a wide net that it will take away legal adult-preferred tobacco products from Maine's adults.
---
---
What is the Difference Between S-Nicotine and R-Nicotine?
Before unpacking the rather niche topic of synthetic versus tobacco-derived nicotine, it is important to acknowledge how significantly misunderstood the molecule is1, among health professionals and the public alike. For example, in 2013, Patel et al2 surveyed 826 full-time faculty members from the University of Louisville's Schools of Medicine, Public Health, Dentistry, and Nursing. Of the participants, 38% believed that even separate from smoking, nicotine is a high-risk factor for heart attack and stroke. Furthermore, 50% regarded nicotine itself as a moderate risk factor.
Oxford Podcasts
Assistant Professor Jamie Hartmann-Boyce and Dr Nicola Lindson talk with Dr Ailsa Butler from the Centre for Evidence Based Medicine, University of Oxford and co-author of the Cochrane review of e-cigarettes for smoking cessation. They discuss the findings of their recent work on the longer term use of e-cigarettes when provided as a tool to stop smoking. In the studies eligible for the review, just over half of people given nicotine e-cigarettes at study start were found to be still using e-cigarettes at six or more months follow up. Of successful quitters, 70% were found to still be using e-cigarettes at six months or more. The longer-term use of nicotine e-cigarettes may reflect their success as a quit smoking aid by preventing relapse to smoking.
---
A look back at how things have moved on or otherwise….
The philanthropy of the very rich is an exercise of power, says Stanford professor Rob Reich. As such, billionaire philanthropy deserves scrutiny and not automatic gratitude.

With that in mind, I began a deep dive three months ago into a campaign against electronic cigarettes funded largely by a $160-million, three-year grant from Bloomberg Philanthropies. Much of that went to the Campaign for Tobacco-Free Kids, the US's most powerful anti-tobacco nonprofit.
Michael E. Hartmann, Philanthropy Daily – (Part 1 of 2)
Marc Gunther does the hard work of both understanding that on which he reports and, when offering commentary, of thinking through the deeper and wider implications of various positions on issues.

Gunther's incisive work has long included coverage of philanthropy and the nonprofit sectors. It is now featured at his Nonprofit Chronicles and Medium, and he is a regular contributor to The Chronicle of Philanthropy.
---
Visit Nicotine Science & Policy for more News from around the World

---