Vapers Digest 30th March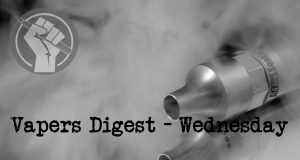 Wednesday's News at a glance:
How to stop vaping. New guidelines available ~ BBC highlights snus's potential to help cut UK smoking rates ~ South Africa: Concern Over New Vaping Rules ~ Thailand will not lift ban on vaping, citing health threat ~ Harry's blog 113: The Human(ity) Factor ~ Ethan Nadelmann at the Webinar: Are you feeling burnout? ~ Trade Body TRPR Reaction ~ We Vape Call For Engagement ~ NNA Offers Comments ~ FDA approves marketplace use of Japan Tobacco's e-cigarette products ~ Vaping Encourages Smoking Cessation — So Let's Kill The Vaping Industry? ~ Another Vaping Teenager Faces Violent Police Enforcement ~ The FDA's flawed PMTA process on vaping products does not help consumers ~ Our scatter-gun approach to be smoke-free by 2030 is failing ~ Opinion: Flavored tobacco ban bill bad for Maine's public health
Colin Mendelsohn
The world's first guidelines to assist vapers who want to quit vaping have been released today by the Canadian Centre for Addiction and Mental Health (CAMH).

The guidelines are designed for health professionals to support both adults and youth from age 15 years. They include behavioural therapies and medication and are based on approaches to stop smoking.
SnusForumNet
Swedish snus played a starring role in a recent BBC news segment exploring the smokeless tobacco product's potential to help cut UK smoking rates.

The segment also features Professor David Nutt, an expert in addiction at the Imperial College of London who has studied the impact of snus on public health in Sweden.
---
Tobacco Reporter
The Free Market Foundation is concerned that the South African government's plans for regulating vaping products will push more people back toward smoking combustible cigarettes and buying from the black market, reports BusinessTech.

"The South African government argues that e-cigarette and vaping products are harmful and warrant regulation," the Free Market Foundation said.
---
Nicky Tanskul, Coconuts
Importing and selling e-cigarettes will remain illegal – despite their pervasive use – after the health ministry yesterday advised against lifting the ban.

The continued ban on all types of electronic cigarettes used for vaping will "help protect non-smokers from health hazards," Health Ministry Perm-Sec Kiattipoom Wongrachit said yesterday at a meeting of the government's tobacco board.
---
Harry Shapiro, Nicotine Science and Policy
As part of my preparation work for the next Global State of Tobacco Harm Reduction report, which is due out in November, I was reading Professor Virginia Berridge's book Demons: Our Changing Attitudes to Alcohol, Tobacco and Drugs, published in 2013. I was surprised to read that back in the 1970s, the anti-smoking warriors objected to medical help for people who wanted to stop smoking.
---
INNCO
Weekly Issue | March 28th, 2022

"Tips for talking to #HarmReduction deniers: Number one: Always lead with common ground, e.g., a goal you that you can both embrace (e.g., teens should not vape, or reducing smoking rates)." ~ Charles Gardner, PhD.
---
'Harm reduction is key here' – my contribution to yesterday's Westminster Hall debate on a smoke free future for England. The evidence is clear that #vaping and other non-combustible #tobacco is far less dangerous than smoking. @AppgVaping pic.twitter.com/3PMmQNoO02

— Adam Afriyie (@AdamAfriyie) March 30, 2022
---

---
Two from Dave Cross, Planet of the Vapes
The UK Vaping Industry Association (UKVIA) has responded to Friday's publication of the Department for Health and Social Care's (DHSC) review into the Tobacco and Related Products Regulations (TRPR) laws which govern sales of nicotine products. It believes the TRPR review acknowledges the crucial role vaping plays in smoking harm reduction
Vapers across the UK must 'stand with our friends in Scotland' to stop a ban on advertising e-cigarettes, according to a harm reduction advocate. Mark Oates, director of consumer campaign group We Vape, is calling for UK vapers to engage with a consultation on whether or not the world's most effective smoking cessation tool can be promoted north of the border.
The New Nicotine Alliance (NNA), a charity fighting for vapers and other nicotine consumers, has reviewed the Scottish government's document "Tightening rules on advertising and promoting vaping products". The NNA has responded to the consultation with its opinions.
---
---

---
Jim McDonald, Vaping 360
For at least the third time in a year, a police interaction with a black teenager over outdoor vaping laws has resulted in a violent confrontation, followed by an arrest and criminal charges. The latest example of extreme overreaction to vaping happened last Thursday in Atlanta, after a white police officer observed a black youth vaping in a city-owned skate park.
As a physician – one who has dedicated his career to treating lung diseases – it has become clear to me that asking a smoker to quit, gradually cut back, or instructing smokers on the use of more traditional nicotine-replacement therapies, like nicotine gum or patches, is not as simple or as effective as it sounds. Hence, the availability and acceptability of safer tobacco and nicotine products may be critical to successfully helping adult smokers move away from traditional cigarettes.
---
World Vapers Alliance
On March 24, the Food and Drug Administration announced its authorization for several tobacco-flavored e-cigarettes and heat-not-burn devices made by Logic to be sold in the US market. In their announcement, the agency stated that e-cigarettes are "appropriate for the protection of the public health," and their benefits outweigh the risks of youth smoking.
Adam Afriyie MP, Politics Home, The House
My parliamentary friend and colleague, Charles Walker MP, held an important debate yesterday in Westminster on progress to achieving a smoke-free England by 2030.

Let's face it, politics can be short-sighted. We have the habit of looking no further than the next election, let alone eight years into the future.
---
On Supposed Link Between Vaping & COVID-19 – Elizabeth Sheld
The COVID-19 pandemic has provided the media another opportunity to foment vaping-related panic. Little is known as to why some victims of this new virus are more afflicted than others. Such ambiguity presents an opportunity for the media to pick up where they left off only months ago when they were ginning up anti-vaping hysteria via a different culprit: illegal, counterfeit THC cartridges. Journalists frightened the public only to be proven wrong after thorough investigation by the CDC. Have they learned their lesson? Let's have a look at what they are reporting about vaping and COVID-19.
That Smokers Can Afford – Uche Olatunji
To state the obvious, smoking kills. Tobacco smoking is the world's leading preventable cause of premature death. Here in Nigeria, there are at least 11 million smokers, and despite declining prevalence, a fast-growing population means that the actual number of smokers is on the rise. This is especially true of young adults, connected in part to our growing nightlife culture.
---
Visit Nicotine Science & Policy for more News from around the World

---