Vapers Digest 28th March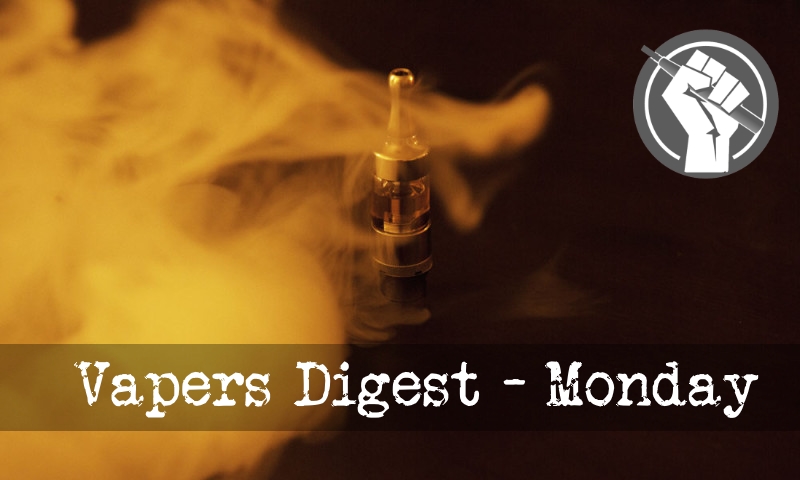 Monday's News at a glance:
The NNA responds to Jacob Rees-Mogg's call for EU regulations to be abolished – Why vaping will be accepted as Australia's response – TRPR Consultation Published – Ill Wind Blowing In Santa Ana – More Americans Are Smoking – 'He was only vaping,' says witness – Vape Bill To Unleash Public Health Revolution – Current strategies ineffective – Banning flavored nicotine – Home Schooling Suppresses High School Vaping – Ethan Nadelmann at the Webinar – Did Health Canada Miss the Mark? – Danish nicotine ban under fire – Nicotine Science and Policy Daily Digest
For EU regulations to be abolished
Last month, newly appointed Minister for Brexit Opportunities and Government Efficiency, Jacob Rees-Mogg, invited the public to suggest petty regulations that should be abolished now that the United Kingdom has left the EU.

Writing in The Sun newspaper, he said that "Brexit opportunities and government efficiency have the same ambition: Making the lives of British people easier.", adding "I implore you all to write to me with the regulations you want abolished."

The NNA has written to Mr Rees-Mogg to make the following suggestions which we believe would make life easier for millions of UK vapers and also help the government in its goal of achieving smokefree status for the UK by 2030.
High School Vaping & Smoking – Brad Rodu
Following my blog post last week about the 2021 National Youth Tobacco Survey (NYTS), there was a lot of discussion among colleagues about the fact that roughly half of the students responded to the survey from home due to the Covid pandemic, while the other half filled it out at school.  According to the CDC (here), "Youths who reported participating in the 2021 NYTS in a school building or classroom reported a higher prevalence of e-cigarette use compared with youths participating at home or at some other place."  That makes sense.  Teens restricted to their homes were probably not using any drugs as frequently as teens at school.  The bottom line is that this change in survey location during 2021 might have affected prevalence estimates.
---

---
Dave Cross
The post-implementation review of tobacco legislation covering The Tobacco and Related Products Regulations 2016 (TRPR) was presented to Parliament on Friday 25 March, by the Secretary of State for Health and Social Care "by Command of Her Majesty". Vapers hoping for a quick win due to Brexit are going to be disappointed as there is no recommendation to relax nicotine limits, or increase bottle and tank sizes.

The consultation received 5,254 responses from a range of different stakeholders, identifying themselves as individuals, non-governmental organisations (NGOs), businesses, public sector bodies, and others. Broken down, the submissions were received from:
---
A team of international researchers has found that the 24 most cited papers on #vaping are riddled with errors.https://t.co/Atv4t3bv5w

— European Tobacco Harm Reduction Advocates (@europethra) March 28, 2022
It appears that there's not much difference in risk between nicotine pouches & NRT.

Observing how Tobacco Controllers react to them will be a good way to determine whether they're concerned about health or moral purity. https://t.co/w4EGaix5ZZ

— Phil (@phil_w888) March 28, 2022
---
Dave Cross
Myths and lies are still being used in America to promote a ban on the sale of all vape products. The Santa Ana City Council voted unanimously to ban all "tobacco products", which they consider vaping to be an example of. The same old comments about flavours, packaging, marketing, and teens littered the proceeding.

Councilwoman Mendoza typified the attack on tobacco harm reduction when she said: "We are in the midst of a youth tobacco use epidemic in which tobacco companies are luring kids into a lifetime of nicotine addiction with the sale and targeted marketing of candy-flavoured tobacco products.

In Areas That Banned Vaping:
More Americans are smoking in US states that banned Electronic Nicotine Delivery Systems (ENDS) or e-cigarettes, according to a study published in March in an international journal.

"Cigarette sales in states banning ENDS were significantly higher than would have been observed otherwise," the authors of the study concluded, based on data in Massachusetts, Washington, and Rhode Island which are among the states that banned vaping in 2020.
At the skate park where teen was tased by police in viral video
Brendon Aldridge was at the Historic Fourth Ward Skate Park on Thursday when everything happened. He said, "He was only vaping. She asked him for his ID. He was being calm, he wasn't being like, 'No, I'm not going to show you my ID.' She tased him. It was crazy, because while he was on the ground, shaking, she was like, 'Get down, get down,' like he wasn't already on the ground. It was even crazier, like six other police officers pulled up and they were all dapping each other up, saying, 'What's up?', hugging. I'm like, what is this? That was just crazy. It made no sense."
---

---
To Unleash Public Health Revolution
The enactment of the vape bill in the Philippines, which aims to regulate smoke-free nicotine products, will unleash a public health revolution that will save the lives of many smokers, according to international academic and research experts.

"President (Rodrigo) Duterte can embolden entrepreneurs and empower consumers to unleash a public health revolution by signing the vaping law," said Prof. David Sweanor, advisory committee chair at the University of Ottawa Centre for Health Law, Policy and Ethics.
---
Are you feeling Burnout?
---
In reducing harm of smoking – Manila Bulletin
There are other ways to reduce the harm caused by smoking than the "quit or die" approach as the only solution prescribed by many health authorities in different countries including the Philippines according to a Filipino doctor who attended an international forum organized by The Economic Times of India.

Dr. Lorenzo Mata Jr., president of advocacy group Quit for Good, said harm reduction which involves real, practical and tangible solutions, offers the best approach to stop smoking altogether.

As Australia's response to tobacco – Alex Wodak
Vaping represents a historic opportunity to dramatically reduce Australia's annual loss of 21,000 lives from smoking. But understandable intense hatred of tobacco companies and a strong preference to eliminate nicotine use has contributed to a hostility to vaping in Australia which is irrational and unsustainable.

Smoking remains Australia's most important long term public health issue. After control of COVID has become more secure and stable, attention will once again return to trying to reduce deaths, disease and costs of smoking by reducing the number of smokers and the damage to smokers and bystanders from inhaling tobacco smoke.
Did Health Canada Miss the Mark on Vaping Regs? | RegWatch
It's an original sin of Canada's federal vaping regulations, the enshrinement of vaping as a health hazard rather than a safer nicotine source for smokers trying to quit.

Every aspect of Health Canada's approach to vaping regulation and its public health messaging is based on this tenuous assumption.
'discrimination and desperate symbolism' – Snusforumet
A proposed Danish nicotine ban that would prevent anyone born 2010 or later from ever buying nicotine products has been slammed by critics for being discriminatory and ineffective

Currently, Denmark has an age limit of 18 for purchasing cigarettes and other nicotine products. But if the Danish government gets its way, this age limit will gradually be moved up for people born in 2010 or later.

The measure is part of a new bill that the government believes will help reduce the number of smokers, especially among young people.
In Brunswick would do more harm than good – Shawn Rowe
I recently read about the proposed flavored-nicotine ban in Brunswick. I understand the proposition is meant to deter younger people from vaping, but I also believe it is every legal adult's right to choose what they put in their body, and that you should be able to buy these products as long as you are 21.

Twenty years ago, students used cigarettes or chewing tobacco, so not much has changed. Most middle or high school students who are using flavored vapes will not just quit because flavors aren't available. This ban will not simply turn teenagers off of vaping, but will likely redirect them to cigarettes instead.
---
A look back at how things have moved on or otherwise…
David Jones – Former Welsh Secretary and is MP for Clwyd West
It isn't just the headline-grabbing freedoms that make our departure from the European Union the best outcome for this country; it's about the small print, too. Now Brexit is complete, we can reassess our current legislation that originates from transposed EU Directives.

The Department of Health and Social Care is currently reviewing the regulations that imposed the EU's Tobacco Products Directive into UK law and is, we are told, producing a new Tobacco Control Plan this summer.

I am using my Westminster Hall debate today to urge the Public Health Minister to take back control of our tobacco harm reduction policies.
Self-Cannibalization May Save Millions of Lives – Brad Rodu
Heat-not-burn (HNB) tobacco products – mainly IQOS from Philip Morris (PMI) – are eroding cigarette sales in Japan, as I recently noted.  Prevalence estimates from the Japanese Health and Nutrition Survey confirm the consumption numbers.

Because the Japanese survey only began tracking new products in 2018, no trend can yet be discerned, but HNB product use is impressive, as shown in the chart at left.  Depending on how dual users are counted, HNB accounted for 20 to 27 percent of all tobacco use in 2019.

The highly credible Japanese Health and Nutrition Survey is the world's oldest nutrition survey, implemented by Allied Forces after World War II.
---
Visit Nicotine Science & Policy for more News from around the World

---