Vapers Digest 11th April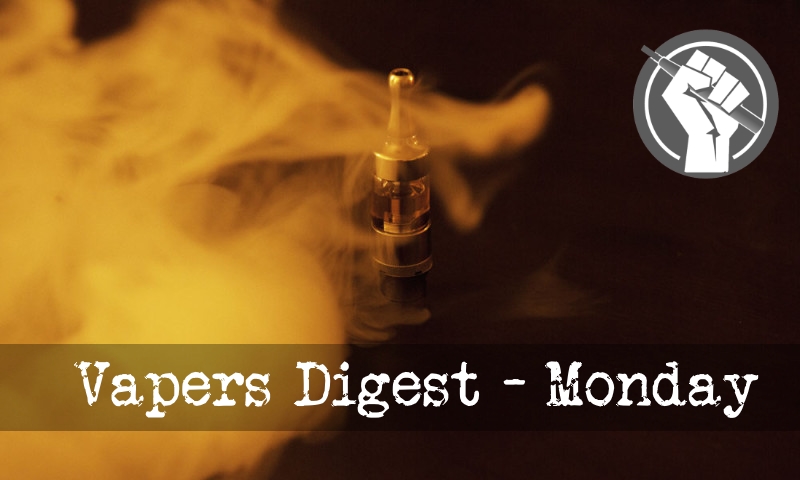 Monday's News at a glance:
More Jamaicans turn to vaping to quit smoking – THR: A Historic Opportunity for Our Health & Our Planet – Malaysia Regulates Vaping With 'Historic' Gazette – Myblu Is First Major Brand Pod Device Rejected by FDA – Deadly Do-Goodism – Prison Time? | War on Vaping Goes Criminal – The Advocates Voice – The Prohibition of Vaping
To quit smoking – Jamaica Observer
An increasing number of Jamaicans are turning to vape retail outlets across the island to curtail their smoking habit.

One such outlet, The Mez Vape & Smoke Shop, which has been in operation since 2013, has seen an influx of customers wishing to quit smoking by using this method.

The entity has locations in Kingston and Montego Bay and is operated by owner Ravn Rae who provides a host of offerings to her customers, including vaporisers, pipes, and other smoking merchandise. Rae prides herself on only selling "authentic, certified, quality-assured and proven products to buyers over the age of 18 years".
For Our Health & Our Planet – AHRA
The road to a healthier future for our people and our planet must be paved by three elements: compassion, collaboration, and pragmatism.

World Health Day is celebrated annually on 7 April, which was the founding date of the World Health Organisation (WHO) in 1948. Each year focuses on a specific health topic of concern to people all over the world. This year, global attention will be directed towards 'our planet, our health'1; "Are we able to reimagine a world where (…) economies are focused on health and well-being? Where cities are liveable and people have control over their health and the health of the planet?"
---

---
With 'Historic' Gazette – Dave Cross
Malaysia's long-time ban on the sale of vaping products is set to end, saving thousands of lives every year, says leading local advocacy group MOVE (Malaysian Organisation of Vape Entities). Taking effect on 3 August, the regulation of vaping devices precedes the imminent legalisation of vape sales. It follows years of campaigning by MOVE and other tobacco harm reduction supporters.

The Malaysian Government has now moved to gazette the Trade Descriptions (Certification and Marking) of Electronic Cigarette Devices Order 2022 under the Trade Descriptions Act 2011.
---
---
With 'Historic' Gazette – Nancy Loucas – CAPHRA
"This is historic news after a long-fought battle. It paves the way for a legalized market and safer products. Regulating vaping products, restricting sales to adults, and applying significant penalties to any breaches will help many more Malaysian smokers to quit deadly cigarettes," says Samsul Kamal Ariffin, President of MOVE.

Mr Ariffin says in recent months there have been frustrating parliamentary delays in progressing the Tobacco & Smoking Control Bill – not helped by the pending general election. However, with the safety standards now gazetted, it sets in train the legalization of vapes sales.

Rejected by FDA –  Jim McDonald
The FDA has issued a Marketing Denial Order (MDO) to Fontem US for its myblu pod vape device and multiple flavors of refill pods. The rejection of the myblu Premarket Tobacco Application (PMTA) is the first announced MDO issued for a pod-based vape product made by a major tobacco company.

Myblu is a Blu product, made and sold by Fontem US, the vape product arm of Imperial Brands (formerly known as Imperial Tobacco)—a major international tobacco company valued at more than $20 billion.
---

---
 Steven Greenhut
Supporters of Hawaii's effort to ban flavored-tobacco products would have the public believe that the measure is an unobjectionable, common-sense effort to boost public health. For instance, House Bill 1570's author, Rep. Scot Matayoshi, told Civil Beat that it's just a "very simple" prohibition on the sale of flavored tobacco and synthetic nicotine products.

Yet the bill's advocates — just like advocates for similar legislation in California, Massachusetts, and elsewhere — are disingenuous. Flavor bans are supposed to keep teens from accessing nicotine products, even though it's already illegal for retailers to sell cigarettes and vapes to people under 21. Instead of focusing on efforts to keep adult products away from kids, lawmakers are taking the easy route by banning the products for everyone.

Culture, Collaboration & Consideration – CAPHRA Asia Pacific
War on Vaping Goes Criminal | RegWatch
It isn't easy for vapers to secure access and choice to safer nicotine products. It's enough already dealing with junk science, anti-vaping hysteria, and the constant pummelling by public health prohibitionists and federal regulators.

But now, vapers face a new, more sinister reality. Strip searches, violent police enforcement, and arrest could result from nicotine vaping or trading in illegal nicotine products.
The Prohibition of Vaping
---
A look back at how things have moved on or otherwise…
FOR EU TAX CONSULTATION – ETHRA
The next phase of the review of the Tobacco Taxation Directive has started.  A public consultation is now open, ending on 22 June.  The Roadmap consultation earlier this year only received 134 submissions. It is really important for consumers to give their views now. 

Most of the consultation questions are about smoked tobacco products but there are some questions relating to "new products", such as vaping products and heated tobacco products.

The reasoning for including new products:
Thanks To Vaping – Neil Humber
According to the latest EU own statistics, smoking rates tumble across the UK and Europe thanks to vaping.

The numbers don't lie and show a whopping 121% increase in the number of smokers making the switch to safer nicotine products such as e-cigarettes and SNUS.

The Eurobarometer is a series of public opinion surveys run by the EU and shows without doubt, vaping, and other safer nicotine products such as SNUS, are proving the very best way to quit smoking.

Speaking of SNUS, thanks to those little nicotine pouches, Sweden has almost created a smoke free society – amazing news.
---
Visit Nicotine Science & Policy for more News from around the World

---