Vapers Digest 13th April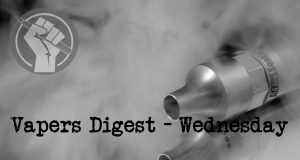 Wednesday's News at a glance:
Malaysia Poised to Legalize E-Cigarettes ~ New study shows vaping helps Australian smokers quit ~ Vape bill opens door to responsible e-cigarette players ~ From Coercion to Empowerment ~ How FDA's Mitch Zeller blew it on nicotine policy ~ Domestic vape industry needs one year to transition, says MRECA ~ Tobacco Company Reports For Full Year 2021 Demonstrate Inconsistent Progress ~ Change is afoot at the US CTP and CDC – but what will it mean for tobacco? ~ NNA Responds To TRPR Review ~ How vaping became a go-to public health villain ~ FDA Denies Pod-Based Vape from First Major Tobacco Company ~ Youth Cigarette Smoking at Historic Low ~ Angry vapers want electoral revenge ~ Flavored vapes ban will 'push vapers back to smokin' – survey ~ Doubling The Tax On Tobacco-Free Alternatives Leaves Smokers With No Choice But To Smoke On ~ First Cigarette That "Helps You Smoke Less" Launches National Pilot in Chicagoland
Tobacco Reporter
Malaysia's longtime ban on the sale of vaping products is set to end, according to the Malaysian Organization of Vape Entities (MOVE).

Taking effect on Aug. 3, the regulation of vaping devices precedes the imminent legalization of vape sales. It follows years of campaigning by MOVE and other tobacco harm reduction supporters.
Dr Colin Mendelsohn
The first Australian real-world study of vaping nicotine has found that using e-cigarettes to quit increased the odds of success by 68%-124% compared to not using a vape.  The results suggest vaping may be more effective than NRT and other stop smoking medications.

The study published in the journal Addiction today, included 1,601 smokers in the 2019 National Drug Strategy Household Survey who had attempted to quit in the previous 12 months. Successful quitting was defined as self-reported abstinence of at least 4 weeks.
Orange Magazine
Millions of Filipino smokers will soon have a less harmful option to move away from cigarettes if they find it hard to quit, once President Rodrigo Duterte signs into law this year the vaporized nicotine product (VNP) bill.

The House of Representatives ratified in January the bicameral conference committee report on the bill that would regulate the importation, manufacture, sale, packaging, distribution, use, and communication of vaporized nicotine and non-nicotine products, as well as novel tobacco products.
Derek Yach, Tobacco Reporter
David Sweanor has played a global role in steering the World Health Organization, governments and nongovernmental organizations to use the most powerful interventions they have to end smoking. His focus on policy measures to reduce the carnage from cigarette smoking, including a leading role on excise taxes, marketing restrictions and smoke-free policies, has long included tobacco harm reduction (THR). And in the process, Sweanor has highlighted the need to move from blunt approaches to all tobacco products to a system that regulates products proportionate to their risk. In a recent conversation, Sweanor discussed the origins of innovation in THR.
---
Amanda Wheeler, Washington Times
This month the principal architect of America's nicotine policy regulation, Mitch Zeller, will retire as head of FDA's Center for Tobacco Products. His career highlight might be the arbitrary outlawing of nearly all nicotine vaping products, which are the single most effective smoking cessation method ever devised.

But that's just Mr. Zeller's latest ignominy. Back the frame out and behold the carnival of policy ineptitude that has marked his tenure as tobacco czar.
Kuala Lumpur, New Straights Times
---
David Janazzo, Foundation for a Smoke-Free World
The first Tobacco Transformation Index™ found that a small group of tobacco companies made public commitments to harm reduction, but none had shifted their focus enough to ensure the accelerated decline of cigarettes and other high-risk products*. In a blog article published in September 2021, covering half-year results, we found that reduced-risk products* still formed a limited, albeit growing, share of total revenue for some of the leading tobacco manufacturers. Six months later, based on full year 2021 results, some of those companies continue to make progress. Others have stalled in their efforts toward harm reduction.
---
---
"Around 3.6 million people use e-cigarettes in Great Britain, so if there were serious safety concerns about e-cigarettes currently on the market we would have expected the MHRA's yellow card monitoring system to have picked them up by now."

— ASH (@AshOrgUK) April 12, 2022
---

---
One from Dave Cross, Planet of the Vapes
The New Nicotine Alliance (NNA) has responded to the government's Tobacco and Related Products Regulations review. It says the government's review of vaping regulations could be worse but could also be better. The NNA is the UK's leading charity working to improve individual, organisational and public understanding of tobacco harm reduction.
---
---

---
Alex Norcia, Filter Magazine
On April 8, the Food and Drug Administration (FDA) sent marketing denial orders (MDOs) to Fontem Ventures for some of its myblu vaping products. It's the first MDO issued for a pod-based vapor product made by a major tobacco company.
Edward Largo, Altria
Youth smoking in the United States has declined dramatically over the past two decades and persistently through a changing tobacco product landscape. The magnitude of decline is best appreciated by tracing back to the last peak prevalence year, 1997.

In that year, 28.3% of 8th, 10th and 12th graders reported current smoking according to data from the University of Michigan's Monitoring the Future survey.
Terry Barnes, Spectator Australia
The media hype over the just-released report on vaping by the Australian National University's National Centre for Epidemiology and Public Health (NCEPH), is yet more hysterical shroud waving by those in the public health establishment.

The report was commissioned by outgoing Minister for Health, Greg Hunt who, with the stridently vocal encouragement of Australian public health poohbahs, has cracked down on nicotine vaping, making it prescription-only rather than a retail product.
---
Jack Quann, News Talk
A new study suggests a ban on flavoured vapes would push some former smokers back into the habit.

The research conducted by Red C reveals that 96% of vapers in Ireland would not favour an outright ban on flavoured vapes.

It also found that just over half (54%) of those surveyed said they don't believe there should be any kind of ban.
Soko Directory
The 108 percent tax increase on nicotine pouches will deprive Kenyan smokers of their best chance to kick their deadly habit, the Campaign for Safer Alternatives (CASA) warns today.

In the Finance Bill, Treasury CS Ukur Yatani revealed plans to more than double the excise on tobacco-free nicotine pouches from Shs 1,200 to Shs 1,500 per kg. The average tax increase for excisable goods was 10 percent with nicotine pouches being the only product hit with a 108% increase.
22nd Century Group
---
Paul Barnes, Facts Do Matter
Back in January last year I scribbled about the EU and its ideologically founded belief that all forms of tobacco are a "bad thing".  Since then, the New Nicotine Alliance asked for, and received, permission to join the legal action brought about by Swedish Match in July 2016 in the UK.

As with any legal challenge, I expected a slew of articles to push a certain agenda – i.e. in favour of the status quo. Imagine my surprise when not very much happened. Until recently that is.
New Nicotine Alliance
On Tuesday evening, the New Statesman hosted a panel-based event in a lecture hall adjacent to Parliament Square entitled "When might England become Smokefree?". The subject matter was a report from Frontier Economics which calculated when the UK would achieve the government's stated 'smoke-free' target of 5% smoking prevalence or less, under various scenarios.
---
Visit Nicotine Science & Policy for more News from around the World

---