Vapers Digest 20th April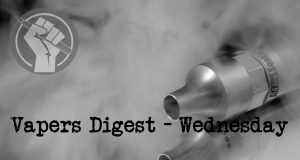 Wednesday's News at a glance:
New study pave the way for research of novel nicotine-based treatment for human viral infection ~ Vaper Trails: New nicotine products and the innovation principle ~ Think tank warns vape bans cause more harm than good ~ You May Have Misconceptions About E-Cigarettes – Many Doctors Do Too ~ Is Brazil Serious About Finally Legalizing Vapes? ~ FDA's PMTA Process May Finally Have More Transparency ~ Doubling The Tax On Tobacco-Free Alternatives Will Double Smokers ~ The FDA's Rejection of a Major Vaping Brand Shows It Is Arbitrarily Applying a Nebulous Legal Standard ~ World Vape Show Partners MHRA ~ Australian Must Debate Vaping ~ London Raids ~ Proof: Vape Bans Increase Fag Sales ~ Nice Guidance For Health Professionals ~ GFN22 Latest Updates ~ Introduction to tobacco harm reduction ~ Very Low Nicotine Cigarettes Make US Debut in Chicago ~ Smoke Without Fire? The Truth About Vaping Safety ~ Etiquette experts reveal vaping dos and don'ts – including never doing it during mealtimes ~ A proposed ban on flavored nicotine could cut into Colorado's preschool funding
Chiara Nobis, Catania Conversation
Since the beginning of the coronavirus pandemic, researchers focused their efforts in evaluating any possible risk factor that could lead to negative health outcomes in Covid-19 patients.

Given that the Sars-CoV-2 infection is a respiratory pathology, the relationship between Covid-19 infection and smoking, a well-known risk factor for cardiovascular and pulmonary diseases, was the object of several scientific researches.
Victoria Hewson, Christopher Snowdon, Institute of Economic Affairs (IEA)
Summary

The benefits of innovation are unpredictable and hard to quantify. Fear of adverse consequences can lead to excessive emphasis on risk avoidance, leading to regulation that holds back beneficial innovation. The experience in tobacco harm reduction illustrates this.

Innovative reduced-risk nicotine products, such as e-cigarettes, snus and heated tobacco, have been associated with steep declines in smoking prevalence in several countries, including the UK, but have been banned in others on the basis of the precautionary principle.
---
---
Jim McDonald, Vaping 360
This week, Brazilian food and drug regulator Agência Nacional de Vigilância Sanitária (ANVISA) opened a public consultation on vaping, finally inviting public comment after several years of promising to do so. Sales and imports of vaping products have been illegal in Brazil since 2009.
Alex Norcia, Filter Magazine
On April 15, a federal court judge said that the Food and Drug Administration (FDA) will have to report when it expects to take action on the vaping products with the largest market share.

Paul W. Grimm, a judge in the United States District Court for the District of Maryland, granted a motion filed by American Academy of Pediatrics (AAP) and other plaintiffs—many of them public health groups hostile to vaping—that requires the FDA to "forecast the percentages of such products for which it expects to have taken 'action' by June 2022 and quarterly thereafter."
The Business Watch
The 108 percent tax increase on nicotine pouches will deprive Kenyan smokers of their best chance to kick their deadly habit, the Campaign for Safer Alternatives (CASA) warns today.

In the Finance Bill, Treasury CS Ukur Yatani revealed plans to more than double the excise on tobacco-free nicotine pouches from Shs 1,200 to Shs 1,500 per kg. The average tax increase for excisable goods was 10 percent with nicotine pouches being the only product hit with a 108% increase.
---
---
A thread about my new-ish paper with @MarewaGlover, https://t.co/y2M3lWOk2k.

Summary: It appears likely that almost all — perhaps all — reductions in smoking in the West from c.1975-2010 were echoes of the initial education campaign about the risks.
1/

— Carl V Phillips PhD (@carlvphillips) April 20, 2022
---

---
SIX from Dave Cross, Planet of the Vapes
The World Vape Show has teamed up with the UK's Medicines and Healthcare products Regulatory Agency for the event taking place at the Dubai World Trade Centre then in London. Organisers of the WVS say this will make them the most compliant show in the world.
The Australian election campaign must include a debate about vaping, says the Coalition of Asia Pacific Tobacco Harm Reduction Advocates (CAPHRA). Australian politicians who recognise the public health potential of vaping will be rewarded with votes, yet most remain too scared to promote the world's most effective smoking cessation tool, states CAPHRA.
Counterfeit and illegal goods worth around £100,000 have been seized in the latest Westminster City Council and Metropolitan Police operation to clean-up Oxford Street. Officers discovered nearly 4,500 disposable vapes, containing excessive levels of nicotine or not conforming to UK standards set by the MHRA in the haul that needed 43 large sacks to bag up.
New research published in Value in Health journal looked at the impact of bans on the sale of electronic cigarettes. The researchers provided further confirmation that the result was not a decrease in nicotine product use but an increase in tobacco sales. The findings should give serious pause for thought for those responsible for the retrograde steps being taken in the United States.
The Office for Health Improvement and Disparities has updated its electronic cigarette guidance to health and care professionals. The latest document now includes include the latest NICE guidelines on vaping and The National Centre for Smoking Cessation and Training guidance on making e-cigarettes available through stop smoking service centres.
The 9th edition of the Global Forum on Nicotine, the only conference devoted to tobacco harm reduction, is being held in June at the Marriott in Warsaw. After two years away there is a huge appetite for the conference and the organisers have recently released a series of updates.
---

---
Alex Norcia, Filter Magazine
On April 13, Chicago convenience stores began selling the first very low nicotine cigarettes to be authorized by the Food and Drug Administration (FDA) as modified risk tobacco products (MRTPs).

The MRTP designation granted last December allows 22nd Century Group, which makes the VLN King and VLN Menthol cigarettes, to publish explicit marketing claims about their products.
, Ashtray Blog
It's been a decade since we first wrote a comprehensive post on the safety of vaping.

Back then, vaping didn't have the support of the UK government, the huge body of evidence and the longer-term studies it now has.

Still, even then we knew that:

Nicotine is not the cause of smoking diseases.
Vaping doesn't produce smoke.
Vapour from vape devices provided a fraction of the toxins and chemicals found in cigarette smoke.
Nottingham Post
Etiquette experts have revealed the vaping dos and don'ts including never doing it during mealtimes or Zoom calls, and if in doubt, ask.

The number of vape users is increasing, but 59 per cent of adults, who use vaping as an alternative to smoking, admit they're not clear on what is, or isn't good, social vaping etiquette.
A key public health priority for Colorado Democrats this spring — banning the sale of flavored nicotine products in an effort to reduce teen use — could reduce funding for another top priority: free preschool for 4-year-olds.

The two issues are coming to a head as lawmakers debate the flavor ban bill at the same time as a bill outlining key details of the state's universal preschool program, which will be partly funded by a voter-approved nicotine tax.
---
Visit Nicotine Science & Policy for more News from around the World

---