Vapers Digest 7th October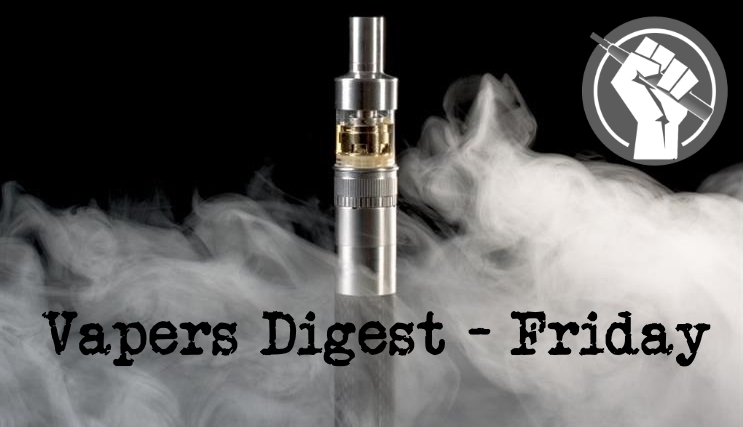 Friday's News at a glance:
Finland and Sweden should join forces to liberalise EU snus legislation – INNCO News – @CDCTobaccoFree is Obsessed with Teen Vaping – New CDC Data Show Modest Rise – New Survey Data Show Adolescent Vaping Remains Far Less Common – In 2022, Kids Are Back in School – Australia Is A Predictable Failure – New Zealand Inconsistencies – Flawed Cocaine Research – VapeWatch – Parliament – Lowest Levels Recorded in Indiana – New Swedish EU politician wants to push the snus issue – Convenience retailers concerned – Australia's experiment – The FDA's Perverse Plan – Kenya must learn from UK Study – 'We Vape, We Vote' tour coming to Thornton
To liberalise EU snus legislation – Snusforumet
Support for more liberal snus legislation is growing in Finland – but it's at the EU level that change must take place. Sweden's next government should join forces with Finland to help rally public opinion and work together to liberalise EU snus legislation, writes Theo Herold from the Helsinki School of Economics.

Finland has long had an extensive black market for snus. In the last decade, the number of players has increased significantly as operations have become more organised and professional. It's not uncommon for black market snus dealers to be closely connected to other criminal activities.
International Network of Consumer Organizations
Hi Dear Friends, It's always a pleasure to greet you. If you haven't got the chance to fill out the survey forwarded by Charles Gardner, consider doing so, because we definitely need as many responses as possible.

Please follow this link if you are not subscribed to our Newsletter and would like to be.

Below you can find last week's news that we think you might want to check out in case you missed any of them.
---

---
With Teen Vaping, But It Has Reduced Far More Harmful Teen Smoking
Brad Rodu, Tobacco Truth
Yesterday the CDC released results from this year's National Youth Tobacco Survey, and the agency focused only on teen vaping.  The data will likely be embargoed for several months, preventing analysis by independent investigators.  The CDC never mentioned smoking, so I expanded findings from the National Survey on Drug Use and Health (NSDUH) that I originally published in this blog (here).

The new results, seen in the chart at left, are crystal clear.  Everyone knows that teen vaping started after 2010.  Teen smoking had been declining prior to that, but the pace was modest.  The pace accelerated after 2010, and the connection to vaping is not coincidental.
In Youth Vaping, Spark Overreactions – Alex Norcia
The Centers for Disease Control and Prevention (CDC) doubled down on what's still being touted as a youth vaping "epidemic" when releasing new data on October 6. Its annual National Youth Tobacco Survey found that youth vaping rates have modestly increased since 2021, but are still substantially down from a few years ago.

In 2022, according to the agency, 14.1 percent of high school students and 3.3 percent of middle school students reported "current e-cigarette use"—which can mean vaping just once in the past 30 days. Disposables remain the number one choice among youth, with 57.2 percent of those "current" e-cigarette users reporting that they used those products most often.
---
Germany: a health assessment of nicotine pouches conducted by the German Federal Institute for Risk Assessment (BfR) finds that switching from cigarettes to nicotine pouches could represent a reduction in the health risk for a person who smoke. https://t.co/tfBfjWDL5h

— European Tobacco Harm Reduction Advocates (@europethra) October 7, 2022
Hey #VapeTwitter, PAVe currently has 2,723 followers and the #WeVapeWeVote Tour has 760. Go follow @SaveVape today, and let's show them who has the true grassroots momentum. RETWEET IF YOU PROUDLY SUPPORT HARM REDUCTION. pic.twitter.com/iw1iVhaEQF

— Amanda Wheeler (@amandawheeler32) October 7, 2022
---
Adolescent Vaping Remains Far Less Common Than It Was
Jacob Sullum – Reason
According to the National Youth Tobacco Survey (NYTS), nicotine vaping among teenagers has fallen dramatically since 2019, undercutting fears about an "epidemic" of such behavior. Last spring, the Centers for Disease Control and Prevention (CDC), which oversees the survey, suggested that drop might be illusory because the COVID-19 pandemic reduced youth access to vaping products. But the latest NYTS results, published today in the CDC's Morbidity and Mortality Weekly Report (MMWR), indicate that the adolescent vaping rate is only slightly higher this year than it was 2021, even though nearly all students have returned to in-person schooling.
But Vaping Barely Ticked Up – Jim McDonald
After the 2021 National Youth Tobacco Survey showed a massive decline in youth vaping, officials at the government agencies that conduct the annual NYTS went out of their way to explain that the results couldn't be trusted because half of the students took the survey online from home, rather than in school.

What will the CDC and FDA Center for Tobacco Products (CTP) use as an excuse this year, when overall numbers of school-age vapers barely increased from 2021? High school and middle school vaping in 2022 remained well below even the levels seen in 2020, which themselves represented a 29 percent decline from the 2019 teen vaping peak.

Five from Dave Cross, Planet of the Vapes:
Australia's vaping regime is a predictable failure, according to the Coalition of Asia Pacific Tobacco Harm Reduction Advocates (CAPHRA). The comment comes following the publication of Dr Colin Mendelsohn's review of Australia's prescription-only regulatory approach.

"When one of the world's most respected Tobacco Harm Reduction (THR) experts concludes that Australia's anti-vaping regime is a 'policy failure', then the country's approach to tobacco control needs urgent reviewing," says Nancy Loucas, Executive Co-ordinator of CAPHRA.
New Zealand stores are being told that they need to sort out vaping inconsistencies. "Convenience store owners are right to say being allowed to sell only three vape flavours is not helping New Zealand achieve Smokefree Aotearoa 2025, but some of them are not helping themselves," says Nancy Loucas, co-founder of Aotearoa Vapers Community Advocacy (AVCA).

The leading Tobacco Harm Reduction advocate's comments come as Parliament's Health Select Committee reviews submissions on the Smokefree Environments and Regulated Products (Smoked Tobacco) Amendment Bill.
American researchers have looked at data from the United Kingdom and are claiming that teen vaping acts as a gateway into cocaine addiction. The problem with their finding is that they fail to factor in the possibility that the individuals who vape and/or smoke may be risk takers who are predisposed to trying illicit drugs.

The drug link to vaping isn't new, it's been used as a stick to beat tobacco harm reduction in the past. In 2014, The Daily Mirror wrote: "E-cigarettes could lead to the use of illegal drugs like cocaine and cannabis, new research has found.
VapeWatch is a new online platform for vape retailers, wholesalers, and distributors. It has been launched to help keep them on the right side of the law when it comes to supplying and selling disposable vapes. VapeWatch is described as "the brainchild of leading disposable vape manufacturer Geek Bar".

The launch of VapeWatch comes as the industry is under increased scrutiny for rising underage sales of disposable vapes and challenged by UK non-compliant products and counterfeits entering the country.
Andrew Gwynne, Labour's Shadow Minister for Health and Social Care, has posed a series of questions to the government regarding vaping, smoking cessation and SmokeFree 2030. Meanwhile LibDem Wera Hobhouse has asked a question about disposable vapes.

Andrew Gwynne MP asked the Secretary of State for Health and Social Care whether she will take additional steps to prevent shops and other licensed sellers from selling e-cigarettes to people under the age of 18.
---

---
Wants to push the snus issue
Sverigedemokraternas nya EU-parlamentariker Johan Nissinen vill göra snus lagligt i hela EU. Även energifrågor är något han vill prioritera.

Sverigedemokraten Johan Nissinen kommer att ersätta Jessica Stegrud (SD) som lämnar Europaparlament efter att hon fått en plats i riksdagen. Han kommer att ta över de platserna i de utskott hon suttit i, bland annat industriutskottet.
As Youth Tobacco and Vape Use Continues to Decline – Lindsey Stroud
According to the Indiana Youth Survey, in 2022, 3.4% of 7th and 8th graders and 6.9% of high schoolers reported ever using combustible cigarettes. Among mentioned middle schoolers, ever-use of cigarettes has declined by 28% since 2020, and by 45.5% since 2018, when 6.2% reported ever trying combustible cigarettes. Among high schoolers, ever using combustible cigarettes has decreased by 30.5% since 2020 and by 52.4% since 2022 when 14.5% reported trying cigarettes.

Monthly use, defined as having used a tobacco or vapor product on at least one occasion in the 30 days prior to the survey, has declined as well.
Over arrival of vape brand Elf Bar at Tesco – Alice Leader
Convenience retailers fear the arrival of fast-growing vape brand Elf Bar into Tesco this week will impact their sales.

The supermarket giant is launching a range of 12 Elf Bars with convenience retailers concerned it will further encroach on their trade with sales having been impacted already when Morrisons and Asda began stocking the brand earlier this year.

"It's a big thing for us retailers that are selling shed-loads of it, but it was inevitable," said Best-one retailer Kay Patel.
Youngsters to smoke, and why are so many shops now selling them?
WHILE fashion and department stores are disappearing from our high streets at an alarming rate, there has been a boom in outlets feeding an ever-increasing demand for vaping.

There are few town centres it seems which don't boast at least one store dedicated to the vast variety of flavoured liquids and devices; while passing people breathing out a cloud of fruit-flavoured 'smoke' is now commonplace.

Today the vaping industry is worth a staggering £1 billion. According to the UK Vaping Industry Association (UKVIA), it is currently the UK's largest growing consumer goods sector.

With prescription-only vapes has failed – Dr Colin Mendelsohn
The Australian government's prescription-only model for nicotine vaping – introduced one year ago on 1 October 2021 – has been a resounding policy failure. Like most prohibitionist policies it has created a thriving black market, poor compliance, and harmful public health outcomes.

To legally possess nicotine e-liquid to quit smoking in Australia, vapers are forced to get a doctor's prescription. Without one, vapers face fines of up to AUD $222,000 and even jail terms.
AVCA
"Australia is living proof that vaping bans fail. Across the Tasman, the black market is thriving, teen vaping has skyrocketed, and Australia's smoking rate remains unnecessarily high. In contrast, New Zealand is among 70 countries which have shown vaping regulation works, providing a much safer and supportive environment for ex-smokers," says Ms Loucas.

New Zealand MPs on the Health Select Committee continue to assess submissions on the Government's Smokefree Environments and Regulated Products (Smoked Tobacco) Amendment Bill.
To Ban Menthol Cigarettes and Cap Nicotine Levels – Jacob Sullum
The Food and Drug Administration (FDA) wants to prevent smoking-related deaths by making cigarettes less appealing. Toward that end, the FDA plans to ban menthol cigarettes and limit nicotine content to "reduce the addictiveness of cigarettes."

Meanwhile, the FDA seems determined to make vaping products, the most promising harm-reducing alternative to cigarettes, less appealing to smokers. The perverse combination of these two regulatory strategies would undermine public health in the name of promoting it.
New Excise Tax Rocks Canadian Vape Industry | RegWatch
Consumers of nicotine vaping products in Canada are grappling with another rise in the cost of living, and this time, increasing costs are not a result of inflation but a new federal excise tax that went into effect on Oct. 1st.

Poor planning and government delays affecting the availability of excise tax stamps and a lack of access to secure warehousing for the importation and stamping of vaping products mark the introduction of the tax, which could lead to massive shortages of nicotine vaping products across the country.
That Vaping Company Must Continue to Fight
Juul Labs Inc.'s leader told his employees Thursday that the company is scrapping plans for an overseas expansion, has refinanced some of its debt, and is fighting for its survival.

"The board, the leadership team and I continue to weigh all options to ensure we take the necessary steps that help us in our battle for our mission–a battle that has been playing out for many years," Chief Executive K.C. Crosthwaite said at an all-hands meeting with employees Thursday, according to a copy of his prepared remarks reviewed by the Wall Street Journal.
MAJOR new research that shows vaping is far less risky than smoking proves Kenya is falling dangerously behind world leaders in the battle to reduce the toll from cigarettes, the Campaign for Safer Alternatives (CASA) warns today.

In a study commissioned by the UK government, researchers at King's College London have found vapes are significantly less harmful than smoking and have a better success rate than other methods of giving up cigarettes.
To less harmful products, says CPPR
Kerala-based Centre for Public Policy Research (CPPR), an independent public policy organisation, on Tuesday urged the Union government to provide an alternative to cigarette smokers to switch to some less harmful products.

The CPPR, which released a White Paper on regulatory regimes for novel tobacco and nicotine products, called upon the government to take on a "multi-dimensional and scientific evidence-backed stance" in adopting harm reduction alternatives for the be…
Sherrie Peif
For the next three weeks, Americans For Tax Reform will be making 12 stops between Phoenix, AZ and Jacksonville Fla. — including one in Thornton next week — to engage and bring awareness to a very narrow voter demographic — vapers.

The "We Vape, We Vote" bus tour begins Saturday in the north-Phoenix suburb of Prescott Valley, where those who have used vaping to kick the habit of smoking will make it clear that they know who the elected officials are who seek to limit their choices.
---
A look back at how things have moved on or otherwise….
Stacey McKenna, Mazen Saleh, RStreet
Tobacco harm reduction is one of the more effective tobacco control measures, especially when compared to methods such as bans and tax hikes, and is increasingly popular. It is also a measure that the tobacco industry contributes positively to in the form of innovative, reduced-risk next generation products providing safer alternatives to combustible cigarettes.

While the industry invests in the r&d that enables it to deliver these innovative products, focusing on reducing harm to people's health from smoking and answering growing consumer demand for such products, its motives in doing so continue to be questioned by the public health and anti-smoking sectors.
---
Visit Nicotine Science & Policy for more News from around the World

---