Vapers Digest 10th October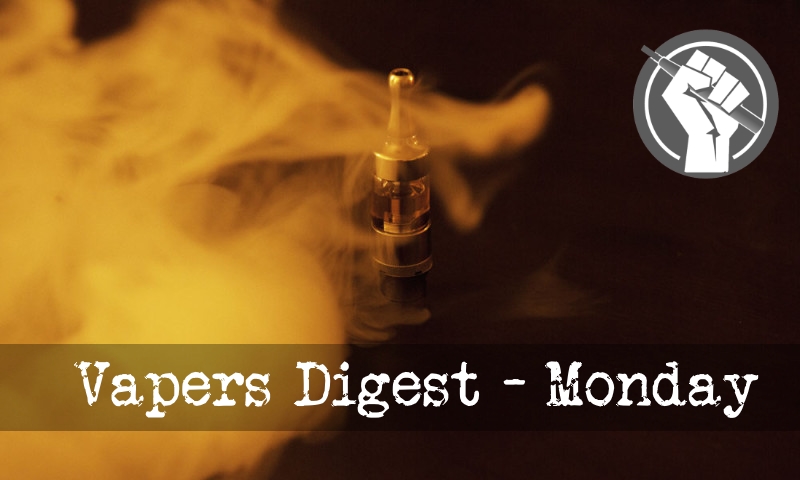 Monday's News at a glance:
New OHID review of vaping in England – Vaping and Pregnancy Commentary – Vape shop owner defends products – Free speech and harm reduction sacrificed – Duel Use Harms – Smoking initiation in Norway – Teen Vaping: The 'Epidemic' With No End – The good news about THR – The EU's health policies continue to ignore scientific evidence – Wreaking Havoc | FDA Causes Great Damage with Its War on Vaping – Vote no on Proposition 31
Re-emphasises public health benefits – NNA
The organisation which replaced Public Health England, the Office of Health Improvement and Disparities (OHID), released its final Vaping in England review in the latest series last week and overall it is largely positive.

Stretching to a hefty 1,468 pages, this review is the most comprehensive yet and covers a wide range of evidence on the use of vaping products amongst adults and youth, as well as brief commentary on heated tobacco and nicotine pouches.

The review's main finding, much reported in the media, is that using vaping products "poses only a small fraction of the risks of smoking" with OHID re-emphasising that it estimates that vaping to be "at least 95 percent less harmful" than combustible tobacco.
Dave Cross, Planet of the Vapes
A commentary written by vaping and pregnancy experts has been published by Clinical and Translational Medicine journal. The team argue that because smoking during pregnancy is associated with a number of adverse pregnancy outcomes, helping pregnant smokers quit should be an urgent priority and that vaping is the way to achieve this.

Due to a change in metabolism, pregnant smokers rapidly break down the nicotine in their blood stream, which is what makes cessation through the use of patches or gum very difficult.

"Stop-smoking treatments such as nicotine replacement therapy (NRT) and bupropion show only limited efficacy in this population while the third licensed stop-smoking medication, varenicline, is not recommended in pregnancy," the authors say.
---

---
As council announces crackdown on 'irresponsible' vendors
A vape shop owner has urged Liverpool City Council to make a distinction between reputable stores and 'irresponsible' pop-up shops after it announced a crackdown on the addictive nicotine products.

Councillors raised concerns last month after reports from Action on Smoking and Health showed 40.1% of children getting hooked on vapes had never smoked before. They said companies deliberately marketed the addictive products to children with sweet flavours like strawberry ice cream, bubblegum, and blueberry.

But Adam Williams, owner of Rojeans in Cavern Walks, says there are differences between specialist vape shop owners and those willing to flog their goods illegally to under-18s.
---
France: Misperceptions of the relative risks of #vaping compared to smoking remain worryingly high according to a new survey conducted by @sovape_fr . Check the link for the full results. https://t.co/txVfl8WFoV

— European Tobacco Harm Reduction Advocates (@europethra) October 10, 2022
---
Sacrificed on the altar of petty doctrine – Simon Clark
At the SNP conference in Aberdeen a fringe meeting was due to take place tomorrow on the subject 'Embracing Alternatives to Smoking in Scotland'.

Supported by Japan Tobacco International, participants included a representative of JTI plus Daniel Pryor (Adam Smith Institute), the IEA's Chris Snowdon, Luke McGarty (Scottish Grocers' Federation) and two SNP MSPs.

However the event has now been 'axed' following a complaint by ASH Scotland, a lobby group funded almost exclusively with taxpayers' money that probably wouldn't exist if it had to rely on direct donations from the public or the private sector.

Colin Mendelsohn
A NEW REVIEW has confirmed that toxic chemicals are significantly reduced in dual users (both smoking and vaping) trying to quit, compared to exclusive smoking.

The review analysed 9 studies of smokers trying to quit and 14 harmful toxicants in the saliva, blood and urine of dual users. Levels of 13 of the toxicants were significantly reduced in dual users compared to smokers, with no difference for one chemical.

Reductions were found in nitrosamines, polycyclic aromatic hydrocarbons, mercapturic acids and other known carcinogens.
---

---
Among young people is below 2% and regular smokers approximately 9% of its population
Duncan Mlanjira – Nyasa Times
In Norway, people consume nicotine in other forms, mainly the oral tobacco product called snus, which has taken the place of cigarettes in the nicotine market and has been for decades the most popular method to quit smoking.

This was said by Dr. Karl E. Lund, at the 5th Scientific Summit of Tobacco Harm Reduction in Athens, Greece (September 21-22, 2022) that was attended by over 200 participants from 41 countries.

He was speaking during a panel discussion after a presentation under the topic, 'Current Challenges that Governments Face in Smoking Control—The Case of New Zealand'.
Enforce existing tobacco laws that make sales to minors illegal
Proposition 31 on the Nov. 8 ballot would uphold legislation signed by Gov. Gavin Newsom in 2020 that would ban the retail sale of nearly all flavored tobacco products in California. Though the ban applies to all residents, it was pushed as a way to end what was depicted as an epidemic of teens vaping candy-flavored tobacco products — a problem that bill supporters warned would inevitably lead users to eventually turn to cigarettes. But the law was put on hold after tobacco giants R.J. Reynolds and Philip Morris financed a signature-gathering campaign to require it be approved by voters.

Cameron English
A new CDC survey shows that teen vaping is still declining. Oddly, the agency maintains that e-cigarette use among adolescents is an "epidemic."

More good news from the world of public health: teen vaping continues its steady decline, according to the latest results from the CDC's National Youth Tobacco Survey (NYTS). Just 9.4 percent of middle- and high-school students reported "current use" of vaping products. Media coverage of the survey has stressed that single statistic and the absolute number of adolescents who vape, 2.5 million individuals. Because the CDC defines "current" vaping "as use on ≥1 day during the past 30 days," these figures are somewhat misleading.
FDA Causes Great Damage with Its War on Vaping | RegWatch
Is the U.S. Food and Drug Administration intentionally trying to wreck the U.S. nicotine vaping industry?
It's a fair question to ask, considering every regulatory action the FDA has taken toward nicotine vaping products appears myopic and prohibitionist. And these actions are causing significant damage to the lives of people who vape and smoke.

Amanda Wheeler and Greg Conley from the American Vapor Manufacturers Association are joining us to discuss the never-ending saga of the FDA's war on vaping. We take a deep dive into FDA's dysfunctional PMTA process, the damage caused by years of misinformation, the continuing destruction of U.S. vape businesses, and the 2022 National Youth Tobacco Survey on youth vaping.
Is the bad news is wrong – Democracy Institute
The tobacco harm reduction experience is actually a positive story. A great many countries, international institutions, and public health organizations are employing, and advocating for, tobacco harm reduction policies and strategies to reduce cigarette consumption. To date, nearly 70 countries have adopted regulatory frameworks on reduced risk products. The evidence is robust in favour of tobacco harm reduction as a complementary intervention to help drive down death and disease from smoking. For example, we now have evidence of the impact vaping has had on smoking. Vaping is today widely considered to be the world's most effective smoking cessation tool.
Continue to ignore scientific evidence – Michael Landl
Millions of smokers have managed to quit smoking thanks to vaping and similar less harmful alternatives to smoking. At the same time, traditional anti-smoking policies, like tobacco taxes, advertising and marketing bans, and high taxation, to name a few, have had only limited effectiveness thus far. Although commendable, these policy measures clearly haven't brought about the desired outcomes, given how in the EU, there still are more than 80 million current smokers, and nearly 700,000 deaths due to smoking-induced illnesses every year.
---
A look back at how things have moved on or otherwise…
Orwellian Echoes of 1984 – INNCO
Liquid is smoke. Products that do not contain tobacco are tobacco products. If these statements have a familiar ring, it is because you may remember reading George Orwell's Nineteen Eighty-Four… or at least heard about it. In Orwell's dystopian future, 1984, the totalitarian government of Oceania promotes "Doublespeak" as a means of thought control.

Doublespeak was a way to communicate Doublethink which, according to Orwell, is "to know and not to know, to be conscious of complete truthfulness while telling carefully constructed lies, to hold simultaneously two opinions which cancelled out…, to use logic against logic, to repudiate morality while laying claim to it…" The most well-known examples of Doublespeak include "War is Peace" and "Freedom is Slavery."
Brad Rodu, Tobacco Truth
The Centers for Disease Control and Prevention has released data from the 2020 National Health Interview Survey (NHIS).

The prevalence of current smoking was 12.4%; that's 30.7 million.  Twenty-two percent of Americans were former smokers, the same as the year before.

Prevalence of current vaping declined to 3.7% from 4.3% in 2019.  That translates to about 9.13 million American adult vapers in 2020.

The 9.13 million current adult vapers includes 2.44 million who are also current smokers.  Think about this: If America's public health leaders abandoned their war on vaping and instead adopted their British counterparts' practice acknowledging that it's vastly safer, those smokers might walk away from the fire. That would result in a one-year smoking decline of 8%.
---
Visit Nicotine Science & Policy for more News from around the World

---