Vapers Digest 7th January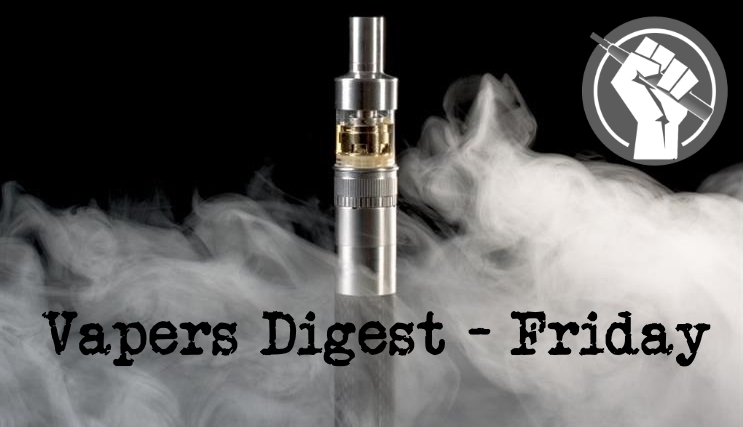 Friday's News at a glance:
Popular Advocate Forced to Close Her Small-Town Vape Shop – Malaysia Postpones Steep E-Liquid Tax – Sensible vape regulations critical for THR – Health survey shows people are smoking less – NNA: There Is Work To Do – Does Vaping Make It Floppy? – Daily Vaping Leads To Accidental Quitting – Pharma Startup Promotes False Claim – FDA's Tobacco and Nicotine Policy Is in Disarray – Heated tobacco: a new review – Survey shows strong support for vape bill – Tobacco control and prevention efforts in the U.S – Nicotine Science and Policy Daily Digest
Her Small-Town Vape Shop – Alex Norcia
For the past couple of years, Skip Murray has updated a Twitter thread every time a vape shop shuts down. On December 31, 2021, she added her own.

Since 2018, Murray had run Lakes Vape and Rec Supply in Brainerd, Minnesota, a small town and tourist destination a few hours north of Minneapolis. A fierce consumer advocate and self-described "optimist," she knew that she'd one day have to close her store, even if she could never quite admit it to herself.

"Realistically, I knew this was going to happen," Murray told Filter. "But I kept hoping that something—something—would change. I was holding out hope that the world would come to its senses."
Jim McDonald
The Malaysian government has postponed imposition of a new tax on nicotine e-liquid after complaints from consumers and industry over the steep proposed rates. The plan also would have tripled the existing tax on zero-nicotine e-liquid. The vape taxes were supposed to go into effect Jan. 1.

The postponement was announced earlier this week by the Royal Malaysian Customs Department. No reason was given for the delay, according to The Edge Markets.

Finance Minister Tengku Zafrul Aziz announced Oct. 29 that the government's 2022 budget included new taxes on vaping products that contain nicotine—currently illegal in consumer products sold in Malaysia. A few days earlier, Health Minister Khairy Jamaluddin had informed the World Health Organization that the country would legalize and regulate vaping products to prevent youth access.
---

---
NST Business
KUALA LUMPUR: Maintaining sensible regulations to support the vape industry is important as it plays a critical role in smoking cessation.

According to The Independent British Vape Trade Association (IBTVA), a UK-based association for the vaping sector, it also mimics consumer smoking behaviour and is a very efficient nicotine delivery system.

IBVTA chairman Marcus Saxton said it is crucial to implement policies and comprehensive regulations while being mindful of the potential consequences if governments do not set regulatory frameworks rationally.
---
A bird-brained advert, brought to you by such experts that used to recommend 'sucking on a straw' as key useful information to Smokers.
You are clueless 🤡🤡🤡 https://t.co/QaBgTco5F9

— Alan Beard (@Alan_Beard1) January 6, 2022
---
Maori Television
The decrease in smoking rates is larger than usual according to the latest Government health survey 2020/2021.

Smoking rates have decreased across all ethnic groups, and for Māori adults, it's down by 6.4 per cent. In 2019/2020 28.7 per cent of Māori adults were smoking, that figure is now sitting at 22.3 per cent.

Director for ASH (Action on Smoking and Health) Deborah Hart says all the work that has been put into smoke-free initiatives is kicking in including plain packaging, and taxes on cigarettes, but that in itself is not enough.

Four from Dave Cross, Planet of the Vapes:
The New Nicotine Alliance (NNA) has looked back at its successes over the last twelve months, from giving evidence to government committees to taking part in and arranging educational panel discussions. Looking forward, Louise Ross, Chair of the NNA, says UK consumers need to play their part in preventing potential threats this year.

In its review of 2021, the NNA began by accepting an invitation to speak to MPs and give evidence to the APPG for Vaping's inquiry into the WHO's Framework Convention on Tobacco Control.
A number of "experts" are attempting to make out that vaping causes erectile dysfunction in the latest coordinated attack on ecigs and tobacco harm reduction. The truth of the matter is that this is not true, according to Professor Colin Mendelssohn and the American Council on Science and Health (ACSH).

What is erectile dysfunction? The NHS says: "This is when a man cannot get, or keep, an erection that allows him to take part in sexual intercourse or other types of sexual activity. Most men experience it at some time in their life, and the causes can be physical or psychological."
Research conducted by Roswell Park Comprehensive Cancer Centre shows that smokers who vape daily end up quitting tobacco even if they didn't want to – adding to the positive evidence supporting ecigs being smoking cessation tools. The paper was published in JAMA Network Open, and used data collected from 2014 to 2019 as part of the Population Assessment of Tobacco and Health (PATH) Study.

The researchers said: "Adult smokers with no plans to quit are more likely to quit smoking traditional combustible cigarettes if they switch to daily vaping."
The UK Vaping Industry Association (UKVIA) has joined forces with the Ipswich Night Shelter, a project run by the Selig (Suffolk) Trust (a registered charity providing services and support for those who become homeless), to support people staying across the winter months to switch to a less harmful alternative to combustible cigarettes.

The Ipswich Winter Night Shelter operates across the winter, from November through March, and provides a number of en-suite bedrooms in their purpose-adapted premises for people from Ipswich who have found themselves homeless. Last year, they had 20 guests stay with them across the winter, and they hope to accommodate more this winter.
---

---
Martin Cullip
The U.S. Food and Drug Administration (FDA), led at the time by then-Commissioner Scott Gottlieb, published a regulatory plan in July 2017 to reduce tobacco-related disease and death.

Gottlieb proudly announced that "envisioning a world where cigarettes would no longer create or sustain addiction, and where adults who still need or want nicotine could get it from alternative and less harmful sources, needs to be the cornerstone of our efforts." His plan was to encourage smokers to quit using combustible tobacco either through abstinence or by switching to reduced-risk nicotine products such as e-cigarettes or heated tobacco.
Jim McDonald
A California company planning to pursue drug approval for an inhaled nicotine replacement therapy product appears to also run a website containing false allegations that a scientist commissioned by Public Health England had financial ties to the tobacco industry.

The company, Respira Technologies, Inc., has also engaged in a smear campaign suggesting Juul Labs and other vaping product manufacturers may be responsible for causing some of the "EVALI" lung injury cases, and has encouraged the U.S. Food and Drug Administration (FDA) to adopt standards that would prevent most consumer vapor products from being authorized for sale.

Harry Tattan-Birch,  Jamie Brown, Jamie Hartmann-Boyce
Heated tobacco products are designed to heat tobacco without burning it or producing smoke. The popularity of these products soared in Japan after the release of an electronic device called IQOS in 2016. Heated tobacco products are now available in many countries, but questions remained about their effect on cigarette smoking and health, so we set out to review the evidence.

Our new review covers data from 11 studies with over 2,600 people. The headline finding is that people who switched from cigarettes to heated tobacco had lower levels of exposure to harmful chemicals than those who kept smoking, but higher levels of these toxins than those who stopped using tobacco altogether.
Manila Bulletin
With nine out of 10 Filipino smokers believing that the government should enact laws to encourage them to switch to less harmful alternatives to cigarettes, Senators who voted to pass the so-called vape bill believe the measure can actually save the lives of smokers and end the smoking epidemic in the country.

A recent study conducted by ACORN Marketing & Research Consultants found that 94 percent of 2,000 Filipino respondents agree that the government should enact policies to encourage adult smokers to switch to less harmful alternatives to cigarettes, while also ensuring these products are not used by minors.
Mitch Zeller
Over the past two years, policymakers, media, and the public around the world have gained a greater awareness of the U.S Food and Drug Administration's (FDA) central role in protecting the public health through its work authorising or approving vaccinations, drugs and diagnostic tests to help end the COVID-19 pandemic.

FDA is the government agency responsible for ensuring the safety, efficacy, and security of human and veterinary drugs, biological products, and medical devices, and ensuring the safety of the U.S. food supply, cosmetics and products that emit radiation.
---
A look back at how things have moved on or otherwise….
In its Jan. 2021 issue, the Journal of Adolescent Health tempered the conclusions of its most cited study from 2020, which originally claimed, "e-cigarettes and cigarettes are significant underlying risk factors for COVID-19." After receiving numerous letters critical of the study's methods, the authors finally conceded "our study does not imply causality."
Business Mirror
In a groundbreaking study by Cochrane published in October 2020, vaping was found to be the most effective method for cigarette smokers to quit the habit.

Cochrane, a British international charitable organization comprising of health professionals, researchers, and scientists from over 130 countries that has a specialization in organizing medical research findings in order to facilitate evidence-based policymaking on health interventions, evaluated 50 studies globally to conclude that e-cigarette use or vaping, is far more effective than any other nicotine replacement therapy (NRT) method.
---
Visit Nicotine Science & Policy for more News from around the World

---