Vapers Digest 10th January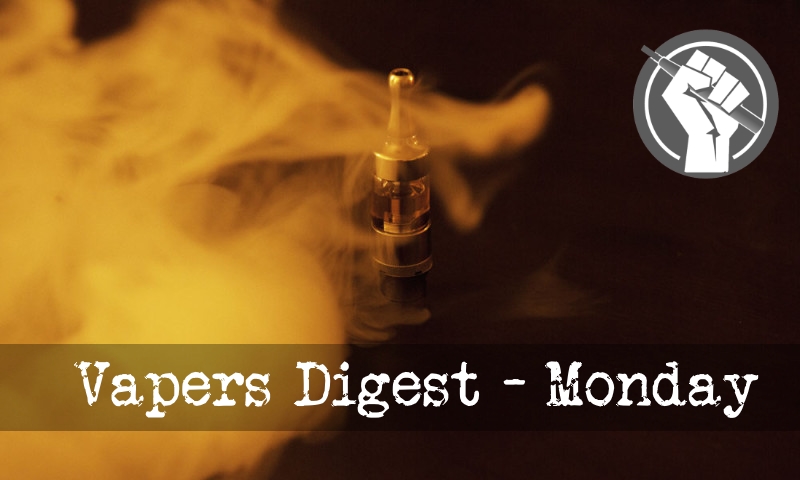 Monday's News at a glance:
EU's tobacco epidemic exacerbated by Brussels' short-sightedness – Ministers should make it easier to give up smoking – Questions in Parliament – The War on Vaping Closes a Shop in East Harlem – Poor Tax Design in Alaska Vapor Tax Proposal – Our New Year's Resolutions for Health Canada – Israel: Committee Will Decide Soon Whether to Keep Extreme Vape Tax – Smokers of traditional tobacco at risk of cancer, heart diseases – Nicotine Science and Policy Daily Digest
By Brussels' short-sightedness – EU-Policies
Experts at the World Health Organization (WHO) say they are cautiously optimistic that the "acute phase" of the interminable COVID-19 pandemic could be over by July 2022, based on rising vaccination rates and global immunity levels. At the same time, however, it is increasingly clear that the pandemic has exacerbated other existing public health issues.

Specifically, rates of alcohol consumption and smoking have increased in many places around the world. In the US, the first year of Covid restrictions saw an increase in cigarette consumption for the first time in two decades, with more than 203 billion cigarettes sold in 2020. Calls to quit-smoking hotlines were down 27 percent, and a quarter of smokers reported smoking more than usual on account of pandemic stress levels.
To give up smoking – Mark Pawsey
FOR many people the start of January heralds the beginning of a journey towards achieving a New Year's resolution. Of those commitments made each year, few are more important than putting in motion a plan to finally quit smoking.

For those making that pledge this year, it may well be that they will find their efforts being assisted by the government, given the pending announcement of the new Tobacco Control Plan. The new plan will outline how the government intends to cut smoking rates with a view to the UK becoming smoke-free by 2030.
---

---
Dave Cross, Planet of the Vapes
Further questions have been debated in Parliament about electronic cigarettes, alternative nicotine products, combatting smoking and tobacco harm reduction. Thangam Debbonaire asked about online nicotine product sales, Rachel Maskell was concerned about smoking cessation interventions, while Martyn Day seems to believe alternative nicotine products are linked to serious health outcomes.

Thangam Debbonaire, MP for Bristol West, asked the Secretary of State for Health and Social Care how the Government were preventing online sales of nicotine containing products to under-18s.
---
Our letter published in @AmJPrevMed today demonstrates that there is no link between e-cigarette use and heart attacks. In fact, that link disappears in the most recent data. Thanks to my colleague and lead author @ClaytonCritcher for leading this work. https://t.co/HkS90VMb7Z

— Michael Siegel (@mbsiegel) January 7, 2022
¿Qué es la directiva sobre impuestos especiales al tabaco y cómo te puede afectar? https://t.co/6tDKq5SUYe via @https://twitter.com/TodayVaping

— European Tobacco Harm Reduction Advocates (@europethra) January 9, 2022
---
Helen Redmond
Spike Babaian is the Swiss Army Knife of vaping. She is a fierce advocate for tobacco harm reduction, a vape business owner who has helped hundreds if not thousands of smokers to quit, a published researcher, an educator and an activist against flavor bans.

She's also a former smoker. Over a decade ago, Babaian switched to vaping and it transformed her life. One immediate benefit was an improvement in her health. She now rarely needs to use her asthma inhaler.

Founding Vape NY with her partner was a way for Babaian to help other smokers quit. She ended up opening four shops in total, one in Brooklyn and three in Manhattan. For years, business was good.

Ulrik Boesen
A proposal to introduce a wholesale tax on vapor products in Alaska could make switching from combustible tobacco products very expensive for smokers.

If enacted, HB 110 (SB 45) would, among other things, impose a 75 percent wholesale tax on nicotine vapor products (including components)—a rate comparable to the rate on other tobacco products and cigarettes. Such a steep tax would markedly increase vapor products retail prices, which could limit the number of smokers that switch.

While excise taxes on both cigarettes and vapor products can be a legitimate way to recoup some societal costs associated with nicotine consumption, it is hard to justify equal tax treatment between vapor products and combustible tobacco.
---

---
Rights 4 Vapers
A new year means change and new ways of doing things. Rights4Vapers has compiled a list of five resolutions for Health Canada in 2022.

An estimated 48,000 Canadians die from smoking every year, according to the Canadian Lung Association. Last year no deaths from vaping were reported.

Rights4Vapers is an organization of vaping advocates dedicated to the advancement of Canadian based research on vaping. Dr. Chris Lalonde is an academic advisor. Rights4Vapers is the voice of Canadian adult vapers, 98 percent of whom are former smokers.

Whether to Keep Extreme Vape Tax – Jim McDonald
A committee of the Israeli Knesset (parliament) will decide soon whether to approve the huge tax on vaping products imposed last November by the government's finance ministry. The levy is the highest vape tax in the world.

The tax is apparently already in effect, but it must be approved retroactively by the Knesset finance committee, according to Israeli researcher Zvi Herzig. The committee can also modify the order, which could mean reducing the extreme tax rate of nearly $7 (US) per milliliter on e-liquid and more than $10 per pod or disposable device.
At risk of cancer, heart diseases – Mactilda Mbenywe
Consumers of tobacco and harmful oral stimulants are exposing themselves to cancer and heart-related diseases, a report has revealed.

A research by the University of Nairobi School of Medicine titled "Review of the risks and toxicants of smokeless tobacco, areca nut and khat products" states that one in five who men use tobacco in Kenya expose themselves to multiple cancers and cardiovascular diseases.

This is the first major analysis of the health risks of traditional tobacco and oral stimulants in Kenya where there are low-risk alternatives available in the market.
---
A look back at how things have moved on or otherwise…
83% of submissions warning about higher taxes on vaping
Commenting on the consultation, WVA Director Michael Landl said: "Making vaping less appealing to smokers by higher prices will discourage current smokers from switching to less harmful alternatives. This is certainly not going to be of any public health benefit. Additionally, high taxes on vaping products are particularly harmful to the lower income brackets of the population, which make up the largest proportion of current smokers."

The consultation ended on 5 January and out of 134 responses from citizens, associations and industry, 113, or 84% referenced the positive impacts of vaping and the serious negative impact that taxing it the same as cigarettes would have.
Makes the Correct Call, Ends Tobacco Prohibition – Brad Rodu
Mississippi Corrections Commissioner Burl Cain made an extraordinary announcement on December 23, noting:

For the first time in 10 years, Mississippi prison inmates who smoke will be able to do so legally, beginning February 1, 2021.

Name brand cigarettes, cigars and smokeless tobacco products will be sold at current prices in prison canteens, along with snacks and toiletries.

Inmates who smoke are smoking anyway, but they're having to smuggle in tobacco to do it.

Cain reported that the ban has forced inmates to pay "as much as $500 a pound" for cigarette tobacco.  The new policy, he said, "will save [them] money and the state will make money," and, "By selling [cigarettes], we are breaking the contraband tobacco trade, designating smoking areas outside, clearing the air inside for the majority of inmates who don't smoke, reducing inmate contraband violations, and recouping for taxpayers some of the dollars it takes to run prisons."
---
Visit Nicotine Science & Policy for more News from around the World

---