Vapers Digest 5th January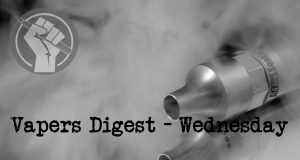 Wednesday's News at a glance:
Safer nicotine use survey ~ New Zealand Sees Largest Decline in Smoking Ever Recorded Thanks to E-Cigarettes ~ Smoke Without Fire ~ Goodbye, 2021 ~ The awesome power of vaping ~ Quit For '22 ~ "Laughable" Report Slammed ~ Suisse : le Conseil Fédéral a publié son projet de taxe sur la vape ~ ETHRA December news roundup ~ News-n-Views 28th December/3rd January ~ THE BEST IN VAPE-RELATED NEWS: DECEMBER 2021 ~ FDA Authorizes Reduced-Risk Claims for Cigarettes With Very Low Nicotine ~ NZ and US Pass Laws to Reduce Smoking Harms, While Australia Makes it Harder to Quit ~ Will Biden's FDA Commissioner Pick Continue the War on Vaping? ~ Tobacco: Calculated risks can save many lives ~ Vaping flavour bans will put lives at risk says lobby group ~ If you can't give up smoking, vape, says vascular specialist ~ Kirklees Council to help smokers quit by offering e-cigarettes
---
It's time to bid 2021 a fond good riddance and hope for better days ahead. It feels like it passed quickly, but looking back on the year's blog posts I'm reminded that a lot went on.
I don't post many studies about e-cigarettes and smoking cessation these days. The science was settled years ago, regardless of how much the WHO-Bloomberg spin machine tries to muddy the waters. Nevertheless, it cannot be said too often that vaping is remarkably good at getting people to stop smoking even when they have no intention of quitting. I have personal experience of this and it has been shown empirically in observational studies.
---
https://t.co/r1kWwhh2HG #vapefam #vape would you take a few mins to take a short survey on your attitude to safer nicotine products? Or simply scan the QR code below! Thanks! pic.twitter.com/RAnrPVnkrh

— Richard Pruen (@PruenRichard) December 29, 2021
---

---
TWO from Dave Cross, Planet of the Vapes
It's time for a new you in '22 is the message as the annual NHS push to get smokers to quit for New Year is underway. It comes against a backdrop of household finances being strained and the government detailing of the impact of parents smoking on their children. Trade body UKVIA is promoting its SmokeFree app to smokers to help them to quit for good.
---

---
---
European Tobacco Harm Reduction Advocates
ETHRA's monthly roundup of news: BECA report adopted – BVRA joins ETHRA – Countries propose anti-vaping measures – Tobacco Tax Directive revision – UK leads the way in tobacco harm reduction – INNCO position statement on flavours. Read on for more.
Catania Conversation
We gather weekly the most important Vaping news.
---
Alex Norcia, Filter Magazine
On December 23, the Food and Drug Administration (FDA) authorized two combustible cigarettes with low nicotine levels to be marketed as "modified risk tobacco products" (MRTPs). The designation allows 22nd Century Group, which describes itself as "a leading agricultural biotechnology company focused on tobacco reduction," to advertise its VLN King and VLN Menthol cigarettes under reduced exposure claims.
Paul Gregoire, Sidney Criminal Lawyers
The NZ government launched its Smokefree Aotearoa 2025 Action Plan on 9 December. A decade in the making, the policy proposes to see less than 5 percent of the population smoking in four years' time, within a country that sees a little over 13 percent of the overall populace currently lighting up.
Alex Norcia, Filter Magazine
---
Visit Nicotine Science & Policy for more News from around the World

---