Vapers Digest 29th December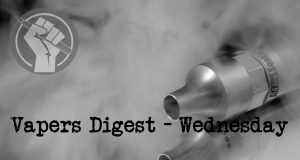 Wednesday's News at a glance:
SnusForumNet
Which stories were the most popular with Snusforumet readers during the last year? We've compiled a list of Snusforumet's most-read articles to make it easier for readers to find, read, and share the "greatest hits" of the past 12 months.
New Nicotine Alliance, NNA
The NNA began the year by being invited to give oral evidence to the APPG for Vaping's inquiry into the WHO's Framework Convention on Tobacco Control COP9 meeting which was to take place in November 2021. The resultant report, which you can read here, was released at the end of March.
---
VIDA Voices
In this piece, Aaron Biebert (Director – A Billion Lives, You Don't Know Nicotine) wraps up our SPOTLIGHT Series in Canada by reflecting on the past seven years covering this topic and all the people our team has met along the way.
---

---
Jim McDonald, Vaping360
Responding to outcry from tobacco control groups, a bill has been introduced in the U.S. House of Representatives to regulate products made with synthetic nicotine. The Clarifying Authority Over Nicotine Act, HR 6286, would give the FDA Center for Tobacco Products regulatory authority over consumer products containing nicotine from any source.
---
---

---
Roswell Park
Since the introduction of electronic cigarettes, or e-cigarettes, to the United States in 2006, intense debate has surrounded the marketing, regulation and use of these nicotine-delivery products. Surprising new research led by Roswell Park Comprehensive Cancer Center has found that adult smokers with no plans to quit are more likely to quit smoking traditional combustible cigarettes if they switch to daily vaping.
Cameron English, American Council on Science and Health, ACSH
Mounting evidence shows that e-cigarette use (vaping) can help smokers give up combustible tobacco for good, even if they have no intention to quit. According to a just-published study of 1,600 people in JAMA Open Network, daily smokers who used e-cigarettes every day were eight times more likely to quit cigarettes than smokers who didn't try vaping. The researchers utilized four waves of data collected between 2014 and 2019 as part of the Population Assessment of Tobacco and Health (PATH) study.
---
Visit Nicotine Science & Policy for more News from around the World

---