Vapers Digest 6th January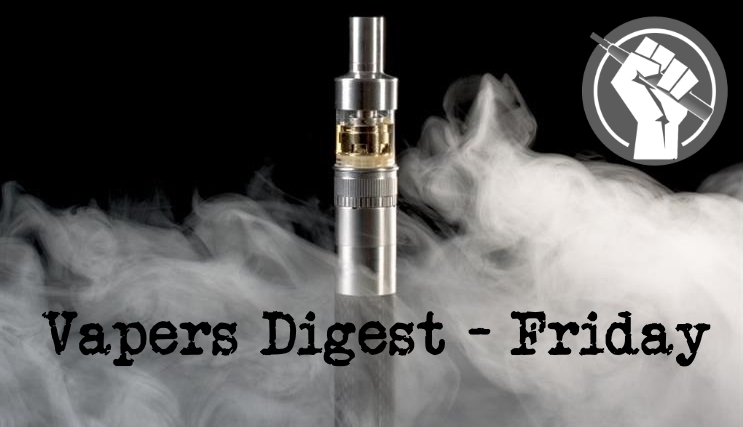 Friday's News at a glance:
Medical Journal Retracts a 2022 Study That Linked Vaping to Cancer – INNCO calls on Journalists to Spread the Truth – 7 Big Themes in Vaping for 2023 – CDC's Peddling of Misinformation – Spread the Truth – White Paper Attacks Youth Disinformation – THR Is a Universal Human Right – Ohio Governor Vetoes Preemption Bill – Smoking Cessation "Care Package" Draws Fire – Pondering Prohibition – Report urges FDA to be more proactive – Proposals Must Not Hit Smokers – Latest webinar in Sweden – As cigarette smoking declines, cannabis rises – Consider alternatives for existing smokers – Nicotine Science and Policy Daily Digest
That Linked Vaping to Cancer – Jacob Sullum
The World Journal of Oncology recently retracted a February 2022 article claiming that nicotine vapers face about the same cancer risk as cigarette smokers. "After publication of this article," the editors explain, "concerns have been raised regarding the article's methodology, source data processing including statistical analysis, and reliability of conclusions." Because "the authors failed to provide justified explanations and evidence for the inquires [sic], subsequently this article has been retracted at the request of Editor-in-Chief."

Some of the concerns raised by this article are similar to the problems with other studies that have linked vaping to smoking-related diseases. Most conspicuously, this study failed to address the question of whether diagnoses were made before or after people started vaping, a minimum requirement for inferring causation.
INNCO
For many years, nicotine has been demonised by tobacco control "experts" as a gateway to teen smoking, and as a "brain toxin." Yet, 15 past-Presidents of the Society for Research on Nicotine and Tobacco (SRNT), the world's top professional society in the field of tobacco control, recently published a paper rejecting these claims. Not one mainstream media platform carried their expert opinion as news. Their paper, published in the American Journal of Public Health, specifically encouraged the media, legislators, and the general public to re-evaluate negative attitudes toward nicotine vaping. Clearly, the mainstream media itself is biassed. It refuses to cover a profound shift underway in expert opinion about safer nicotine alternatives.
---

---
 James Dunworth – Ashtray Blog
Our annual vape predictions post brings experts from across the world to predict the future of vaping. The breadth of their experience, combined with unique viewpoints from around the world, brings invaluable insights – but also rather long.

So for those of you short of time, here you'll find a summary of the key themes in vaping for 2023…
---
Biden's expected nicotine rule brings failed 1920s Prohibition to 2023 https://t.co/TWymAXsR3g

— Phil (@phil_w888) January 5, 2023
❗️Más pruebas en favor del Vapeo. Un nuevo estudio en Francia concluye que el Vapeo es efectivo para dejar de fumar a corto, medio y largo plazo. La abstinencia y las terapias de reemplazo de nicotina por si solas son menos efectivas que el Vapeo.
⬇️https://t.co/iEJxkiqQX2

— ANESVAP (@anesvap) January 6, 2023
---
About Vaping is a Threat to Public Health – Martin Cullip
For several years, respected voices in the public health community have warned of a breakdown in trust in their profession if the dishonest, damaging, and often vicious campaign against safer alternatives to smoking by some of their colleagues continues to misinform the public.

It is no surprise, therefore, that an editorial was recently published in the journal Addiction (authored by a group of public health experts from five major U.S. universities, as well as the Iowa Attorney General) criticizing the Centers for Disease Control (CDC) and U.S. Surgeon General (SG) for tolerating misinformation about vaping.

Three from Dave Cross, Planet of the Vapes:
The International Network of Nicotine Consumer Organisations (INNCO) demands that mainstream media journalists "Spread the Truth" about electronic cigarettes. For many years, nicotine has been demonised by tobacco control "experts" as a gateway to teen smoking, and as a "brain toxin", says the organisation, yet the media fails to cover experts refuting these lies.

15 past-Presidents of the Society for Research on Nicotine and Tobacco (SRNT), the world's top professional society in the field of tobacco control, recently published a paper rejecting claims like these.
A White Paper has attacked the World Health Organisation's (WHO) systematic campaign against, and lies about, vaping. Nancy Loucas, Executive Coordinator of CAPHRA (Coalition of Asia Pacific Tobacco Harm Reduction Advocates) says the paper goes a long way to debunking the common myths the WHO uses to mislead smokers and policy makers.

"This white paper completely discredits and disproves persistent claims that there is a youth vaping epidemic, and that vaping is a 'gateway' to smoking," says Nancy Loucas.
In December, the Office for National Statistics (ONS) confirmed that vaping has played a 'major role' in bringing the UK's smoking rates down to an all-time low. Shortly afterwards a study was published in Tobacco Control claiming vaping doesn't work as a quit tool. The report was damned by experts and slated by the UK Vaping Industry Association (UKVIA).

The research sparked a Daily Mail headline 'Vapes DON'T help people quit normal cigarettes, study finds' which was published just seven days after it told readers: 'How UK's ditched cigs and turned to vaping'.
---

---
Kim Murray
On December 10, 1948, the U.N. General Assembly adopted the Universal Declaration of Human Rights (UDHR), declaring the month Universal Human Rights month. The theme for 2022 was "Dignity, Freedom, and Justice for All," with a call to action to #StandUp4HumanRights. Unfortunately, for many suffering from tobacco addiction, their human right to harm reduction seems to have been lost amid that theme.

From seat belts to alternatives to smoking, harm reduction is the application of less harmful products and behaviors to limit the adverse effects of substances and everyday consumer goods. Harm Reduction International defines harm reduction as "grounded in justice and human rights." 
Has Significantly Declined In Minnesota – Lindsey Stroud
Despite continued local media purporting of a youth vaping epidemic in the Gopher State, youth vaping and use of combustible cigarette products has significantly declined. This is welcoming news and should be of use to lawmakers ahead of the 93rd Legislature, when, undoubtedly, the topic of adult access to flavored tobacco and vape products will be debated.

According to the Minnesota Student Survey, conducted by the Minnesota Department of Education, in 2022, only 6% of 8th graders, 7% of 9th graders, and 14% of 11th graders reported past-month use of e-cigarettes. These are substantial declines from 2019 when youth vaping peaked in the Gopher State.
Local Flavor Bans Now Allowed – Jim McDonald
Governor Mike DeWine today vetoed HB 513, the bill that would have prevented local Ohio governments from passing tobacco and vaping laws stricter than Ohio state laws. DeWine called a press conference to announce the veto, and used his pulpit to denounce the role of flavored e-cigarettes in the youth vaping "epidemic."

DeWine also suggested he would support a statewide ban on flavored products, which he has done (unsuccessfully) before. "The easiest way to do this is to have a statewide ban," DeWine said at his press conference. "We'll have uniformity, we'll remove the issue, and we'll also protect kids throughout the state."
Article Draws Fire – Alex Norcia
At the end of December, Robert Califf, the commissioner of the Food and Drug Administration (FDA), and Brian King, the director of the agency's Center for Tobacco Products (CTP), published an op-ed outlining a new framework to maximize smoking cessation.

In the piece, published in the Journal of the American Medical Association (JAMA), the authors argue for a so-called smoking cessation "care package." This includes encouraging health systems to provide social and clinical support, offering medication and nicotine replacement therapy (NRT), and moving forward on plans to ban menthol combustibles and lower the nicotine levels in cigarettes.

The pitfalls of banning tobacco and nicotine
Mention prohibition and most people will think of the United States' ill-fated attempt to eradicate the health and social problems associated with alcohol consumption by banning the manufacture, transportation and sale of intoxicating beverages in the 1920s. Rather than achieving the desired effects, the experiment fueled a wave of illegal manufacturing and smuggling while spawning some of America's most notorious crime syndicates. In 1933, the federal government acknowledged defeat and repealed the law.

Given prohibition's poor track record, it's tempting to conclude that the measure has been consigned to the dustbin of history. Surely, modern policymakers would steer clear of such a crude and ineffective tool?
In reviewing, regulating tobacco products – Mazen Saleh
The Food and Drug Administration has been provided this week with a review of its tobacco industry regulatory processes that cited its Center for Tobacco Products "is at a pivotal place in its evolution."

The review, as well as recommendations, comes from the Reagan-Udall Foundation, which was created by Congress to help the FDA to advance regulatory science.

Foremost among the recommendations: the center needs to shift from operating "primarily in a reactive mode, moving from one challenge to the next … to becoming a more proactive and strategic program with enhanced engagement with stakeholders and the public…"
Desperate To Quit – CAPHRA
"Kiwis need to have their say on the Government's proposed measures aimed at youth vaping, with submissions closing on 15 March," says Nancy Loucas, Executive Coordinator of CAPHRA (Coalition of Asia Pacific Tobacco Harm Reduction Advocates).

Her comments follow Associate Health Minister Dr Ayesha Verrall launching a consultation document titled 'Proposals for the Smoked Tobacco Regulatory Regime'.
Hosted by the Oral Nicotine Commission and THR.net includes an impressive panel of world – renowed oral public health experts, highlighting the success Sweden has had with Snus products to keep smoking rates at an all-time low.

An all-star panel of global public health experts came together in a hybrid event (click here) on 30th November to highlight the success that Sweden has achieved in reducing smoking rates to just 5%, and ensuring the lowest lung, oral, larynx, heart disease, stroke and COPD rates amongst men in Europe.
To effectively quit habit – Adib Povera
KUALA LUMPUR: Experts said the government should not rush into pushing for the implementation of the proposed Generational End Game (GEG) policy, which aims at eliminating smoking habits among future generations.

Johor Baru Monash University clinical school deputy head Assoc Prof Dr Sivakumar Thurairajasingam said he feared the government could stand a chance of "making a mistake" in the event they rush into passing the GEG, otherwise known as the Control of Tobacco Product and Smoking Bill 2022, in the Parliament.
Cannabis rises – but where does vaping fit in?
Do you ever fall asleep with your shoes on and wake up with a headache? A lot of people do – in fact, there's plenty of evidence that people who go to sleep in their shoes have headaches when they wake. Of course, most headaches aren't caused by sleeping in shoes, so it must be the other way round, mustn't it? Falling asleep in your shoes causes headaches.

Er, no. It's just a hunch, but I suspect some other common factor may be involved in the correlation.
---
A look back at how things have moved on or otherwise….
---
Visit Nicotine Science & Policy for more News from around the World

---