Vapers Digest 4th January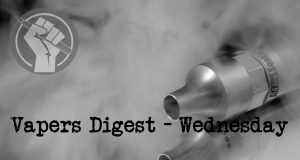 Wednesday's News at a glance:
2022 – NNA End of Year Review ~ Ten New Year's Resolutions for Tobacco Control ~ The Biggest Tobacco Harm Reduction Battles to Come in 2023 ~ The Compassion Club: A new proposal for transformation of tobacco retail  ~ Rapid response to: Protecting children from harms of vaping ~ Junk vaping study retracted ~ Science-based Regulation? ~ Bad Science ~ 2022 – Fun in the Summertime Sun ~ 2022 – The Final Quarter ~ Call to Open Australian Access ~ Waitrose Ditches the Disposables ~ INNCO Weekly Issue | Dec 12th, 2022~ SCOTTISH DISPOSABLE MADNESS ~ ETHRA December news roundup ~ We're winning the smokefree race – but it's no time to let up
Introduction

One major assumption in the current tobacco industry is the distribution of tobacco products through a system of commercial for-profit retail. However, other models of distribution that do not rely on this mechanism exist.

Methods

In this review, we examine the potential of a non-profit Compassion Club model and discuss how the current existence of independent vape stores might provide the infrastructure to allow the transformation of the tobacco distribution.
---
Sarah Hepworth, Greg Fell, BMJ
Dear Editor

We read with interest the article on "Protecting children from the harms of vaping" It struck a tone which we fear will further mislead the public.

The proportion of young people who currently vape has increased (1) however this is not due to vaping being promoted as a cessation tool for adults. Claims that youth vaping risks becoming a potential 'public health catastrophe' leading to a 'generation hooked on nicotine' are not substantiated by the evidence in the UK.
---
Christopher Snowdon, Velvet Glove Iron Fist
Last July I wrote about a study which claimed, very implausibly, that vapers not only had a higher risk of cancer than smokers but also got cancer at a younger age. The authors looked at data from the USA's National Health and Nutrition Examination Survey (NHANES) between 2015 and 2018. They found 154,856 living participants, of whom 5% were e-cigarette users, 63.6% were nonsmokers and 31.4% were smokers. They then looked to see which of them had ever had cancer and concluded that…
---
Cheryl K. Olson, Tobacco Reporter
In the last couple of years, I've written several articles for Tobacco Reporter on how the U.S. Food and Drug Administration thinks about science. Trying to get a novel nicotine product authorized by the Center for Tobacco Products (CTP)? Tell a story about why your particular vape, pouch or gum, is appropriate for the protection of public health, illustrated by data.

That's how the system is supposed to work. FDA staff make decisions based on what the science says about the relative health risks and benefits of a novel nicotine product. The CTP's website states: "Our ability to enact science-based regulation has the true potential to reduce the death and disease toll from tobacco products."
Clive Bates, Tobacco Reporter
Every Friday afternoon, I receive the worst email of the week. It is an automated search on the PubMed database, an index of the biomedical literature covering over 30 million published papers. The search tries to pick up new studies relevant to tobacco harm reduction and typically finds 30–70 new papers each week. Once the email comes in, I look through the abstracts and write down hot takes on the ones that seem relevant to policy or practice. Then I share with public health and consumer advocates. To be honest, it is often a dispiriting experience. Despite the scattering of excellent "must-read" papers, many are truly awful. I have been doing this since 2016, and the volume of papers has roughly doubled.
---
FOUR from Dave Cross, Planet Of The Vapes
2022 has been another busy year in the world of vape as tobacco harm reduction has become cemented in the UK's approach to reducing the damage caused by smoking. The same can't be said of other nations. Our award-winning reporting has covered strip searches, ground-breaking research, political dithering, and industrious advocates. With summer finally here, we warned holiday makers of potential problems and celebrated a landmark birthday.
2022 has been another busy year in the world of vape as tobacco harm reduction has become cemented in the UK's approach to reducing the damage caused by smoking. The same can't be said of other nations. Our award-winning reporting bore witness to the latest and last government evidence update, Stoptober, yet more ministers in charge of the Department of Health, and an indication of how history will mark the electronic cigarette phenomenon.
The Coalition of Asia Pacific Tobacco Harm Reduction Advocates (CAPHRA) has called upon Australia to open up vaping access. The organisation submitted its plea to Australia's Therapeutic Goods Administration (TGA) following a consultation document exploring options for legal access to e-cigarettes and nicotine.
Upmarket supermarket brand Waitrose has delisted disposable vape products from its stores for 2023 as part of its mission to "do the right thing". Waitrose had a miserable time in 2022, recording a £99 million loss in the first six months and reported a 5% drop in sales revenue during the third quarter in September.
---

---
Innco
Hi Dear Friends,

We hope you all had amazing holidays in the company of your loved ones. This new year will be challenging with the FCTC COP10 coming in November, and all the secrecy and censorship of consumers that characterize this event, but we will not be silenced and will demand to be heard. More information on our plans, really soon. Nothing about us, without us!
---

---
Paul Barnes, Facts Do Matter
This story came to my attention recently which, as I'm sure you'll agree, is just the tip of a very nasty iceberg. Y'see, the Scottish Green MSP mentioned in the last bout of reporting (Gillian Mackay MSP) is just but the last in a long line if antagonists seeking to effectively ban the humble disposable vape.

Join me as we discover just how deep this rabbit-hole goes.
European Harm Reduction Advocates, ETHRA
 ETHRA's monthly roundup of news: Pouch ban threat & consultation – Biblioteca RDT – TED Delay – Growing evidence that THR works – Experts call to correct misinformation – The Bullshit Asymmetry Principle – 2023 vape predictions – Country updates. Read on for more.
---
Robert Beaglehole, Stuff NZ
OPINION: This was the year Aotearoa got on track towards the 2025 Smokefree goal; we are a success story in the smokefree world.

Cigarette smoking rates are now at record low levels – 8% for adults and 1% for young people. If the progress over the past few years is sustained, less than 5% of Kiwis will still be smoking cigarettes by 2025, thus achieving the country's Smokefree goal.

Vaping has been the critical disruptor of cigarette smoking; more adults now vape than smoke. Because vapes are much less harmful than cigarettes, and much cheaper, New Zealand's permissive, but tightly regulated market for vapes, will save thousands of lives.
---
Visit Nicotine Science & Policy for more News from around the World

---