Vapers Digest 9th January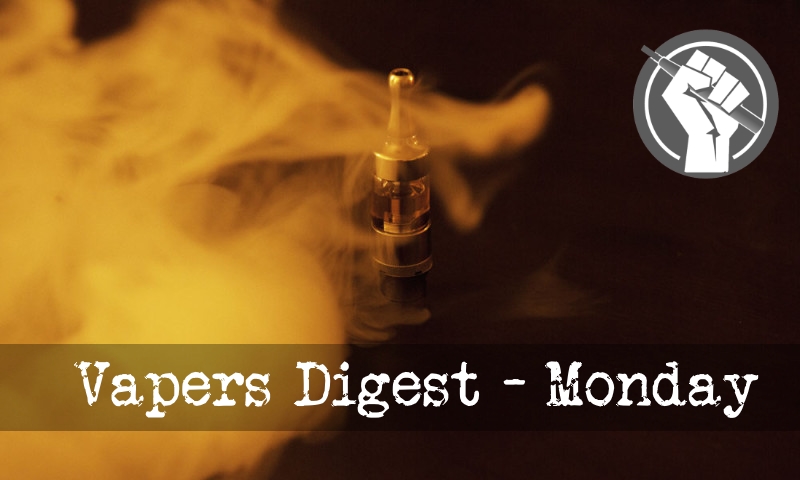 Monday's News at a glance:
Let's Recognize the Power of Innovation to Reduce Smoking – PRI's Positive Ecig Position – NHS would save more than £600m a year – Could the youth vaping crackdown hurt adults trying to quit? – Nicotine Science and Policy Daily Digest
Let's Recognize the Power of Innovation to Reduce Smoking
Martin Cullip – Taxpayers Protection Alliance
January 6th was National Technology Day, which recognizes the power of technology and innovation to change the world for the better and make a positive impact on the daily lives of millions of people worldwide. Just as technology brought the world air bags to make driving safer, technology has delivered tobacco harm reduction products to help smokers quit smoking deadly combustible cigarettes.

Sadly, as Calestous Jouma details in his celebrated book, Innovation and Its Enemies, it is rare that new technology gets an easy ride before becoming uncontroversial. It seems strange now that refrigeration was once resisted by certain sections of society, despite it now having all but eradicated botulism in the western world.
Dave Cross – Planet of the Vapes
The American Physicians Research Institute has issued a position statement on the subject of vaping, and it is very positive. The Baltimore based organisation has relied on the quality independent research that has been conducted in the United Kingdom and ignored the laughably bad junk science produced in the States.

The Physicians Research Institute says: "A State Medical Society member of PRI recently requested information on the value of vaping as a harm reduction solution to tobacco use. There is considerable information, pro and con, with respect to the subject of vaping and PRI was unable to give its member Medical Society an informed answer. Accordingly, the PRI Board decided to retain an expert with respect to vaping and related issues."
---

---
If half of smokers switched to vaping – David Maddox
A major report – Economic impact assessment of the vaping industry – by the Centre for Economics and Business Research (Cebr) has suggested switching from cigarettes to vaping or e-cigarettes would cut NHS costs as well as boost the economy more widely. It comes as million of Brits try to give up smoking traditional cigarettes as part of their new year's resolution.

The Cebr report claimed: "The total saving in healthcare costs associated with smokers switching to using vaping products is estimated to be £322 million in 2019. The potential healthcare saving if 50 percent of all smokers switched to vaping is £698 million [a year]."
---
Netherlands: The NL consultation on banning nicotine pouches closes in one week, so there's still time to add your submission.

Read our submission: https://t.co/i3KYWosjDn

See our guide on responding to the consultation: https://t.co/IWcPh6oeWf

— European Tobacco Harm Reduction Advocates (@europethra) January 9, 2023
---
Hurt adults trying to quit?
Health advocates are relieved the government has admitted youth vaping is a problem.

The government is asking for feedback on proposed measures to crack down on the number of young people vaping.

They include new rules for packaging, flavour names, nicotine salt concentration and single-use product safety, as well as restrictions on the location of specialist vape shops.

Associate Health Minister Dr Ayesha Verrall said youth vaping rates are too high, and "we need to strike a better balance".

---
A look back at how things have moved on or otherwise…
Her Small-Town Vape Shop – Alex Norcia
For the past couple of years, Skip Murray has updated a Twitter thread every time a vape shop shuts down. On December 31, 2021, she added her own.

Since 2018, Murray had run Lakes Vape and Rec Supply in Brainerd, Minnesota, a small town and tourist destination a few hours north of Minneapolis. A fierce consumer advocate and self-described "optimist," she knew that she'd one day have to close her store, even if she could never quite admit it to herself.

"Realistically, I knew this was going to happen," Murray told Filter. "But I kept hoping that something—something—would change. I was holding out hope that the world would come to its senses."
Jim McDonald
The Malaysian government has postponed imposition of a new tax on nicotine e-liquid after complaints from consumers and industry over the steep proposed rates. The plan also would have tripled the existing tax on zero-nicotine e-liquid. The vape taxes were supposed to go into effect Jan. 1.

The postponement was announced earlier this week by the Royal Malaysian Customs Department. No reason was given for the delay, according to The Edge Markets.
---
Visit Nicotine Science & Policy for more News from around the World

---