Vapers Digest 31st March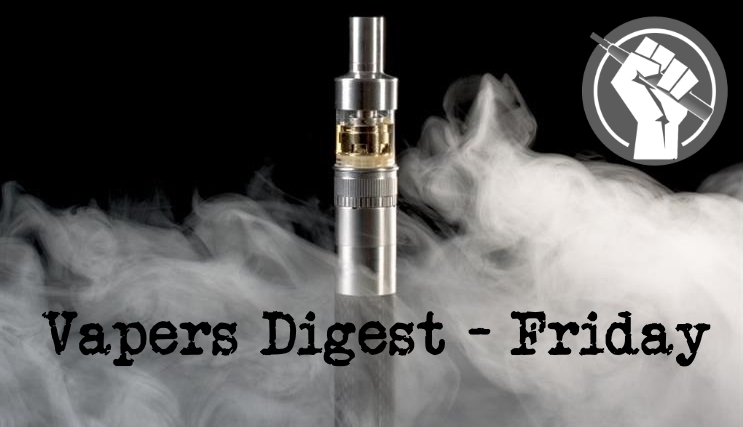 Friday's News at a glance:
Hands off our Elf Bars! – How To Fix The Disposable Vape Problems – What are nicotine pouches? – U.S. House of Representatives Holds FDA Accountable – CDC Still Needs To Get It Right – Taiwan Plan to Ban – Belgium adopts prohibionist position – Public consultation accused of containing political propaganda – Finland's THR Headache – State Health Dept Seems to be Hiding Data – Idaho Public Television and State Health Officials Lie – Ex-FDA Tobacco Head Advising Company – Will New Bloomberg Funds Spread Vape Bans – Is e-cigarette use in adolescents – Vape liquids to be taxed – Nicotine Science and Policy Daily Digest
Christopher Snowdon
According to several headlines today, the UK government is on the verge of banning disposable e-cigarettes. It may even be thinking of banning some e-cigarette flavours. This is all just speculation for now. The only word from the government is that it will be launching a public consultation to ask what, if anything, it should do about an apparent rise in youth vaping.

On the face of it, the scale of underage vaping does not seem too alarming. The most recent figures are from 2021 and they show that the proportion of secondary-school pupils who have ever tried an e-cigarette was 22 per cent. This is no higher than it was in 2014, although the proportion who said they were regular vapers rose from four per cent to nine per cent in the same period. Of these regular vapers, only one per cent had never smoked a cigarette. In other words, only 0.09 per cent of secondary-school children regularly vape and have never smoked.
With Some Simple Regulation Changes! – Vape Club
With the upcoming reading of Dr. Caroline Johnson's bill regarding disposable vapes due on March 24th, it is important that we look at both the benefits of disposable vapes and how we can effectively tackle the rising problems without restricting access to the single most effective quitting aid available to adult smokers.

We can all agree that there are two major issues with the disposable vape market that need addressing:

However, finding a solution to these problems should also take into account the often ignored benefits of the products.
---

---
GSTHR – Briefing papers
Nicotine pouches are thumbnail-sized sachets containing vegetable fibres infused with nicotine and a range of flavours. Placed in the mouth between the lip and gum, nicotine is absorbed through the oral mucous membrane. This Briefing Paper provides an introduction to the nicotine pouch category and assesses the potential for these products to contribute to tobacco harm reduction.

Nicotine pouches were first produced in the early 2000s. Due to their similar appearance and method of use, nicotine pouches are sometimes confused with Swedish snus, another safer nicotine product (SNP) that is placed between the lip and gum.[i] But while Swedish snus contains tobacco, nicotine pouches do not contain any raw or processed tobacco leaves. The nicotine used in pouches may be synthetic, or extracted from tobacco plants.
---
---
Holds FDA Tobacco Officials Accountable for Regulatory Missteps
Brad Rodu, Tobacco Truth
This blog has long detailed the FDA Center for Tobacco Products' (CTP) continuing campaign against vastly safer cigarette substitutes.

Now House Committee on Oversight and Accountability Chairman James Comer (R-KY) has written FDA Commissioner Robert Califf demanding "documents and information regarding CTP's activities to enable transparency and to ensure the CTP is performing required functions."  This is a key paragraph:

"In conjunction, FDA must also clearly and accurately communicate information regarding the relative risk that products, to include ENDS [electronic nicotine delivery systems] and smokeless products, pose—and do not pose—to the adult nicotine product user population.

Two from Dave Cross, Planet of the Vapes:
United States public health officials at the Centres for Disease Control still need to correct e-cigarette health misinformation, according to a group of experts which includes Michael Pesko, Michael Cummings, Clifford Douglas, Jonathan Foulds, Thomas Miller, Nancy Rigotti, and Kenneth Warner. In an editorial published in the journal Addiction, the group say health misinformation is harmful.

"The Surgeon General of the United States (SG) recently launched an initiative to reduce health misinformation. In an advisory, he wrote: 'Health misinformation is a serious threat to public health. It can cause confusion, sow mistrust, harm people's health, and undermine public health efforts. Limiting the spread of health misinformation is a moral and civic imperative'," they write.
The Taiwan vaping ban is disappointing for its many smokers, says the Coalition of Asia Pacific Tobacco Harm Reduction Advocates (CAPHRA). "Raising the legal age for buying cigarettes to 20 is a good move, but effectively banning e-cigarettes is disappointing from Taiwan," says CAPHRA executive co-ordinator, Nancy Loucas.

"We're all for getting tougher on cigarettes but only if smokers and those desperate to quit have a viable, accessible alternative. Taiwan's legislators are sadly only making it harder for the 19% of citizens who smoke to switch to safer nicotine options," Nancy Loucas says.
---

---
Bans the sale of nicotine pouches nationwide – POUCHFORUM
The Belgian Parliament has passed a Government Decree which will ban the sale of nicotine pouches from 1 October 2023. The decision will deny millions of Belgian smokers a less harmful way of consuming nicotine.

The NNPA considers the decision of the Belgian law makers to be very disappointing, disproportionate, and illogical. Recent scientific studies suggest modern oral nicotine pouches have a toxicant profile that is comparable to nicotine replacement therapy products (NRT)
Public consultation accused of containing political propaganda
The European Commission's revision of the Tobacco Products Directive is ongoing. Now the Commission's public consultation has been reported for containing political propaganda.

This is being reported today by the Swedish online magazine Vejpkollen.se.

At the end of February, the European Commission launched the second part of three consultations to evaluate the legislative framework for tobacco control. Through a questionnaire, stakeholders such as citizens, organisations, researchers, and entrepreneurs are expected to submit their views. The evaluation will form the basis for developing a new Tobacco Products Directive.
GFN News #51 | Will Godfrey explores Finland's approach to nicotine
The Global Forum on Nicotine (GFN), which has taken place every year since 2014, is the only international conference to focus on how vapes, nicotine pouches, Swedish snus and heated tobacco can help people switch away from smoking. Building on the success of an event that attracts hundreds of in-person participants and thousands of online delegates, GFN•TV, a broadcast arm of the GFN stable, is now offering year round coverage of the issues that matter in tobacco harm reduction.
But Youth Vaping and Tobacco Use Has Declined in Connecticut
Lindsey Stroud
The Connecticut State Department of Public Health recently published a summary of the Connecticut School Health Survey, or the Constitution State's version of the nationally known Youth Risk Behavior Survey (YRBS), conducted in coordination with the U.S. Centers for Disease Control and Prevention. Although the data is limited, and certain survey responses are conspicuously missing from the summary, there is good news as youth vaping has significantly decreased among Connecticut high school students, while traditional tobacco product use is at record lows.
Lie to the Public by Telling them Smoking is Not More Harmful than Vaping
Michael Siegel- The Rest of the Story
In a public education campaign entitled "Do You Know Vape?" Idaho Public Television in collaboration with the state health districts is informing the public that: "Vaping is not safer than cigarette smoking."
Rather than calling this a public "education" campaign, Idaho Public Television should more accurately call this a public "miseducation" campaign.

First, it is simply not true that vaping is no safer than smoking. There are a multitude of studies showing that vaping is much safer than smoking. I won't repeat all the evidence here but it can be found throughout my blog. Even scientists who are profoundly anti-vaping admit that vaping is much safer than smoking.

Proof Tobacco Harm Reduction Works! – Ecig Click
Members of the EU have a goal to become "Smoke-free" – meaning less than 5% of people still smoke. So far the only country on track to meet that goal is Sweden which stands at a staggeringly good 5.6% smoking rate!

In the last decade the smoking rate in Sweden dropped by a whopping 55%! Also smoking related deaths are 22% lower than the EU average.

You can read more in the WVA factsheet here – all graph data below is from this document.
Spread Vape Bans in Low-Income Countries? – Samrat Chowdhery
In February, billionaire Michael Bloomberg's charitable organization Bloomberg Philanthropies announced an additional tobacco control commitment of $420 million. A significant proportion of this is to be spent in low- and middle-income countries (LMIC), where 80 percent of people who smoke live. The stated purpose of these funds is to reduce tobacco use and shield non-users from harms. But there is concern among harm reduction advocates, consumers and some lawmakers that they will be used to push policies antithetical to the public health interests of these nations.
Celine Castronuovo
A former head of the FDA's tobacco center has joined the advisory board of a company developing a first-of-its-kind smoking cessation inhalation product that he says has the potential to be a "game changer" in lowering US tobacco use.

Mitch Zeller, who led the Center for Tobacco Products from March 2013 until his retirement in April 2022, is now providing policy and regulatory strategy consulting to Qnovia, Inc., a pharmaceutical company focused on inhaled therapeutics. The company is currently preparing an application to the Food and Drug Administration's Center for Drug Evaluation and Research for a cessation therapy which, if approved, will be the first inhaled prescription therapy to help tobacco smokers quit.
How bad is vaping for the environment?
Another day, another ban. Now the Government is taking aim at the most effective anti-smoking tool ever devised – disposable vapes. Alongside claiming that adults would not be so childish as to enjoy the taste of cola, fruits, or mint, the Government have highlighted the environmental concerns of disposable vapes. This may be a more valid concern than the phoney health argument. However, the industry has already begun innovating their way out of this quagmire.
Dr Rosalie Woodruff MP
We are concerned where we have got to in Australia and the fact is that with the increase in vaping and the creation of the black market that has happened in Australia, which is different to many other countries' approach, we have effectively created a black market by so throttling the supply of vaping products to be prescription-only by a GP. Only 1 per cent of GPs in Australia are registered as prescribers for these smoking cessation products. That is a problem, so what has happened is that smokers who want to get off smoking – long-term, rusted-on smokers who have tried and tried – find it difficult to access a GP and extremely cumbersome so they buy them on the black market.
Associated with continued smoking years later?
The study comprised 8,671 adolescent individuals who were naïve to cigarette smoke in the third wave and were participants of the fourth and fifth waves, of which 55% (n=4,823) were 12 to 14 years of age, 51% (n=4,454) were men, and 51% (n=3,763) were Whites of non-Hispanic ethnicity.

Among the study participants, 10% (n=842) of individuals documented ever electronic cigarette usage, and two percent (n=138) documented current electronic cigarette usage.
Exempted from poison control
PETALING JAYA: The government has cleared the way to impose excise duty on over-the-counter sales of vape liquids used for e-cigarettes. Nicotine patches to help stop smoking and the vape products were also exempted from poisons control.

A gazette notification published by the health ministry today said liquid and gel nicotine were now exempted from provisions of the Poisons Act.
---
A look back at how things have moved on or otherwise….
Colin Mendelsohn
The world's first guidelines to assist vapers who want to quit vaping have been released today by the Canadian Centre for Addiction and Mental Health (CAMH).

The guidelines are designed for health professionals to support both adults and youth from age 15 years. They include behavioural therapies and medication and are based on approaches to stop smoking.
Swedish snus played a starring role in a recent BBC news segment exploring the smokeless tobacco product's potential to help cut UK smoking rates.

The segment also features Professor David Nutt, an expert in addiction at the Imperial College of London who has studied the impact of snus on public health in Sweden.
---
Visit Nicotine Science & Policy for more News from around the World

---