Vapers Digest 3rd April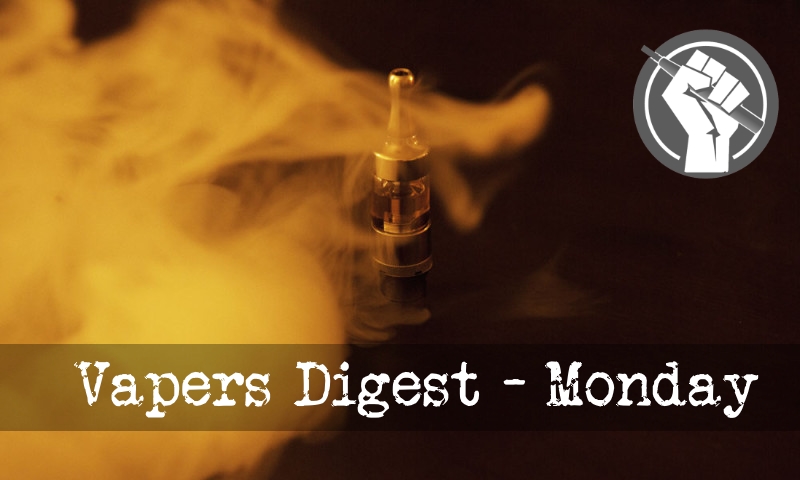 Monday's News at a glance:
ETHRA March news roundup – Making the case and addressing concerns – Where's Bloomby? Check the atlas – Snus: The tradition that's given Sweden the fewest smokers in Europe – Cigarette-free Sweden busts myths – Ex-CTP Boss Zeller – Tennessee Vape Vendors Push Back on Big tobacco – How Australia's vape crackdown created a huge black market – Georgia Poised to Criminalize Vaping – Fighting the Dip Mentality
European Tobacco Harm Reduction Advocates
ETHRA's monthly roundup of news: COP10 Calls to Action -Smoke-free environments stakeholder survey: ETHRA responds – Belgium bans pouches – Electronic Cigarettes: an Overlooked Tool – How bad is vaping and should it be banned? – Flawed research – Country updates. Read on for more.
National Centre for Smoking Cessation and Training
In 2021 we published advice to support English stop smoking services to make vapes (e-cigarettes) available to their clients.

The NEW guidance, again written in partnership with Office for Health Improvement and Disparities (OHID), makes the case for providing nicotine vapes as a first-line option for clients alongside medicinally licensed stop smoking products.

This edition updates some of the evidence on safety and effectiveness of vapes. The main update, however, is information on Crown Commercial Services' recent inclusion of new vaping product catalogues within existing public sector procurement frameworks.
---

---
COPWatch
You have to hand it to Bloomberg Philanthropies. They are very good at finding public servants willing to exchange their statutory obligation to be impartial for a pat on the back and a pretty bauble. Like the Where's Wally books, you never know where they may turn up next.

The latest target of Bloomberg's ongoing programme to influence government policies in low and middle income countries is Panama. Yes, the Panama where COP10 will be held later this year. That Panama.
---
---
The fewest smokers in Europe – Nick Powell
It's one of those cultural peculiarities that the European Union is usually keen to protect and promote but snus isn't celebrated like Parma ham and champagne. In fact it is banned in all member states except Sweden, although it's a tobacco product that offers a much safer alternative to cigarettes, writes Nick Powell.

Tobacco that you neither smoke nor chew is "a weird Swedish cultural product", Patrik Hildingsson cheerfully admits. And he's a vice-president of the biggest manufacturer of snus, Swedish Match. Weird but successful. Snus consumption never stopped, although it ceased to be fashionable when Swedes embraced the global trend to smoking cigarettes. Now the snuff-like substance, placed between the upper lip and gum, has reclaimed top spot.
By nicotine patch, vape scaremongers – Joseph Magero
Activists campaigning against alternative nicotine products in Kenya are playing a dangerous game of disinformation. They have been circulating scare stories recently in an effort to deny smokers access to reduced-risk tobacco-free products such as oral nicotine patches and vapes.

But they have blatantly ignored the sensational news coming out of Sweden that details how these products are actually saving millions of lives and significantly reducing the public health burden.

On March 14, international experts attending a conference in Stockholm formally announced that Sweden is set to become the first nation in the world to officially give up cigarettes.

Jim McDonald
Former FDA Center for Tobacco Products director Mitch Zeller will join the advisory board of a pharmaceutical company attempting to shepherd a nicotine inhaler through the FDA drug approval process. The company once shared lies about Public Health England's 2015 e-cigarette report and the report's authors.

Zeller will provide regulatory and policy guidance to Qnovia, Inc., a Virginia-based company formerly known as Respira Technologies. Qnovia is seeking FDA Center for Drug Evaluation and Research (CDER) approval for the RespiRX—a nicotine replacement therapy (NRT) product that looks vaguely like a pod-based vape, but is actually a nebulizer that delivers a metered dose of inhalable, nicotine-containing mist.
---

---
Tennessee Vape Vendors Push Back on Big tobacco | RegWatch
No state organization has had more success fending off anti-vaping legislation than the Tennessee Smoke Free Association.
Led for years by founder and recently retired president Dimitris Agrafiotis, the group continues to push back on anti-vaping legislation, which, more often than not, is backed by big tobacco.

Joining us today are vape shop owners Danny Gillis and Chris Lautz, president and vice president of the venerable Tennessee Smoke Free Association. Hear how the group stopped a recent RJ Reynolds-pushed bill that would have destroyed vaping in the Volunteer State.
The state of Georgia has long criminalized harm reduction whatever way it can, and tobacco harm reduction has not escaped its gaze.

On March 21, an overwhelming majority of Georgia legislators voted to advance Senate Bill 47, which would ban vaping in all the public spaces that combustible cigarettes are banned under the Georgia 2005 Smoke Free Air Act. The fines for doing so would range from $100 to $500. We await Governor Kemp's signature on yet another piece of paper telling us how we must keep the public unhealthy, in the interest of public health.

Created a huge black market – Zoe Madden-Smith
High School student Matt* has never smoked a cigarette in his life, but he's been vaping since he was just 14 years old. The now 17-year-old, who didn't want to use his real name for this story because he hides his vaping addiction from his family, says he's not sure why he started.

But he remembers pinching his first vape from a draw in his older brother's room and from then on, he says it was easy to get them off his friends whenever he wanted.

"My friends and I started by getting really into vape tricks," he laughs.
Tobacco Reporter
When Brittney Niquette first tried smokeless tobacco two years ago, it was from a sense of obligation. She runs customer support for Lucy Goods, a maker of nicotine pouches, gums and lozenges.

"I like to know what our products taste like, so that I have a genuine opinion and feedback to give customers," she explains. "They're just not marketed to women. So I honestly didn't know what a nicotine pouch was. I was thinking tobacco, like, brown in a pouch."

Niquette started smoking at 15, repeatedly quitting and restarting. She now uses tobacco-free pouches every day. "My favorite is the berry citrus. And I like espresso flavor with coffee in the morning."
---
A look back at how things have moved on or otherwise…
European Tobacco Harm Reduction Advocates
ETHRA's monthly roundup of news: Scandinavian plans to ban – Dutch delay on flavour restrictions – Positives for nicotine pouches – Vape tax rollback – NNA letters & recommendations – ETHRA contributes to BECA – Good news about smoking is bad news for anti-smoking groups – Flawed science challenged. Read on for more.
On Independent Vape Stores – James Dunworth
The Scottish government has launched a new consultation on vaping. If the suggestions are put in place, they could hamper the ability of vaping to denormalise smoking.

While well-meaning, the consultation is based on a number of incorrect premises, threatens to penalise law-abiding businesses and fails to tackle the crux of the problem.

In this post I'll cover some of the premises and how the proposals could damage harm reduction. I'll also present an alternative action the Scottish government can take which will both protect young non-smokers and ensure existing nicotine users have access to safer, better quality vape products.
---
Visit Nicotine Science & Policy for more News from around the World

---