Vapers Digest 29th March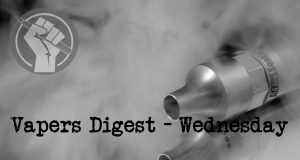 Wednesday's News at a glance:
Dr Colin Mendelsohn, ColinMendelsohn.com.au
A RECENT AUSTRALIAN STUDY has found that current vaping by young people (mostly young adults) who have never smoked is rare. Most vaping is by current and past smokers and a majority are using vaping to quit or cut down deadly cigarettes. Despite the obvious spin in the media, the results of this study are good news. In the study published in the anti-vaping Australian and New Zealand Journal of Public Health, of 1,006 15-30-year-olds (mostly young adults), only 13% (129/1,006) vaped once or more in the last month. Of these, only 8 were cigarette-naive, 56 were past smokers and 65 were current smokers.
---
Committee On Oversight and Accountability
House Committee on Oversight and Accountability Chairman James Comer (R-Ky.) is conducting oversight of the Food and Drug Administration's (FDA) regulation of tobacco and nicotine products through its Center for Tobacco Products (CTP). The CTP has failed to effectively define and administer its tobacco and nicotine regulatory programs, resulting in industry uncertainty and unsafe products reaching the marketplace. In a letter to Commissioner Robert Califf of the Food and Drug Administration, Chairman Comer is requesting documents, communications, and a staff-level briefing related to the CTP's activities to ensure it is performing its regulatory function as intended.
Jim McDonald, Vaping 360
The powerful U.S. House Oversight and Accountability Committee will investigate the practices of the FDA Center for Tobacco Products (CTP). The chairman of the committee, Kentucky Republican Representative James Comer, announced the probe today.

In a letter to FDA Commissioner Robert Califf, Rep. Comer cited multiple reasons for the investigation, most based on criticisms leveled in the recent Reagan-Udall Foundation evaluation of the agency's tobacco regulatory programs.
---
One  from Dave Cross, Planet Of The Vapes
The Association of Convenience Stores has issued its Assured Advice guide on the retailing of electronic cigarettes, aimed at assisting retailers navigate potential hurdles to successful sales. The advice is very timely now that Elf Bar products have been withdrawn from sale by many supermarkets due to the products not conforming to MHRA rules on product standards.
---

---
Dr. Brad Rodu, Tobacco Truth
The authors analyzed perceptions of nicotine among 12-17 year-old participants during two waves of the Population Assessment of Tobacco and Health (PATH) study, in 2016-17 and 2017-18.

While their journal article includes some positive messages on tobacco harm reduction, its main finding is worrisome: 75% of surveyed youth "incorrectly responded that nicotine is the main substance that causes smoking-related cancer."  O'Brien noted that this figure was "similar to adults."

O'Brien et al. do acknowledge a critical fact: "…it is tobacco combustion and the accompanying release of thousands of harmful chemicals, rather than nicotine itself, that is responsible for most [sic] of the negative tobacco-related health outcomes (eg, the myriad of cancers related to tobacco use)."
---

---
---
Visit Nicotine Science & Policy for more News from around the World

---