Vapers Digest 28th November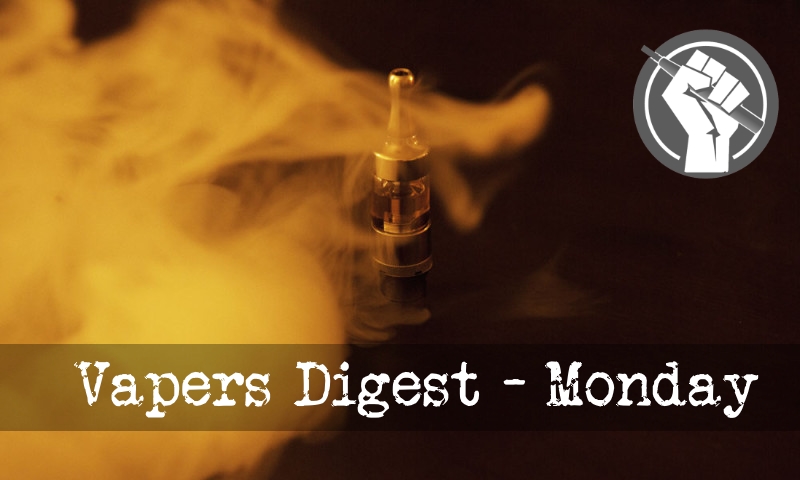 Monday's News at a glance:
The NNA welcomes calls for proportionate regulation of nicotine pouches – Brussels to propose rise in cigarette taxes and first EU-wide vaping levy – Increasing the price of vaping – Vaping Won't Work If Nicotine Is Attacked – Who Would Win the Anti-Smoking World Cup? – Ban On Harmful Products – What is holding Canada back? – WHO renames Monkeypox, CDC does not rename EVALI – A middle-ground approach for smokers – Nicotine Science and Policy Daily Digest
Proportionate regulation of nicotine pouches
Last month, the BBC reported that health campaigners had called on the government to close a "loophole" in how nicotine pouches are regulated to prevent under 18s from being able to buy them legally. The report referenced Action on Smoking and Health spokesperson Hazel Cheeseman asking the government "to ban free samples and sales to under-18s, introduce limits on strength and to restrict marketing of the pouches."

Although the lack of an age limit for pouch sales is not technically a loophole, it is merely that one has not been set as pouches have been regulated under General Product Safety Regulations and do not have their own regulatory framework, the NNA welcomes some of the proposals publicised by the BBC.
And first EU-wide vaping levy – FT
The EU is to propose a bloc-wide vaping levy as part of a shake-up of taxation on the tobacco industry that would also double excise duties in member states with low cigarette taxes, according to a draft European Commission document.

The changes to legislation, part of a push by Brussels to cut smoking rates, will increase the EU's minimum excise duty on cigarettes from €1.80 to €3.60 per pack of 20, which would raise prices in eastern European nations where packs can sell for under €3.
---

---
Will hurt consumers and public health
Consumers are voicing their concerns about the EU Commissions' leaked plan to increase taxation on vaping products and fear negative consequences for public health. This comes from a Financial Times article stating that the EU Commission plans to "bring the taxation of novel smoking products, such as vapes and heated tobacco, into line with cigarettes".

Higher taxation on vaping products will have catastrophic effects for those looking to quit and will unleash a massive new black market for vaping products, said Michael Landl, Director of the World Vapers' Alliance.

"The Commission claims that higher taxes will improve public health, but the reality is the exact opposite".
---
The European Commission have given assurances that snus will not be impacted by the upcoming revised Tobacco Excise Directive https://t.co/N0j0Job9Nd

— European Tobacco Harm Reduction Advocates (@europethra) November 28, 2022
The European Commission's Spokesperson on taxation, Daniel Ferrie, confirms that Sweden will retain full freedom in setting the tax regime for #snus https://t.co/0ZJ928jltY

— European Tobacco Harm Reduction Advocates (@europethra) November 28, 2022
---
AVCA
Smokefree Aotearoa 2025 is in jeopardy if New Zealand's Vaping Regulatory Authority (VRA) stands by its new interpretation of its own product standards which would dramatically reduce the maximum 'nicotine salt' limit, say smokefree advocates.

"If the VRA continues down this path it not only endangers the country's smokefree ambition, but it completely u-turns on an agreed standard that will hit 80% of the New Zealand market without any logical explanation or consultation," says Nancy Loucas, co-founder of Aotearoa Vapers Community Advocacy (AVCA).

The Anti-Smoking World Cup?
One billion people will watch the World Cup final in Qatar, the same number who could live longer if they switched cigarettes to safer nicotine alternatives

In a few days, the 2022 World Cup kicks off in Qatar. For many, the World Cup is the most important sporting competition. 32 teams will face it this year to win it. And every country in the world dreams of ever being the world champion.

What if I told you there is an even more important World Cup and the prize is not a golden trophy but saving millions of lives?
That e-cigarettes most effective way to quit smoking – Emma Wilkinson
There is strong evidence that e-cigarettes are a more effective way to help people quit smoking than nicotine patches or gum, a Cochrane review has concluded.

The analysis of 78 studies with more than 22,000 participants also found that nicotine e-cigarettes led to higher quit rates than e-cigarettes without nicotine, or no stop smoking intervention at although there was less data on this.

It means that for every six in 100 people who quit by using nicotine replacement therapy, eight to twelve would quit by using nicotine-containing vapes, the researchers, said.
---

---
From hitting its smoking reduction target?
The effects of smoking and tobacco use are well and widely known, yet approximately 11 per cent of Canadians still smoke. To address this, the federal government introduced a target of less than five per cent tobacco use by 2035. It's a mighty challenge — and in an era where misinformation abounds, accurate information is essential so that public policy can be based on scientific fact, and people who smoke understand the options available to them.

Former anesthesiologist Dr. John Oyston has witnessed first-hand the effect of tobacco use and cigarette smoking. Measures like tax increases, warning labels on cigarette packages and smoke-free public spaces have helped decrease tobacco use, he says, but without a new approach and more education on the available alternatives, Canada will miss the goal it set for itself.
CDC does not rename EVALI – Dr John's Blog
The WHO has announced that it is renaming monkeypox to "mpox", apparently to avoid stigmatization of monkeys. They expedited the name change through the International Classification of Diseases (ICD) process.

The CDC labelled an outbreak of lung injury in people using contaminated THC products as "e-cigarette, or vaping, product use-associated lung injury (EVALI)" in October 2019. This name suggests that the fatal lung disease was caused by the use of legal, store-bought, nicotine-based e-cigarettes, when in fact it was later proven to be caused by illegal, black-market THC vaporizers contaminated with Vitamin E Acetate by criminals.

While Availability Of Cigarettes Is Counterproductive
Use of psychoactive substances is regulated by the society or by the government because of a wide variety of reasons linked to health and morality. In general, Indian society tends to discourage people having fun using psychoactive substances. Although people have been using psychoactive substances to change their mental state since time immemorial, they are expected to do so only using the substances approved by the state or the society. This is reflected in the policies and attitudes towards various psychoactive substances.

India banned all types of electronic nicotine delivery systems in 2019 following the recommendation of an ICMR committee. Several eminent physicians and scientists representing different disciplines were members of the committee, but behavioural scientists and addiction specialists were conspicuously absent from this panel.
Babar Warsi
Choices matter, especially when it comes to a person's wellbeing. In this day and age, when awareness about good health is growing, people can make better decisions about their lifestyle choices. In the context of smoking, traditionally, smokers are provided with two options: quit or continue smoking. As a result, those who do not immediately quit are forced to risk their health by continuing to smoke.

For adults who would choose continue smoking, there are now additional choices: to switch to scientifically substantiated less harmful, smoke-free alternatives available in the market, which should be promoted to minimize the health risks.
---
A look back at how things have moved on or otherwise…
To 'tobacco endgame' goal – Snusforumet
Smoking rates in Sweden continue to fall, with levels now below the internationally recognised "tobacco endgame" goal of five percent for an increasing share of the population. The new figures also suggest snus plays a role in the drop.

Only six percent of Swedes smoke daily according to fresh figures from Sweden's Public Health Agency, Folkhälsomyndigheten, down from seven percent in 2020.

Since 2015, the percentage of daily smokers in Sweden has dropped by 40 percent. The new figures also reveal that daily smoking among people aged 16-29 has dropped to only three percent, down from eight percent in 2015 – a more than 60 percent drop in five years.
Is based on perception – Atakan Befrits
Sweden is usually referred to as the best example in Europe of a country that combined wide bans of places to smoke conventional cigarettes with an offer of 250-year alternative product snus, a functional and satisfactory product that the nicotine users understand is a dramatically less harmful alternative. In reality, Swedish regulatory authorities and influential groups of medical professionals are as negative to snus as to cigarettes as they cannot accept any other policy than the quit-or-die paradigm. The success of snus in the Scandinavian markets is a function of word of mouth, in that everyone has relatives that died of smoking-related diseases but nobody can recall a single relative or loved one ever getting ill from snus use.
---
Visit Nicotine Science & Policy for more News from around the World

---