Vapers Digest 30th November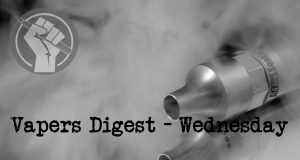 Wednesday's News at a glance:
When The Comments Section Lets You Down ~ New Poll Shows Quebec Residents See Youth Nicotine Vaping As A Low Priority For The Province's Health Care System ~ Solving for India's smoking addiction; saving precious lives ~ Bans On Safer Nicotine Products Won't Work In Africa ~ Older Adults Who Smoke Are Typically "Forgotten" ~ Parliament ~ Weekly Issue | Nov 29th, 2022 ~ Lincolnshire's healthy lifestyle service now offering e-cigarettes as a route to quit smoking ~ Report Finds Vape Sector Boosts UK Economy ~ European Commission Will Propose an EU-Wide Minimum Vape Tax ~ A Survey in Favour of Vaping
Clive Bates, The Economic Times
After China, India has the world's second-highest number of smokers – about 90 million. We know that long-term smoking is a major cause of cancer, heart disease, and debilitating respiratory diseases. Smoking kills more than obesity, alcohol, road accidents, drug misuse and HIV combined. As a result of smoking, millions of people die prematurely in agony or live in misery as they age. What should be done?
---
Soko Directory
Bans are an overly simplistic solution to a complex issue and will not work. The dangers associated with smoking are well known. It is the leading cause of preventable death worldwide, causing more than 8 million deaths per year. However, progress in tobacco control has been limited. Smoking prevalence remains high, with around 1.3 billion tobacco users worldwide – and over 80% of those live in LMICs, Africa included.
---
Alex Norcia, Filter Magazine
A new paper, published in the American Journal of Public Health (AJPH), argues that older adults who smoke are "forgotten," and that more needs to be done to address "the incredible burden of disease and death that this population carries."

"The number of adults aged 65 years and older is expected to more than double worldwide over the next several decades, and for the first time in record history, older adults will outnumber children," write the authors, Annie Kleykamp of BAK and Associates and Jessica Kulak of the University of Buffalo.
---
Dave Cross, Planet Of The Vapes
The DUP's Carla Lockhart thinks kids need warning about the dangers of vaping, and Labour's Andrew Gwynne asked a host of questions in another instalment of the MP's Q&A sessions to the British Government at the House of Commons.
---

---
Innco
Hi Dear Friends,

It's always a pleasure to greet you. We had the opportunity to represent the INNCO members at the Conference Lisbon Addictions 2022, where we presented the preliminary results of our survey about Harassment and Intimidation to Harm Reduction Advocates, more information and a video regarding the event will be released soon.
---

---
Lincolnshire World
From this month, the healthy lifestyle service commissioned by Lincolnshire County Council will provide e-cigarettes as an additional Nicotine Replacement Therapy (NRT) option, for over 18's, on its 12-week 'Be Smoke Free' Programme. Since One You Lincolnshire began in 2019, it has successfully helped over 7,500 people across the county to stop smoking.
I wish we could do lunch and talk
The world is full of concerned Moms. It's in our job description and many of us take that job very seriously. I've seen some of you on the news, watched you at Congressional hearings, have heard you testify before city council's, and have seen your social media posts. I watched the movie You Don't Know Nicotine and it taught me that there are 2 sides to every story. I learned a lot about your concerns from watching it. I could see the concern in your eyes and hear it in your voices. I know in the end we all want the same thing. We want our kids to be safe, healthy, and making good choices. We fear for their well being, their health, and even their lives.
Joel Sawa
After reading the misguided recommendations of The Union's new position paper shared in May, 'where bans are best: Why LMICs must prohibit e-cigarettes and heated tobacco product sales to truly tackle tobacco'. This grossly misleading document points to only one direction the establishment of a systemic fight against electronic cigarettes and heated tobacco products. This is a well-orchestrated campaign to create and capitalize on moral panic and undermine the gains of the vaping community as well as the greater Tobacco Harm Reduction front and their phenomenal exploits.
---
Visit Nicotine Science & Policy for more News from around the World

---