Vapers Digest 26th September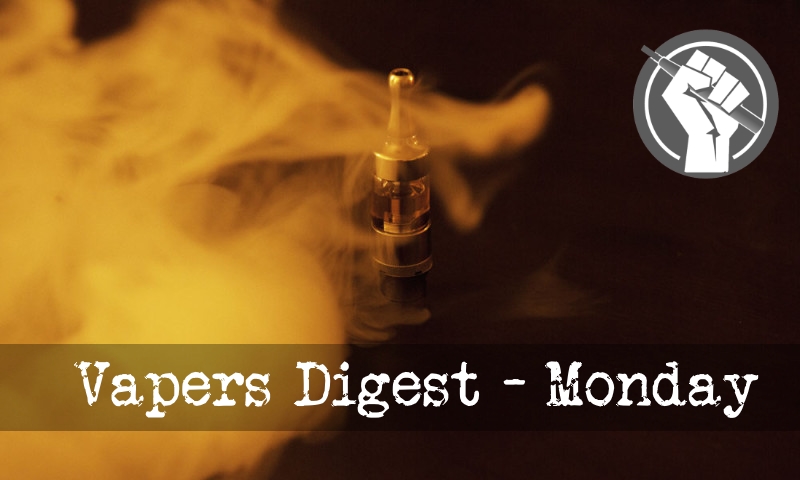 Monday's News at a glance:
ETHRA Flags Up Dutch Flavour Fight – Final Dutch Consultation on Vape Flavors Ends Sept. 28th – Growing vaping black market – Lung Injuries Not Caused By Nicotine Vaping – Nonprofits Drive the Anti-Vaping Campaign – NZ's Vaping Regime Attracts Malaysian Delegation – Over 600,000 sign petition against bill – Canada's Vape Excise Tax Could Lead to More Smoking – Calls on govt to legalise e-cigarettes – Nicotine may be the stepping stone – A 'YES' from the EU to oral nicotine
Dave Cross, POTV
Consumer umbrella organisation ETHRA (European Tobacco Harm Reduction Advocates) is asking if the proposed restrictions on e-liquid flavours signals the end of vaping in the Netherlands. It comes as the Netherlands Government introduced a public consultation to mark the final stage of the legislative process.

ETHRA says it "promotes discussion and the exchange of information and potential actions to reduce exposure to tobacco-related harm. ETHRA complements existing organisations by offering European advocates a platform for exchanging information (particularly at European policy level) and for sharing experiences and local initiatives, in support of tobacco harm reduction."
Ends Sept. 28th – Jim McDonald
Vaping consumers and advocates have less than a week to take part in the Dutch government's brief public consultation on a vape product flavor ban likely to put current manufacturers out of business next year. The deadline for making comments is Sept. 28.

The new law, which will ban all vape flavors except tobacco, is scheduled to take effect Jan. 1, 2023—although products already on the market by Dec. 31 can be sold until July 1, 2023. The law will ban flavors in both nicotine-containing and zero-nicotine e-liquids, and applies to bottled e-liquid and prefilled products.
---

---
World Vapers' Alliance
Disposable vapes. They're everywhere right now, and with some state bans on flavors and the implementation of the 21 and over tobacco rule, we are seeing more and more of these devices that are not authentic.

It makes me wonder: is this a preview of what a dangerous and unregulated black market will look like if the FDA continues to deny vaping as tobacco harm reduction and continue its crusade to ban flavors?

Elfbar, the new JUUL/Puff Bar is one of the most popular disposables on the market right now in the US.
---
---
Not Caused By Nicotine Vaping
Vaping nicotine was not the cause of an associated lung disease in the United States, a study revealed.

The serious lung condition known as EVALI or E-cigarette, or Vaping, product use-Associated Lung Injury is not caused by vaping nicotine as falsely claimed by vaping opponents. This is according to a new study published by Dr. Colin Mendelsohn in Drug and Alcohol Review. EVALI is a serious medical condition in which a person's lungs become damaged from substances which causes breathing difficulty, shortness of breath and chest pain.

Drive the Anti-Vaping Campaign – Joseph Simonson
Nicotine vaping provides a safer and healthier alternative to smoking, according to dozens of public health groups and governments, including the Centers for Disease Control and Prevention, the Food and Drug Administration, and the American Cancer Society. But three liberal nonprofits that claim to be devoted to science and public health are bankrolling one of the largest public health campaigns in U.S. history to ban vaping products in the United States.

Bloomberg Philanthropies and the Bill and Melinda Gates Foundation have teamed up, spending over $100 million since 2017 on grants, research, and other nonprofits all dedicated to outlawing nicotine products.
---

---
Attracts Malaysian Delegation – AVCA
"Malaysia has sent a parliamentary delegation to New Zealand to see what policies are required to achieve smokefree. Their visit reflects that Kiwis are getting the mix right when it comes to tobacco control, legalising and regulating vaping," says Nancy Loucas co-founder of the Aotearoa Vapers Community Advocacy (AVCA).

Her comments come as members of a special Malaysian Health, Science & Innovation select committee visit New Zealand. They have signalled they're meeting with the Minister of Health, as well as Tobacco Harm Reduction (THR) advocates and experts to learn exactly what New Zealand is doing to achieve its national ambition of Smokefree 2025.
Against tobacco bill
More than 600,000 Malaysians have signed an online petition opposing the Generational End Game (GEG) bill slated to be tabled next month, say two vape industry groups.

The Malaysian Vape Chamber of Commerce (MVCC) and the Malaysian Vape Industry Advocacy (MVIA) said this showed that many Malaysians opposed the bill.

They urged Putrajaya to heed the voices of the signatories and industry players. The online petition was launched on the Malaysia Bersuara platform.

To legalise e-cigarettes – Bob Scott
The director of a pro-e-cigarette group in Thailand believes legalizing the activity would not only lead to more control over vaping amongst the kingdom's youth but make it safer than the dreaded cancer stick.

A survey conducted by the National Statistical Office of Thailand last year found more than half of the kingdom's 80,000 e-cigarette smokers were people aged between 15 to 24.
Canada's Vape Excise Tax Could Lead to More Smoking | RegWatch
Canada's new excise tax on nicotine vaping products is days away from implementation, and the ramifications could be disastrous.
Excise taxes are known as "sin taxes," which governments apply to products perceived as either morally suspect, harmful, or costly to society.
The goal of a sin tax, after revenue generation, is to reduce use. But regarding vaping, reducing use could mean a return to smoking.
Towards the tobacco endgame
With smoking being one of the leading risk factors behind non-communicable diseases and resultant deaths around the world, the global public health has been under a constant threat from the rising number of cigarette smokers who continue to put their health at risk despite the widespread awareness of the harms associated with it.

Although concerned authorities and health agencies have been pushing for different tobacco control measures, the fact that there are currently1.1 billion smokers in the world and this figure is projected to remain the same in the coming yearsis a testament to the progress, or the lack thereof, on ground.
Would save 210,000 lives
A recent report from Lakeville shows that oral nicotine, such as snus and nicotine pouches, is essential in helping smokers quit. Access to healthier nicotine alternatives on the market improves public health at large. Therefore, a permissive EU policy regarding the sale of oral nicotine, especially nicotine pouches, would reduce the number of deaths due to smoking by 210,000 lives per year.

The new report Fighting smoking with alternative nicotine products from Lakeville shows that access to healthier nicotine alternatives significantly improves public health.
---
A look back at how things have moved on or otherwise…
A conversation with Martin Dockrell of Public Health England
On Tuesday, 21 September 2021 we invited Martin Dockrell, the Tobacco Control Lead at Public Health England to speak to us about the often-divisive subject of e-cigarettes. Dockrell began by outlining the consensus reached in the UK since 2008 on nicotine harm reduction following a contemporaneous report by the Royal College of Physicians. He showed that since the advent of e-cigarettes in 2012, rates of smoking among adults in the UK have gone down by 1/4 and in adolescents they have gone down by half. Since 2016, e-cigarettes have been tightly regulated in the UK with an early age of sale of over 18, limits on nicotine concentration, and child-safety precautions of products as well as warnings on packs that are required on all other nicotine products.
James Dunworth, Ashtray Blog
A new study has found that switching from smoking to vaping can restore the lungs' primary defence against harmful substances.  This decreases the risk of infection and lung diseases such as COPD and can help to improve symptoms of pre-existing lung diseases.

The study, conducted by a team led by Professor Polosa of the University of Catania, looked at the impact of switching to vaping on a mechanism called mucociliary clearance (MCC).

MCC is the process through which tiny hairlike structures on our lungs, called cilia, work like an escalator using mucus to trap and move harmful substances out of our body.
---
Visit Nicotine Science & Policy for more News from around the World

---