Vapers Digest 23rd September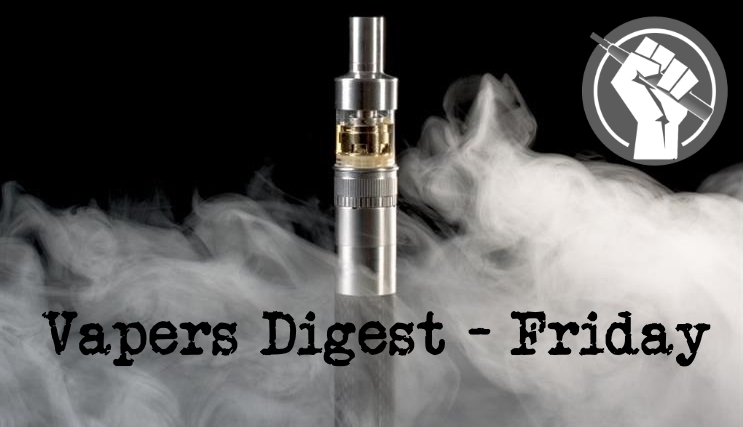 Friday's News at a glance:
Help our Dutch counterparts fight a threat to vaping in the Netherlands – My Commentary on FDA Regulation – Juul Lawsuit Accuses FDA of Hiding Documents – Juul Sues FDA After FOIA Requests Are Denied – Helen Redmond: Toward a US harm reduction strategy – Research: Mods vs Pods – Think Tank Gets Behind Vaping – What A Waste – Madness in Macau – CAPHRA Petition – Youth Tobacco and Vaping Use Declined In Montana – Youth Product Use at Record Lows in Idaho – Is a ban on vaping helping in nicotine harm reduction in India? – E-Cig Policy Compromises That Could Save Lives
Fight a threat to vaping in the Netherlands – NNA
The Dutch Government has opened a public consultation on the final stage of a proposal to ban vaping liquid flavours in the country by proposing an amendment to the Tobacco and Smoking Products Order. The consultation will run until 28 September and can be accessed at this link.

This proposal goes further than any flavour ban seen in other countries. The National Institute for Public Health and Environment (RIVM) and Ministry of Health have set out a list of 16 'approved' substances which can be used to make tobacco flavoured e-liquids. This effectively means a de facto ban on all e-liquids. All current e-liquids on the market, including tobacco flavours, would be prohibited and new flavours would have to be developed using only the 16 approved substances.
That the American Journal of Public Health Invited, Rejected, and Then Maligned Me For
Brad Rodu, Tobacco Truth
Earlier this year, the American Journal of Public Health's editor-in-chief Alfredo Morabia invited me to comment on FDA tobacco regulation.  A month later, he rejected my commentary, then in July he published an editorial effectively, and falsely, labeling me a tobacco industry shill.  I reported the details of that experience in a Retraction Watch article.  Following is my rejected but still relevant article.

Commissioned Commentary: It's Time for Federal Officials to Save Smokers' Lives: Switch from Prohibition to Pragmatism

Inhaling the smoke of burning tobacco kills 480,000 Americans every year.  The United States government response – regardless of the political party in power – has been the obstinate pursuit for a quarter century of an idealistic and unattainable "world free of tobacco use" (http://bit.ly/2IXyf83).
---

---
Of Hiding Documents Key to Denial Decision – Alex Norcia
On September 20, Juul Labs filed a federal lawsuit in the US District Court of the District of Columbia, stating that the Food and Drug Administration (FDA) is withholding documents crucial to the agency's new review of the company's vaping products.

Like other vapor manufacturers, Juul had to file premarket tobacco product applications (PMTAs) by September 2020, showing that its products were "appropriate for protection of public health"—a threshold that has come to be understood as helping adults switch from cigarettes to a safer alternative while not introducing a new generation to nicotine. The company submitted PMTAs for its menthol pods, Virginia tobacco pods, device and locked device (likely similar to the Juul2 that's available in the United Kingdom and features age-verification software).
After FOIA Requests Are Denied – Jim McDonald
Juul Labs has filed a lawsuit in federal court to force the FDA to give it access to documents that would explain the agency's marketing denial order (MDO) of all current Juul products. The complaint was filed Tuesday in the U.S. District Court for the District of Columbia.

Juul has asked the court to order the FDA to disclose the requested documents, enjoin the agency from continuing to withhold responsive records, and to assume and maintain jurisdiction until the FDA complies with Juul's FOIA requests and other orders of the court.
---
Fighting smoking with alternative nicotine products: Exemplified by the public health effects of Swedish snushttps://t.co/ONQAOXQjzY

— Phil (@phil_w888) September 23, 2022
"We also estimate that the information shock decreased the use of e-cigarettes for smoking cessation, again by about 30 percent. Over time, the reduced smoking cessation due to the information shock will in turn increase smoking-related illness and death"https://t.co/GbOHcUgd9a

— European Tobacco Harm Reduction Advocates (@europethra) September 23, 2022
---
Helen Redmond – Snusforumet
In this instalment of our Harm Reduction Heroes series, Snusforumet talks to Helen Redmond, a social worker, journalist, and passionate champion of safer nicotine products, especially for the most vulnerable in society.

Primarily an expert in substance abuse, Helen Redmond also boasts an impressive background in harm reduction.

For more than two decades she has worked as a licensed clinical social worker, providing support to people who use drugs and live in harm reduction-based housing. She also provides training and consultation on mental health and nicotine use, and in 2016 organised the first Tobacco Harm Reduction Conference in the US.

Five from Dave Cross, Planet of the Vapes:
Two research papers have concluded that high levels of nicotine in e-liquid do not raise the blood concentration of the chemical compound when compared to weaker juices. One research team even concluded that vaping low concentration e-liquids could pose a greater risk profile to users than much stronger alternatives.

The first paper was submitted by a research team at the Roswell Park Comprehensive Cancer Centre in Buffalo to the Nicotine and Tobacco Research journal. The study, "Comparing POD and MOD ENDS Users' Product Characteristics, Use Behaviors, and Nicotine Exposure", compared pod-style electronic nicotine delivery systems (ENDS) with traditional mod/atty set ups.
Demos is a UK think tank with a cross-party political viewpoint, looking at politics, policy, and decision-making. The organisation was seen to influence the labour Party during the Blair years. Its recent document looking at vaping regulation is important as it indicates what kind of support tobacco harm reduction could enjoy should Labour form the next government.

Demos says the current regulations governing the manufacture and sale of vape products has evolved in a "tangled" fashion. On one hand, it has sought to guide the use of ecigs while, on the other, seeking to promote use to current smokers in order to reduce the damage caused through tobacco use. The think tank calls our current raft of measures "world leading", but it adds "there is vast room for improvement".
People are discussing the environmental impact of disposable vapes and talking about how businesses should address the issue of sustainability if vaping is to survive. With a combination of valuable metals and single-use plastics, waste professionals highlight the need to reclaim resources and take care with irresponsible dumping. Research and Markets has even published a new review of current global recycling programs.

Products made by market leaders Elf Bar and Geek Bar have swamped countries around the world, now contributing to 60% of all sales in the throwaway market sector. Their rise to dominance is exemplified by Elf Bar attracting nearly one billion views on the TikTok social media platform.
Macau politicians voted to pass an amendment to legislation that all but bans vaping and ensures that there's an open door should they wish to move on to a complete ban. The autonomous region on the south coast of China sits opposite Hong Kong and it is mirroring its blinkered approach to electronic cigarettes.

In May, swathes of vape stores and related businesses in Hong Kong were forced to shut up shop forever as legislators brought in the Pharmacy and Poisons Regulations, banning everything to do with vaping.
A petition urging the World Health Organisation (WHO) to respect consumer rights and end its lies against vaping has been signed by over 10,000 people. Organisers now want to hit 20,000 signatures by COP10.

Launched during the 2021 Voices4Vape webinar, the Right2Switch petition calls for WHO to "stop lying to us and only provide guidance based on sound scientific facts, methodologies and principles."
---

---
Two from Lindsey Stroud :
In Montana Without Flavor Ban
There is great news for policymakers in the Treasure State, youth use of tobacco and vapor products continues to decline, with youth smoking rates at their lowest levels recorded.

According to data from the Youth Risk Behavior Survey (YRBS), conducted in partnership with the Centers for Disease Control and Prevention, in 2021, among high school students, 27.8% reported ever using combustible cigarettes, and 7% reported currently smoking, defined as having smoked on at least one occasion in the 30 days prior to the survey.
At Record Lows in Idaho
There is great news out of the Gem State, youth use of tobacco and vapor products continues to decline, with 2021 seeing some of the lowest rates ever.

According to the Idaho Healthy Youth Survey, in 2021, among youth in Idaho, 8.2% had used tobacco products in their lifetime and only 17.5% reported ever-use of e-cigarettes. Among 6th and 8th graders, 3.5% reported ever using combustible cigarettes and 9.1% reported ever-use of e-cigarettes. Among 10th and 12th graders, 13.2% reported ever-use of combustible cigarettes and 26.2% reported ever trying e-cigarettes.

In nicotine harm reduction in India? – Kharghar News
The Indian government, in September 2019, passed an act prohibiting the production and sale of electronic cigarettes, which also includes all forms of Electronic Nicotine Delivery Systems (ENDS) such as vapes or vape pens. According to the US Food and Drug Administration, these devices usually contain e-liquid–made of nicotine derived from tobacco, propylene glycol, vegetable glycerin, and other flavourings—which is heated to create an aerosol that the user inhales.

While vaping has been illegal in the country for three years now, it is not uncommon to spot youngsters vaping in public spaces in Indian metro cities. Data from Statista.com shows that during the period of 2014 and 2019, there was a consistent rise in electronic cigarettes and vape sales volume in India with over three million units in the year the products were banned.
That Could Save Lives | RegWatch
Hard compromises that no one will like is how eminent tobacco control scholar Dr. Kenneth Warner describes some of the recently released recommendations in a new policy paper addressing the struggle over e-cigarettes.

The article offers a mix of policy proposals covering critical issues that impact vaping: flavors, taxes, youth use, nicotine, misinformation, and regulatory approval of nicotine vaping products.
Flavored tobacco ban – Troy Shinn
A Washington County judge ruled this week against the county's ban on flavored tobacco products, saying it is unenforceable and preempted by state law.

It's the biggest development so far in a legal battle that resulted after Washington County commissioners last year enacted Ordinance 878, which banned all sales of flavored tobacco products in the county. Commissioners said the ordinance would protect minors from being influenced by the marketing of flavored products and getting hooked on nicotine.
Ecigclick Team
Nowadays, the British Touring Car Championship(BTCC) is broadcast to millions live on ITV. And as the most popular vape brand in UK, VOOPOO backs the professional racing driver Will Powell, the reigning British Endurance Champion and owns and operates the race team Motus One.

Will has previously used vaping to help him stop smoking as part of his preparation for professional racing and in line with the VOOPOO. Now the new affiliation will introduce VOOPOO to a new audience of petrol heads who can enjoy the brand's devices, products, and flavours in an outdoor setting such as a racetrack.
---
A look back at how things have moved on or otherwise….
Center of Excellence for the Acceleration of Harm Reduction, (CoEHAR)
The international scientific scene is constantly enriched by new evidence and scientific studies that confirm the positive health effects for smokers who can't quit and decide to switch to vaping products.

Data that come from many scientific researches on smokers who switch from cigarette to combustion-free products (such as vaping products or heated tobacco products) show significant improvements not only in terms of overall quality of life, but also for clinical parameters of a variety of diseases, such as diabetes, hypertension, obesity, COPD and asthma.
Legalise Vaping Australia
Only 71 doctors across Australia have signed up to be authourised prescribers of vaping products ahead of the Federal Government's October 1 deadline, setting up a chaotic scenario in GP surgeries around the country in the coming months as more than half a million vapers try to get access to a product that is a normal part of life in countries like the United Kingdom and New Zealand.
Brian Carlton, Triple M
(Editor Note: Audio!)

Founding Chairman of the Australian Tobacco Harm Reduction Association, Colin Mendelsohn discussed the upcoming changes to vape rules. Effectively from October 1, you will only be able to legally buy nicotine vapes if you have a doctor's prescription.
---
Visit Nicotine Science & Policy for more News from around the World

---