Vapers Digest 28th September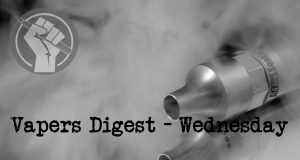 Wednesday's News at a glance:
---
First panel of the day on science, technology, and innovation driving innovation. #GTNF #AccessingInnovation pic.twitter.com/Ra1THuAWSp

— Gregory Conley (@GregTHR) September 28, 2022
Look who I found! @MarewaGlover So much awesome happening in this photo we may get banned again! pic.twitter.com/NZr6oGF6td

— Amanda Wheeler (@amandawheeler32) September 28, 2022
---
Innco
New report from AVM uncovers the ulterior funding that drives the war on vaping. Huge in scale, with hundreds of millions bankrolling academia, NGOs, lobbyists, PR, lawyers, front groups, and even journalists, all doing the bidding of pompous, unaccountable billionaires." ~ American Vapor Manufacturers
---
THREE from Dave Cross, Planet of the Vapes
The New Nicotine Alliance and ETHRA have responded to the Dutch government's threat to vaping in the Netherlands. European umbrella advocacy group ETHRA has submitted an opinion paper to the Netherlands consultation on amending the Tobacco and Related Products Order, while nicotine consumer charity The New Nicotine Alliance has issued a call to UK vapers to help our Dutch counterparts.
In July, Dr Sara Kayat appeared on ITV's This Morning. She informed Dermot O'Leary, Alison Hammond, and the viewers that "millions" of British e-cig users are at risk of contracting popcorn lung from vaping. A detailed formal complaint was made to the General Medical Council but they have refused to take action.
Legalisation will control youth vaping in Thailand says the Director ENDS Cigarette Smoke Thailand (ECST). "Legalising and regulating vaping will give Thailand greater control over youth vaping. The ongoing ban is only making it worse," says Asa Saligupta, Director of ECST.
---

---
New Zealand Health, RNZ
Dairy owners are accusing the government of destroying thousands of small businesses with restrictions on vaping products.

Sunny Kaushal from the Dairy and Business Owners Group said thousands of dairies and service station could help to deliver the Smokefree 2025 policy by promoting and encouraging smokers into vaping and smokeless tobacco.
 Aotearoa Vapers Community Advocacy (AVCA), Scoop
"Dairy owners are right to say being allowed to sell only three vape flavours is not helping New Zealand achieve Smokefree Aotearoa 2025, but some of them are not helping themselves," says Nancy Loucas, co-founder of Aotearoa Vapers Community Advocacy (AVCA).
---

---
Jim McDonald, Vaping 360
China's ban on flavored vaping products will take effect on Oct. 1, along with other standards for vape products imposed by the government over the last year. The flavor ban probably won't affect products exported to other countries, with some exceptions.
Shantanu Guha Ray, The Times Of India
E-cigarettes and harm-reduction products continue to remain banned for almost three years in India, while legal sales of cigarettes, bidis and other tobacco-based products continue.

There are serious arguments as to what it means for the nation's public health policy. But officials of the Health Ministry are simply not keen to engage in any discussions.

We can only write about the pros and cons of this business.
Mawsley – Planet of the Vapes
Finally, after the months and years of discussion and hyperbole, we are into the final countdown – the week that will end all questions about the TPD and Article 20 being implemented. The week that decides if vaping as we know it has a future.

Let's remind ourselves what rests on the outcome….
The chief medical officer on e-cigarettes, antibiotic resistance
On e-cigarettes too, the chief medical officer remains cautious about overstating their benefits as a tool for quitting smoking until the evidence becomes more clear. She's previously warned that the devices could end up normalising traditional cigarettes, acting as a gateway to the kind of behaviour she spends her working life trying to get a country with a seemingly insatiable appetite for self-destruction to move away from….
Carl V. Phillips – Anti-THR Lies
One more post about GTNF2015. Julie presented in a session titled "Consumer wants and needs". It was one of at least three sessions with titles that, if interpreted generically, made them about the general question of what consumers care about regarding developments in tobacco products (which in practice made it mostly about e-cigarettes, since that is where most of the developments are). We decided to make this talk a little more specific, and deliver one of CASAA's key messages, by taking advantage of the exact wording of the session title….
---
Visit Nicotine Science & Policy for more News from around the World

---