Vapers Digest 30th September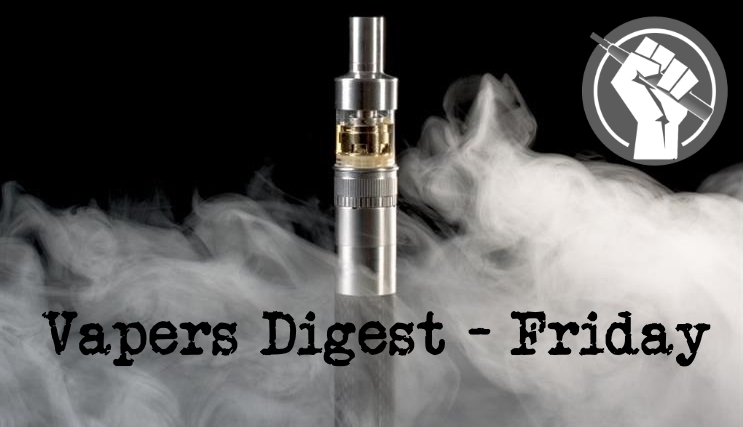 Friday's News at a glance:
Nicotine vaping in England: 2022 evidence update – Vaping substantially less harmful than smoking – Vaping Safer Than Smoking Says UK Government (Again!) – An introduction to snus – Knowledge hub surprise! – Consumers opposing flavour ban – Australia's Failed Experiment – Juul's Cash Comes and Goes – Ash Cymru Misses the Mark – Attacks Need to Stop! – Altria Ends Non-Competition Agreement – The FDA's Harm Reduction Hypocrisy – FDA admits it: Vaping better than smoking – Stakeholders clash on need for EU – Juul exec slams FDA – FDA Enlists Ex-FDA Leadership for Independent Review – Australia's Experiment With Prescription-Only Vapes Has Failed – Ethics and Harm Reduction in Tobacco Control: – The need for a balanced approach to taxation
2022 evidence update
The final annual update in the current series of evidence reviews about the health harms of vaping, by leading independent tobacco experts:

Nicotine vaping in England: 2022 evidence update main findings

Nicotine vaping in England: 2022 evidence update summary

Nicotine vaping in England: an evidence update including health risks and perceptions, 2022 – PDF 12.4 MB 1468 pages
Than smoking, largest review of its kind finds – King's College London
New research from the Institute of Psychiatry, Psychology & Neuroscience (IoPPN) at King's College London has found that the use of vaping products rather than smoking leads to a substantial reduction in exposure to toxicants that promote cancer, lung disease and cardiovascular disease.

The independent report, commissioned by the Office for Health Improvement and Disparities in the Department of Health and Social Care, represents the most comprehensive review of the risks of vaping to date. It found that, while vaping is not risk free (particularly for people who have never smoked), it poses a small fraction of the health risks of smoking in the short to medium term.
Says UK Government (Again!) – James Dunworth
Every year the UK government commissions an independent review of the evidence around the safety of vaping. The review of vaping, now in its eighth reiteration, is already the most solid review of vaping evidence in the world – and this year is the most comprehensive yet.

The report reiterated that vaping poses only a small fraction of the risks of smoking. However, that doesn't mean vaping is risk free.

This year there is particular emphasis on biomarkers of exposure – i.e. markers in the body that show the body has been exposed to certain chemicals or toxins.
---

---
Knowledge•Action•Change
Snus is an oral tobacco product that has been used for more than 300 years. Named after the Swedish word for snuff, snus is made from ground tobacco leaves that are mixed with salt and water. It may also contain food-grade tobacco smoke aroma, or other flavourings, and is placed under the upper lip either in small teabag-like sachets called portion snus or loose. Snus is most widely used in Scandinavia, particularly in Sweden and Norway, where a form of the product known as 'Swedish snus' dominates the market.
COPWatch
The term "multilateral" describes the very essence of international treaties and agreements between countries around the world. The Framework Convention on Tobacco Control and COP are no exception and, accordingly, all their discussions and decisions should involve all parties – 182 countries, to be more precise.

On July 5th, the FCTC Secretariat surprised COP watchers by announcing the establishment of a Knowledge Hub, in partnership with Santé Publique France, for education, communication, training and public awareness in tobacco control. This raises some questions! Did the Parties request the establishment of this new Knowledge Hub?
---
---
1,500 submissions in the Netherlands
This week the second consultation about a potential flavour ban in the Netherlands closed, showing again that consumers are worried about the negative consequences of such a ban. The consultation received more than 1,500 submissions even though it is already the second one on the subject.

The government already opened a consultation last year, which has seen 98% of respondents opposing the ban. Unfortunately, the government ignored those voices and pushed through with the flavour ban. Originally the law was scheduled to take effect on July 1, 2022. Still, due to pushback from vapers and technical issues in the original legislative, it got delayed till the end of this year.
Public health stakeholders are divided over whether the EU needs a strategy to reduce harm from smoking, which according to the World Health Organisation (WHO) costs Europe nearly 700,000 deaths annually.

Novel tobacco products have emerged as alternatives to traditional cigarette smoking, and advocates cite several studies worldwide, insisting these products are much less harmful than conventional smoking and should be used as harm reduction products.
Towards the risk-reduction argument? – Barnaby Page
It's a common complaint from both sides of the nicotine wars (or nicotine debate, if you prefer to be unrealistically genteel): the other guys just don't get it.

Either they are so blinded by their animus toward conventional, combustible tobacco products that they fail to see the huge public health benefit in switching to reduced-risk alternatives; or they have fallen so completely for industry propaganda that they ignore the obvious potential calamity that lies in tolerance, the danger that all the wins of tobacco control over the past decades will be reversed as consumers take up "safer" products which still carry far more risk than abstention.

Four from Dave Cross, Planet of the Vapes:
The Australian government's prescription-only model for nicotine vaping has been a resounding policy failure, according to a 12-month independent review. The TGA regulations were introduced on 1 October 2021 with the two aims of preventing young people from taking-up nicotine vaping products and allowing adult smokers to access them for smoking cessation.

Dr Colin Mendelsohn is a member of the Smoking Cessation Guideline Expert Advisory Group that develops the RACGP Australian national smoking cessation guidelines. He is the Founding Chairman of the Australian Tobacco Harm Reduction Association, a registered health promotion charity dedicated to raising awareness of low-risk nicotine products as a substitute for smoking for smokers who can't quit.
Juul Labs is having to pay $438.5 million in an agreed settlement but is also suing the Food and Drug Administration. The settlement must be made after a collection of US attorney-generals said the company had marketed its products to underage users. Juul has announced its intention to sue the Food and Drug Administration for its refusal to release documents supporting its marketing banning order.

Juul Labs will have to pay $438.5 million to 34 states over a period lasting up to ten years. The company has also had to promise that it won't use cartoon images in its media or online advertisements or carry out any other activity that could be construed as marketing to teenagers.
ASH Cymru says its latest survey demonstrates clear popular support for harsher action to achieve a Smoke-free Wales. The organisation laments misunderstanding about the relative safety of vaping but fails to push for the greater promotion of electronic cigarettes. Vaping has been shown in research to be the most popular and successful way of quitting smoking in Great Britain.

"New figures released today show the majority of Welsh adults support plans for Wales to become smoke-free. The figures come just weeks after Welsh Government unveiled its plans to reduce the number of adult smokers in Wales to 5% or less by 2030," said ASH Wales as it presented its annual YouGov survey.
A recent paper by researchers at the University of Bath, published in the British Medical Journal (BMJ), found that "almost three-quarters" of 23 people in the tobacco control field say they feel harassed by ex-smokers who have become harm reduction advocates. Bath researchers found, "The most frequently reported forms of intimidation were discreditation on social or traditional media, legal threats/action and threatening messages."

INNCO rejects and abhors harassment or intimidation of any kind. But, the BMJ article is ironic because our community is routinely bullied, stigmatized, sued and intimidated (including with documented death threats), blocked on social media, expelled from public meetings, and slandered by experts and advocates in the tobacco control field.
---

---
Jim McDonald
In a move likely to shake up the convenience store segment of the vaping products market, Altria Group has abandoned its non-competition agreement with Juul Labs. Altria's option to end the agreement was triggered when Juul's value dropped below 10 percent of Altria's original investment, according to a Thursday Securities and Exchange Commission filing.

Altria, one of the world's largest cigarette manufacturers, will now be free to develop new vape products or buy other existing brands. Juul will also be able to sell part or all of itself to another company without Altria's permission—although any potential buyer would have to think hard about taking on the political baggage and possible legal liabilities that would come with a Juul purchase.
Lindsey Stroud
In late August, the U.S. Food and Drug Administration (FDA) quietly unveiled a new "Overdose Prevention Framework" to address the decades-long opioid epidemic. Interestingly, the agency outlined policies that support innovation and promote harm reduction. Alarmingly, this is the same agency that houses the Center for Tobacco Products (CTP) that is actively blocking access to tobacco harm reduction. This hypocrisy in approaching harm reduction must change.

In truth, the FDA's role in the opioid epidemic ought to be examined closer by policymakers as there is evidence that the FDA's role in approving and allowing companies to market new opioids led to a surge of prescription pill abuse, or at least the first wave of the epidemic.
For Independent Review of Tobacco Center – Alex Norcia
On September 21, a two-month independent evaluation of the Food and Drug Administration's tobacco center commenced amid concern from tobacco control experts that calls to modernize the center were not being taken seriously. In an August 22 letter to the foundation spearheading the evaluation, first reviewed by Filter, two dozen signatories had claimed the discussion lacked a "neutral forum" as well as sufficient "openness, transparency and civil engagement." They may have been on to something.

The Reagan-Udall Foundation's announcement revealed the four independent experts it had chosen to partner with: Jane Axelrod and Keith Flanagan, former higher-ups at the FDA's Center for Drug Evaluation and Research; Alberto Gutierrez, the former director of the the agency's Center for Devices and Radiological Health; and Charlene Frizzera, previously of the Centers for Medicare and Medicaid Services.
But Refuses To Correct the Record – Guy Bentley
In May, Brian King was appointed head of the FDA's Center for Tobacco Products. King is not known for championing e-cigarettes or reduced-risk alternatives to cigarettes. But after a few months on the job, he's out on the media and conference circuit giving a clearer idea of how he envisions the future of nicotine regulation.

In an interview with the Associated Press on Monday, King was asked about surveys showing most people think e-cigarettes are just as dangerous as traditional cigarettes and whether that was a problem.
Las Vegas Review
The Food and Drug Administration has been on the warpath against e-cigarettes, going so far this June as to try to ban Juul products from the marketplace. A federal appeals court stayed the edict, and the agency eventually admitted it had not done a thorough review of the company's offerings.

The FDA purports to act in the name of public heath, particularly when it comes to vaping by teenagers, but it's actually doing the bidding of anti-nicotine extremists who, in their zeal to outlaw tobacco and punish its purveyors, refuse to acknowledge that e-cigarettes are not nearly as dangerous as traditional smoking. These overly aggressive efforts to eliminate e-cigarettes could undermine smoking cessation efforts, imperiling public health in the long run.
Over its approach to regulating vaping – Nicholas Florko
A Juul executive fiercely criticized the Food and Drug Administration's approach toward regulating vaping companies during a tobacco industry conference Thursday.

Joe Murillo, the company's chief regulatory officer, came armed with a number of criticisms of the agency, including its alleged inability to withstand political pressure.

"The very integrity of the FDA review process is now called into question," Murillo said at the annual tobacco confab known as the Global Tobacco and Nicotine Forum.

With Prescription-Only Vapes Has Failed
Colin Mendelsohn
The Australian government's medical, prescription-only model for nicotine vaping was introduced on October 1, 2021, and has been a resounding policy failure. Like most prohibitionist policies, it has created a thriving illicit market and detrimental public health outcomes.

To legally possess nicotine e-liquid to quit smoking, vapers must get a doctor's prescription and purchase supplies from pharmacies or international online vendors. The sale of nicotine from vape shops and other retail outlets is banned.
A Predictable Failure – CAPHRA
"When one of the world's most respected Tobacco Harm Reduction (THR) experts concludes that Australia's anti-vaping regime is a 'policy failure', then the country's approach to tobacco control needs urgent reviewing," says Nancy Loucas, Executive Co-ordinator of CAPHRA

Her comments follow Australian THR expert and medical practitioner Dr Colin Mendelsohn publishing a 29-page report on Australia's prescription-only regulations for nicotine vaping. It reviews 12 months of progress after Australia's Therapeutic Goods Administration (TGA) introduced new regulations for nicotine e-liquid on 1 October 2021.
In the September episode Jamie Hartmann-Boyce interviews Harry Tattan-Birch from the Department of Behavioural Science and Health, University College London. Harry Tattan-Birch talks about their team's recent randomised controlled trial examining whether, in adults receiving behavioural support, offering e-cigarettes together with varenicline helps more people stop smoking cigarettes than varenicline alone. Tentative evidence suggests that offering e-cigarettes alongside varenicline to people receiving behavioural support may be more effective for smoking cessation than varenicline alone. https://doi.org/10.1093/ntr/ntac149 Harry Tattan-Birch also discusses his research into heated tobacco products.
What is the Public Health Goal?
The term "ethics" is derived from the Greek word ethos, and coincidentally, the 5th Scientific Summit on Tobacco Harm Reduction: Novel products, Research & Policy, was held in the city of Athens in Greece. Over the past few years, a number of alternative Tobacco products have been developed with the aim of reducing the harm that is associated with smoking tobacco. Every year, Tobacco claims more than 7 million lives.

Tobacco use is a major risk factor for the four main non-communicable diseases: cancer, cardiovascular disease, chronic lung disease, and diabetes. In 2019 alone, tobacco use caused more than 8.67 million deaths worldwide (6.53 million in adult males, 2.14 million in adult females).
Slams SA tobacco legislation
Former secretary general of the World Medical Association Dr Delon Human has slammed SA's tobacco lawmakers for likening tobacco harm reduction products to combustible tobacco. He says this is "totally contrary," to the country's hard-won human rights culture and violates consumers' rights to accurate information.

Earlier this month, Cabinet approved the long-awaited Tobacco Products and Electronic Delivery Systems Control Bill for submission to Parliament, a crucial step in the government's plans to further restrict the promotion and use of tobacco and nicotine-related products.
From 'quit or die' mindset and towards vapes
A top exec at British American Tobacco (BAT) has said we need to move away from the "quit or die" approach to smoking and invest more in sustainable alternatives like vaping.

Speaking at an industry conference in Washington D.C., BAT's chief growth officer Kingsley Wheaton called for greater collaboration between the industry and governments to focus on harm reduction rather than complete abstinence to smoking.
Robert Naouss
Since 2010, decision-makers and health authorities in Saudi Arabia have been stepping up their efforts to protect public health from the dangers of smoking tobacco-based cigarettes.

In the last few years, the government has increased taxes on cigarettes, banned smoking in many public places and established anti-smoking campaigns and clinics.

Additionally, in early 2021, the Kingdom banned tobacco sales to teenagers under 18 and smoking in areas where minors are present. These are indeed much-needed policies to protect public health.
---
A look back at how things have moved on or otherwise….
Changes to the law on 1st October will make it illegal to possess or import an e-cigarette (or "vape") containing liquid nicotine without a prescription. It is currently unlawful to supply vapes containing liquid nicotine, but a loophole in the law means that it is not illegal to import or possess one. Currently, around 500,000 Australians vape, and more than double that number have tried it at least once.
Jim McDonald, Vaping 360
After more than a year of delays, the Australian government will finally implement its notorious prescription-only vaping scheme on Oct. 1. After that date, those caught illegally importing nicotine without a doctor's prescription will face fines of up to $222,000.

Meanwhile, cigarettes—which kill about 21,000 Australians a year—will remain available in all the places they're available now, and treated as a normal consumer product.
---
Visit Nicotine Science & Policy for more News from around the World

---