Vapers Digest 3rd October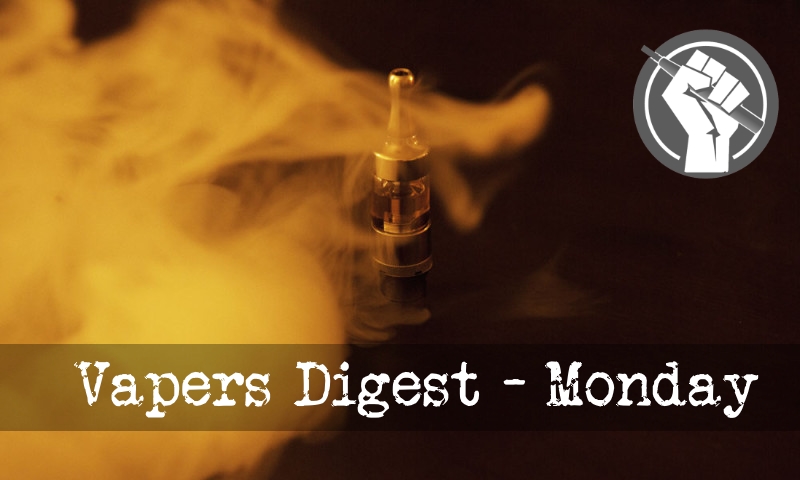 Monday's News at a glance:
Rethinking U.S. tobacco and nicotine regulation (part 1) – ETHRA September news roundup – UK Government's Latest Vaping Report – Vaping Substantially Less Harmful Than Smoking – Vaping substantially cuts health risks of smoking – Florida Protects Vapor Products – Australian Stores pushes for national vaping summit
Regulation (Part 1) – Clive Bates
A fundamental rethink of U.S. regulation of reduced-risk products is now essential and urgent. This introductory post looks at a set of 11 possible principles that could guide a revised regulatory framework. Readers' views are solicited.

Here is a proposal to reshape U.S. regulation of reduced-risk tobacco products:

A science-based regulatory framework for implementing tobacco harm reduction should conform to the following 11 principles:
European Tobacco Harm Reduction Advocates
ETHRA's monthly roundup of news: ETHRA & partners respond to NL flavour ban – Vaping in England evidence update – Policy paper supports tobacco harm reduction – Australia's prescription only vapes is a spectacular policy failure – Country updates. Read on for more.

EU NEWS – GLOBAL CONSUMER ADVOCACY NEWS – COUNTRY UPDATES – ETHRA NEWS – MUST READ
---

---
Dave Cross
The final annual update in the current series of evidence reviews about the health harms of vaping, by leading independent tobacco experts, has been released by the UK Government. "Nicotine vaping in England: an evidence update including health risks and perceptions" covers 400 studies and provides the clearest evidence yet of the reduced harm of vaping compared to smoking.

The UK Government says: "In the government's tobacco control plan for England, Public Health England was asked to update its 2015 review of e-cigarettes and other novel nicotine delivery systems every year until 2022. In October 2021, responsibility for commissioning this series of reviews was transferred to the Office for Health Improvement and Disparities.
---
---
Tobacco Reporter
Using vaping products rather than cigarettes leads to a substantial reduction in exposure to toxicants that promote cancer, lung disease and cardiovascular disease, according to new research from the Institute of Psychiatry, Psychology and Neuroscience at King's College London.

Commissioned by the Department of Health and Social Care's Office for Health Improvement and Disparities, the independent report represents the most comprehensive review of the risks of vaping to date. It found that, while vaping is not risk free—particularly for people who have never smoked—it poses a small fraction of the health risks of smoking in the short to medium term.

Colin Mendelsohn
A COMPREHENSIVE REVIEW of 400 vaping studies commissioned by the English government has firmly concluded that vaping poses only a small fraction of the risks of smoking. Meanwhile Australian governments continue to mislead the public with untruthful information about vaping.

The independent review is the eighth in a series of reports originally commissioned by Public Health England (PHE) and now the Office for Health Improvement and Disparities (OHID).
---

---
And the Outcome is Promising
In 2020, Senate Bill 810 was introduced. This bill would have banned the selling, delivering, bartering, furnishing or giving flavored liquid nicotine products to any person and so on. Adult vapers were able to breathe a sigh of relief when Governor Ron Desantis vetoed this legislation, acknowledging "flavored e-cigarettes are a reduced-risk alternative to cigarettes" and even went as far to say that this "legislation would almost assuredly lead more people back to resume smoking cigarettes" or worse "drive others to a hazardous black market."

What has happened since is monumental. Not only has youth e-cigarette use decreased, but so has youth cigarette use. According to data from the Florida Youth Tobacco Survey…

Of Convenience Stores pushes for national vaping summit
The peak body for Australia's convenience stores wants tougher vaping regulations, including a licensing scheme for retailers.

It comes after the Therapeutic Goods Association (TGA) introduced a prescription-only model in all states and territories for nicotine-containing vapes and e-cigarettes in October last year.

"This decision will both reduce the risk of an on-ramp for teenagers," former health minister Greg Hunt said in December 2020.
Has been closed, and some stores have closed
On October 1, the Mandatory National Standard for Electronic Cigarettes (hereinafter referred to as the "National Standard for Electronic Cigarettes") was officially implemented. Since then, fruit-flavored pods have become history, and the electronic cigarette market has ushered in a unified trading platform, and production and business units must be "certified for employment". However, a reporter from Beijing Youth Daily visited the market on the 2nd and found that many businesses still secretly sell the "fruit flavor" that has been banned from sale.

A reporter from Beiqing Daily visited some e-cigarette sales stores or brand counters on October 2 and found that a small number of stores had been closed, and the words "transfer" were also posted. In the counters or stores that are still in operation, there are only five or six kinds of electronic cigarette products on display, and there are only two or three kinds of products.
---
A look back at how things have moved on or otherwise…
Not prohibition – Dr. Michael Madden
The Prohibition-era of the 1920s and early '30s and the War on Drugs of the last 50 years show that outright prohibitions and bans on alcohol and drugs of all kinds fail to curtail use of the banned substance. Despite this historical evidence, many modern advocates are attempting to ban nicotine and tobacco products from sale and use – ostensibly to "save the children" from nicotine addiction. However, former leaders of the nation's leading scientific organization dedicated to the study of nicotine and tobacco are attempting to remind us of history's lessons: bans don't work, but a measured, evidenced-based, harm-reduction strategy will.
More Than 40% in 2021 – Jim McDonald
Preliminary results from the 2021 National Youth Tobacco Survey show a massive decline in youth vaping since 2020. The percentage of high school students reporting vaping in the past 30 days has only been this low one other year since 2013. The data were in a report published today by scientists from the CDC and FDA.

High school past-30 day vaping fell from 19.6 percent in 2020 to just 11.3 percent this year—a 42.3 percent decline. That's on top of last year's results, which represented a 28.7 percent decline over 2019's high school past-30 day result.
---
Visit Nicotine Science & Policy for more News from around the World

---