Vapers Digest 26th June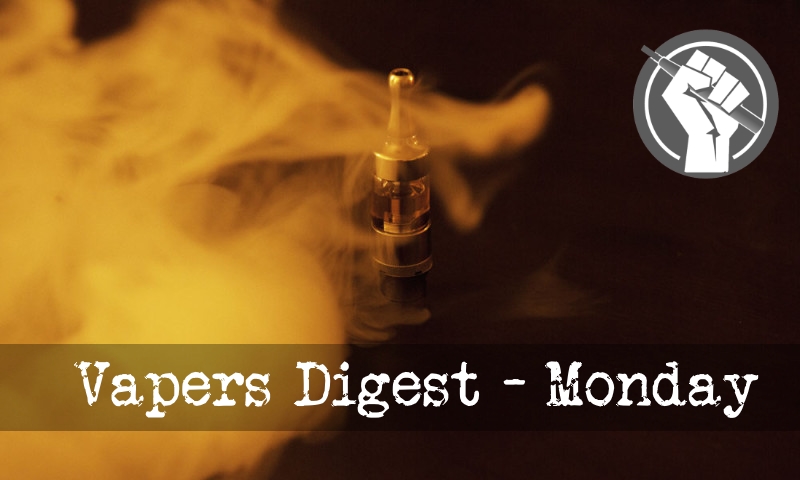 Monday's News at a glance:
Right For Choices Dominate GFN In Warsaw – Vaping restrictions must not stop us from saving lives – Professor Karl Fagerstrom interview – Shift, not quit – BBC Gets Vaping Wrong – Parliament – UK's independent review of science on nicotine vaping and risk – Govt criticised over confusing process to change vape rules – Follow the Science When Regulating Vaping – Nicotine Science and Policy Daily Digest
Sunday Isuwa
Regulation on smoke-free products is now on the front burner following the Warsaw Poland conference of Global Forum on Nicotine (GFN).

The picture that went round at the 10th-year anniversary of GFN is that of human rights violation on the right for choices and denial of freedom of association.

The conference which witnessed serious debate on vaping and the right for choices has charted a way forward for the next decade in a world that is moving towards smoke-free products.
From saving lives – Yorkshire Cancer Research
Concerns are growing over a rise in young people experimenting with vaping and the environmental impact of disposable vapes. However, tighter restrictions on vaping could have unintended consequences.

We look at why we need to make sure vaping continues to play a vital role in helping people quit smoking for good.

Tobacco smoking causes over 4,500 cases of cancer in Yorkshire every year, having a devastating impact on families across our region.
---

---
Joseph Hart
If you spend any time reading about tobacco harm reduction, you'll know the name, Professor Karl Fagerstrom. Over a career spanning almost 50 years, he has authored more than 100 frequently-cited papers on smoking-related public health matters. He is also the inventor of the Fagerström Test for Nicotine Dependence, a well-established method for evaluating physical nicotine dependence.

Professor Fagerstrom's career as a clinical psychologist is so accomplished it's impossible to include it all. He is a founding member of the Society for Research on Nicotine and Tobacco and was previously a Deputy Editor of the Nicotine & Tobacco Research.
---
---
Mary Ann LL. Reyes
Switzerland – From the time it was first made available commercially in 2014, Philip Morris International's heated tobacco and electronic cigarette IQOS has gone a long way.

As of the first quarter of 2023, there were already 25.8 million IQOS users worldwide, with 72 percent using the product exclusively, having said goodbye totally to traditional cigarettes.

IQOS tobacco heating systems heat specially designed tobacco units without combustion, fire, ash or smoke. And since there is no burning, the levels of harmful chemicals are significantly reduced compared to traditional cigarette smoking.

Two from Dave Cross, Planet of the Vapes:
Lots of people are concerned about the number of children in the UK using vapes, CBBC's Newsround states, and it seeks to explain to children why. Unfortunately, the show misrepresents facts and delivers bias information to its audience. This isn't the first time BBC has done this as 5Live's Breakfast show continually misrepresents vaping and puts anecdotes before evidence.

Newsround's clip begins by showing a disposable vape, saying "you might have seen one", and then continuing to explain how vapes work.

"Many vapes can contain nicotine – something which is also found in cigarettes. They can also contain many other harmful chemicals," the presenter says.
The week continues with a flood of political coverage – today's article is dominated by a series of questions from Rachael Maskell MP, the Labour/Co-operative representative for York Central, and the queries to the Department for Health and Social Care give a good indication of future Labour priorities for vaping.

Rachael Maskell asked the Secretary of State if the Government plans "to ban over-the-counter sales of vapes and make vapes only available to people who are taking part in smoking and vaping cessation programmes."
---

---
On nicotine vaping and risk. What they said and why.
ASH and the New Zealand Drug Foundation
For the last decade the UK Office for Health and Disparities (formally Public Health England) has commissioned a series of independent systematic reviews on vaping in youth and adults. They are among the most widely cited sources to communicate relative and absolute risks of vaping, and have informed policy makers worldwide.

The latest report was published in late 2022 with a particular focus on vaping compared to smoking and non-smoking. This webinar will provide an overview of the latest report from the lead authors and explain how they came to the conclusions that vaping poses a small fraction of the risk of smoking, but is not risk free.

To change vape rules – By Garth Bray, Fair Go Reporter
Health officials are proposing to change vape rules to set a maximum limit of 28mg/mL on the amount of actual nicotine a vape can contain, but the way Manatū Hauora, the Ministry of Health is going about it has triggered a fightback campaign from vape sellers and raised alarm among some health advocates.

Last week, Manatū Hauoura launched a low-key, two-week submission process with a link to a survey. After questions from Fair Go, it has updated its reasons today.

The Asthma & Respiratory Foundation says many stakeholders had no idea this was underway and that the proposal would create three different levels of nicotine for vapes, sowing yet more confusion.
Justin Leventhal
While often justified to protect teen health, regulators have begun treating vaping products as equally, if not more harmful, as smoking traditional tobacco products. This push means that more teen and adult nicotine users will use cigarettes, which are far more dangerous.

More effort is needed to prevent teen nicotine use. Still, in doing so, we should make sure not to encourage teens and adults to use products that could cut an additional 10 years off their lives.

Vaping is not harmless. Not using any tobacco product is always the healthier choice. However, the risks are not the same between nicotine delivery methods, and regulators should consider this when setting rules for each.
---
A look back at how things have moved on or otherwise…
Jim McDonald
A federal court has granted Juul Labs a temporary stay preventing the FDA from enforcing its Marketing Denial Order (MDO) that ordered all Juul products off the market. The court also gave Juul permission to file a motion for an emergency stay that would put the FDA denial on hold while the court hears a full appeal.

The MDO, issued yesterday, is now on hold pending further order of the court, which allows Juul to continue selling products for the time being. The stay was granted by a three-judge panel of the D.C. Circuit Court of Appeals, which will also hear Juul Labs' petition for review (appeal) of the FDA's denial order.
Colin Mendelsohn
A ROBUST STUDY of the vapour from a leading commercial nicotine vaping product has provided very reassuring safety data. The analysis of the Relx podvape found that 40 of the most harmful chemicals in cigarette smoke are undetectable or are at non-harmful levels in the vapour produced.

The study tested the five main categories of toxins in smoke identified by the US FDA as harmful to health. The findings were compared to a standard cigarette.

The main toxin categories in smoke are aldehydes and ketones (carbonyls), volatile organic compounds (VOCs), tobacco-specific nitrosamines (TSNAs), polycyclic aromatic hydrocarbons (PAHs), and heavy metals.
---
Visit Nicotine Science & Policy for more News from around the World

---