Vapers Digest 23rd June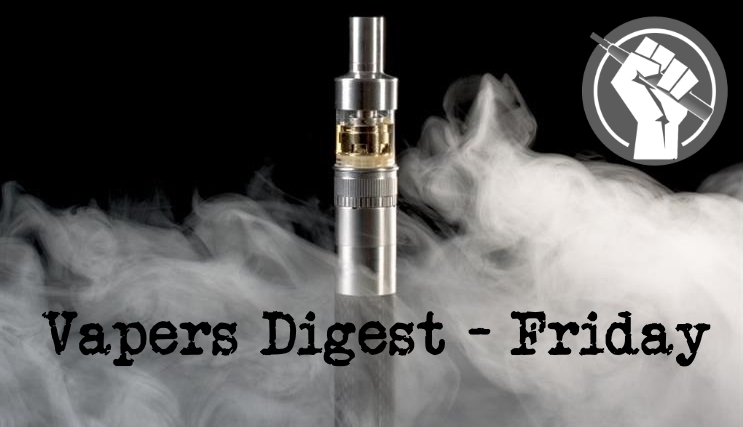 Friday's News at a glance:
The vape scare down under – Vape Detectors – Cashing In On Misinformation? – The London Tobacco Alliance – Parliament – FDA War on Disposables Heats Up with 189 New Warning Letters – The Truth About Vaping with Dr. Bernd Mayer – Vapers Oppose Vaping Ban in Bangladesh – Uneducating Americans on Vaping – Nicotine Science and Policy Daily Digest
Christopher Snowdon
The Health Secretary Steve Barclay is reported to be interested in learning from Australia's experience with e-cigarette regulation. Quoted in The Times this week, he said: "I met a leading Australian figure this morning in terms of some of the lessons around the vaping industry in Australia, and how we can look at what has been done there and are there any lessons that we can share with each other."

Britain does indeed have much to learn from Australia's approach to vaping, in the same way as air crash investigators have much to learn from a black box. They say that every air crash makes air travel safer so long as the authorities understand what went wrong. On that basis, the world can benefit from studying the smouldering crater of Australia's tobacco control policies.
Cashing In On Misinformation? – ECigClick
The hysteria about underage vaping has taken a new turn, there are now companies cashing in on "Vape Detectors". Even marketing them to schools! I suppose it is an improvement to the invasive strip searches some pupils have been subjected to in the US.

It appears that many companies are now offering devices which apparently detect vaping. There are various methods of notification, some sending messages to staff member's phones showing time and location of alert.

Sadly the advertising for some of these devices is shocking. Preying on the Negative media commentary of vaping being "dangerous".
---

---
Two from Dave Cross, Planet of the Vapes:
A new alliance of experts is pushing hard on getting smokers to switch to vaping to help London become a "smoke free city" by 2030. The London Tobacco Alliance is a collection of local authorities, directors of public health, healthcare professionals, sector experts, volunteers, councillors, politicians and advisors.

"We are the partnership that will make London smokefree by 2030. The London Tobacco Alliance has been created to combine and accelerate efforts to eliminate smoking in London giving us the greatest opportunity to reduce health inequalities. We exist to ensure becoming a smokefree city remains a top public health priority for London," the London Tobacco Alliance says.
---
---
Sensors in school toilets, seizures of illegal imports, secondhand dangers and worries about children dominate in today's coverage from the House of Commons, where politicians ask about the Government's policies and plans for vaping and tobacco harm reduction. In this piece, we hear from Neil Hudson, Bambos Charalambous and Paul Girvan.

Penrith and The Border's Conservative MP, Neil Hudson asked the Secretary of State for Education whether the Department has made an estimate of the number of schools using vaping sensors in school buildings.

With 189 New Warning Letters – Jim McDonald
The FDA announced today it has issued warning letters to 170 stores and 19 online retailers for selling unauthorized Elf Bar and Esco Bar products. The agency said the letters—all dated between June 5-16—came after a "nationwide retailer inspection blitz" conducted over the past several weeks.

Most of the brick-and-mortar stores receiving warnings are convenience stores, gas stations or smoke shops, but some vape shops are named. Many of the stores are owned by or affiliated with major retail and gas station companies. At least two major online vape retailers—Directvapor and MyVaporStore—were among those cited.
Jacob James Rich and Jonathan H. Adler
Cigarette smoking continues to be a leading cause of avoidable death in the United States. Nearly half a million Americans die each year from smoking‐​related diseases according to the Centers for Disease Control and Prevention. Understandably, this makes reducing smoking and discouraging youth smoking significant public health priorities.

Fortunately, there are less dangerous ways for smokers to satisfy their nicotine habits than smoking cigarettes. Electronic cigarettes and other vaping products (so‐​called "electronic nicotine delivery devices" or ENDS) appear to be a substantially safer substitute for combustible cigarettes. Such products can even help some smokers quit altogether. Yet too few people know this, and the ignorance appears to be getting worse.
---

---
With Dr. Bernd Mayer | Vaping Unplugged Ep. 11
In this episode of "Vaping Unplugged," we bring you an insightful conversation with our special guest, Professor Bernd Mayer. Join us as we dive deep into the truth about vaping and debunk the arguments put forth by anti-vaping campaigners.

As a renowned Professor of Pharmacology, Professor Mayer sheds light on the scientific evidence surrounding vaping and its potential benefits. Tune in to gain a comprehensive understanding of this controversial topic and discover the real facts about vaping. Don't miss out on this thought-provoking episode of "Vaping Unplugged" with Dr. Bernd Mayer, where we separate fact from fiction in the world of vaping.

The project takes off as 27 countries are involved all over the World
In May, CoEHAR has launched one of its most ambitious project, the Veritas Cohort study. Now, more than 400 people from 27 different countries are involved and numbers keep increasing.

VERITAS Cohort Study analyze data from about 250 people in six regions of the world who has been using e-cigarettes for at least three months and have never smoked or used any other tobacco products. The study will ask them about their vaping products and habits, and how vaping affects their symptoms and well-being.

Now, the research team has received more than 400 application from vapers at international level.
Liza Katsiashvili
The Ministry of Health and Family Wealth in Bangladesh initiated and processed the additional amendments to the Smoking and 'Tobacco Products Usage (Control) (Amendment) Act, 2013'.

The amendments will prohibit the production, importation, exportation, storage, sale and transportation of vapes and their components. The consequences of disobeying the potential law will be strict – the imprisonment of a maximum of 6 months, a fine or both.

The main reason behind the amendments is to achieve the goal of a smoke-free Bangladesh by 2040, the minister claimed.
---
A look back at how things have moved on or otherwise….
To pull the most successful anti-smoking product ever
Clive Bates, The Counterfactual
The U.S. Food and Drug Administration is to force the popular Juul vaping products off the US market for spurious and unjustifiable reasons

The U.S. Food and Drug Administration, the regulator of consumer tobacco and nicotine products in the United States has today denied applications from Juul Labs Inc. for its vaping products. FDA will require the company to pull its products from the market. This is an absolutely terrible decision with no basis in ethics, public health, or good regulatory practice.

The key extracts from FDA's announcement and my statement in response follow below.
Martin Cullip, The Washington Times
A new independent report by the U.K. government has recommended doubling down on vaping as a way of driving down smoking rates. While the U.S. Food and Drug Administration dithers and backslides on regulating products that it fully recognizes are far less harmful than smoking, across the pond they are talking of a "vaping revolution" with cross-party political support.

The June 2022 report aims to "mak[e] smoking obsolete" and considers vaping products to be central to its plans to achieve the government's goal of being smoke-free by 2030. Recommending that the government "must embrace the promotion of vaping as an effective tool to help people to quit smoking tobacco," report author Javed Khan OBE has put forward progressive policy proposals on harm reduction which put the FDA's precautionary principle approach to shame.
---
Visit Nicotine Science & Policy for more News from around the World

---