Vapers Digest 24th June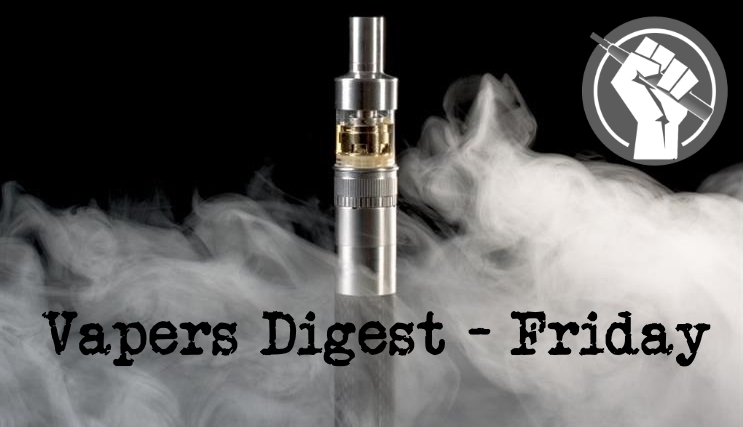 Friday's News at a glance:
The FDA forces Juul to pull the most successful anti-smoking product ever – As FDA flounders, the U.K. surges ahead with vaping – GFN Seeks to Accelerate Harm Reduction for All – Vapers made the EU commission listen! – SOVAPE Responds to the EU – Keynote Focusses on Billionaires and Foundations – Kiwi Anti Campaign – WHO tobacco control 'failing' European smokers – NZ Hospital Leads the Way – Study debunks fears of youth vaping – NHMRC vaping position is a disgrace – 'People Need To Know Safer Nicotine Products Available' – Nicotine Science and Policy Daily Digest
To pull the most successful anti-smoking product ever
Clive Bates, The Counterfactual
The U.S. Food and Drug Administration is to force the popular Juul vaping products off the US market for spurious and unjustifiable reasons

The U.S. Food and Drug Administration, the regulator of consumer tobacco and nicotine products in the United States has today denied applications from Juul Labs Inc. for its vaping products. FDA will require the company to pull its products from the market. This is an absolutely terrible decision with no basis in ethics, public health, or good regulatory practice.

The key extracts from FDA's announcement and my statement in response follow below.
Martin Cullip, The Washington Times
A new independent report by the U.K. government has recommended doubling down on vaping as a way of driving down smoking rates. While the U.S. Food and Drug Administration dithers and backslides on regulating products that it fully recognizes are far less harmful than smoking, across the pond they are talking of a "vaping revolution" with cross-party political support.

The June 2022 report aims to "mak[e] smoking obsolete" and considers vaping products to be central to its plans to achieve the government's goal of being smoke-free by 2030. Recommending that the government "must embrace the promotion of vaping as an effective tool to help people to quit smoking tobacco," report author Javed Khan OBE has put forward progressive policy proposals on harm reduction which put the FDA's precautionary principle approach to shame.
---

---
Seeks to Accelerate Harm Reduction for All – Alex Norcia
At a hotel in central Warsaw, hundreds of public health experts, consumer advocates for safer nicotine alternatives, industry representatives and drug policy reformers from across the world gathered to discuss the fact, as the event's tagline had it, that tobacco harm reduction (THR) is "here for good."

For a few days in mid-June, at the annual Global Forum on Nicotine (GFN), these stakeholders grappled with the many imperfections of this ostensibly cheering reality. They spent dozens of hours in panels and side meetings, and loitering in the halls of the Marriott, swapping ideas on how to change public and political perceptions of e-cigarettes and other nicotine options that are much less harmful than smoking.
---
The European Commission has launched a new call for evidence consultation. The aim of the initiative is to update the 2009 Council Recommendation on smoke-free environments, to include safer nicotine products. https://t.co/3qGuhtia6t

— European Tobacco Harm Reduction Advocates (@europethra) June 23, 2022
I didn't think it existed, but I was wrong.

There's a media source that tweets current information instead of the same old 2019 prohibitionist talking points. https://t.co/HQUIoscc9y

— Phil (@phil_w888) June 24, 2022
---
World Vapers' Alliance
The European Commission recently opened the evaluation of the legislative framework for tobacco control (Tobacco Products Directive – TPD) to analyze to what extent the framework has fulfilled its goals and whether it will sustain a 'tobacco-free generation' by 2040, as announced in Europe's Beating Cancer Plan. The call for evidence closed on 17 June with 24,359 submissions from consumers and experts from all European countries.

For too long, lawmakers have ignored vapers' voices, and this time we witnessed unexpected participation of more than 20,000 people who wanted to project a shared message among all vapers, ex-smokers, and those who rely on vaping in their aspirations to quit. It's time for the EU to listen to us!

Three from Dave Cross, Planet of the Vapes:
French advocacy group SOVAPE has contributed to the European Commission's fact-finding exercise. The group calls for legislation to be grounded in evidence, for potential risks to be considered in relation to the proven benefits vaping offers, and the nicotine cap and bottle size restrictions to be lifted.

Firstly, SOVAPE covered its independence credential: "SOVAPE is an association fully committed to the fight against smoking from the perspective of reducing smoking risks. SOVAPE is completely independent of the tobacco industry and the pharmaceutical industry."
The keynote speech at the Global Forum for Nicotine in Poland was delivered by veteran reporter Marc Gunther, former senior writer at Fortune magazine from 1996 to 2008. Gunther addressed the subject of billionaires and their foundations, utilising knowledge gained from investigating foundations, non-profits and global poverty.

"If anyone had told me just two years ago that I was about to write many thousands of words about e-cigarettes and be invited to speak at a conference about nicotine, I definitely wouldn't have believed it," said Marc Gunther. "I'm still not sure I could pick a Puffbar or a Fuse out of a line-up of e-cigarettes."
Anti-vaping campaign will only send NZ youth back to smoking. "By stirring up anti-vaping hysteria, New Zealand's Asthma and Respiratory Foundation will only send more minors back to smoking and put the country's decade long Smokefree 2025 ambition in jeopardy," says Nancy Loucas, Executive Coordinator of the Coalition of Asia Pacific Tobacco Harm Reduction Advocates (CAPHRA).

Ms Loucas' comments follow the Asthma and Respiratory Foundation (ARFNZ) launching a video series titled Spotlight on Vaping. It claims, "New Zealand is experiencing an epidemic of youth vaping". Together with the Secondary Principals' Association of NZ (SPANZ), it also claims over a quarter of students have vaped in the past week.
---

---
Snusforumet
A new, independent study shows that World Health Organisation (WHO) tobacco control measures are failing European smokers trying to quit.

The study also calls for an end to the EU ban on snus, stressing that less harmful nicotine products must be much more widely promoted, not rejected.

Presenting the study at the recent Global Forum on Nicotine (GFN) conference in Warsaw, Poland, Dr. Lars M. Ramström of the Institute for Tobacco Studies in Sweden, emphasized the importance of accessibility of reduced-risk products.
By Giving Vapes to Patients Who Smoke – Helen Redmond
The Whanganui District Health Board (DHB) has announced that its hospital on New Zealand's North Island will go smoke-free on June 27. But it didn't stop there. It also announced that patients would be given free vapes and encouraged to use them while in the Te Awhina acute mental health ward.

The DHB said that vaping is 95 percent less harmful than cigarettes. It added, correctly, that vapes are a great tool to quit smoking. Studies show that e-cigarettes are more effective for cessation than nicotine replacement therapy (NRT). There are no demonstrated secondhand harms, so it makes perfect sense to offer them to smokers and allow their use inside.
Two from Colin Mendelsohn:
The review completely misunderstands the role of vaping nicotine for tobacco harm reduction. Vaping is a safer alternative for adult smokers who can't quit with other methods. The key question is how vaping risks compare to smoking, and this was completely ignored.

The NHMRC focusses on the small and potential the risks of vaping but ignores the overwhelming evidence that it is far safer than smoking.
A COMPREHENSIVE REVIEW of youth vaping in the US has concluded that the harm from vaping is greatly exaggerated and that vaping is unlikely to be causing an increase in youth smoking.

The review by leading researcher Professor Riccardo Polosa and colleagues was published today in The Journal of Allergy and Clinical Immunology.

The review is a timely response to the regular alarmist media reports and government campaigns on vaping in Australia which have increased fears and misinformed the public.

'Best bet to kick' smoking problem – Dennis Gutierrez
A leading Filipino heart doctor said alternative tobacco products such as vapes and heated tobacco products should be considered as part of smoking cessation intervention programs, and encouraging its regulated use in current smokers may be an effective solution to address the smoking epidemic that kills millions of people globally each year.

In a recent satellite symposium during the annual convention of the Philippine Heart Association, Dr. Rafael R. Castillo, the first Filipino and Southeast Asian to be elected as a trustee of the United Kingdom-based International Society of Hypertension (ISH), said smokers need a viable alternative that can wean them off from cigarette smoking, and help them quit.
Safer Nicotine Products Available
Stakeholders comprising industry players and scholars, who have conducted different researches on nicotine use, have harped on tobacco harm control using alternative products to reduce the impact of nicotine.

Clearly, when people smoke a cigarette, they inhale nicotine and other chemicals released by combustion. Currently, the world has about 1.1 billion smokers and tobacco is said to be responsible for about 8 million deaths globally, every year.
About youth & vape products
Electronic Vapour Products (EVPs) were designed as tobacco harm reduction tools to deliver nicotine to adult smokers with the aim of helping them find a potentially less harmful alternative.

The inhalation of smoke from combustible cigarettes – along with tar and carbon monoxide – raises health risks for a range of Non-Communicable Diseases (NCDs), including lung cancer and emphysema.
More on Juul and the FDA:
Three from Jim McDonald, Vaping 360:
---
A look back at how things have moved on or otherwise….
Christopher Snowdon, Velvet Glove Iron Fist
I had an article up at ConHome last week about the WHO's forthcoming conference on tobacco and why vapers should care about it.

The World Health Organisation's decision last month to give a special award to India for banning the sale of e-cigarettes was proof that the agency has no intention of taking an ethical and evidence-based approach to tobacco harm reduction. This puts it squarely at odds with countries such as the UK and New Zealand which have successfully embraced vaping as part of their tobacco control strategy.
Alex Norcia, Filter Magazine
At the Global Forum on Nicotine (GFN), hosted in Liverpool, England, and broadcast online on June 16 and 17, experts called for the public health and tobacco control fields to unite around a common goal: ending smoking.

Over the two days, 30 speakers—eminent in harm reduction, law, science, the stock market, consumer advocacy and other areas—reiterated to hundreds of international delegates that lifesaving technology like vapes and heat-not-burn products (HTPs) should be embraced to empower people to stop their combustible cigarette use.
---
Visit Nicotine Science & Policy for more News from around the World

---