Vapers Digest 22nd June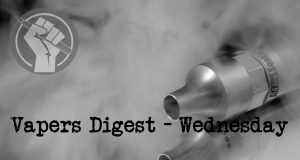 Wednesday's News at a glance:
NEW STUDY: U.K. Vaping Regulations Based on Risks of Vaping Relative to Smoking Provide Lessons for U.S. ~ VAPING ON TRIAL: A comparison of U.K. and U.S. policies ~ WA's misguided vaping move will be a public health disaster ~ Misconception of EVALI may harm quitting smokers, says UKM professor ~ Swedish Parliament Rejects Prohibition on Vape Flavors ~ Professor Rodu Receives Award ~ Swedish Success ~ Rules to reduce nicotine in cigarettes are back on the agenda ~ Next Generation Nicotine Delivery USA 2022
Roger Bate, Pacific Research Institute
As the federal government and states such as California consider taxing and imposing new or stricter regulations on vaping products, particularly flavored products, Roger Bate, Ph.D. finds that there are important lessons U.S. policymakers can learn from the tax and regulatory environment in the U.K. in a new study released today by the nonpartisan Pacific Research Institute.

"While the U.K. imposes taxes and regulations based on the relative risk of vaping versus smoking, the U.S. approach focuses on the absolute risks of vaping products alone," said Bate.
Roger Bate, Ph.D., Pacific Research Institute (
Editor note: PDF from above

)
Smoking rates in Western nations have steadily declined over the past 50 years, as smokers realized the danger of their habit and quit, and fewer smokers started. Products were developed to help smokers reduce and even quit smoking, while sustaining a  nicotine habit. The initial products were medically approved nicotine replacement therapy (NRT), such as patches, lozenges and gum made by pharmaceutical companies. More recently, alternative products for smokers have been supplied by the broader market, such as heat-not-burn tobacco products and non-tobacco nicotine vaping products. These products are not, as a rule, provided by the medical community, and they have split health advocates as to their risks and suitability for use in tobacco harm
reduction (THR).
---
Dr Colin Mendelsohn, The Sydney Morning Herald
The West Australian government is threatening to destroy the retail vape industry in Western Australia with massive fines for selling vaping products and nicotine-free liquids.

But they are ensuring that only the black market and tobacco companies will ultimately benefit.

Vape stores were informed of the crackdown by letter last month and were told they could face up to $80,000 in penalties.
---
NST Business, New Straight Times
Cases of lung damage due to e-cigarette or vaping use-associated lung injury (EVALI) are from the use of prohibited substances found in liquids such as tetrahydrocannabinol (THC), which is cannabis oil containing vitamin E acetate.

This finding was revealed by the Centers for Disease Control and Prevention (CDC) and the Food and Drug Administration (FDA) in the United States (US).

Universiti Kebangsaan Malaysia (UKM) health economics specialist from the faculty of medicine Professor Dr Sharifa Ezat Wan Puteh said many parties, including the health community in Malaysia, have misinterpreted the real cause of EVALI, which was previously reported in the US and subsequently spread that information incorrectly.
---
This is one of the most satisfying things I've ever read. The Juul scientists methodically chop down and dispose of every claim by the plaintiffs' "experts," who constitute possibly the biggest collection of scientific hacks, cherry-pickers and frauds ever assembled. https://t.co/ySU54vyw5t

— Jim McDonald (@whycherrywhy) June 21, 2022
---
Jim McDonald, Vaping 360
In a clear rebuke to tobacco control orthodoxy, the Swedish parliament (Riksdag) today rejected a proposed ban on sales of flavored vaping products. The final vote was 177-126 with 46 abstaining.

The proposal to ban flavors was introduced by the government's Ministry of Social Affairs in late February. If passed, the law would have taken effect next January, and would have prohibited flavors other than tobacco in all e-liquid, including zero-nicotine vape juice.
---
TWO from Dave Cross, Planet of the Vapes
Professor Brad Rodu of the University of Louisville has received prestigious international award for a life's work dedicated to reducing smoking-related harms at this year's Global Forum for Nicotine (GFN22). The Michael Russell Award honours the memory of UK psychiatrist and research scientist Michael Russell, a pioneer in the study of tobacco dependence and smoking cessation
The Swedish government was looking to ban flavoured e-liquids but concerted lobbying action by vaping advocates in Sweden looks to have averted the crisis. The Swedish Social Affairs Committee has said it now doesn't favour does not want to ban flavouring in e-cigarette juices, meaning that the proposal is unlikely to move further forward.
---

---
Clive Bates, Tobacco Reporter
On June 21, the United States Federal government announced its intention to develop a rule requiring deeply reduced nicotine levels in cigarettes on sale in the United States. This idea has been in circulation since first proposed in 1994 and was given a new lease of life in the FDA comprehensive plan in 2017. In late 2021, New Zealand adopted this policy and has committed to introducing legislation this year. The zombie policy is back, and it walks among us.

Despite the warped logic of taking out the relatively benign nicotine and leaving the very harmful tar, despite the obvious practical problems of mounting a de facto cigarette prohibition at this scale, and despite the weird ethics of encouraging people to switch from one smoking product to another smoking product, this idea just will not die. How should we consider this proposal from a tobacco market transformation perspective?
---

---
Anxious and shocked. What can you do? – ATHRA
ANGRY? YOU HAVE EVERY RIGHT TO BE. Vapers are outraged, anxious and shocked at the recent decision to ban nicotine for vaping.

For many, vaping was the only quitting aid that worked. They feel great, are saving money and are enjoying it. For many it is a lifesaver. And now this! Just look at some of the distressing comments on our last post here.
For a Cigarette-Free World? – Hiram Reisner
A world without cigarettes? It could happen. In fact, it's the stated goal of both anti-smoking organizations and one of the world's biggest tobacco companies.

But a world without cigarette taxes? Now that's a world many state governments aren't ready for quite yet.
---
Visit Nicotine Science & Policy for more News from around the World

---