Vaping Digest 15th June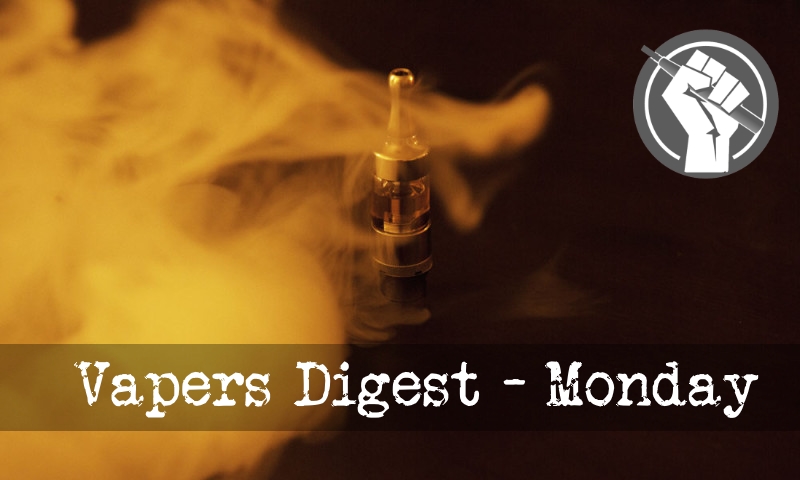 Monday's News at a glance:
Clive Bates at GFN20: What's Gone Wrong? – Vaping In The News ~ June 14th – The Vaping Weekly Podcast Returns – The Odd Case of Tobacco, Nicotine, and COVID-19 – Global Forum for Nicotine 2020 – NZ Government Digging In – Association of the US Outbreak of Vaping-Associated Lung Injury – Scientists study nicotine as protective agent against coronavirus – Greater access to regulated nicotine products needed to reduce tobacco deaths – Tobacco companies benefit from India's policy against e-cigarettes
Saddlehorse Blues
The Global Forum on Nicotine 2020 just wrapped, their first forum to be held virtually in light of the pandemic. The theme of GFN20 was Nicotine: science, ethics, and human rights. Participants were spoiled for choice with the incredible lineup of speakers and engaging question and area periods. If you did not attend the live event, you can find recordings of the full event here.

Clive Bates, former Director of Action on Smoking and Health (ASH) in the UK and now Director of the Counterfactual, kicked off the forum with a discussion titled What's Gone Wrong? While many of us connected with the tobacco harm reduction field might well have been preparing our own mental lists of 'what's gone wrong', Clive Bates chose to begin his eight point address with 'what's gone right.'
Kevin Crowley, Vaping Links
Vaping In The News covers media stories on smoking, vaping, snus, heat not burn, e-cigarettes, exposing tobacco control, public health, government, regulations, policies and more worldwide. – "The largest threat to Public Health is an informed consumer."

Louise Ross: Pragmatism versus dogma ~ Global Forum on Nicotine ~ The Unlikely Savior ~ Don't Ban Today What May Have a PMTA Tomorrow ~ R.J. Reynolds Wants Out of Historic Tobacco Settlement ~ Anti-Drug Warriors' Crocodile Tears ~ Snus ~ Butthurt Stan ~ No Flavour Gateway
---

---
A brief interview with David Sweanor – Michael McGrady
The Vaping Weekly Podcast with Michael McGrady is back after a hiatus caused by the global COVID-19 pandemic.
Michael McGrady, the host of Vaping Weekly and the public policy columnist for the English edition of Vaping Post, is proud to announce that our flagship podcast cover vaping, tobacco harm reduction, the industry, and politics is back from the dead!

For this special return episode, we interview tobacco harm reduction activist and policy expert David Sweanor. Sweanor is an adjunct professor of law at the University of Ottawa, in Canada, and is also the Advisory Committee Chair for the university's Centre for Health Law, Policy, and Ethics. They chat about tobacco harm reduction and the importance of the field moving forward into the future of the post-pandemic world.
---
---
Nicotine, and COVID-19 – Joe Gitchell
In the early reports of patients in the hospital for COVID-19, careful observers noticed an odd pattern. COVID-19 is primarily a respiratory syndrome and smoking badly damages lungs. But hospitalization was not more likely for smokers. In fact, it was less likely. This correlation kept appearing in sample after sample  – though with substantial uncertainty. So these researchers and others began pondering whether something in tobacco smoke might actually be causing a beneficial effect. Their attention turned to two potential roles of nicotine in COVID-19. One role, they reasoned, might be in reducing the risk of initial infection. The other role might be in moderating the overactive response of the immune system.

Two from Dave Cross, Planet of the Vapes:
Planet of the Vapes attended the media briefing to launch this year's Global Forum for Nicotine 2020 (GFN20) where Professor Gerry Stimson and Professor David Sweanor spoke about its importance. Going online for the first time due to the current COVID-19 pandemic, the organisers opened up the opportunity for everybody to attend for free.

Professor Gerry Stimson is a public health social scientist, with over 40 years' experience of research and advocacy. He was one of the founders of drugs harm reduction in the 1980s and helped develop and evaluate harm reduction in the UK as a response to HIV/AIDS. He has advised the UK Government, WHO, UNAIDS, UNODC, World Bank and numerous governments on issues relating to drugs, HIV infection and AIDS, and alcohol.
The Vaping Trade Association of New Zealand (VTANZ) has lamented that the government appears to be "digging in" on its vaping bill that "only helps smoking". The organisation's disappointment has been shared by Aotearoa Vapers Community Advocacy (AVCA), which says the government has missed a "huge opportunity to achieve Smokefree 2025".

"A huge opportunity has been missed to make risk-reduced vaping products more accessible to smokers in order to reach the SmokeFree 2025 goal set by government," said Nancy Loucas, AVCA's director.
---

---
Of Vaping-Associated Lung Injury With Perceived Harm of e-Cigarettes Compared With Cigarettes
Harry Tattan-Birch, Jamie Brown, Lion Shahab
The US Food and Drug Administration acknowledges that nicotine and tobacco products exist on a continuum of risk, with e-cigarettes likely to be less harmful than combustible cigarettes because of their lower production of toxicants and carcinogens.1,2 However, many smokers in England and the US believe that e-cigarettes are at least as harmful to health as combustible cigarettes.2,3 These misperceptions likely dissuade smokers who are unable or unwilling to stop using nicotine from switching to e-cigarettes, which may have a detrimental effect on population health. The recent US outbreak of vaping-associated lung injury (EVALI)4 received extended news coverage worldwide.
As protective agent against coronavirus – Roderick T. dela Cruz
Researchers are looking at the potential of nicotine as a protective agent against respiratory inflammation caused by severe acute respiratory syndrome coronavirus 2—the strain responsible for Covid-19.

"There are studies showing that smokers are under-represented among Covid-19 patients, especially hospital patients," Dr. Konstantinos Farsalinos, a Greek cardiologist, said during the virtual Global Forum on Nicotine. "We think that nicotine is the most plausible candidate for these smoking-related effects."

Farsalinos, a research fellow at the Onassis Cardiac Surgery Center in Athens-Greece, said it is possible that nicotine, and not smoke, is the one responsible for the lower susceptibility of smokers to Covid-19 infection and hospitalization.

Needed to reduce tobacco deaths – Shaimaa Al-Aees
Public health and tobacco control scientists and experts are highlighting the 1.1 billion smokers and millions of smoking quitters' need to access appropriately regulated nicotine products.

These include through vapes (e-cigarettes), Swedish snus, nicotine pouches and heated tobacco products, in an approach called tobacco-harm reduction.

This year, the seventh annual Global Forum on Nicotine (GFN) focused on the role of safer nicotine products in reducing smoking-related harm. The international conference is unique in focusing on this topic, and, this year, moved online due to the ongoing coronavirus (COVID-19) pandemic.
CASA chairman, Joseph Magero, who is participating in the Global Forum on Nicotine (GFN), says restrictions on innovative alternatives for smokers are denying them a healthier future.

"If we are serious about reducing the 30,000 tobacco-related deaths in Kenya every year, we need to offer smokers a realistic route to quitting cigarettes," Magero said.

"The rest of the world has woken up to alternatives that have been scientifically proven to be 95% less harmful than cigarettes.
From India's policy against e-cigarettes
India's ban on electronic nicotine delivery systems (ENDS) such as e-cigarettes has robbed the country's 120 million smokers of access to less harmful alternatives, a tobacco harm reduction advocate said at an online global forum on June 11.

"This got me to wonder why a country which would benefit the most from risk reduction so hastily ban it? Why didn't the government think that a million Indian lives lost every year to smoking were worth saving?" Association of Vapers India (AVI) director Samrat Chowdhery said during the virtual Global Forum on Nicotine (GFN).
---
A look back at how things have moved on or otherwise…
Threatens the proven success of e-cigarettes to help adult smokers switch
New Nicotine Alliance, UKVIA
Banning flavours in e-cigarettes could be detrimental to public health, warned leading consumer charity, the New Nicotine Alliance (NNA) at the Global Forum on Nicotine (GFN) in Warsaw today.

The role of e-liquid flavours in vaping and their impact on smoking cessation has been the focus of much discussion in public health, scientific and media circles around the world. The NNA argues that removing all flavours except tobacco would be a disastrous move.

Speaking today in Warsaw, the NNA and other leading experts stated that removing flavours from sale would be a deterrent to the increasing number of smokers who are successfully quitting by choosing the less harmful alternatives.
Dave Cross, Planet of the Vapes
World Health Organisation's World Smokefree Day was celebrated in New Zealand on May 31st, but Alt New Zealand were concerned that not enough had been done to counter the myths surrounding vaping. Co-owner and co-founder Ben Pryor shared the information he thinks should be out there.

Part of this involved the start of a new campaign for Hāpai te Hauora and the Cancer Society, encouraging a national conversation around tobacco supply in our communities by under the banner of "Stop the Stock".
---
Visit Nicotine Science & Policy for more News from around the World

---