Vaping Digest 17th June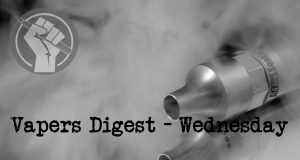 Wednesday's News at a glance:
Time we switched to nicotine options ~ Dr. Mark Tyndall at GFN20 ~ Startup Seeks Approval for Inhaler That Would Help Smokers Quit ~ Electronic cigarettes and obstetric outcomes: a prospective observational study ~ Bloomberg's War on Vaping Expands to Latin America and Beyond ~ Report: Youth Vaping Rate Increased with Anti-Vaping Campaigns ~ Perverse Psychology ~ 'Unpleasant' Ban ~ Clive Bates Kicks Off ~ The Michael Russell Oration 2020 ~ Breakenridge: Alberta's vaping legislation strikes a reasonable balance ~ Hong Kong's Rejection of Vapes Ban Could Have Welcome Influence ~ Germany must use its EU Presidency to act wisely on e-cigarettes ~ More than 70% of people in Munster back vaping as part of a strategy to reduce tobacco smoking ~ European War On Vaping Intensifies – Total Chicago Flavour Ban Looms – Loneliness and Smoking – Scaremongering Scottish Scientists + More ~ Sort Vaping Bill Or Risk Rising Smoking Rates ~ Vaping represents a winnable issue for those opposed to ideology hindering scientific data and personal freedoms ~ The War on Vaping
Konstantinos Farsalinos, Daily Nation
The Chinese are among the biggest smokers with over half of adult men indulging in the habit.

As a cardiologist with a career devoted to smoking elimination and tobacco harm reduction, I obviously closely monitor health developments in the country that consumes approximately one third of the planet's cigarettes.
Saddle Horse Blues

While Dr. Mark Tyndall considers himself an "accidental voice in the vaping world", he is no stranger to harm reduction. In fact, he's a bit of a rock star in harm reduction circles, having been involved with opening the first safe injection site in North America and now leading and breaking new ground with My Safe Project, an ATM-style machine that allows drug users who have registered with the program to access a safe supply of hydromorphone. Dr. Tyndall spoke at the GFN20 on the subject of "Tobacco harm reduction: ensuring we learn the lessons from history."
Tiffany Kary, Corinne Gretlerm, Bloomberg
As Covid-19 adds urgency to smokers' attempts to quit, a U.S. startup says it has a new way to help them kick the habit.

Respira Technologies Inc. plans to submit an inhaler device to the Food and Drug Administration by late 2021 for authorization as nicotine replacement therapy. The nebulizer, which converts nicotine to an aerosol, aims to disrupt an estimated $618 billion market dominated by decades-old gums and patches from pharma companies as well as tobacco companies' more recent, controversial cigarette alternatives.
BP McDonnell, P Dicker, CL Regan, Obstetrics & Gynaecology
Objective: To compare the obstetric outcomes and socio‐demographic factors in electronic cigarette (EC) users with cigarette smokers and non‐smokers in pregnancy.

---
---
TWO from Michelle Minton, Competitive Enterprise Institute
Today the Competitive Enterprise Institute released a report on the connection between underage e-cigarette use and anti-vaping advocacy.

"Anti-vaping public messaging campaigns by government, advocacy groups, and the media backfired. Teen vaping did not escalate despite the increased anti-vaping messaging but because of it," said Michelle Minton, CEI senior fellow and author of the report. "Looking at the timeline, underage vaping rates went up along with anti-vaping campaigns that unintentionally portrayed vaping as cool and rebellious."
Executive Summary: Cigarette smoking is a lethal habit that kills approximately half of those who sustain it over their lifetime. But, contrary to popular belief, the nicotine in cigarettes does not contribute significantly to this death toll. Combustion, the burning of materials, produces the vast majority of toxic chemicals, which, when inhaled repeatedly and over many years, leads to the death and disease associated with smoking. If smokers could switch to a product that delivers nicotine without combustion, they would eliminate most of the risk associated with tobacco use.
---
---
Calgary Herald
,
Reasonable people can disagree on the merits of a particular piece of government legislation. However, in the case of Alberta's proposed new vaping regulations, the idea that this sensible balance should be portrayed as some sort of massive failure deserves some pushback.
Helen Redmond, Filter Magazine
The Coalition of Asia Pacific Tobacco Harm Reduction Advocates (CAPHRA) has won an important victory. On June 2, the Hong Kong Legislative Council dropped a bill to ban vaping products. Its Bills Committee on Smoking ended discussions over the plan to ban both e-cigarettes and heated tobacco products (HTPs, also known as "heat-not-burn" devices), as well as other nicotine delivery systems.
European Harm Reduction Advocates
It has been reported that Germany's federal drug commissioner is hoping to use her country's imminent EU Presidency to further obstruct vaping products all over Europe.

Die Welt writes that Daniela Ludwig has identified an opportunity to transfer her distaste for reduced risk products to a wider audience as Germany takes up its six-month Presidency for the second half of 2020.
A new Amárach Research survey (commissioned by PJ Carroll – a firm which was famous for tobacco but now is re-focusing on vaping) questioned some 1,000 adults in Ireland The results were that more than 70% of people in Munster, including Cork, think that the Government should use vaping as part of its strategy to reduce the smoking of traditional tobacco.
Total Chicago Flavour Ban Looms – Loneliness and Smoking – Scaremongering Scottish Scientists + More
Neil Humber, ecigclick
Germany's federal drug commissioner could be about to get tough on all things vape as the European war on vaping intensifies.

Daniela Ludwig is as fiercely anti-vaping as it gets, and as Germany takes up its six-month presidency of the EU, advocates are fearing the worst.
Aotearoa Vapers Community Advocacy (AVCA)
"MPs keen on Smokefree 2025 need to speak up if we're going to successfully get more Kiwis off tobacco. Now is their chance, as sadly the Health Select Committee has not listened," says Nancy Loucas, Director of the Aotearoa Vapers Community Advocacy (AVCA).
---
for those opposed to ideology hindering scientific data and personal freedoms
, The Progressive Brief
The practice of vaping and how adequate it is as a nicotine deterrent divides opinion worldwide, but the emerging data seems to suggest the smoking of vaping devices to be a considerably healthier alternative to typical cigarette tobacco smoking. Public Health England's landmark 2015 review on the topic suggested e-cigarettes to be 95% less harmful compared to regular cigarettes.

, Commentary Magazine
Necessity is the mother of invention, and cigarette smokers are in dire need of invention.

Few stigmas are as pervasive today as the one surrounding tobacco use, but it serves a valuable purpose. "Cigarette smoking is responsible for more than 480,000 deaths per year in the United States," the Centers for Disease Control warned in 2018. "Tobacco-related deaths account for about one in five deaths annually, or 1,300 deaths every day."
---
A look back at how things have moved on or otherwise…
Asserts Urgency of Tobacco Harm Reduction – Will Godfrey
Where else," wondered tobacco harm reduction advocate David Sweanor, "do we permit a really deadly product, but try to restrict access to safer ones?"

Delegates at the Global Forum on Nicotine (GFN) in Warsaw from June 13-15 were left in no doubt of the scale of challenges facing tobacco harm reduction (THR). Despite the potential of safer nicotine delivery to save more human lives than any other harm reduction initiative, the hostility, lies and bad policies⁠—from punitive taxation to severe restrictions to outright bans⁠—being aimed at THR are daunting.
Dave Cross, Planet of the Vapes
Professor Gerry Stimson, London School of Hygiene and Tropical Medicine, is the program director of the 6th Global Forum on Nicotine (GFN). The conference took place in Warsaw, Poland, last week, and POTV will be covering a number of the presentations and news in depth over the coming days.

"The rapid development and use of safer nicotine products raises a number of challenging scientific questions about safety, who uses them and why, and the impact on smoking. These products also raise challenges for governments who seek to understand what kind of policy and regulation is appropriate," said the organisers.
---
Visit Nicotine Science & Policy for more News from around the World

---