Vaping Digest June 17th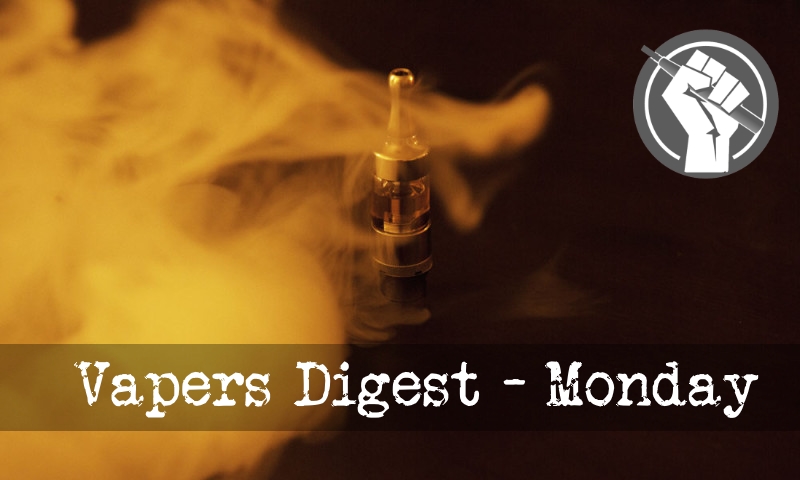 Monday's News at a glance:
Global Forum on Nicotine Asserts Urgency of Tobacco Harm Reduction – Common Sense Legislation Would Limit Teen Tobacco Access – Vaping In The News – June 15th – GFN 2019 – Where Science and Policy Meet – ATHRA slams NT Government for failing smokers – In praise of Dr Marewa Glover – How Manchester Has Virtually Gone Tobacco-Free With The Use Of E-cigs – Vaping giant targets lucrative Asian market – My dad easily gave up his Marlboros – CAIT asks govt not to ban e-cigarettes – FDA Proposes New Deadline – Lets discuss nicotine, let facts emerge – Beverly Hills misses the mark – Industry Coalition Formally Opposes CPSC – FDA Releases PMTA Guidance – Nicotine Science and Policy Daily Digest
Asserts Urgency of Tobacco Harm Reduction – Will Godfrey
Where else," wondered tobacco harm reduction advocate David Sweanor, "do we permit a really deadly product, but try to restrict access to safer ones?"

Delegates at the Global Forum on Nicotine (GFN) in Warsaw from June 13-15 were left in no doubt of the scale of challenges facing tobacco harm reduction (THR). Despite the potential of safer nicotine delivery to save more human lives than any other harm reduction initiative, the hostility, lies and bad policies⁠—from punitive taxation to severe restrictions to outright bans⁠—being aimed at THR are daunting.
Would Limit Teen Tobacco Access – Brad Rodu, Tobacco Truth
Senate Majority Leader Mitch McConnell recently introduced legislation to make 21 the legal age for tobacco sales nationwide.  As he elevated the Tobacco 21 debate to the national stage, McConnell said that stemming teenage vaping was a primary objective.

There is no question that vaping is on the rise among teens, but the Food and Drug Administration and other federal agencies have miscast the situation, labeling it an epidemic to provide a rationale for excessive regulations.  Regardless, McConnell's championing of Tobacco 21 is appropriate, as it would delegitimize tobacco sales to 18-year-old high school students.  While those youths comprise 16% of all high school students, they account for one-quarter of high school smokers and smoker-vapers.
---

---
Dave Cross, Planet of the Vapes
Professor Gerry Stimson, London School of Hygiene and Tropical Medicine, is the program director of the 6th Global Forum on Nicotine (GFN). The conference took place in Warsaw, Poland, last week, and POTV will be covering a number of the presentations and news in depth over the coming days.

"The rapid development and use of safer nicotine products raises a number of challenging scientific questions about safety, who uses them and why, and the impact on smoking. These products also raise challenges for governments who seek to understand what kind of policy and regulation is appropriate," said the organisers.
Kevin Crowley, Vaping Links
FDA Proposes New Deadline for E-Cigarette Applications ~ FDA finalizes guidance ~ Common Sense Legislation Would Limit Teen Tobacco Access ~ Removing e-liquid flavours from sale threatens the proven success of e-cigarettes ~ Lets discuss nicotine, let facts emerge ~ Meharry Medical College accepted JUUL's $7.5M grant with eyes wide open ~ Strategies to Reduce Illicit Trade of Regular Nicotine Tobacco Products ~ Gaslighting-times three
---
---
Australian Tobacco Harm Reduction Association (ATHRA)
The NT Government released its five-year Tobacco Action Plan earlier this month. In the clearest demonstration yet that the Government has lost its way, the document not only doesn't mention safer alternative products such as e-cigarettes, it doubles down on the same tactics that have failed to reduce the Territory's smoking rates – the highest in the country.

The forward, penned by Minister for Health Natasha Fyles acknowledges the widely accepted harm caused by tobacco smoking to both smokers and the people around them.

However, for those adults already smoking, or who have tried and failed to quit, the Territory Government's message is simple – quit or die.
Simon Clark, Taking Liberties
Postscript to my previous post. It included a tweet that described me as a "a smug apologist for deadly cigarettes". Two people 'liked' the tweet and one of them was Martin Dockrell. Dockrell is the Tobacco Control Programme Lead for Public Health England. He joined PHE in 2016 after seven years working for ASH.

I'm flattered he found a moment to 'like' a tweet calling me 'smug'. Pot. Kettle. Black. More revealing perhaps was the fact that an employee of Public Health England endorsed a tweet that accused me (falsely) of being an 'advocate of deadly cigarettes'.
---

---
With The Use Of E-cigs – Alexia Hendrickson
Have you ever walked down the street only to see a particular corner full of smoke and as you get closer you realize it's a smoking zone? In as much as some people enjoy smoking, the fact still remains that smoking not only causes air pollution to the environment but is also a tragic health hazard to both active and passive smokers. As much as there have been endless advertisements all over about the dangers of smoking, it seems that it all falls on deaf ears. As if that is not enough, the cigarette packets also warn the smokers of the possible dangers of excessive smoking, but still, that does not keep them off from puffing.
Jim McDonald, Vaping 360
Under pressure from a federal court, the FDA has finally released vaping industry guidance for filing premarket tobacco applications (PMTAs). And depending on what happens in the federal lawsuit in Maryland, vape manufacturers could be forced to submit multi-million dollar applications in as little as four months or be forced out of business.

No vape company has ever submitted a PMTA, and the FDA Center for Tobacco Products has only approved one PMTA for an inhalable nicotine product during its 10 years in existence. That product, Philip Morris International's heat-not-burn tobacco device IQOS, is not an e-liquid vaping device. The IQOS PMTA was approved this April, after a review process that lasted more than two years.
Steven Borowiec
Electronic cigarette maker Juul Labs has begun an aggressive bid to draw Asian smokers away from combustible cigarettes with the launch of its signature nicotine vaping device in South Korea.

Juul has so far proved a hit with South Korean consumers, with local media organisations reporting that many stores had sold out of the battery powered devices within a day of going on sale late last month.

Now he won't give up his Juul – Angelica LaVito
My dad reluctantly tried a Juul e-cigarette six months ago. He now likes it so much he won't give it up.

I bought my dad a Juul in November as an experiment to see if it would help him kick his longstanding cigarette habit. After a little over a week of vaping his Juul and smoking his Marlboros, he ditched the Marlboros altogether. He would text me every day to brag about how many days had passed since he smoked a cigarette.
Shantanu Guha Ray
The debate among public health professionals over approaches to tobacco and nicotine regulation has intensified, hundreds gathered this week in a glitzy hotel in Warsaw to discuss the Good, Bad and Ugly of smoking and whether it should continue with vaping or heat-and-burn tobacco products like cigarettes, cigars, even bidis. The last named is a truly Indian product with widespread use across South Asia, and also across some parts of West Asia and Europe.
Press Trust of India
Traders' body CAIT Wednesday asked the government not to ban e-cigarettes saying that a research report has shown these are less harmful than regular cigarettes.

The CAIT in a letter to Health Minister Harsh Vardhan said the government should come out with appropriate regulations for sale and manufacture of Electronic Nicotine Delivery Systems (ENDS) or e-cigarettes instead of banning them.
The Food and Drug Administration (FDA) told a court that it will move up the date for premarket tobacco applications (PMTA) for electronic cigarettes to next year, instead of the 2022 date it had previously set.

The agency's new deadline is in response to a May 15 ruling by U.S. Judge Paul W. Grimm of the U.S. District Court for the District of Maryland. Grimm ruled that the FDA sidestepped its authority when it pushed back deadlines set by its deeming rule.
In expansive tobacco product ban – Stefan Didak
This month Beverly Hills banned the commercial sale of all tobacco products — except for in a few select, high-end hotel and cigar lounges. Now its coastal neighbor Manhattan Beach is considering following suit. Included in this ban are e-cigarettes – a product that has been demonstrated to help adult smokers quit. It's easy for high-end communities like Beverly Hills to suggest they have the public's well-being in mind when they pass this kind of legislation; but, unfortunately, it reveals a lack of understanding about addiction, harm reduction, and ultimately public health.
As previously reported on this blog, earlier this year, the U.S. Consumer Product Safety Commission (CPSC) announced that it was now reading the Child Nicotine Poisoning Prevention Act (CNPPA) to require nicotine e-liquid bottles to meet the "restricted flow requirement" in 16 C.F.R. § 1700.15(d), in addition to having child-resistant closures. A wave of enforcement actions soon followed. CPSC issued Notices of Violations to numerous e-liquid companies alleging that e-liquid bottles (specifically glass bottles) without flow restrictors rendered the e-liquid a "misbranded hazardous substance" pursuant to section 2(p) of the Federal Hazardous Substances Act (FHSA).
---
A look back at how things have moved on or otherwise….
"Rethinking why people like nicotine": – New Nicotine Alliance
In his talk there, Joe mentioned the scream test. I have a test of my own, I call it the 'glaze test'. It's not always easy, especially when talking to a large group of people, to tell whether they're really with me.

They tell me they're passionate about helping people stop smoking and I don't doubt them. They say they support e-cigarettes and I don't doubt that either, but do they really understand?

So my test is to throw in a slide about Pleasure. Normally it will include a photo of Vapefest – happy people at an open air festival, celebrating nothing more than the one thing they have in common – their love of vaping….
Steve Dohmen, AVCA
As a consumer vaper starting out many years back, I never really realised that interpreting science, vaping terminology and addiction management would be so mind-bogglingly complex with all it's myriad of questions and scarcity of answers! but it does help in having some form of basic understanding around the fundamentals or how else could we disseminate information and differentiate between a good scientific review, and pseudo-science fiction from the propagandist astroturfing crusader types like Glantz, Meyers & Chapman
---
Visit Nicotine Science & Policy for more News from around the World

---