Vaping Digest June 14th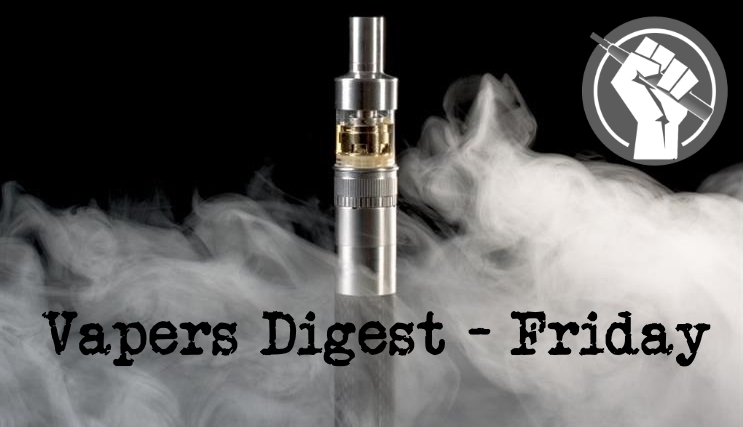 Friday's News at a glance:
Removing e-liquid flavours from sale threatens the proven success of e-cigarettes – NZ Myth Busting – Painful Pinoy Policymakers – New Zealand Government Initiative Shows Welcome Support for Tobacco Harm Reduction – Juul wins Asda listings – Smokers Who Used Non-Tobacco-Flavored JUUL Products – FDA Proposes Stricter 10-Month Deadline  – Strategies to Reduce Illicit Trade of Regular Nicotine Tobacco Products
Threatens the proven success of e-cigarettes to help adult smokers switch
New Nicotine Alliance, UKVIA
Banning flavours in e-cigarettes could be detrimental to public health, warned leading consumer charity, the New Nicotine Alliance (NNA) at the Global Forum on Nicotine (GFN) in Warsaw today.

The role of e-liquid flavours in vaping and their impact on smoking cessation has been the focus of much discussion in public health, scientific and media circles around the world. The NNA argues that removing all flavours except tobacco would be a disastrous move.

Speaking today in Warsaw, the NNA and other leading experts stated that removing flavours from sale would be a deterrent to the increasing number of smokers who are successfully quitting by choosing the less harmful alternatives.
Dave Cross, Planet of the Vapes
World Health Organisation's World Smokefree Day was celebrated in New Zealand on May 31st, but Alt New Zealand were concerned that not enough had been done to counter the myths surrounding vaping. Co-owner and co-founder Ben Pryor shared the information he thinks should be out there.

Part of this involved the start of a new campaign for Hāpai te Hauora and the Cancer Society, encouraging a national conversation around tobacco supply in our communities by under the banner of "Stop the Stock".
---

---
Dave Cross, Planet of the Vapes
The Philippines Department of Health (DOH) has driven through measures to place higher excise tax on tobacco products each year. The move has been described as a 'win-win' solution for public health by the World Health Organisation (WHO). Shamefully, this follows an unwarranted attack on tobacco harm reduction by the DOH issuing an factually flawed administrative order.

WHO Representative to the Philippines Dr. Gundo Weiler welcomed the tax hike, saying "It's a win for health of course because we are saving real lives. It's also a win for economy. We know that healthy society is more productive if you have economic return."
---
---
Shows Welcome Support for Tobacco Harm Reduction
The New Zealand government has launched an online resource endorsing—and educating about— vaping products as valuable harm reduction tools for current smokers.

The Ministry of Health's new project website, "Vaping Facts," went live on June 9. It has three sections: addressing what exactly vaping is; describing the effects of vaping versus smoking combustible tobacco; and advising on the utilization of vaping products to stop smoking.
---

---
US vape brand Juul has agreed its second major supermarket listing. The brand has gone into 357 Asda superstores this week. It is being ranged in Asda's e-cigarette gantries as well as additional listings in smaller sites.

Asda is stocking Juul's starter kits and all flavours of the new 18mg Juulpods.

"Asda has over 18 million customers using its stores every week and is the third-largest tobacco retailer in the UK, so we are delighted to be able to work with them to widen the reach of Juul products," said Juul Labs UK sales director John Patterson.
Thanks as always to @dnglos for the YouTubage
Were More Likely To Switch From Cigarettes
"There has been an active discussion about the role of flavors in supporting adult smokers who want to switch from combustible cigarettes and, at JUUL Labs, we are committed to driving research to inform these discussions," said Dr. Erik M. Augustson, PhD, MPH, Senior Director of Behavioral Research and Interventions at JUUL Labs. "We wanted to assess how flavor preference at various time points—30-days, 60-days and 90-days after initiating JUUL use—is associated with the likelihood of smoking abstinence in the future

Anna Edney
Juul Labs Inc. and other e-cigarette makers would face a 10-month deadline to submit applications for U.S. government clearance to keep their products on the market under a proposal that accelerates the deadline for federal review of the growing industry.

The Food and Drug Administration submitted the proposal to U.S. District Judge Paul Grimm in Maryland after he ruled last month in a lawsuit filed by anti-tobacco groups that the agency had illegally allowed e-cigarettes to stay on the market without a safety and public health review.
Of Regular Nicotine Tobacco Products
The US Food and Drug Administration is considering mandating a substantial reduction in the nicotine level of cigarettes and possibly other combusted tobacco products to render them minimially addictive. This would likely result in several public health benefits, including increased cessation, decreased progression to dependence, and reduced consumption of combusted tobacco products.

However, findings from clinical trials of reduced-nicotine cigarettes suggest that many smokers consuming low nicotine–content cigarettes sought out regular nicotine–content cigarettes, even when they were asked to only smoke free low-nicotine cigarettes.
---
A look back at how things have moved on or otherwise….
 Mawsley, Planet Of The Vapes
The sale of nicotine-containing electronic cigarettes, or juices with nic, remains illegal in Australia, thanks to lies regurgitated by Simon Chapman and Dave Bareham to a parliamentary committee. Doctor Karen Counter is one of a handful of GPs intent on living up to her Hippocratic Oath.

Dr Counter is one of a handful of doctors in the whole of Australia who is willing to prescribe vape products for people who want to quit smoking. While the sale of vape kit including nicotine remains illegal (despite cigarettes being freely available), doctors are allowed to issue prescriptions for it – although this disregards guidelines from her medical body.
 Mawsley, Planet Of The Vapes
Clive Bates is well known for his harm reduction advocacy. The former ASH UK man, who campaigned against smoking, has embraced vaping as a tobacco-harm reduction tool. He has teamed up with Carrie Wade from The R Street Institute to produce a compelling and powerful document arguing for flavoured eliquids.

The R Street Institute is an American conservative and libertarian think tank. It's stated mission is to "engage in policy research and outreach to promote free markets and limited, effective government." Carrie Wade is its Director of Harm Reduction Policy.
 Mawsley, Planet Of The Vapes
Carrie Arnold markets herself as an independent science correspondent. If her latest article, "E-cigarettes, Juuls and Heat-Not-Burn Devices: The Science and Regulation of Vaping", in this summer's Hopkins Bloomberg Public Health magazine, is anything to go by then the "science" bit needs to be dropped.

"Nowhere," Arnold harks back to the 2014 boom in vaping, "was [ecig] popularity more swift—and alarming—than with young people."

There is the entire article in one quote. The trestle table has been erected, the products placed out on display and she waits for customers to trot up. Unlike the reasoned and evidenced arguments put forward by Clive Bates regarding regulation in the other of today's articles, Arnold focuses on woeful anti-harm reduction waffle.
---
Visit Nicotine Science & Policy for more News from around the World

---