Vaping Digest 19th June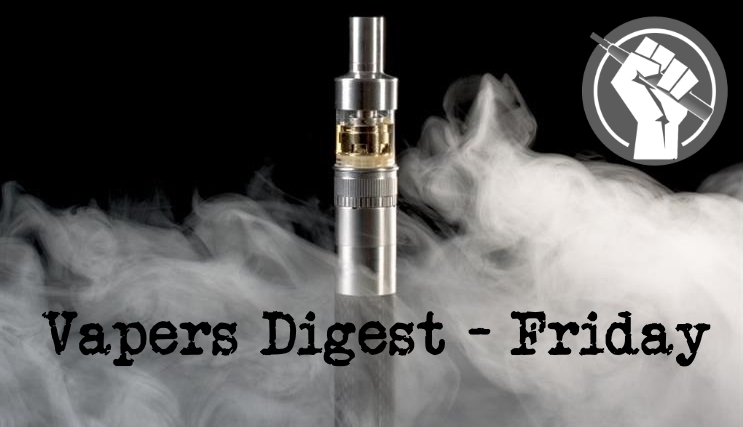 Friday's News at a glance:
The Belgian government is making a huge mistake – Australia to ban e-cigarette imports – Government announces major crackdown – Faceless Bureaucrats Announce Vaping Ban – E-cigarette import ban set to continue – COVID, Smoking, and Vaping – Nurses Educated About Vaping – Advocates Call For Germany To Act Wisely – Quit Their Way – How EU safety legislation has affected UK vapers – Furore over tobacco, nicotine therapy for COVID-19 – Safe Supply Pioneer Presents Vaping as Central to Harm Reduction – US Study: Most E-Cigarette Users Are Ex-Smokers – Why Africa needs harm reduction in bridging gap for smokers – Global Forum on Nicotine 2020 – The 2019 "Evali" Misinfodemic (Part 3) – Smokers, former smokers, never smokers and vapers: a survey by the COEHAR explains their behavior during the lockdown – Worldwide Attack on Harm Reduction Intensifies – Nicotine Science and Policy Daily Digest
Is making a huge mistake by considering e-cigarettes to be as harmful as conventional cigarettes
ETHRA is delighted to publish this English translation of an article by Frank Baeyens, professor of psychology at the KU Leuven in Belgium and ETHRA scientific partner. This translation is for the French version, published in DH:
"Le gouvernement belge fait une grosse erreur en considérant que la cigarette électronique est aussi nocive que la cigarette classique"

A shorter Flemish version was published in HLN (paywalled):  "KU Leuven-professor over anti-tabaksdag: "Cordon sanitair rond nicotine helpt volksgezondheid niet vooruit. Overheid moet e-sigaret actief promoten"
Christopher Snowdon, Velvet Glove Iron Fist
Just when you think that Australia's policy on vaping couldn't get any more stupid…

To reduce the risk to public health through addiction to nicotine and nicotine poisoning, the Australian Government intends to ask the Governor-General in Council to make regulations from 1 July 2020 prohibiting the importation of e-cigarettes containing vaporiser nicotine (nicotine liquids and salts) and nicotine-containing refills unless on prescription from a doctor.

Domestic sales are already banned, leaving Australia's 300,000 vapers dependent on mail order sales from abroad. As the Australian Tobacco Harm Reduction Association says…
Nikan
Louise har vært en bauta i miljøet i en årrekke, en ildsjel for tobakks skadereduksjon. Hun har hatt sitt virke ved Leicester Stop Smoking Service.

Nikan har møtt henne ved flere anledninger tidligere på GFN og vært imponert over hennes tålmodighet og milde vesen.
Selv om hun har gått over i pensjonistenes rekker tar hun fortsatt freelanceoppdrag.
Hun er et ja-menneske, og da Nikan spurte om hun kunne innlede til debatt for oss under Arendalsuka var det ikke nei i hennes munn. Dette ble dessverre avlyst av naturlige årsaker, men vi håper å se henne i Norge neste år.
---

---
To effectively ban nicotine imports – ATHRA
THE PLAN announced today by the Health Department to block the importation of nicotine for vaping is effectively a death sentence for hundreds of thousands of Australian vapers and smokers.

Many vapers will go back to smoking and smokers will be denied access to a legitimate quitting aid. Vapers who try to import nicotine illegally from 1 July will be fined $220,000!

The proposal continues the governments wanton disregard for the growing scientific evidence and effectively denies Australia's smokers access to vaping, the world's most popular and effective quitting aid.
To Take Effect from July 1 – LVA
Legalise Vaping Australia (LVA) has labelled bureaucrats within the TGA and the Federal Health Department as "nothing more than unelected, faceless pencil pushers who have today consigned hundreds of thousands of Aussie vapers and 3 million smokers to a death sentence"

This comes after Therapeutic Goods Administration (TGA)  announced a crackdown on those importing vaping products for personal use into the country, with or without a prescription. From July 1 Border force will be stepping up enforcement activities and targeting vapers.
Of Nicotine for Vaping – Jim McDonald
Australian health minister Greg Hunt will impose new restrictions that will make it nearly impossible for vapers to acquire nicotine, and impose draconian penalties for those who get caught importing it. The changes were announced while the country's parliament is on recess until August, and will take effect on July 1—just 11 days away.

Australia's position on vaping has always been an outlier among western democracies. The country has banned all recreational nicotine products, except cigarettes, and refuses to recognize the value of consumer nicotine products like e-cigarettes for harm reduction. Just last week, the Therapeutic Goods Administration (TGA) announced it would not change the policy to allow sales of heated tobacco products (HTPs).
---
---
Likely to force Australians back to smoking cigarettes
Federal Health Minister Greg Hunt's decision to ban nicotine imports from 1 July is out of step with global legislation and will affect more than 400,000 Australian vapers, and may incentivise many to turn to the significantly more harmful practice of smoking cigarettes.

Russell Zimmerman, spokesperson for the Australian Retail Vaping Industry Association (ARVIA) and Australian Retailers Association (ARA) said Minister Hunt's decision will have health implications for hundreds of thousands of smokers and will also force the closure of many online and bricks and mortar vape stores in Australia.
Paul Osborne
The federal government is extending a ban on the importation of e-cigarettes containing vaporiser nicotine unless prescribed by a doctor.

The ban will remain in place for 12 months to allow for public consultation on the regulation of nicotine products by the Therapeutic Goods Administration.

The TGA is considering an amendment to the Poisons Standard, which would mean vaporiser nicotine products would require a valid prescription.

Four from Dave Cross, Planet of the Vapes
At this year's online Global Forum for Nicotine, Doctor Riccardo Polosa spoke about smoking, vaping and COVID-19. His presentation was accompanied by Dr Konstantinos Farsalinos speaking on the role of nicotine and its relationship with the viral pandemic and the ACE2 enzyme.

Riccardo Polosa is the founder of the Centre of Excellence for the acceleration of HArm Reduction (CoEHAR – University of Catania, Italy). Dr Polosa is Full Professor of Internal Medicine for the same University and Director of the Centre for Smoking Prevention and Treatment at the University Hospital "Policlinico-V. Emanuele" of Catania.
Louise Ross, former stop-smoking service manager at Leicester City Council, now a freelance smoking cessation consultant and Deputy Chair of the New Nicotine Alliance, maps out the role vaping can play in smoking cessation for the readers of Nursing Times.

Nursing Times publishes articles "to help nurses to improve their practice, kept them up to date with news on nursing and healthcare policy and practice, and supported them in their career development."

Last week saw Louise Ross' final piece published, number 5 of a 5-part series. Her articles have covered interventions to support attempts at quitting, supporting older people to quit, supporting people with mental health conditions, young people, and people awaiting or recovering from surgery.
European Tobacco Harm Reduction Advocates (ETHRA) is the umbrella organisation for national nicotine user advocacy groups across the continent. It has called upon Germany "to act wisely on e-cigarettes" as the nation takes up the Presidency of the European Union Council on July 1st, 2020.

ETHRA "promotes discussion and the exchange of information and potential actions to reduce exposure to tobacco-related harm. It complements existing organisations by offering European advocates a platform for exchanging information (particularly at European policy level) and for sharing experiences and local initiatives, in support of tobacco harm reduction."
The SNP's Stephen Flynn spoke to the House of Commons during a debate on the Finance Bill, in a Public Bill Committee. Calling for Scotland's right to set independent tobacco tax rates, he spoke about the country's approach to vaping and smoking cessation – but the advice Scotland gives to smokers appears to be lagging behind that of England.

"It is the desire of the Scottish Government and the SNP to have a tobacco-free generation in Scotland by 2034," said Stephen Flynn. "Obviously, tobacco rates will play a role in that, but that is not necessarily stopping us entirely and we are still making positive efforts to get there."
---

---
University of East Anglia
Vapers have been largely reassured by recent EU safety regulations, but some have been pushed to the black market for stronger hits – according to new research from the University of East Anglia.

Researchers studied reactions to vaping legislation. The EU's Tobacco Products Directive (TPD) was introduced in 2017 – to ensure safety, provide consumer information and deter young people who had never smoked before, from trying it.

The regulations include things like a maximum volume for liquid, limits on nicotine concentration, and the need for health warning labels. The legislation also prohibits specific hazardous ingredients.
Chukwuma Muanya
In recent times, there have been claims and counterclaims on the association between the use of tobacco, smoking, nicotine and the severity of coronavirus disease 2019 (COVID-19).

Some studies suggest that nicotine may play a role in combating COVID-19 and people who smoke may be at lower risk from contracting the virus while others identified smoking and nicotine as risk factors for COVID-19.
Worldwide Attack on Harm Reduction Intensifies – RegWatch (Live)
As Central to Harm Reduction
"I am an accidental voice in the vaping world," began Dr. Mark Tyndall, a professor at the University of British Columbia School of Population and Public Health. "For the most part, my world of harm reduction did not include cigarette smoking."

Yet the epidemiologist's world of harm reduction has been a big one throughout a long career: Some of his key contributions from his home city of Vancouver, Canada have included being the co-lead investigator in the evaluation of Insite, North America's first sanctioned safe consumption site, and pioneering the safe supply of opioids, including through a "vending machines" project on which Filter has reported.
Diane Caruana – Vaping Post
Researchers from the CDC National Center for Health Statistics (NCHS), reported that e-cigarette use has stabilized amongst adults with the majority of users being ex-smokers.

According to the 2018 survey, 3.2% of adults (aged 18 and above) reported vaping regularly, and this was the same percentage recorded in 2016, reported Maria Villarroel PhD, and her colleagues from the NCHS. Additionally, 14.9% of respondents reported having ever tried an e-cigarette in 2018 versus 13.9% in 2014 and 15.3% in 2016, wrote the researchers in an NCHS Data Brief.

Business Mirror
The organizers of the Global Forum on Nicotine (GFN), KAC Communications, recently pushed through with the forum via online following the cancellation of the face-to-face event in Warsaw due to Covid-19.

In the wake of the so-called EVALI crisis, and with the review to the European Tobacco Products Directive (TPD 2) and the ninth session of the (now postponed) World Health Organization's Conference of the Parties (COP) to the Framework Convention on Tobacco Control on the horizon, 2020 was already set to be a key year for tobacco harm reduction and nicotine science.
In bridging gap for smokers
In the developed world, there are various platforms for scientific and public health discussions around e-cigarettes and the broader harm reduction debates. These debates have intensified over the years becoming emotional and even divisive to some extent and here in Africa, they have been marred by misinformation.

When all is put into context, one can see a different picture all together. It wasn't that long ago that quitting cold turkey or using nicotine replacement therapy were the only approaches open to adult smokers who were thinking of giving up cigarettes. Even with the arrival of nicotine chewing gum and patches (or even hypnotism and acupuncture) the choices were minimal and often resulted in varying success.
Charles Gardner
The first two parts of this series were based on an independent analysis of 18,000 news stories covering "EVALI" – an outbreak of lung injuries that occurred in the United States in 2019.  The probable cause of that outbreak is now clear:  An adulterant in unregulated illicit THC vaping products. Part One explored how the media blamed legal nicotine vaping for lung injuries that were caused by unregulated illicit THC vaping. Part Two looked at how that misdiagnosis then spread to other countries.
A survey by the COEHAR explains their behavior during the lockdown
The findings from a survey conducted by COEHAR researchers on almost 2000 participants showed a slight decrease in the consumption of cigarettes during the lockdown period and an increase in the purchase of products such as cigarettes and e-liquids.

Link: https://www.pagepressjournals.org/index.php/hpr/article/view/9124

60 million of Italians have had to adapt to social distancing and stay-at-home policies following the spread of COVID-19. The researchers of the COEHAR, leaded by Prof. Pasquale Caponnetto, in partnership with the University of Rome "Sapienza" and LIAF Italian Anti-Smoking League, published on the international magazine Health Psychology Research the study
---
A look back at how things have moved on or otherwise….
James Dunworth, Ashtray Blog
Something about getting off a plane makes me wants to vape. There is a certain pleasure in taking a moment to settle after the hustle and bustle of the airport, but the more obvious reason is that I wanted some nicotine. I stood outside with a handful of smokers, vaping for ten minutes or so and becoming acutely aware that I was not dressed for the Warsaw summer weather, which was about as hot as a busy kitchen operating out of the depths of hell.
Dave Cross, Planet Of The Vapes
The New Nicotine Alliance (NNA) held an expert-laden press briefing at the Global Forum for Nicotine to warn that removing e-liquid flavours from sale threatens the proven success of e-cigarettes to help adult smokers switch. The organisation contends that flavours have been instrumental in vaping's success as a smoking cessation method, demonising flavours is a threat to global public health, and that experts agree flavours are key to tempting smokers to try safer products.
Neil Humber, EcigClick
Last week saw the great and the good from the world of vaping and health meet up for the GFN 2019 held in Warsaw Poland, and e-liquid flavours were very much on the tip of everyone's tongue.

The Global Forum on Nicotine is into its 6th year and growing at a rapid pace. This year saw 650 delegates from across the world meeting up under the strapline:

It's Time To Talk About Nicotine.
---
Visit Nicotine Science & Policy for more News from around the World

---