Vaping Digest 22nd June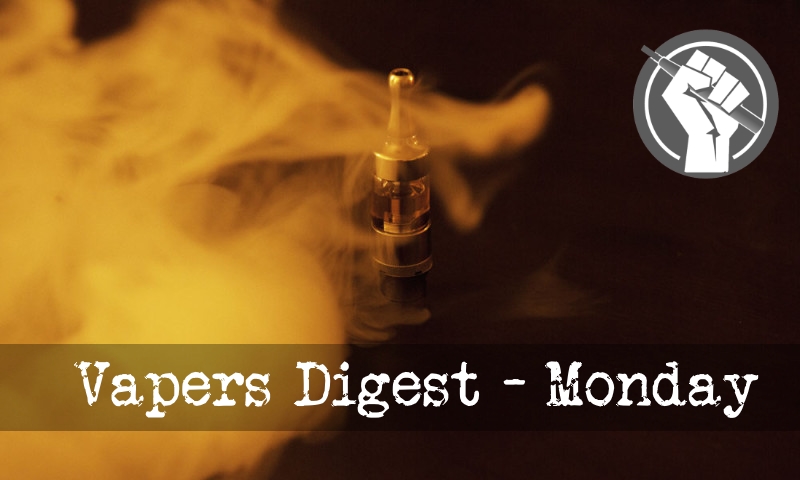 Monday's News at a glance:
Legalise Vaping Australia – Vapers are rightfully angry, anxious and shocked. What can you do? – A "Death Sentence" For Vapers and Smokers – Appalling Public Policy – Cost of NHS stop smoking services soars – HK Ban Prop Dropped – UK-style laws could convert more than 200 million smokers to vaping worldwide – COVID-19 and the Science of Nicotine – Are State Budgets Ready for a Cigarette-Free World? – Prohibitive policies on smoke-free nicotine products violate consumer rights
Details of the Regulatory Change
On Friday 19 June 2020, the Therapeutic Good Administration (TGA) announced a crackdown on the importation of vaping products for personal use. If an individual orders nicotine vape liquid or nicotine-containing e-cigarettes from abroad, they will face fines up to $220, 000 — regardless of whether they have a valid prescription. From 1 July 2020, the Australian Border Force will be enforcing this new regulation and will seize any nicotine vape liquid they find entering Australia.

If a smoker wishes to vape nicotine for the purpose of quitting smoking, they must first attempt every other method because nicotine vaping is considered an "unapproved method." They then must receive a prescription from an authorised physician.
Anxious and shocked. What can you do? – ATHRA
ANGRY? YOU HAVE EVERY RIGHT TO BE. Vapers are outraged, anxious and shocked at the recent decision to ban nicotine for vaping.

For many, vaping was the only quitting aid that worked. They feel great, are saving money and are enjoying it. For many it is a lifesaver. And now this! Just look at some of the distressing comments on our last post here.

Suddenly, with 2 weeks notice, importing nicotine into Australia is effectively banned and carries a $220,000 fine. However deadly cigarettes are available at every corner store. Crazy!

Why is the government ignoring the scientific evidence? Vaping is the most popular and most effective quitting aid available and could save hundreds of thousands of Australian lives.
---

---
A "Death Sentence" For Vapers and Smokers – Neil Humber
Australia's nicotine ban set to kick in from July this year, has been labelled as nothing short of a 'death sentence' for both vapers and smokers by furious vape advocates.

The ban will include all nicotine based e-liquids and vape products such as pre-filled pods, and will last for a year and could lead to an explosion in smokers as vapers return to the deadly habit.

In a perverse twist, nicotine replacement therapies such as sprays, gums and patches, will remain on the shelves.
---
---
Appalling Public Policy – AVCA
Aotearoa Vapers Community Advocacy (AVCA) has come out strongly in support of Australian vapers against a ban of imported nicotine vaping products for personal use into Australia, with or without a prescription.

"AVCA stands with our fellow vapers across the Tasman, as well as organisations such as ATHRA, PPHA, AVA and LVA in denouncing the senseless crackdown by the Australian Therapeutic Goods Administration (TGA)," says Nancy Loucas, who is one of the co-founders and co-directors of AVCA – the vaping consumer advocacy organisation in New Zealand.

Two from Dave Cross, Planet of the Vapes
New NHS data shows that in London, local council spending on stop smoking services per successful quitter has more than doubled since 2016. Fewer than 80,000 UK smokers use the service each year according to latest data, down 70% from 2011 when this number was over 250,000. Meanwhile smoking rates have continued to plummet as smokers chose vaping as the most effective aid to help them quit.

New NHS data on stop smoking services shows that the average "cost per quitter" – the public money spent on encouraging an individual to quit smoking by their local stop smoking service – is £451 per person [1]. In some local councils in London, this spend has increased by as much as twenty times compared to the same period in 2016, with one council recording just five successful quitters at a cost of £20,000 per person [2].
The Coalition of Asia Pacific Tobacco Harm Reduction Advocates (CAPHRA) has celebrated the news that legislators in Hong Kong have seen sense and dropped a proposal to ban vaping and the use of heated tobacco products. It welcomed the science-based approach that embraces the concept of tobacco harm reduction.

Dr Fung Ying, head of the Tobacco and Alcohol Control Office, lamented the committee's decision, saying: "We anticipate an increase in the use of heated tobacco products in future because we have failed to ban."
---

---
Could convert more than 200 million smokers to vaping worldwide
Research by the Consumer Choice Center has found that 200 million smokers worldwide could switch to vaping by following the UK's approach.

The company analysed 61 countries and pointed to the UK's approach to advertising, displays and lower taxes as examples the rest of the world should follow.

"We used the UK's progressive tobacco harm reduction policies as a reference point and estimated how many current smokers could be helped to switch by having a more permissive vaping framework," said Fred Roeder, managing director of the Consumer Choice Centre. "In China, 76 million people could switch. The US (6 million) and Germany (4 million) would also see huge public health benefits by emulating the UK's approach."
New Nicotine Alliance
For a Cigarette-Free World? – Hiram Reisner
A world without cigarettes? It could happen. In fact, it's the stated goal of both anti-smoking organizations and one of the world's biggest tobacco companies.

But a world without cigarette taxes? Now that's a world many state governments aren't ready for quite yet.

Last year,  Philip Morris International CEO André Calantzopoulos told a Boston audience: "We are trying to achieve a smoke-free world."

Nicotine products violate consumer rights
Tobacco harm reduction advocates said the prohibitive policies imposed by governments and health authorities against smoke-free nicotine products such as electronic cigarettes, heat-not-burn tobacco products and snus are in violation of consumers rights.

Clarisse Virgino, the Philippine representative to the Coalition of Asia Pacific Tobacco Harm Reduction Advocates, made the statement during the online version of the Global Forum on Nicotine on June 11 to 12.

"It's a sad thought that in this ruckus, consumers become the collateral damage—the one that, in the end, will suffer, if prohibitive policies will be put in place," said Virgino
 Joseph Magero
---
A look back at how things have moved on or otherwise…
To be a problem – New Nicotine Alliance
Tuesday saw the publication of the latest research by Action on Smoking and Health (ASH) into the subject of underage vaping in the UK.

Sadly, the media mostly avoided reporting on the good news that the proportion of under 18s who try vaping has dropped to the lowest level since 2016. There was also little coverage that those who had tried an e-cigarette once or twice in 2019 was lower than in 2015 and that regular use of e-cigarettes amongst 11-18 year olds has declined in 2019 compared to 2018.
Fergus Mason, vaping Post
E-cig makers in the USA are about to lose their breathing space, as the FDA prepares to move up the deadline for submitting approval requests. Most small companies won't have time or money to get the expensive and complex paperwork done on time, and face having to take their products off the market by next autumn. Meanwhile, the Democratic Party in California is tied up in a row over sponsorship money from JUUL Labs, while their colleagues in Washington, DC start another investigation into the company's marketing practices. All this is happening against a backdrop of falling cigarette sales – but this good news doesn't stop demented politicians accusing e-cig companies of "stealing" children.
---
Visit Nicotine Science & Policy for more News from around the World

---