Vaping Digest 24th June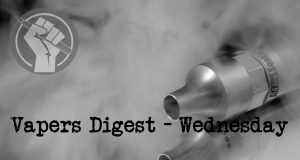 Wednesday's News at a glance:
Dutch extend smoking rules to cover e-cigarettes, plan to ban flavours ~ Vaping in Australia is About to Become a Whole Lot Tougher ~ Vapers will need a doctor's prescription to import liquid nicotine under new proposal ~ MPs break ranks to defy government's vaping ban ~ Support A Smoke-Free Australia (Petition!) ~ The great Australian nicotine airlift ~ Coalition MPs revolt against ban on people importing liquid nicotine for vaping ~ Will the July 1 vaping ban push people back to cigarettes? ~ Ban on importing e-cigarettes a 'death sentence' for vapers ~ First PMTA from an Indie Vape Manufacturer Submitted ~ E-Cigarettes are not the problem ~ Impact of EU Legislation ~ Reaction To The Oz Nic Ban ~ Australia Bans Nicotine ~ Vapers launch fighting fund to challenge Therapeutic Goods Administration's ban on nicotine e-cigarettes ~ Australia announces major crackdown to effectively ban nicotine imports
, Dutch News
The Dutch government is to extend current legislation on smoking to cover electronic cigarettes from July 1, and is also planning an outright ban on flavoured tobacco products for e-cigarettes. The measures, outlined in a briefing to parliament on Tuesday, are aimed at making smoking less attractive to youngsters.
Sarah Basford, Gizmodo
Importing an e-cigarette or nicotine liquid refills will become near impossible if proposed laws by Australia's health minister are passed. The Australian government intends to ask the Governor-General to amend customs regulations, making it illegal to import vaping equipment into the country without a medical prescription.
Malcolm Sutton

, ABC Net AU
Vapers will no longer be able to import liquid nicotine for their devices without a doctor's prescription, if a proposal by Federal Health Minister Greg Hunt is successful.

Mr Hunt has announced he wants to prohibit the importation of vaping devices, or e-cigarettes, containing liquid nicotine, as well as refills, from July 1 — unless the product is prescribed by a doctor and ordered by a medical supplier.
Mark Levy, 2GB
A petition lead by two Queensland politicians has been circulated calling for the Federal Government to reverse plans to ban e-cigarette imports.

Health Minister Greg Hunt has announced he wants to prohibit the importation of vaping devices, or e-cigarettes, containing liquid nicotine from July 1.

Mark Levy said there was a "revolt against the vaping ban" happening, with Senator Matthew Canavan and Dawson MP George Christensen throwing their support behind the petition.
Editor note, petition:
Senator Matthew Canavan – LNP Senator for Queensland, George Christensen – LNP Member for Dawson
If you support vaping, please sign the petition. As Government MP's with loud voices, we will ensure your message is heard.

---
The stupid Australian government is banning the importation of e-cigarette fluid on July 1st. This has led to a massive, Dunkirk-style effort by vapers to stock up for the rest of their lives.

One retailer in New Zealand had to stop taking orders earlier this week because it couldn't cope. I dare say they were others.
---
Paul Karp, The Guardian
Coalition MPs including George Christensen have revolted against Greg Hunt's unilateral decision to ban the personal importation of liquid nicotine for vaping from 1 July.

The decision, made by the health minister on Friday after parliament rose for a six-week adjournment, delighted doctors groups but has outraged Liberal and National backbenchers who favour legalisation of vaping.
James Purtill, abc.net.au
Nicotine e-cigarettes and refills will be banned in Australia from July 1 under pain of a $220,000 fine. In the United Kingdom, they're advertised and sold in hospital foyers. What's going on?
---
---
Administration's ban on nicotine e-cigarettes
WA's vapers are going on the attack over a looming ban on the importation of e-cigarettes containing vaporiser nicotine and nicotine refills into Australia.

A petition and a fighting fund have both been launched to challenge the decision by the Therapeutic Goods Administration that takes effect from July 1.
ThatGotMeToThinking.blog
The minister for health in Australia Greg Hunt has announced the intention to ban all imports of nicotine-containing products effective July 1. This means that e-cigarette users in Australia will need a prescription from a Doctor to continue using e-cigs to remain smoke-free.
---

---
A look back at how things have moved on or otherwise…
Harry Shapiro
I am just winding down from the whirlwind of activity that is the Global Forum on Nicotine (GFN) conference held in Warsaw earlier this month. It is a gathering of people from all occupations and disciplines; lawyers, doctors, scientists, economists, consumers, public health officials, nurses and industry to name but a few. Over 600 people from 70 countries, but with one thought in mind: to try and mitigate the worst effects of the global smoking epidemic, through the mechanism of tobacco harm reduction (THR) and within that, an emphasis on the use of safer nicotine products for those who for whatever reason cannot or don't want to give up nicotine.
From the Global Forum on Nicotine 2019 – Lee Johnson
The Global Forum on Nicotine (the GFN, for short) has been one of the major events in the tobacco harm reduction calendar for six years now. Each event sees researchers, policy experts, stop smoking workers, consumers and anybody else with an interest in THR gather to listen to presentations on topics such as vaping, smokeless tobacco and heat-not-burn use, taking place over several days and generally providing enough information to single-handedly bring you up-to-date with the best evidence and latest goings-on in the field.
---
Visit Nicotine Science & Policy for more News from around the World

---