Vaping Digest June 24th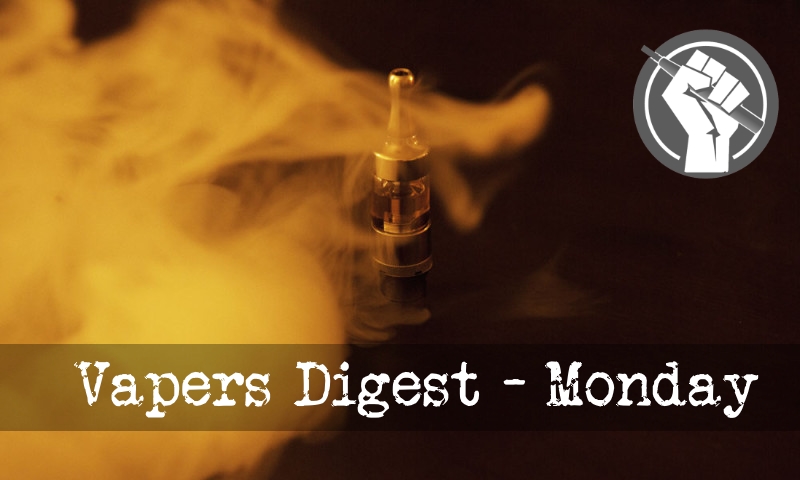 Monday's News at a glance:
San Francisco pushes on with vape ban; Hungary starts to tighten the law – GFN 2019 – a very civil society – 10 Things I Learned From the Global Forum on Nicotine 2019 – Vaping In The News – June 22nd – New study on second-hand JUUL vapour – Heavy Metal – Bad categories, bad science – San Francisco Board of Supervisors to Vote Tuesday – Rights 4 Vapers Reaction to Study – Health Canada proposes new regulations – Tobacco companies begin to switch – e-cigarettes sans nicotine less harmful alternative? – Nicotine Science and Policy Daily Digest
Hungary starts to tighten the law – Fergus Mason
Life will get harder for San Francisco vapers next year, after the city's lawmakers voted to bring in a total ban on vapour product sales. Seven months from now, vapers will need to travel out of the city to stock up on coils and liquid. Meanwhile an Indiana teen has been killed by his brother for vaping indoors, an example of how insane the witch hunt against harm reduction has become. Things are also heading downhill in Hungary, where a government official is trying to shut down all the country's vape shops.
Harry Shapiro
I am just winding down from the whirlwind of activity that is the Global Forum on Nicotine (GFN) conference held in Warsaw earlier this month. It is a gathering of people from all occupations and disciplines; lawyers, doctors, scientists, economists, consumers, public health officials, nurses and industry to name but a few. Over 600 people from 70 countries, but with one thought in mind: to try and mitigate the worst effects of the global smoking epidemic, through the mechanism of tobacco harm reduction (THR) and within that, an emphasis on the use of safer nicotine products for those who for whatever reason cannot or don't want to give up nicotine.
---

---
From the Global Forum on Nicotine 2019 – Lee Johnson
The Global Forum on Nicotine (the GFN, for short) has been one of the major events in the tobacco harm reduction calendar for six years now. Each event sees researchers, policy experts, stop smoking workers, consumers and anybody else with an interest in THR gather to listen to presentations on topics such as vaping, smokeless tobacco and heat-not-burn use, taking place over several days and generally providing enough information to single-handedly bring you up-to-date with the best evidence and latest goings-on in the field.
Norbert Zillatron , IG-ED Germany
Kevin Crowley, Vaping Links
Global Forum on Nicotine Asserts Urgency of Tobacco Harm Reduction ~ 10 Things I Learned From the Global Forum on Nicotine 2019 ~ Pushed by Federal Court, FDA Releases PMTA Guidance ~ VTA Responds To PMTA Final Guidance ~ Tobacco's 'Special Friend': What Internal Documents Say About Mitch McConnell ~ In praise of Dr Marewa Glover ~ Criminalizing E-Cigarettes — Perpetuating the Spiral of Poverty Smokers: Step Away From the Fire With These Safer Cigarette Substitutes ~ New Deeming threat as FDA loses court case to extremists
---
---
Heat Not Burn
If you follow the news around tobacco harm reduction you'll know that pod mods – especially the JUUL – are the subject of the USA's latest moral panic. The country that gave us Prohibition and the war on drugs (the reason the USA has more people in jail than China, a communist dictatorship with four times the population) is whipping itself into a froth of righteous indignation about a product that was specifically designed as a safer alternative for smokers.
Dave Cross, Planet of the Vapes
Bonnie Halpern-Felsher, Stanford University, is running around television studios, telling the American public about the danger posed by electronic cigarettes. Scientifically illiterate reporters are whipping up fear over heavy metals in vape once more – but does it pose the danger they claim and are ecigs unique in posing this risk?

Bonnie Halpern-Felsher has appeared in POTV news articles many times. She produced a literature review that ignored positive studies and relied on exceptionally flawed pieces of work by the likes of Jessica Barrington-Trimis [link], manufactured findings about teen attitudes [link], and claimed adults don't need flavoured eliquids in order to quit smoking [link]
---

---
Carl V. Phillips, Anti-THR Lies
[Oops, I forget to click "publish" on Sunday. So here it is on Monday. I am keeping the title as is though. :-)] I was thinking about this topic because I just finished writing a paper in which it comes up, and also I stumbled across a paper from a couple of years ago, by my old friend Miguel Hernán, that goes into depth about some aspects of it (open access link; a wonderful and generally understandable, though slightly technical, presentation). The issue is how far you can go in agglomerating heterogeneous entities (people, behavior, conditions, etc.) into a single category in an analysis and still have meaningful results.
To Vote Tuesday on Banning the Retail Sale of Cigarettes and Marijuana
Michael Siegel, The Rest Of The Story
This Tuesday, the San Francisco Board of Supervisors is scheduled to vote on a proposed ordinance that would ban the sale of cigarettes and marijuana products in the city until the FDA conducts a safety review of these products.

The impetus for the proposed ordinance was new data showing that a large proportion of San Francisco youths are still smoking and that the use of marijuana may even be increasing, especially with the recent legalization of recreational marijuana use. The city attorney explained that: "The epidemic is real. It needed attention. We felt it was necessary to step in and make sure we were protecting young people on our streets."

Showing Increase in Vaping Among Youth in Canada
Across Canada underage youth are legally restricted from purchasing alcohol, marijuana, cigarettes and vaping products. But according to recently released data in a study published yesterday in the British Medical Journal (BMJ), they are using them anyway.

Provincial tobacco control coalitions and physicians' groups immediately reacted to the results of the study and the media headlines say it all: a recent report in the British Medical Journal, shows that Canada has experienced a "massive", "staggering", "whopping" increase in teen vaping.
Clear, consistent product labelling helps Canadians make informed decisions about the products they purchase and use. The modern vaping market is rapidly evolving, and many Canadians, especially youth, are using vaping products without a clear understanding of their nicotine content.

Today, the Honourable Ginette Petitpas Taylor, Minister of Health, launched public consultations on proposed regulations that would set out new and updated requirements for the labelling and containers of vaping products.
Roderick T. dela Cruz
A former consultant of the World Health Organization expects tobacco companies to invest in safer nicotine products such as vapes or electronic cigarettes, heat-not-burn sticks and snus amid rising demand from consumers.
"Companies are constantly looking at where the market is going. If you miss the change, you will go broke like Kodak on film or Blackberry on smartphone. They missed the transition. Tobacco companies now see the new technology [electronic-cigarette]. The people could now get what they want from cigarettes in a far less hazardous way. And that was a threat to the cigarette business," says David Sweanor, a former WHO consultant who now chairs the advisory board of the Centre for Health Law, Policy & Ethics at the University of Ottawa in Canada.
Hans News Service
The 6th Global Forum on Nicotine (GFN) recently held in Warsaw last week focussed on safer nicotine products by examining the rapidly developing science in relation to nicotine and its use, this year's theme is 'It's time to talk about nicotine.'

At a time when India looks at banning e-cigarettes, a viable choice for smokers all over India, experts at GFN highlighted that 'Quit or die' is no longer the only option for those who cannot give up nicotine. Safer nicotine products such as e-cigarettes offer another way – 'Quit or Try' by providing an alternative without active carcinogens.
---
A look back at how things have moved on or otherwise….
And Further Restrict E-Cig Advertising – Dick Puddlecote
Yesterday I wrote about the tobacco control industry's habit of cherry-picking evidence and – more recently – disbelieving real life evidence because it doesn't agree with their wild, junk science-led fantasies of how the world works.

Today sees a new low, though, as the Scottish Government released its Tobacco Control Plan. Snowdon has highlighted some of the blinkingly barmy aspects of it, so do go read his piece.
New Nicotine Alliance
The fifth Global Forum on Nicotine (GFN) has just taken place in Warsaw, Poland, and again the NNA featured prominently, as we highlighted in our May newsletter.

The plenary address given by NNA's Sarah Jakes, has already been published here and there will be further articles soon expanding on our contributions to the event.

Aside from this, there were many other positive reflections to take from the conference but also – as is always the case with this subject matter – other issues which need to be addressed
---
Visit Nicotine Science & Policy for more News from around the World

---