Vapers Digest June 22nd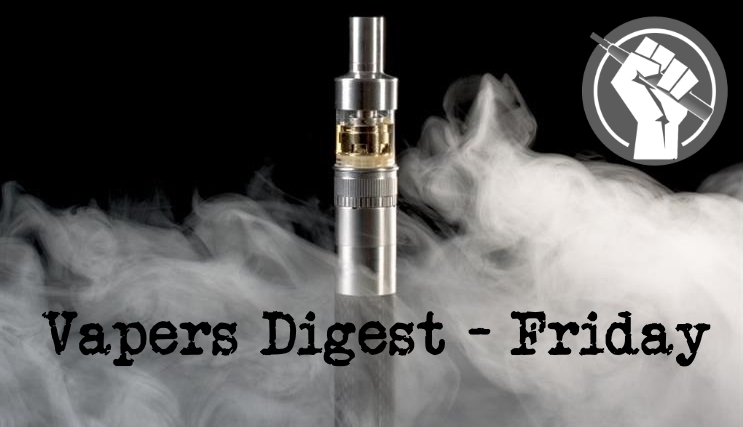 Friday's News at a glance:
Scotland Plans To Gold-Plate The TPD – NNA at the Global Forum on Nicotine – UK study says vaping is viable for harm reduction – Harm reduction faces obstacles – My mother said – Elephants, Big Lies And The Nigerian Prince Scam – The Real Dangers and Health Risks – HNB, Aldehydes and Subohming – Treating and preventing cancer – Rendez-vous with David Sweanor – "We knew it, Martin McKee!" – FDA Wrongly Blames E-Cig Companies  – New York Escapes Flavor Ban – Une étude de la taxation des produits – Is India jumping the gun on e-cigarettes? – Nicotine Science and Policy Daily Digest
And Further Restrict E-Cig Advertising – Dick Puddlecote
Yesterday I wrote about the tobacco control industry's habit of cherry-picking evidence and – more recently – disbelieving real life evidence because it doesn't agree with their wild, junk science-led fantasies of how the world works.

Today sees a new low, though, as the Scottish Government released its Tobacco Control Plan. Snowdon has highlighted some of the blinkingly barmy aspects of it, so do go read his piece.
New Nicotine Alliance
The fifth Global Forum on Nicotine (GFN) has just taken place in Warsaw, Poland, and again the NNA featured prominently, as we highlighted in our May newsletter.

The plenary address given by NNA's Sarah Jakes, has already been published here and there will be further articles soon expanding on our contributions to the event.

Aside from this, there were many other positive reflections to take from the conference but also – as is always the case with this subject matter – other issues which need to be addressed
---

---
Fergus Mason, Vaping Post
Researchers at Norwich medical School, part of the University of East Anglia, have conducted a new study into the effectiveness of vapour products as a way to quit smoking. Although small – the sample was made up of 40 vapers – the study went into a lot of detail about the participants' history of smoking and vaping, so it gives a valuable insight into how vaping works as a harm reduction tool.
Dustin Dahlmann, IEVA
The electronic or e-cigarette is now 15 years old and is extremely successful with millions of people using e-cigarettes as a much less harmful alternative to tobacco. But there is still a great need for education in society.

According to a study published in 2016 by the Onassis Cardiac Surgery Center, more than six million tobacco smokers in the EU have succeeded in completely stopping their tobacco consumption with the help of e-cigarettes.
Martin Dockrell – RSPH
Before we start there are just a few things you need to know about my mum. She was born in Brooklyn in the depths of the Great Depression so she knows a thing or two about poverty. An early Fulbright Scholar, she did her research in post war London, picking her way between Hoxton bomb sites to interview some of the most disadvantaged youth in England.
Elephants, Big Lies And The Nigerian Prince Scam
Carl V. Phillips, Daily Vaper
Some tobacco control lies are clever, such as the use of intentionally misleading statistics that only someone who reanalyzed the data would discover. Others are patently obvious misreadings of study results that would never fool experts but are sufficient to fool a health news reporter or politician. But a lot of the lies — so, so many of them — are just reciting the same tired and refuted falsehoods.
---
Vapers, smokers & IQOS users wanted for new CRUK funded study on health effects of nicotine containing products (London based):https://t.co/mKLAyS1xub

— Lynne Dawkins (@LynneDawkins) June 22, 2018
---
Jim McDonald, Vaping 360
Is vaping dangerous? Every day we see the stories, in newspapers and on television, about vaping health risks. Usually they're centered on the study du jour. Maybe it's a chemical today. Yesterday it was exploding batteries. Last week it was the increase in teenage vaping. Next month some new vaping danger will grab the headlines. But what is the reality? Do the risks of vaping outweigh the rewards?
Mawsley, Planet of the Vapes
Dr Konstantinos Farsalinos has produced another study in conjunction with colleague at the Onassis Cardiac Surgery Centre. This one compares the emissions from an IQOS heated tobacco product with the vape from an ecigarette and smoke from tobacco. While vaping is much safer than both, he has words of caution for subohmers.
Kevin Crowley, Vaping Links
Can you imagine the responsibility and privilege of announcing there is "good news for treating cancer and preventing cancer" by smoking combustible tobacco? Neither could I. This is what stupidity looks like, this is what "experts" will persuade the public to believe.

Dr. Norman E. Sharpless (bio) was sworn in as the 15th director of the National Cancer Institute (NCI) on October 17, 2017. Among the items on display on his "I love me" wall, he holds medical degrees from the University of North Carolina at Chapel Hill. He is also an idiot.
---

---
Philippe Boucher
David is Adjunct Professor of Law with the University of Ottawa, and much more. Thank you David for accepting our rendez-vous.

David you have you been a tobacco control advocate for a long time, in Canada and around the world. Can you (briefly) introduce yourself and your journey in this field until the present days of tobacco harm reduction?
Mawsley, Planet of the Vapes
The European Public Health Association (EUPHA) celebrated "Juuling adolescents: a new health concern" as a nation's fans when the side wins the World Cup. Tit Albreht got his tweets out for the lads. Unfortunately for them, and the others also kicking vaping, claims to 'evidence' simply leaves them scoring an own goal.
EUPHA triumphed: "We knew it, Martin McKee! E-cigarette companies target adolescents for their new nicotine products."

It is possible that, if one looks at the image of Juul's packaging below, nobody at EUPHA has read the article in question or seen a Juul.

Earlier this month, FDA Commissioner Scott Gottlieb blamed e-cigarette companies for teen vaping when addressing the American Society of Clinical Oncology. "They better step up and step up soon – to address these trends along with us.  So far, I must say, I've mostly been disappointed by the tepid response from companies that know that a meaningful portion of their sales are being derived from kids. The e-cig companies have a chance to do something about it.
---
Which is worse: a teen who vapes or a teen who smokes? Which is better: an adult who smokes cigarettes, or an adult who uses e-cigs? Why is so hard to comprehend? https://t.co/EEHcQkuldN

— Joe Nocera (@opinion_joe) June 22, 2018
---
VTA – CASAA
Vapers! WE NEED YOUR HELP to encourage Congress and federal regulators to reject any proposal that would ban OR limit flavored e-liquid products. Right now, FDA is considering whether to regulate flavors and you need to be heard.

FDA Commissioner Scott Gottlieb has said that your "personal stories are important to me." But, he also refers to your stories of quitting cigarettes with vapor products as "anecdotes."
When the New York State Senate banged it's final gavel for the current session this morning, the state's vapers breathed a sigh of relief.

The closure means that the flavor ban — at least, as it stood last night — is dead. But any optimism should be shrouded in caution for the long term — as the senate resumes in January 2019.

There are a variety of avenues that could be taken by the state's legislative body moving forward.
SOVAPE
Une société italienne mandatée par la Commission européenne tente d'évaluer l'impact de la taxation des produits du vapotage sans se préoccuper des effets de santé publique. SOVAPE refuse de participer et en explique les raisons…
Samrat Chowdhery, Association of Vapers India
India is planning to ban e-cigarettes even as regulators and public health agencies in developed countries like the US and UK see vaping as a much safer way of consuming nicotine, which also helps people quit smoking, the biggest cause of tobacco-related deaths across the world.

From the US Federal Drug Administration (FDA) to the American Cancer Society (ACS) to the British Medical Association (BMA), all have vouched for the relative safety of e-cigarette and supported allowing its use as an alternative to combustible cigarettes.
Mawsley, Planet of the Vapes
Smoking falls in the States for another consecutive year, and a study highlights that intelligent people are the ones switching from smoking to vaping. In another study, the Royal Society for Public Health concludes that nicotine is no worse than coffee – this doesn't sway Singaporean politicians who maintain a ban on vaping but support tobacco sales. Meanwhile, further research reveals a stunning level of ignorance about vaping within the chest specialist community.
---
A look back at how things have moved on or otherwise….
Olga R. Rodriguz, Associated Press
San Francisco city supervisors unanimously approved a measure that bans the sale of flavored nicotine-laced liquid used in electronic cigarettes and flavored tobacco products, saying nicotine masked in cotton candy, banana cream, mint and other flavors entices kids into a lifetime of addiction.

Other cities have passed laws reducing access to flavored vaping liquids and flavored tobacco but San Francisco is the first in the country to approve a sales ban.. Sales of vaping liquids that taste like tobacco will still be allowed.
For Asthmatic Patients? – Soulblu
The long time observation revealed consistent improvements in respiratory symptoms and lung function in all the patients. The evidence has proved that switching from smoking to vaping can benefits asthmatic patients in different ways. It not only helps in reversing the damages caused by tobacco cigarettes but also improves the effectiveness of treatment given to asthma sufferers.
Duncan Selbie –  Public Health England
New data on smoking prevalence among adults (18+) in England for 2016 show the biggest drop in a decade with the rate falling to 15.5% of the population, a 1.4 percentage point drop from 16.9% the previous year.

But what is even more encouraging, indeed fantastic news, is that this steep decline is even greater among younger adults, aged 18-29 years.

The data from the Adult Smoking Habits in the UK: 2016 report was jointly published by Public Health England and the Office for National Statistics.
---
Visit Nicotine Science & Policy for more News from around the World

---