Vapers Digest June 25th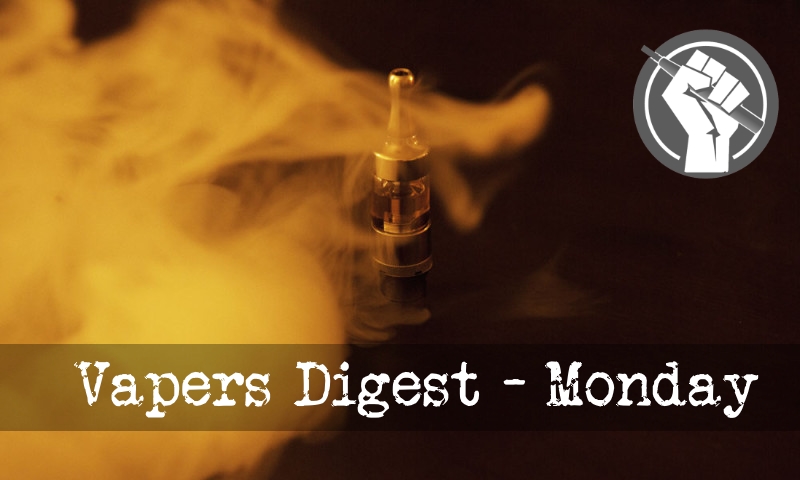 Monday's News at a glance:
GFN 2018 – The duty of curiosity – Run Your Own Race – Why don't more young women vape? – UK study says vaping is viable for harm reduction – Can vaping help long term smokers quit? –  Losing Sight of the Prize – Are e-cigarettes tobacco products? – 'Healthier, happier, freer' – Global and local perspectives on tobacco harm reduction: – Last Chance for the 115th – Nicotine doesn't kill smokers – Pa. can levy tobacco tax on e-cigarettes – E-cigarette users slam government's proposed ban – Thailand worst country for vapers – Pro-vaping group insists it's safe – Latvia to hide cigarettes from view – Vaping In The News June 23rd – Nicotine Science and Policy Daily Digest
Harry Shapiro
As Tina Turner said, "Simply the best" – an excellent conference that keeps on delivering. And my big take home message from the whole event was "Run Your Own Race". This was the concluding slide of Dr Joe Kosterich's excellent Michael Russell oration – and what it means to me is that the THR community, however defined, needs to move onto the front foot and take the message to the people who don't sit inside the bubble. And this message, in various ways, ran right through the conference.
Clive Bates, Tobacco Reporter
In September I will be going to the Global Tobacco & Nicotine Forum (GTNF), which is to be held in my hometown of London and sponsored by the publisher of Tobacco Reporter and Vapor Voice. I'm proud to attend, and I'm looking forward to it. But why should someone who, like me, has spent years fighting Big Tobacco and who has a public health agenda go to a conference that has such a heavy tobacco industry presence? The industry will be there in force, with representation right through the full supply chain: growers, leaf merchants, machinery suppliers, the multinationals, retailers, and beyond to the analysts, consultants and lawyers that form the industry's commercial ecosystem.
EU regulations are partly to blame – Sophie Jarvis
The government's current approach to nicotine and tobacco reminds me of the sex education scene in Mean Girls: 'Don't have sex. You'll get pregnant and die.' Abstinence may be best contraception in theory, but it doesn't work in practice. Most of us recognise that abstinence doesn't work for everyone, so instead we focus on reducing the harms of unwanted pregnancies and STDs by teaching teenagers about contraception. Yet, when it comes to tackling the harms of smoking we still stick to an abstinence-only approach.
Fergus Mason, Vaping Post
A new paper has provided even more evidence that vaping is an effective way to quit smoking. Conducted at the UK's University of East Anglia, the study found that switching to e-cigarettes can help smokers break the habit – even if they hadn't planned to.

Researchers at Norwich medical School, part of the University of East Anglia, have conducted a new study into the effectiveness of vapour products as a way to quit smoking. Although small – the sample was made up of 40 vapers
---

---
New research out of Norfolk says it could be the case
Dr Caitlin Notley, University of East Anglia
Having being granted £40,000 in funding, Dr Notley began speaking to patients who had successfully given up smoking permanently, thanks to using a vapouriser.

Dr Notley, 40, said: "We did a call out for case studies, but because of the depth of the research we didn't need to speak to hundreds. Having said that, we were inundated with responses and have now taken our interview online because so many people want to be involved."
David MacKintosh
We all make mistakes. These will be of varying degrees and seriousness, but all of us can look back on judgements that proved to be wrong, decisions made in error or things we would, in hindsight, have done differently. Sometimes it may be that we just didn't understand the impact of a particular factor or event. The same also applies to organisations. Neither good intentions nor past success provides immunity.
---
---
Jim McDonald, Vaping 360
A major academic journal will no longer allow authors to call vapes tobacco products. In an editorial titled "Are e-cigarettes tobacco products?" Nicotine & Tobacco Research editor-in-chief Marcus Munafò explains that the journal will only use the term "tobacco products" to describe items that contain actual leaf tobacco.

The change matters because Nicotine & Tobacco Research is the most important academic journal focused exclusively on topics related to tobacco and nicotine. Discarding the terminology used in the FDA definition of "tobacco products" may mark a turning point in the conversation about vaping among scientists in the field.
Marcus Munafò
Should e-cigarettes should be classified as tobacco products? In 2014 the Food and Drug Administration (FDA) in the US concluded that they are (1), and we regularly receive submissions describing e-cigarettes as tobacco products. However, this judgement is the product of policy developments around the role of the FDA and their ability to provide regulative guidance and authority relating to a range of products.
Simon Clark, Taking Liberties
The Adam Smith Institute published a paper yesterday about tobacco harm reduction.

Using World Health Organisation 'estimates' of additional life expectancy from quitting smoking at different ages and Public Health England 'estimates' of the relative risk of e-cigarettes, the 'neoliberal' think tank calculated 'an overall estimate' (that word again) for years of life saved if more smokers (young women especially) switched to vaping.
---

---
On tobacco harm reduction: Sharon Cox and Lynne Dawkins
This thematic series of Harm Reduction Journal explores the issues surrounding the current state of tobacco harm reduction at global and local levels. Tobacco harm reduction (THR) refers to strategies designed to reduce the health risks associated with tobacco smoking but which may involve the continued use of nicotine. The health consequences of tobacco smoking are well documented; if current trends continue, it has been estimated that globally, a billion lives will be lost to tobacco smoking in the twenty-first century
Protect Lifesaving Vaping Products – Michelle Minton
This June here at OpenMarket we'll be looking at what the 115th Congress, which began January 3, 2017 and runs through January 3, 2019, has accomplished so far and what might still be achieved for limited government and free markets before it's over. Read more about the Competitive Enterprise Institute's recommendations for legislative reform here. 
Smoking causes heart disease, stroke and lung cancer, among many others. However, smoking-related diseases are not caused by nicotine.

The sickness and death caused by smoking is due to the burning of dried tobacco leaf, which produces poisonous gases, such as carbon monoxide, formaldehyde and cyanide that are inhaled by the smoker.

Even if their nicotine doesn't come from tobacco
Should e-cigarettes be subject to the state's 40 percent tobacco tax even though the liquids they use often contain nicotine that isn't derived from tobacco?

The answer to that is, "Yes," a Commonwealth Court panel ruled Friday.
Dia Rekhi, Express News Service
A cloud of gloom looms over e-cigarette users after the Tamil Nadu government decided to ban the use, sale, manufacture, import or distribution of these battery-powered devices.

"This is a terrible move and it shows their ignorance," said Akash Kumar*, who gave up smoking after using an e-cigarette. "Why not ban everything then? Cigarettes and alcohol are more harmful but because the government gets revenue out of it, they won't touch it."
---
Diese Woche kommen wir wegen Urlaubsvertretung etwas später und kürzer. Noch warten wir auf Videos und Artikel über das GFN18 in Warschau.
Prof. Dr. Bernd Mayer legt mit sehr guten Videos zum Thema… https://t.co/1if4veH56n

— IG-ED (@ig_ed) June 25, 2018
---
In a survey of the 36 national organizations, 33 of them nominated Thailand as having the most restriction for vaping. Australia, with 18 nominations, was considered the second worst country while India was third with 16.

"Thailand has a draconian approach with tourists as well as local people regularly getting arrested for vaping. Police often search vehicles at roadblocks for e-cigarettes and then use them to extract fines. This is not just terrible for Thai smokers who want to quit but also makes it a country to avoid for the tens of millions of tourists and business people around the world who vape," said Asa Ace Saligupta who runs the End Cigarette Smoke Thailand consumer group.
Chito Chavez
The various groups issued the statement as they recently converged at the Dr. Konstantinos Farsalinos presented two studies at the first summit on harm reduction organized by The Vapers Philippines in Quezon City.

A research fellow at the Onassis Cardiac Surgery Center in Athens, Greece, and at the Department of Pharmacy, University of Patras, Greece, and at the Greek National School of Public Health, Farsalinos has been conducting research on e-cigarettes as principal investigator since 2011.
A new bill which is currently making its way through the Latvian parliament will oblige retailers to conceal cigarettes and other tobacco products from customers' view in a bid to discourage people from smoking, local media reported Friday.

According to the draft amendments to the law regulating distribution of tobacco in Latvia, these products will no longer be visible to shoppers and those looking for cigarettes will be offered price lists from which they will be able to choose the product they want.
Kevin Crowley, Vaping Links
I AM NOT AN ANECDOTE ~ David Goerlitz ~ Smoking hits new low ~ Sufficient evidence ~ Sex, cars and e-cigarettes ~ Battery Safety ~ FDA: Full of intent, no purpose ~ Gottlieb's Grotty Games ~ American Cancer Society Falsehood ~ My Mother Said ~E-cigarettes: Harm reduction faces obstacles ~ Tobacco Control Tactics ~ Science ~ More Science ~ Cancer
---
A look back at how things have moved on or otherwise….
Mawsley, Planet of the Vapes
Jidong Huang is an associate professor of Health Management and Policy at Georgia State University. He recently spoke to China Global Television Network about the problems and challenges of smoking in China. Oddly, for a country that is fuelling the global vape boom, the answer isn't currently electronic cigarettes.

Huang has been involved in many vape-related pieces of research, but it tends to the statistical analysis of previously collected data in an effort to find patterns of behaviour. His most recent work was one such study, where regression analysis was used to look at vaping among "priority populations".
Condemns Smokers to Status Quo – CASAA
The ink is barely dry on amendments accepted during San Francisco's Public Safety and Neighborhoods Committee hearing and the full Board of Supervisors has passed the ordinance that bans the sale of flavored vapor products, tobacco products, and menthol cigarettes. The new law takes effect in April 2018.
---
Visit Nicotine Science & Policy for more News from around the World

---