Vapers Digest June 27th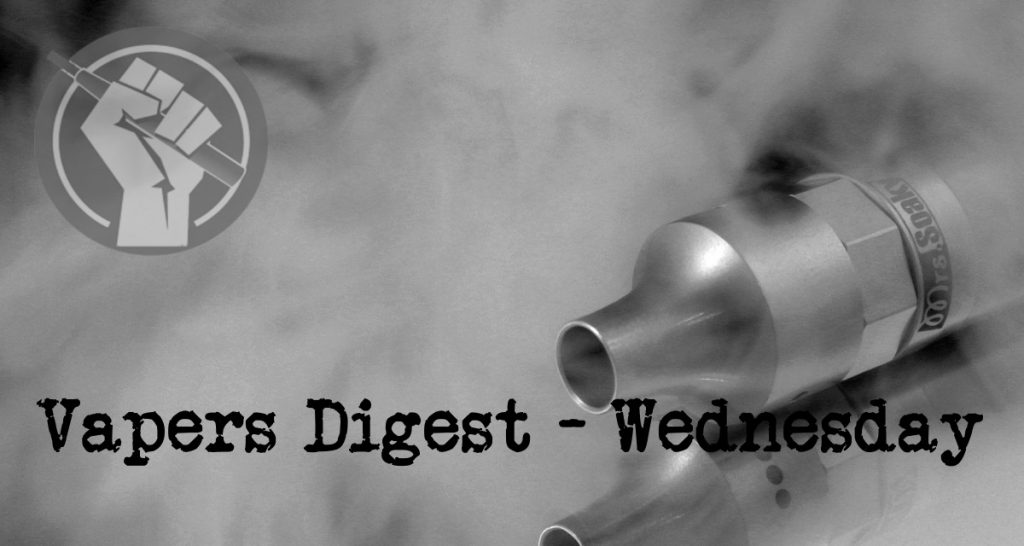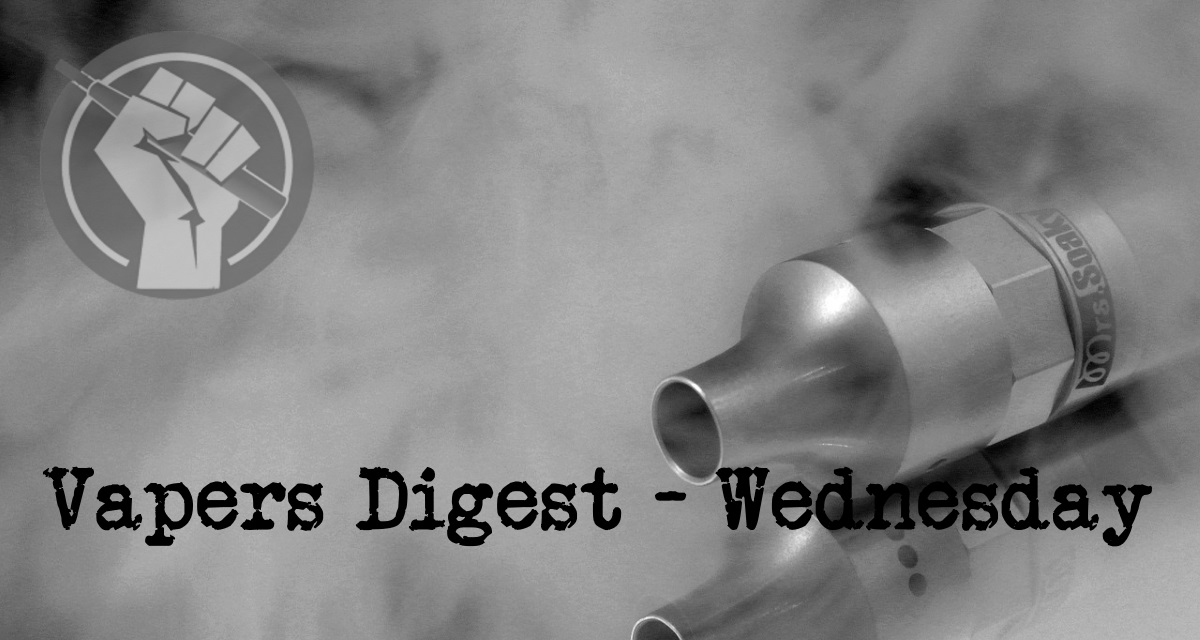 Wednesday's News at a glance:
Did A Chemical Leak Hospitalize Dozens At A Vape Factory? ~ Innovation in Medicine 2018: Providing smoking cessation for patients ~ Allow e-cigarettes on hospital sites ~ Are e-cigs tobacco products? ~ Vaping Isn't Smoking ~ Guidance publications ~ City Considering Vaping Regulations ~ Real World Juice Use ~ NHS bosses challenge how we tackle smoking ~ NY Flavour Ban Threat ~ CASAA Calls For Comments On FDA Plan To Regulate Flavors
Jim McDonald, Vaping 360
An apparent chemical leak at a Massachusetts industrial manufacturer that hospitalized at least 20 employees was somehow transformed into a vape-related incident by reporters covering the story, and amplified by lazy editors and headline writers.

Thermal Circuits, a Salem, MA, manufacturer of "flexible, etched-foil heaters," doesn't appear to make e-cigarettes or vapor products. The company makes parts for a variety of applications, but vaping isn't one of the many listed on its detailed website. The company has been in business since the 1950's.
in hospitals will save lives and money
Royal College of Physicians
A major new report released today by the Royal College of Physicians (RCP) calls for a radical change in the way the NHS treats smoking, by providing opt-out cessation services as a routine component of all hospital care.

The report, Hiding in plain sight: Treating tobacco dependency in the NHS, says that giving smokers the help they need to quit smoking while in hospital will save lives, improve quality of life as well as increasing life expectancy, and help to reduce the current £1 billion per year cost to the NHS of smoking by patients and staff.
Press Association, Daily Mail
Smokers should be permitted to use e-cigarettes on NHS sites, leading doctors have said. Meanwhile, smoking cessation services should be an "opt out" element of a smoker's NHS care, according to a new report on how the NHS treats smoking addiction. Such a move could double quit rates, the authors said. The report from the Royal College of Physicians (RCP) also calls for e-cigarettes to be used on NHS sites to support smokers to remain smoke-free.
---

---
Paul Barnes, Facts Do Matter
Things have kind of gone to hell and back recently, so I have had zero time at all to put my fingers to key and keep this blog updated. Much has happened which has been thoroughly discussed elsewhere. I may revisit some of those points at some point in the near future, but that depends on time; which as I've already pointed out, I don't have a lot of. Who knew married life would be so busy?

This article caught my attention quite late in the day and is entitled the same as this humble post. "Are e-cigarettes tobacco products?"
Mawsley, Planet Of The Vapes
The 'Nicotine and Tobacco Research' journal may not be the most popular magazine for anti-vape zealots, but the news that it has banned reference to vape products as "tobacco products" is very welcome – not least because it will have increased Stanton Glantz, Martin McKee and Simon Chapman's blood pressure.

One of the things that irk harm reduction advocates and vapers is the frequent reference to vaping as something that uses "tobacco products". This reference will now vanish from Nicotine and Tobacco Research, published by Oxford University Press. It is a popular monthly publication, ranked 2nd out of 18 in the SSCI category "Substance Abuse" by Thompson Reuters.
---
Sensible advice on the fire safety aspects of vaping in NHS settings, should be particularly helpful for MH Trusts but also of widespread relevance outside of NHS https://t.co/x4FPzpGAH0

— NNAlliance (@NNAlliance) June 27, 2018
---
National Fire Chiefs Council
Full National Fire Chiefs Council PDF here:
---

---
Paul Tuthill

, wamc.org, Northeast Public Radio
Rules that would prohibit vaping in public places in the largest city in western Massachusetts are being considered by public health officials.

The Springfield Public Health Council on July 18th is scheduled to take up a proposed regulation governing vaping, which involves the use of devices, such as e-cigarettes, that heat liquid to produce a vapor containing nicotine.

" The regulation would prohibit vaping wherever cigarette smoking is not allowed," said Springfield Health and Human Services Commissioner Helen Caulton-Harris.

Mawsley, Planet Of The Vapes
A paper published in this month's Addiction journal looks at the "Real-world" impact of lowering nicotine concentrations in eliquid, and evaluates if there is any compensatory behaviour when vaping. While the answer may be straightforward, such studies are essential to combat the TPD limit placed on nicotine strength in juices.

The

study

was carried out by Lynne Dawkins (lead author) and Sharon Cox from the Centre for Addictive Behaviours Research, Maciej Goniewicz at the Roswell Park Cancer Institute, Hayden McRobbie from Barts, the University of East London's Catherine Kimber, Mira Doig at ABS Laboratories Ltd and Leon Kośmider from the Virginia Commonwealth University.
---

---
Sun FM News
Health bosses are urging for smokers to be allowed to vape on NHS sites. The Royal College of Physicians believe it's the only way to stop them sparking up outside hospitals: Fresh, smoke free North East has echoed the calls, for a significant change in the way the NHS treats smoking. It's estimated the North East NHS faces an annual bill of around 127 and a half million, as a result of GP consultations.
Mawsley, Planet Of The Vapes
The gavel has fallen in the New York State Senate for the final time until January 2019 and, with the noise being swallowed by an empty chamber, threats of a ban of flavoured e-Liquids recedes for the next six months. The fight isn't over, but the time to prepare for the next phase will be welcome.

Just a couple of weeks ago the Vapor Technology Association (VTA) was warning: "Urgent! The New York State Senate is preparing to vote on S. 8610 that will ban the sale of vapour products in any flavour except tobacco or menthol!" The VTA urged all vapers to "call your senator now!"
Carl V. Phillips, The Daily Vaper
The FDA is accepting comments on their proposed rule, "Regulation of Flavors in Tobacco Products." There is serious concern that the "regulation" will consist of banning many or almost all flavors of e-liquid as well as smokeless tobacco and other products. The Consumer Advocates for Smoke-free Alternatives Association is urging all vapers and other product users to submit a comment to try to save flavors (see below for details). There is some urgency to this because it appears that anti-tobacco extremists have launched a successful astroturfing campaign, getting hundreds of thousands of their useful idiots to submit form letters in support of banning flavors.

As of this writing, there are almost 400,000 comments on the docket, most of which appeared in a very short period. To put this in context, the total comments on the original deeming regulation was only in the tens of thousands and the current docket on the regulation of premium cigars has less than 8,000. The current docket on the FDA's concept paper on black markets currently has only 29 comments. There are unconfirmed reports that anti-tobacco extremist, billionaire Michael Bloomberg, is behind the astroturfing.
---
A look back at how things have moved on or otherwise….
Jester, Midnight Musings
There used to be a time when pubs, clubs, snooker halls, bingo halls etc up and down the country would be full to flowing with customers on most days of the week – and there were lots of them around to sate the thirst of such consumers. Indeed, when I started frequenting pubs in the late 1970's, it was very rare for me to enter my local and not find at least somebody drinking in the pub whom I did not know well enough to have a long conversation with over a pint. Pubs (and clubs) in those days were usually smoke-filled venues, with the fug of cigarette smoke usually most visibly illuminated in the lights over the pool table, or in the spot-lamps lighting up the dartboard. Indeed, it was the way it had always been and the way most of us thought it always would be. In those days you were not greeted with a disgusted (fake) cough everytime you lit up a cigarette. We were all adults, and adults could be trusted to make their own choices in life. Nobody batted an eyelid at all the smoking in bars. If you did not like it, then you knew not to go there (or to go in to the Lounge where you would be less likely to see such things).
Jim McDonald, Vaping360
It's been a tradition among anti-vaping researchers to try to prove a gateway from vaping to smoking. It's seems like a magnet for every researcher lacking either pride or good sense, or both. And as we know, the list of tobacco control zealots limited in those areas is long, deep and continuous.

But it never gets old. The "gateway theory" is an anti-vaping touchstone. Or a cobblestone. Or something. Anyway, they really like trying to do it — and as we've seen many before, they can't prove anything.

This is such a hot topic, Clive Bates wrote a blog post about the common pitfalls encountered by excited researchers writing about gateways, and how journalists can spot them — because no self-respecting gateway proponent forgets to issue a frightening press release.

See also SMC Expert Reaction from Professors McNeill, Munafò and Hajek
---
Visit Nicotine Science & Policy for more News from around the World

---