Vapers Digest June 29th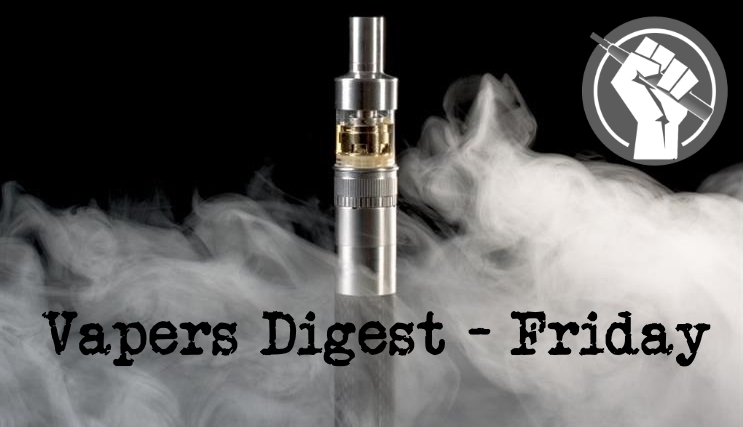 Friday's News at a glance:
Who can we trust? Martin Cullip at #GFN18 – Act now to stop the EU vape tax – The nicotine conundrum – Tell the FDA You're Not Merely An Anecdote! – Another Paper Uses Distracting Complexity – U.K. Prisons Allow Inmates to Vape – Sales of Vaping Products in UK Jails top £65,000 a Week – Vaping ban in the grounds of hospitals – Risk Perceptions and Misperceptions – Changing patterns of first e-cigarette – Transitions in Cigarette Smoking – Does France need to learn to trust vaping? – Bans: Indian Idiocy – Vaping Industry Rallies – Fewer fire accidents – Health Ministry weighs future of Juul – Vaping travel guide – Vape News Roundup – Nicotine Science and Policy Daily Digest
Martin Cullip at #GFN18
I'd like to start with a little anecdote of something that I came across a few months ago. I got an Uber – it was fairly late at night and I'd been out with a friend.

We'd been drinking and vaping. He said "Oh, I've been vaping too, I've got an e-cigarette" I said "Oh, that's interesting, what have you got, let's see it?". He said "Oh no, I don't bring it out with me, I don't bring it to work." I said "Whyever not?". He said "Well, Transport for London have banned vaping in private hire vehicles so I can't use it and it's too much of a temptation." And I said "So, what do you do, when you go on a shift?". And he said "Well, I always buy a packet of cigarettes before I start work".
Collective of EU Vapers Associations
The European Commission is holding a public consultation into the taxation of tobacco and vaping products, ending on 3rd September (1). Consumer associations and tobacco harm reduction organizations are issuing an urgent call for mobilization.

Answer the questionnaire >> Public consultation on excise duties applied to manufactured tobacco and the possible taxation of novel products.
---

---
Dr Colin Mendelsohn
A tobacco treatment specialist has advised frontline workers to help their clients quit smoking and withdraw from their use of other drugs at the same time.

Historically, frontline workers have not always encouraged clients to simultaneously withdraw from tobacco and other drugs.

The belief was that trying to stop tobacco use might interfere with the process of withdrawing from a primary drug of dependence.
Brad Rodu, Tobacco Truth
A year and a half ago, I blogged about government agencies ignoring federal survey data showing that 2.5 million former smokers were current vapers (here). When FDA tobacco center director Mitch Zeller dismissed this evidence as mere "anecdotal reports," I argued that such data constitutes legitimate population-level evidence.
To Suggest Vaping Doesn't Work – Carl V. Phillips
A recent paper in BMJ Open claims to show that smokers' use of vapor products to partially replace smoking does not result in lower per-day cigarette consumption. This conclusion is a ridiculous stretch based on bad study methods, but it is being adopted as yet another point of attack by anti-vaping activists whose second-favorite message (after "think of the children") is to claim that vaping just keeps people smoking. The paper, "Is prevalence of e-cigarette and nicotine replacement therapy use among smokers associated with average cigarette consumption in England?
---
---
Jim McDonald,Vaping 360
After a smoking ban in British prisons last year led to riots, the Ministry of Justice allowed prisoners to vape. The program has been a big success, with 33,000 inmates now buying e-cigarettes in prison.

The smoking ban caused havoc in the prisons — not surprising considering 80 percent of the U.K.'s prisoners smoked. Violence among inmates and assaults on guards had increased, according to Metro.co.uk. Some smoking prisoners even tried to smoke nicotine patches.
Diane Caruana, Vaping Post
In 2017, efforts to implement a smoking ban in UK prisons, led to a series of riots. This ban had been introduced over a decade ago, but never enforced up until last year.

However, Several prison reform organizations had come forward voicing concerns about how such a ban could lead to violence and contraband trade activities. "A sensible and considered approach to smoking in prisons would leave prisoners with a choice – at least to smoke outside," said Director of the Prison Reform Trust Peter Dawson at the time.
Donna Deeney
The Western Trust has strengthened its strict no smoking policy to include no vaping on its grounds.  Staff are being warned that they may face disciplinary action if they fail to stick to the rules.

Staff have been directed to ask carers and service users who smoke, to refrain from doing so an hour before any scheduled visit and while they are there. Dessie Lowry of the Royal College of Nursing described the threat of disciplinary action as "draconian".
Mawsley, Planet of the Vapes
King, Ndoen and Borland co-authored a paper looking at the risk perceptions and misperceptions of cigarettes, ecigs and NRT therapies. What they discovered is that smokers tend to have fixed mind-sets and have difficulty processing the information about vaping being safer than smoking.

The team took three groups and got them to talk about their smoking/vaping history, what they already thought about nicotine and cigarettes/vaping/NRT, and their opinions about a range of products (placing them on a scale of harm) – and to justify their thought processes.
---

---
Flavor used and current flavors used by 20,836 adults in the USA
Christopher Russell, Neil McKeganey, Tiffany Dickson, Mitchell Nides
Understanding the role that flavors play in the population's use of e-cigarettes and the impact that flavored e-cigarette products have on the population's use of more harmful tobacco products, like conventional cigarettes, has been identified by the US Food and Drug Administration (FDA) as a public health research priority. The purpose of the study was to assess the first e-cigarette flavor and current e-cigarette flavors used by a large non-probabilistic sample of adult frequent users of e-cigarettes in the USA and assess how flavor preferences vary by cigarette smoking status and time since first e-cigarette purchase.
Associated with Use of the JUUL Vaping Device Among 18,799 Adults in the USA
Christopher Russell, Neil McKeganey, Farhana Haseen
Between 13th April and 14th May, 2018, researchers at the Centre for Substance Use Research (CSUR) in Glasgow, Scotland conducted an online survey assessment of the cigarette smoking and e-cigarette use behaviors of 18,799 adults in the United States who had previously purchased JUUL vapor products from the JUUL website
EU-Policies
French may be the language of love, but the country is currently experiencing more of a love-hate relationship with electronic cigarettes in the quest to cut smoking numbers. At the end of May, France announced a huge reduction in the number of smokers in 2017 – a major public health victory for a country well-known for its love affair with cigarettes. Around one million smokers have stubbed out their cigarettes for good according Public Health France – a drop the size of which has not been seen in a decade.
Mawsley, Planet of the Vapes
India has a cohort of doctors who are going on record to say how dangerous vaping is. Politicians in Tamil Nadu used this as justification for an idiotic ban, and the national government plans on copying the measures according to harm reduction advocates. The Association of Vapers India responds.

To Oppose Looming Flavor Crackdown From The FDA
The vaping industry is rallying former smokers who quit using an electronic cigarette to share their stories with federal regulators, who are mulling restrictions on flavored products.

The advocacy campaign, dubbed #Fight4Flavor, comes in response to a proposed rule from the Food and Drug Administration to regulate tobacco and nicotine flavoring, something users and harm reduction experts fear is a veiled attempt to cripple the market for alternative products and technologies.
Amid rising sales of HNB tobacco – Ahn Sang-yool
The number of fire accidents caused by discarded cigarettes in May 2018 decreased on-year possibly due to the growing adoption of heat-not-burn cigarettes.

The National Fire Agency cited the growing popularity of heat-not-burn cigarettes as one of the reasons behind the fall. Data from the agency showed that fire accidents caused by discarded cigarettes dropped from 6,861 in May 2017 to 5,846 in May this year, marking a 14.8 percent drop.
The Health Ministry has reportedly banned importing the Juul electronic cigarette, after Deputy Health Minister Yakov Litzman (United Torah Judaism) determined that the company's e-cigarettes contain too much tobacco, Kikar Hashabbat claimed.

Haaretz noted that Juul, for its part, has threatened to take legal action, since the Health Ministry is not banning all e-cigarettes.
---
MYTH BUSTED!
Myth. Big Tobacco controls the #vaping market.
Fact. Big Tobacco has no more than 12% of the US vaping market. #Juul now has 70% of the sale value of cigalikes and pods. Big Tobacco sell almost no tanks or mods.
Source: David Sweanor (Nielson, Wells Fargo)

— Colin Mendelsohn (@ColinMendelsohn) June 28, 2018
---
You might travel a lot as part of your job. Or when you are working hard, your thoughts might be turning to taking a well-deserved vacation as summer approaches.

If you are feeling virtuous having switched the cigarettes for vaping, you might not even give it a second thought as you put your vaping kit in your purse instead of the cigarettes.
Mawsley, Planet of the Vapes
There's more bad financial news for IQOS as analysts say it won't replace tobacco income. Milwaukee politicians are trying to help Philip Morris as best they can with a vape ban. A woman is happy to sue for cash because she misused a "vape pen". This isn't the benefit a think tank had in mind when demanding reforms to UK vape laws to benefit women. A Cornish vape shop owner quits the game and mines for gold.
---
A look back at how things have moved on or otherwise….
Dick Puddlecote
In 2007, a staff member at Puddlecote Inc who smokes commented on the inception of the smoking ban by saying "ASH may as well pack up now, they have everything they want". I replied that they will never stop because if they did it would threaten the most precious thing to them … their salary.

You see, their industry can never be satisfied as long as there are grants to be claimed, as our esteemed mascot once expressed perfectlyin parliament…
Mawsley, Planet of the Vapes
The results to the annual American National Youth Tobacco survey were released last week, and depict a continued decline in the use of tobacco cigarettes; never has smoking been less popular with teens in the States. The Food and Drug Administration (FDA) attribute this success to their campaigns, but others point out that vaping has played a key interventionist role.
Dr Colin Mendelsohn
Colin gave a presentation to The Sydney Institute last night on electronic cigarettes. The presentation discusses the evidence for vaping, the arguments against their use and tries to explain why experts can't agree on the subject. Finally, there are recommendations on policy and regulation.

Click here to download a copy of the presentation.
---
Visit Nicotine Science & Policy for more News from around the World

---