Vapers Digest July 2nd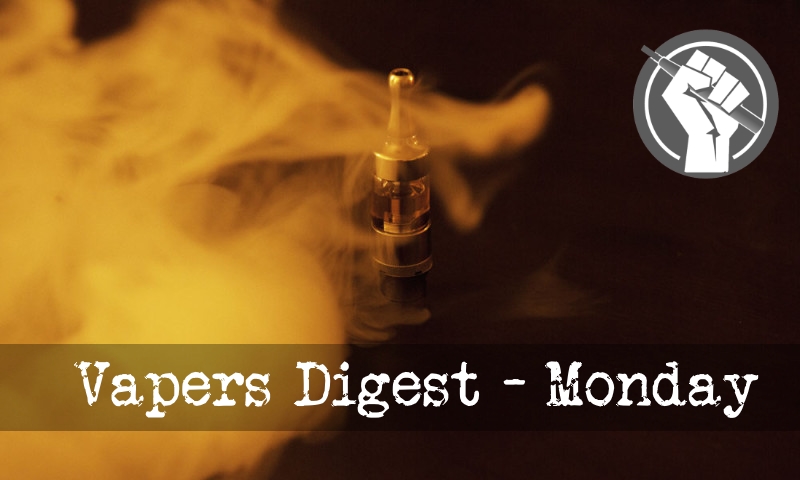 Monday's News at a glance:
Axe the tax and other news – Anti-vaping lawmakers keep pushing – Flawed Flavour Fatalists – Massachusetts Vapers Fight Off a Flavor Ban – Tobacco Control Desperately Fears Dialogue – Vaping And Harm Reduction: – Vaping Can Help Smokers Quit – Vapers 'punished' for ditching cigs – Is vaping a new risk for landlords? – Survey of Juul Customers – Nicotine seen as part of the solution – Vaping In The News June 30th – Nicotine Science and Policy Daily Digest
New Nicotine Alliance June Newsletter
June was relatively quiet for the NNA with many trustees, associates and supporters converging on Warsaw for the fifth Global Forum on Nicotine, but there is still plenty to report. Here are just some of our activities in the past month.

Caitlin Notley of the University of East Anglia attracted a large amount of media attention in June with a study entitled "The unique contribution of e-cigarettes for tobacco harm reduction in supporting smoking relapse prevention". The NNA helped with the study, which was recognised in the acknowledgements…
Fergus Mason, Vaping Post
Last week saw new anti-vaping laws or rules advancing around the world. Several US cities and counties continue to push for tougher restrictions, but the most egregious examples came from Northern Ireland, where an NHS trust is pushing vapers out the gate along with smokers, and New South Wales. The EU us also continuing its drive for a new tax on vapour products, as advocates across the continent mobilise to fight back.
---

---
Mawsley, Planet of the Vapes
'The Antz' up their game with another paper attacking vaping, as they sought to prove that chemical flavour additives used in e-cigarettes and related tobacco products caused problems. Unfortunately, the flaw in the study is so basic its amazing they considered this worthy of submission.

The paper does open with at least a nod towards honesty: "The majority of adult e-cigarette users are current or former combustible cigarette smokers." At this point the slide into propaganda begins, as the authors write: "e-cigarette use by youth is rising rapidly"….
Jim McDonald, Vaping 360
Massachusetts vapers dodged a bullet Thursday as the State Senate sponsor of a flavor ban withdrew his amendment minutes before a vote in the face of opposition from vaping consumers and vendors.

The amendment to the proposed Tobacco 21 law would have prohibited sales of flavored e-liquid — either in bottles or pods and cartridges — much like the flavor bans passed in San Francisco and recently proposed in Chicago.
---
---
Carl V. Phillips, Daily Vaper
Tobacco controllers at the recent World Conference on Tobacco or [sic] Health produced comic irony, various bits of junk science and a real threat to the concept of universal human rights. But they usually get most excited when they are trying to hurt someone, stirring up hatred to rally their tribe. Playing the role of Emmanuel Goldstein for the Three Days Hate in Cape Town was the Foundation for a Smoke-Free World, a new independent anti-smoking organization that supports switching to low-risk products.
Don't Let The Perfect Be The Enemy Of The Good –  Stephanie Bloom
We all know that cigarettes increase the risk of cancer, heart disease, and early death, among other things. While the tobacco smoke of cigarettes contains thousands of chemicals, many of which are known carcinogens, nicotine itself, though highly addictive, is not a carcinogen. Tobacco harm reduction—the policies, programs, and practices that reduce the damage caused by smoking—must consist of viable alternative options to traditional cigarettes.
If Lawmakers Allow It – Jerry Rogers
According to the American Lung Association, "Many ex-smokers say quitting smoking was the hardest thing they have ever done." This includes people who have "climbed mountains and corporate ladders, or tackled childbirth. It can take a smoker multiple quit-smoking attempts before they are completely smoke free." And too many people simply quit trying to quit because nicotine feels good. It is both a stimulant and a relaxant so it perks you up when you're exhausted, and it will soothe you when you're anxious.
---

---
Vapers 'punished' for ditching cigs
WELCOME to New South Wales' "ridiculous" new law under which smokers eschewing cigarettes for vaping stand to be hit with $550 fines — for not lighting up.

Laws set to take effect across the state in July will see users of electronic cigarettes (e-cigarettes) fined up to $550 if they're caught vaping in public spaces or on public transport.

The ban, championed by Health Minister Brad Hazzard, passed through the NSW Parliament earlier this year and means anywhere that smoking is banned, vaping is too.
With many cigarette smokers switching to vaping, does this pose a new risk for landlords? Dr Marewa Glover argues that it does not.

The stench of cigarette smoke lingering round a property could be replaced by the smell of freshly baked strawberry shortcake as an increasing number of smokers switch to vaping.

Shows Many Vapers Stop Smoking – Jacob Sullum
A new study of people who use Juul e-cigarettes provides further evidence that such products can reduce tobacco-related disease by offering smokers a much less hazarous source of nicotine. In a Juul-sponsored survey of nearly 19,000 vapers who had purchased the company's products online, the Centre for Substance Use Research, a Scottish consulting firm, found that smokers who had switched to vaping far outnumbered vapers who had switched to smoking.
Manila Standard Business
"Nicotine is not the problem. It is a very big part of the solution," said Andy Morrison, a former smoker, vaping advocate and trustee for the New Nicotine Alliance, a UK-based non-profit organization that promotes understanding of the potential of safer nicotine products for reducing cigarette smoking.

It is the tar and poisonous gases in cigarette smoke that are harmful to health, not nicotine, he said. However, many people find it hard to stop smoking because it is very difficult for them go without nicotine.
Kevin Crowley, Vaping Links
Vapers: Tell the FDA You're Not Merely An Anecdote! ~ ACT now to stop the EU Vape Tax ~ Are e-cigarettes tobacco products? ~ Speaking of scientific integrity ~ Milestones ~ The duty of curiosity ~ Chemical Leak ~New PA budget strips Philadelphia of power to regulate cigarette sales
---
A look back at how things have moved on or otherwise….
Dick Puddlecote
I find this truly staggering from ASH. They had a stall this week at The Chartered Trading Standards Institute conference and were giving out information about e-cigs. So who did they invite to do it?

Erm, why didn't they invite some vapers? Tobacco control, especially ASH, have no real idea about e-cigs whatsoever. The extent of ASH's knowledge is so bloody piss poor that they lobbied ferociously in favour of Article 20 of the TPD which – in their own parlance – will kill hundreds of thousands of people.
Starts to evaporate despite MPs' support for vaping
Fergus Mason, Vaping Post
The UK's tolerant position on vaping looks under threat this week, as regulators move to tighten up loopholes in the country's implementation of the EU TPD. Meanwhile the pharma industry is using regulators to attack e-cig advertising, again using the TPD as a weapon.

Across the Atlantic, US town councils continue to crack down on vapers under the guise of anti-smoking regulation. At least two more bans were introduced this week, one restricting vape purchases to over-21s and the other making it illegal to use e-cigarettes in an Arkansas city's public parks.
---
Visit Nicotine Science & Policy for more News from around the World

---