Vapers Digest July 4th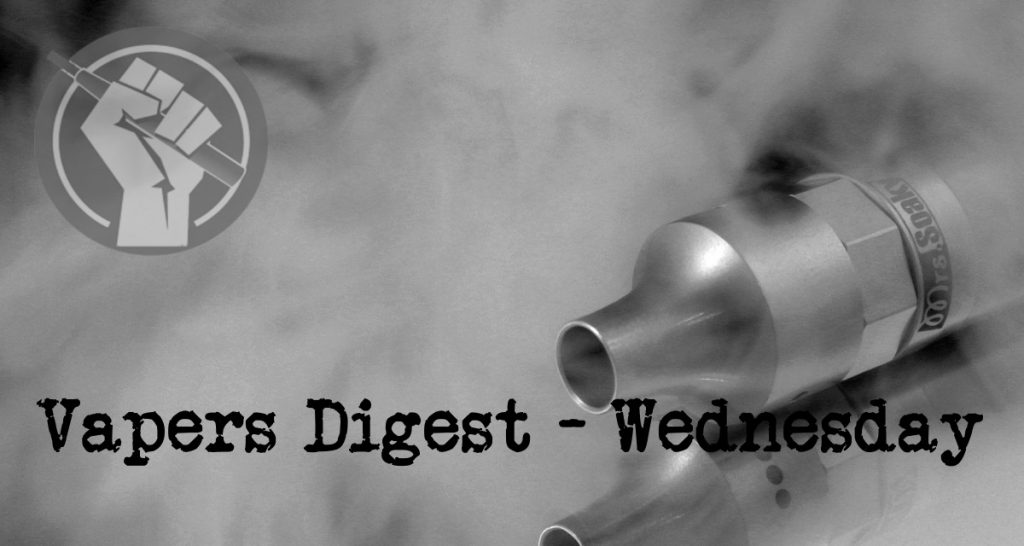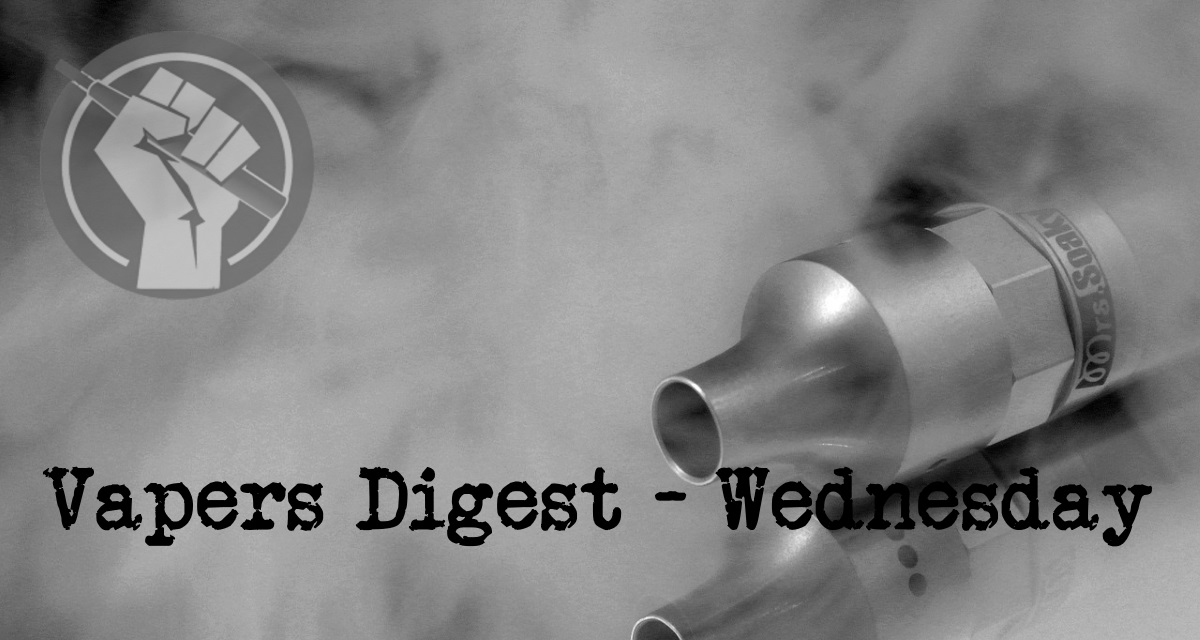 Wednesday's News at a glance:
Say 'No' To The EU Vape Tax ~ Smoking rate rises in first year of plain packaging and TPD ~ Holland To Ban Shortfills ~ Study: Adults Prefer Sweet Vapes Over Tobacco Flavors ~ Survey Finds E-Cigarettes Are Effective Cessation Tool ~ The new laws affecting life in Sweden from July 1st ~ How Vaping could disrupt Big Tobacco's plans in Africa ~ Turning the tide on tobacco: Smoking in England hits a new low ~ Further Dip in UK Smoking Rates Amongst Young People ~ Britain is winning the war on tobacco
Mawsley, Planet Of The Vapes
Despite being the greatest advance in the fight against tobacco-related harm, vaping could be dealt a blow greater than the impact of the Tobacco Products Directive. European legislators are floating the idea that vape products could carry a 'sin tax'. Vapers have the opportunity to send a clear and unequivocal message to the EU by signing a petition on Change.org.
John Summers, NNA Trustee and INNCO board member, had this to say to POTV newsletter subscribers: "The EU has pushed tobacco taxes as being about health. By attempting yet again to leverage a "sin tax" on a far safer alternative they are playing with millions of lives and showing their true colours: Money and Ideology is more important than people."
Cristopher Snowden, Velvet Glove Iron Fist
The Office for National Statistics has just released its annual publication, Adult Smoking Habits in Great Britain, with data for 2017.

2017 was the year that plain packaging and the Tobacco Products Directive effectively began. Both were introduced in May 2016 but retailers were allowed to sell their old stock until 20 May 2017. The tobacco industry made sure plenty of branded packs were available and few smokers saw a plain pack until 2017. The vaping industry also tried to make sure there were good, non-EU regulated e-cigarette fluids available for as long as possible.
Mawsley, Planet Of The Vapes
News has come to POTV that Holland is set to ban shortfills. It is a nonsensical decision that will only increase the volume of packaging waste and increase cost to the end user. Ultimately, this runs contrary to the notion that vaping is a tobacco-harm reduction tool and will dissuade smokers from switching.
The Ministerie van Landbouw (Ministry of Agriculture) has published details via the Dutch Food Safety Authority, the Nederlandse Voedsel en Warenautoriteit (NVWA). The actions go beyond just banning shortfills and place huge costs on business facing a logistical nightmare.
---

---
Jim McDonald, Vaping 360
Federal regulators are gearing up to restrict vaping flavors, possibly limiting available product choices to tobacco flavors. But new research shows that regular vapers who have quit or reduced smoking prefer non-tobacco flavors.

A study from U.K. researchers at the Centre for Substance Use Research (CSUR) uses 2016 survey data from over 20,000 frequent vapers to show patterns of flavor preferences among American vapers. The study was led by Dr. Christopher Russell, who has led several studies on vaping in the past.
Less than 1 percent used vaping as 'gateway' to smoking:

New survey results undermine a Democratic talking point that electronic cigarettes are a gateway to smoking cigarettes, as users of the popular vaping product JUUL report high rates of quitting.

A new survey of nearly 19,000 JUUL users in the United States found that less than 1 percent of its customers were not smokers before they began vaping. By contrast, over 64 percent of adults who were smokers before they began using JUUL have used the product to stop smoking cigarettes.
---
Blog post by Duncan Selbie of @PHE_uk : 'Far from being a youth phenomenon as feared by many', peak ages for #vaping are now 25-34 (7.8%) & 35-49 (7.5%). Almost 1 in 8 ex-smokers #vape compared with less than half a percent of those who have never smoked. https://t.co/u8q5EyYhyv

— IBVTA (@TheIBVTA) July 3, 2018
---
Staff, The Local SE
---

---
Joseph Magero, Medium
Africa is poised to become the "future epicenter of the tobacco epidemic," according to a new analysis from the American Cancer Society. It warns that the number of adults in Africa who smoke could increase to 600 million by 2100, from 80 million today, unless leaders take steps to curb current trends.

Public Health England, GOV.UK
New official statistics published today show smoking prevalence in England has dipped just below 15% for the first time. That makes 6.1 million smokers in England, one million fewer than in 2014.

While there rightly seems to be an ever increasing focus on obesity and the nation's eating habits we can't forget that smoking remains the nation's biggest killer. We've been tackling the devastating harm tobacco causes for decades and today, we're one step closer to the job being done.
Diane Caruana, Vaping Post
In 2017, 17.8% of people aged between 18 and 24 said that they smoked, in comparison to 19.3% in 2016 and a staggering 25.7% in 2011. With regards to vaping rates within the same age group, 5.5% of people use electronic cigarettes, a slight dip from 2016 when it stood at 5.6%.

These data confirm that the current panic about e-cigarettes addicting a whole new generation to nicotine and tobacco is unfounded, as figures from different ends of the globe  keep indicating that both smoking and vaping are on the decline.
---

---
Kevin Rawlinson, The Guardian
The UK is winning the war on tobacco, health officials have said, as figures show fewer adults are smoking, while more are turning to e-cigarettes.

According to the Office for National Statistics, the country saw a "significant reduction" in the proportion of people aged 18 and older who considered themselves smokers in 2017, compared with the previous year.

"Smoking rates have dropped by almost a quarter in five years, a triumphant step in eliminating the nation's biggest killer," added Duncan Selbie, the chief executive of Public Health England (PHE).
---
A look back at how things have moved on or otherwise….
Ashtray Blog
Who do you consider to be the inventor of the electronic cigarette? Most vapers would answer Hon Lik, who came up with an electronic inhalation device in the first decade of this century.

But last year we interviewed Herbert Gilbert, who developed a smokeless cigarette in 1960's…
Annabelle Bamforth – Truth in Media
Devon Beasley, a registered nurse, has spent years in her field and told Truth In Media that she has seen representatives for pharmaceutical companies "wine and dine" an entire medical office in the midst of promoting various products. "Some of the offices that I would apply for would actually tell me 'hey, we have catered lunches three times a week.'
Close to a million jobs could vanish and nearly 30,000 businesses could close because of federal regulations on vaping.

The federal Food and Drug Administration last month decided to implement rules that will put at risk vape shops, e-cigarette manufacturers, distributors and retailers in Wisconsin and across the United States.
---
Visit Nicotine Science & Policy for more News from around the World

---