Vapers Digest 20th June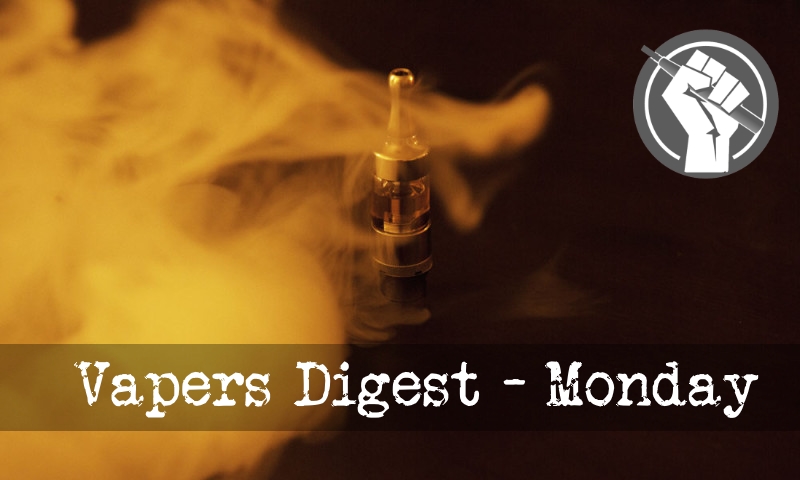 Monday's News at a glance:
The right to health and the right to tobacco harm reduction – Race to Replace Cigarettes Is Heating Up – Research launched at Global Forum on Nicotine – The smouldering nicotine question –Consumer Groups Submit Evidence To EU – VPZ's Quit Coach – Tobacco industry looks to win over Gulf regulators – The unchecked power of philanthropy – Amanda Wheeler Speaks at GFN 2022 – WA Government stance on vaping – Marc Gunther Speaks at GFN 2022 – Nicotine Science and Policy Daily Digest
GSTHR
Discussions about human rights have long been underdeveloped in tobacco control. Human rights considerations were neglected in the development of the international treaty – the Framework Convention on Tobacco Control (FCTC). Any subsequent advancement of human rights issues has focused mainly on the justification for demand and supply control strategies, prioritising the obligations of states to protect people from both tobacco products and the tobacco industry. Human rights discourse in tobacco control has neglected to address the issue of the right to health and an individual's freedom to take positive steps to protect their own health.

The International Covenant on Economic Social and Cultural Rights affirms that everyone has the right to the highest attainable standard of physical and mental health. This was elaborated by the Committee on Economic Social and Cultural Rights which determined that a right to control one's health and body requires "a variety of facilities, goods, services and conditions necessary for the realization of the highest attainable standard of health".
Carol Ryan
American smokers trying to quit have a choice between vapes, nicotine pouches and—a more recent introduction—heated tobacco sticks. Cigarette companies have a lot riding on which way they turn.

Today, vaping is the preferred alternative to smoking in the U.S. Reynolds American owner British American Tobacco BTI -1.41% expects it to stay that way, arguing on a recent earnings call that Americans won't buy heated tobacco products in big numbers. BAT is applying to the U.S. Food and Drug Administration for permission to launch its Glo heated tobacco sticks, but executives say this is mainly to get leverage with overseas regulators rather than because they are bullish about local demand.
---

---
Shows WHO's tobacco control measures are failing – and that harm reduction works
A new study launched at the ninth annual Global Forum on Nicotine (#GFN22) in Warsaw shows implementation of the WHO's tobacco control measures known as MPOWER has no clear association with low-levels of tobacco-related mortality in Europe.

Instead, the independent research, conducted by distinguished tobacco dependence researcher Dr Lars M. Ramström, shows that switching from smoking to Swedish-style snus, a safer nicotine product, is a more effective strategy to reduce the harms caused by tobacco.

Presented to hundreds of delegates, as well as over 50 international experts on tobacco and nicotine science who are speaking at #GFN22, the new findings provide further evidence that the WHO must embrace tobacco harm reduction as part of its global tobacco control response by supporting the use of safer nicotine products to quit smoking.
---
---
That is suddenly back on the political agenda – Barnaby Page
Rumours circulating this week that the Biden administration is about to put its weight behind mandatory nicotine reduction in combustibles will have been music to the ears of 22nd Century Group, if few others outside the worlds of tobacco control and politics. And questions are sure to arise as to how it might affect e-cigarettes too, either in the form of increased (or reduced) competition or possible parallel regulation.

22nd Century is the company which late last year obtained modified risk tobacco product (MRTP) orders from the Food and Drug Administration (FDA) for two of its very-low-nicotine cigarettes (VLNCs), containing around 96% less nicotine than standard combustibles.

Two from Dave Cross, Planet of the Vapes:
The New Nicotine Alliance (NNA) and the European Tobacco Harm Reduction Advocates (ETHRA) have made submissions to the European Union as part of its evidence gathering exercise that will guide its future vape legislation – the Tobacco Products Directive (TPD). The deadline for you to enter your comments is the June 17.

The problem facing the European Union was laid bare at a recent event organised by the Centre for Economic and Market Analysis. Taking place in Prague, the Czech National Drug Coordinator said the EU is going to fail to achieve its 2040 tobacco-free target as it is not recognizing the benefits of a tobacco harm reduction approach.
VPZ, the UK's largest vaping retailer with over 150 stores, is launching a mobile vape clinic to hit the road throughout the UK to help more people quit smoking. The firm is launching the 'Vape Clinics' in order to match the demand for Stop Smoking services across the UK. The coaches will be specialists in helping smokers quit and advising the alternatives available.

VPZ has launched its mobile vape clinic as it calls on the UK Government to ban smoking and develop a progressive strategy for vaping. The successful vape clinic service will now go on tour throughout its 150-store retail footprint as part of its plans to help even more people quit smoking.
---

---
Marc Gunther
This is an edited version of a talk that I gave via Zoom to the Global Nicotine Forum in Warsaw, Poland, on June 17, 2022.

If anyone had told me two years ago that I would write many thousands of words about e-cigarettes and be invited to speak at a conference about nicotine, I would not have believed it.

I hadn't smoked since college. I had never tried an e-cigarette. I'm still not sure I could pick a Puff Bar or a Vuse out of a lineup of e-cigarettes.

So what led me here?
Gulf regulators in the great vape debate – Nick Webster
Tobacco industry figures are looking to convince decision-makers that e-cigarettes and vaping are an alternative in the heavy-smoking Middle East. So far, they have met with tough resistance.

E-cigarettes and vaping products are banned in Egypt, Iran, Kuwait, Lebanon, Oman and Qatar — although they are widely available on the black market — as regulators fear a vaping epidemic among teenagers that is similar to the one in the US.

While the UAE allows the sale of e-cigarettes, regulators do not support their use as part of efforts to encourage smokers to quit, and there are curbs on their promotion and advertising.

Will create public health disaster – Colin Mendelsohn
THE WA STATE GOVERNMENT is threatening the survival of vape stores across the state with massive fines for selling any kind of vaping product.

The current legislation in WA (Tobacco Product Control Act 2006) bans the sale of devices that look like cigarettes. However, in a recent letter, vendors were told that they were told they could face penalties of up to $80,000 for selling ANY vaping products or components:

If enforced, this would shut down vape stores across the state, leaving only the black market in operation. This threat does not appear legal or permitted by the current legislation which has not been changed. It may well be a politically motivated bluff, and may require vendors to make a legal challenge if the government proceeds with the plan
---
A look back at how things have moved on or otherwise…
Proves it has no interest in an evidence-based approach to tobacco harm reduction
Christopher Snowdon, Conservative Home
The World Health Organisation's decision last month to give a special award to India for banning the sale of e-cigarettes was proof that the agency has no intention of taking an ethical and evidence-based approach to tobacco harm reduction. This puts it squarely at odds with countries such as the UK and New Zealand which have successfully embraced vaping as part of their tobacco control strategy.

In November, the WHO will hold its ninth Framework Convention on Tobacco Control Conference of the Parties (COP9). The Framework Convention on Tobacco Control (FCTC) is the first and, to date, only international treaty of the World Health Organisation. Adopted in 2003 and signed by 168 countries, it explicitly defines tobacco control as "a range of supply, demand and harm reduction strategies". Unfortunately, harm reduction is unlikely to feature much at the conference, except as an object of derision and contempt.
Brad Rodu, Tobacco Truth
Tobacco flavor bans are all the rage among tobacco prohibitionists.  As I noted last week, the first attack on flavored tobacco took place over a decade ago (here).  Tobacco opponents pursue flavor bans, rather than outright prohibition, as a form of Tacit Incremental Prohibition – Tobacco Elimination.

Prohibition, when it is imposed, has consequences, as seen when San Francisco banned the sale of tobacco products containing any non-tobacco flavors in January 2019.  The San Fran ban was comprehensive, covering menthol cigarettes and almost all e-cigarette and vapor products.
---
Visit Nicotine Science & Policy for more News from around the World

---