Vapers Digest 18th June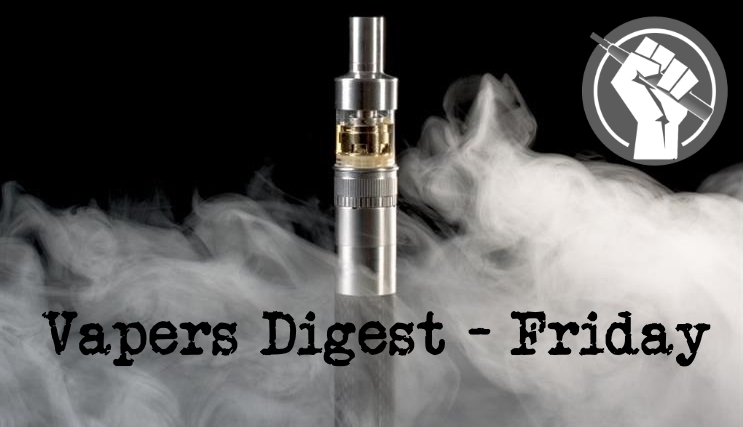 Friday's News at a glance:
The WHO's war on e-cigarettes – Man, Oh Man, That San Fran Flavor Ban! – D.C. Council Votes to Prohibit Flavored Vapes – Experts Call For Global Access to Safer Nicotine – Leaked: Bloomberg-funded 'Campaign – Flavored tobacco bans won't achieve desired outcomes – Canada's proposed flavour ban will harm public health – Government plan should do more to promote vaping – Estonia dreams of becoming smoke-free – Vaping: Part of The Solution – Don't Obsess Over Teen Vaping –  Balkan Smoke – E-Cigarette ban in India – Nicotine Science and Policy Daily Digest
Proves it has no interest in an evidence-based approach to tobacco harm reduction
Christopher Snowdon, Conservative Home
The World Health Organisation's decision last month to give a special award to India for banning the sale of e-cigarettes was proof that the agency has no intention of taking an ethical and evidence-based approach to tobacco harm reduction. This puts it squarely at odds with countries such as the UK and New Zealand which have successfully embraced vaping as part of their tobacco control strategy.

In November, the WHO will hold its ninth Framework Convention on Tobacco Control Conference of the Parties (COP9). The Framework Convention on Tobacco Control (FCTC) is the first and, to date, only international treaty of the World Health Organisation. Adopted in 2003 and signed by 168 countries, it explicitly defines tobacco control as "a range of supply, demand and harm reduction strategies". Unfortunately, harm reduction is unlikely to feature much at the conference, except as an object of derision and contempt.
Brad Rodu, Tobacco Truth
Tobacco flavor bans are all the rage among tobacco prohibitionists.  As I noted last week, the first attack on flavored tobacco took place over a decade ago (here).  Tobacco opponents pursue flavor bans, rather than outright prohibition, as a form of Tacit Incremental Prohibition – Tobacco Elimination.

Prohibition, when it is imposed, has consequences, as seen when San Francisco banned the sale of tobacco products containing any non-tobacco flavors in January 2019.  The San Fran ban was comprehensive, covering menthol cigarettes and almost all e-cigarette and vapor products.
---

---
Jim McDonald, Vaping 360
The District of Columbia Council voted 9-3 Tuesday to prohibit sales of flavored vaping and tobacco products, including menthol cigarettes and cigars. In a last-minute change, the council exempted bars and restaurants that sell hookah products.

The bill requires a second vote on June 29, but the result isn't expected to change. Following the second vote, the law will take effect after approval by the mayor and a 30-day congressional review period.

The Washington, D.C. bill is typical of recent flavor bans, prohibiting "characterizing flavors" other than tobacco. The law also includes synthetic nicotine products, and seems broad enough to capture nicotine pouches, which contain no tobacco and are only available in non-tobacco flavors.
Diane Goldstein
I support efforts to curb underage tobacco use, but only when they work, and only when they do so without hurting people they are claiming to help. By contrast, Los Angeles councilmembers are expected to introduce a ban on flavored tobacco products on June 16th. I urge the community I have lived and served in to make our voices heard and oppose these efforts, which have been proven to be both ineffective and detrimental to some of our most vulnerable residents.

Criminalizing flavored tobacco creates more opportunities for conflict with police in communities of color, where police-community relations are already suffering. Flavored cigarettes, particularly menthol cigarettes, are favored by Black smokers, while most white smokers tend to prefer unflavored tobacco.
---
That's a wrap! If you missed anything at #GFN21 today and want to watch again, you can access the *full* recording of day 2 now:https://t.co/ANZfxuMqIe
…but our fantastic tech team will be uploading individual session videos next week.

— Global Forum on Nicotine (@GFNicotine) June 18, 2021
The real future of #ecigs and safer nicotine. Let's hear what tobacco control and public health really really want… pic.twitter.com/iXLLB1v51G

— StefanDidak (@StefanDidak) June 18, 2021
---
Yaël Ossowski
To people in the United States, billionaire Michael Bloomberg is most well-known as a swashbuckling former New York City mayor who blew a lot of money on an ill-fated presidential primary run.

But around the world, his network of charities and selected groups he provides with millions of dollars in grants are, for all intents and purposes, a sort of private government who influence government leaders, fund the entire salaries of public health officials, and write legislation that is then introduced into legislative bodies, including the recent example of vaping bans in Mexico and the Phillippines.
Tobacco Reporter
International public health specialists, scientists, doctors, tobacco control experts and consumers are convening for the Global Forum on Nicotine 2021 June 17 and 18 in Liverpool, U.K., and streaming free online, to highlight the vital role of safer nicotine products in the fight to reduce global smoking-related death and disease.

Experts at the forum will discuss tobacco harm reduction, a concept that calls for encouraging adult smokers who cannot quit nicotine to switch from dangerous combustible or oral products to safer nicotine products, including e-cigarettes, pasteurized snus, nontobacco nicotine pouches and heated-tobacco devices.

"Up to 98 million consumers worldwide have already made the switch to safer nicotine products," said GFN director Gerry Stimson, emeritus professor at Imperial College London, in a statement.

Should do more to promote vaping
The British government must step up efforts to promote vaping products if it is to achieve its goal of a smoke-free society by 2030, a cross-party parliamentary committee in Westminster agreed.

David Jones, Conservative MP for Clwyd West in North Wales, spoke for members on both sides of the political divide when he told the UK Backbench Business Committee: "E-cigarettes save lives, and we should make sure that message reaches every smoker in Britain."

Jones said the forthcoming Tobacco Control Plan, due to be published this summer, should include stronger promotion of tobacco alternatives, which have a "proven (positive) effect on health".
The Canadian Vaping Association
Today, the Canada Gazette, Part 1, proposing a ban on flavoured vape products except for tobacco, mint and menthol was published. The Canadian Vaping Association (CVA) is disappointed that Canada has proposed harmful regulation to address misguided moral panic, instead of supporting the greatest harm reduction opportunity of our lifetime. If the flavour ban is implemented, hundreds of thousands of smokers may be pushed back to smoking or to the black-market and many will die.

There is mounting evidence that flavours reduce cravings and increase smoking cessation success. Research from Yale School of Public Health finds that smokers that quit using a flavoured product are 2.5 times more likely to be successful.
---

---
 NNA Suitsuvaba Eesti
On June 10th, eight Estonian MP's submitted a new bill, modifying the Tobacco Act to the Estonian Parliament (Riigikogu).

The proposed amendments seek to clarify regulations regarding alternative nicotine products. The aim is to reduce smoking rates in Estonia, improve the safety and accessibility of less harmful nicotine products for smokers. Estonia ranks third in Europe in terms of smoking deaths.

One of the bill's initiators, MP Tarmo Kruusimäe expressed particular concern that the majority of previous amendments to the Tobacco Act, have not only led to an increase of smoking and increased health risks, but unintentionally created a burgeoning black market.
Rajnish Singh, Parliament Magazine
At a recent webinar organised by The Parliament Magazine and the World's Vapers' Alliance, EU policymakers and tobacco harm reduction experts came to together to debate the current issues surrounding vaping. Are they less harmful than smoking? Do they help smokers quit? Or do they create new generations of tobacco consumers. Also discussed were the Commission's 'Europe's Beating Cancer Plan' and the revision of the Tobacco Products Directive – which will look at the safety and ease of availability of vaping products.

Amid the backdrop for the discussion was the Commission's Scientific Committee on Health, Environmental and Emerging Risks (SCHEER) report on electronic cigarettes.

Brent Stafford, Regulator Watch
Professor Mary Neuberger
Will do more harm than good – Takshashila Institution
---
A look back at how things have moved on or otherwise….
Konstantinos Farsalinos, Daily Nation
The Chinese are among the biggest smokers with over half of adult men indulging in the habit.

As a cardiologist with a career devoted to smoking elimination and tobacco harm reduction, I obviously closely monitor health developments in the country that consumes approximately one third of the planet's cigarettes.
Saddle Horse Blues

While Dr. Mark Tyndall considers himself an "accidental voice in the vaping world", he is no stranger to harm reduction. In fact, he's a bit of a rock star in harm reduction circles, having been involved with opening the first safe injection site in North America and now leading and breaking new ground with My Safe Project, an ATM-style machine that allows drug users who have registered with the program to access a safe supply of hydromorphone. Dr. Tyndall spoke at the GFN20 on the subject of "Tobacco harm reduction: ensuring we learn the lessons from history."
---
Visit Nicotine Science & Policy for more News from around the World

---